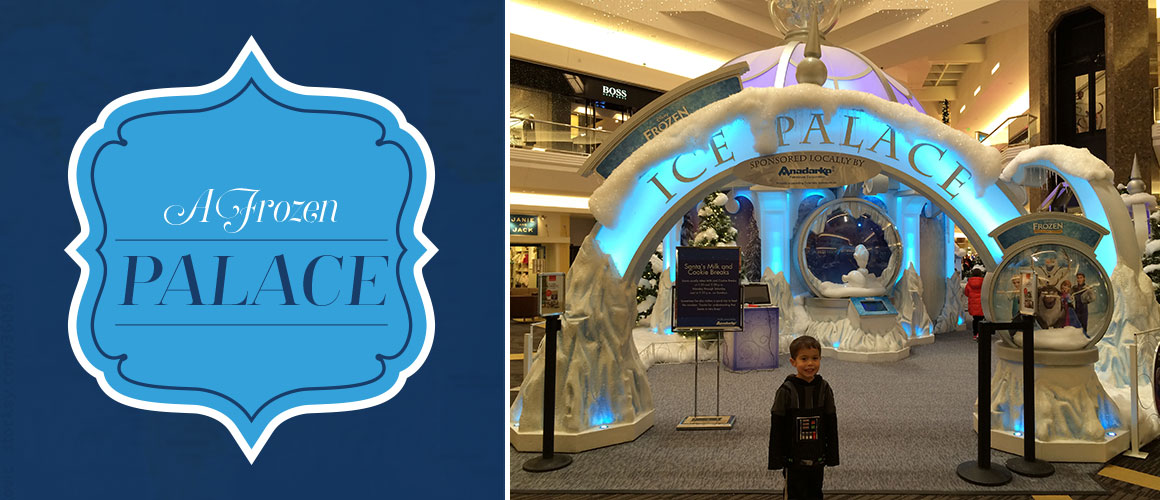 ---
My 4-year-old son, Harry, is obsessed with the movie Frozen.  He loves to belt out all of the songs on the soundtrack and has quite the collection of Frozen character action figures and stuffed animals.  His favorite game is when I throw a braid in my hair and "play Frozen" by pretending to be Elsa while he's my friendly summer-loving snowman Olaf.  So, when I read about the partnership with Disney and Taubman Centers putting Frozen Ice Castles in malls across the country I really wanted to take Harry.  Sadly there are no Frozen Ice Castles in the Chicago area.  I was thrilled to see that there is a Taubman mall in Denver since I knew we were heading there for a weekend.  I knew it would be a hit!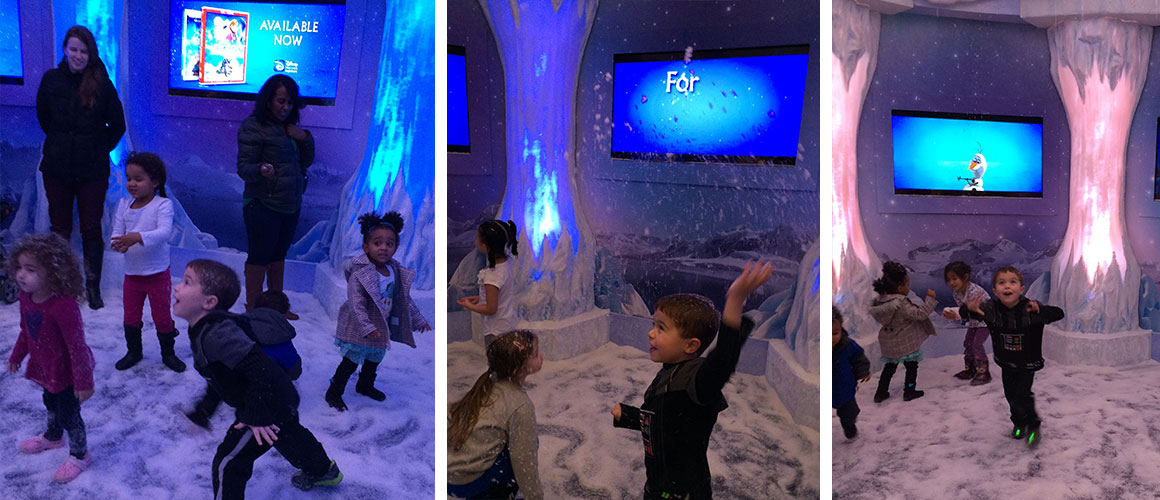 ---
We visited the Frozen Ice Palace in Cherry Creek Shopping center in Denver, Colorado.  I had read a few reviews from bloggers visiting other malls that cited wait times of up to two hours so Harry and I were elated to find no wait when we arrived on a Friday evening at around 6pm.  As we wound through the exhibit, Harry was delighted by the giant character snow globes and photo spots as well as the sing along karaoke microphones.  The best part was going into the Ice Palace itself where it was snowing  and kids could play while watching the Sing Along Frozen movie on multiple screens!  Harry had a blast making pretend snow balls and dancing to the music.  Afterwards, Santa Clause is available for a visit or a photo session.  After meeting Santa we of course had to shop the Frozen gift shop for MORE Frozen Merchandise!
Tips for visiting the Ice Palace nearest you:
Visit during the dinner hour to avoid long lines
Bring a camera for cute photos
Wear a hoodie and dress your kids in hoodies to avoid having fake snow ground into your scalp and stuck to your clothes.  If you put your hoodie on you can remove it and dust it off afterwards and not be covered in fake white snow for the rest of the night
If you plan to take photos with Santa Clause do that before playing in the Ice Palace so that your kids aren't covered in fake snow for the photos (unless you like the fake snow then play first!).
Make sure your kids know that Anna and Elsa won't be there.  I wasn't sure and Harry was pretty disappointed.  Santa is the only celebrity there.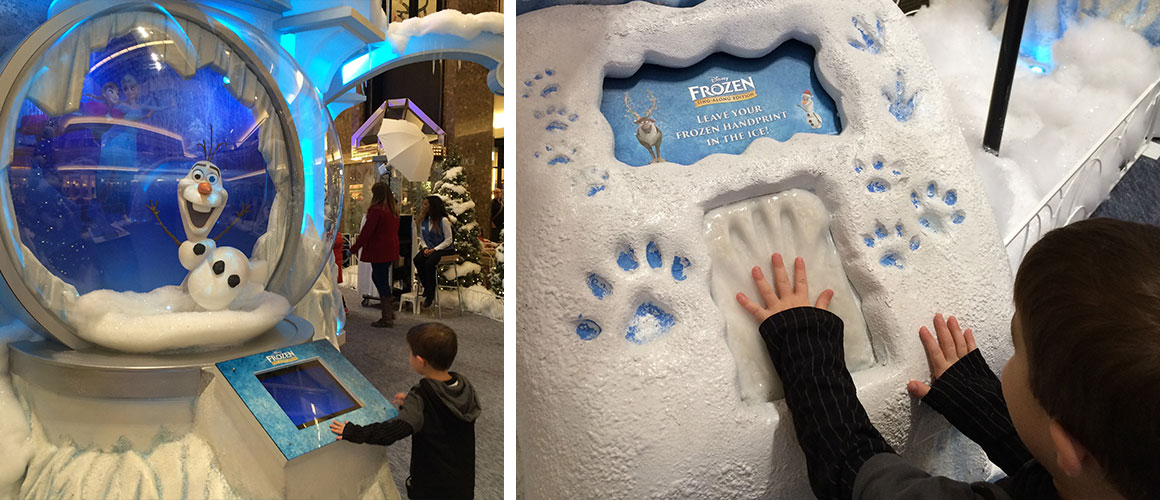 ---
The Frozen Ice Palace will be open in the following Malls through December 24th.  I absolutely recommend taking your kids if you are close to one of these locations:
Cherry Creek Shopping Center (Denver, Colo.)
Dolphin Mall (Miami, Fla.)
Fair Oaks (Fairfax, VA.)
Great Lakes Crossing Outlets (Auburn Hills, Mich.)
International Plaza (Tampa, Fla.)
The Mall at Short Hills (Short Hills, NJ)
Sunvalley (Concord, Calif.)
Twelve Oaks Mall (Novi, Mich.)
University Town Center (Sarasota, Fla.)
Westfarms (Hartford, Conn.)