During our summer vacation in July, we decided to stay at the Waldorf Astoria Orlando during a trip to Disney World. My husband and son are avid golfers and wanted access to a nice golf course. In addition, we had great prior experiences with Waldorf Astoria in New York. We had an amazing time at the resort and will stay here again.
---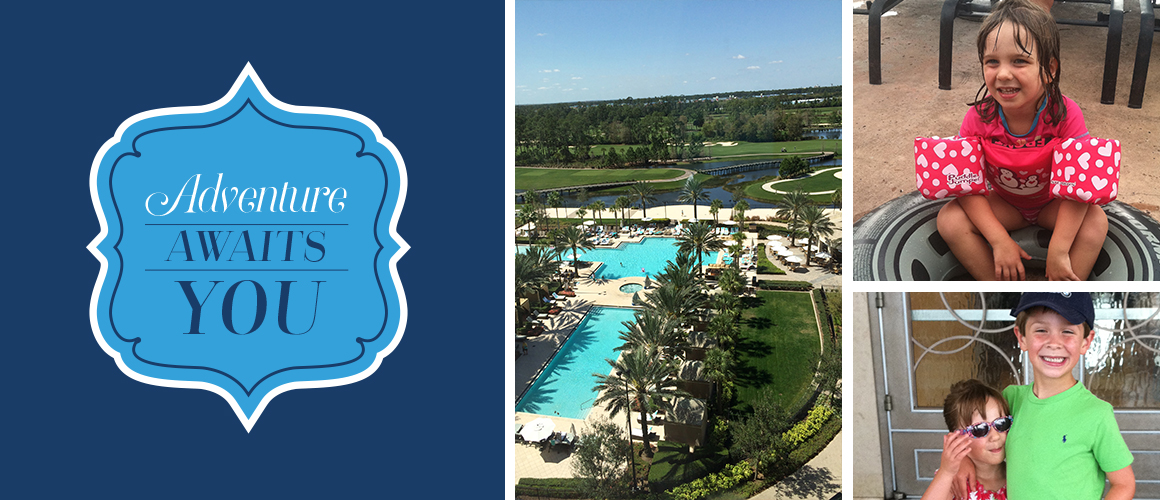 ---
Here are the things we loved:
Very large amount of space in our deluxe suite. Everyone was very pleased with their sleeping arrangements , which included 6 year-old Benjamin on a comfy pull out couch and 3 year-old Anna on a rollaway. Even with all of the beds out, we still had plenty of room for dancing, Lego projects, sword fights, and overtired tantrums.  My husband and I were quite pleased with our own private king-sized space, too.
Yummy breakfast buffet at Oscar's. We ate here every morning and found something new we liked every day. Homemade pop-tarts made with fresh jam and the cheese and charcuterie station were my favorites.
Lovely golf course. The golf pro shop staff were very helpful and very accommodating. After reading about alligators living on Florida golf courses, my son was very relieved it was an alligator free course. He attributes this to the all-powerful Disney influence keeping the alligators away. Maybe he is right!
Lazy River. There is very family friendly pool at the adjoining Hilton that Waldorf Astoria guests have access to- it includes a lazy river and large slide. One of the bellman gave us a ride there in a golf cart on our first day, but it turned out to be walking distance. The pools at the Waldorf-Astoria are very lovely and serene.
Turn down service. This seems silly, but so many luxury hotels have phased this out. Our well-travelled kids had never seen this before. When people asked my daughter about her trip to Florida, the highlights were getting a chocolate mint on her pillow and meeting Minnie Mouse.
Friendly staff, especially the bellmen. They went out of their way to help us and they remembered our names. Luggage service was much faster than I expected given the size of our hotel. We had our luggage within minutes of arriving in our room and they were equally quick at check out.
Because everything is not always rainbows and sunshine, here were the few things we found disappointing that can be great tips for others staying on the property in the future :
Disney park ticket prices at the Waldorf-Astoria ticket desk were higher than the price at the gate (or at the Hilton next door). This is reportedly due to a surcharge. Luckily, we found this out and purchased our park tickets at the Hilton. This saved $80.
Shuttle to the parks runs every ½ hour in the morning, but in the middle of the day it doesn't run for 2 hours. We were late risers on our first day and after enjoying the yummy breakfast buffet, we had to wait 2 hours for the next park shuttle. The kiddos were not thrilled with the idea of waiting so we ended up driving. They loved the parking lot shuttle and then the riverboat across Seven Seas Lagoon to get to the Magic Kingdom so it worked out.
We had a late flight out on a Saturday and we received the wrong information regarding late checkout policy and places to change out of swimsuits once we had checked out which was disappointing with a 6 and a 3 year old. .
Poolside bar/restaurant Aquamarine is understaffed. Servers worked hard, but there were not enough of them. We had long waits for placing our orders, receiving drinks and food, getting water refills, and then settling the bill. This is something to keep in mind for the future when ordering poolside.
Despite these minor disappointments, we will definitely stay here again and recommend it to others. It was a fun experience for all of us. Happy travels!
To check out this great holiday please visit, Waldorf Orlando. Featured photo credit, Waldorf Astoria Orlando.