(Disclosure: Runner Bean graciously provided free tours to my family for the purposes of this review. A few of the organization's tours are free for all, or available for a nominal fee. All opinions voiced within this article are my own.)
Our family was recently given a rare treat: a last-minute work trip for my husband, Mike, resulted in a vacation to Barcelona for all three of us. As Mike needed to attend a conference each day, our family of three had to maximize our Barcelona site-seeing as a family in the evenings and on the weekend. I know that anyone who has traveled with kids on a spouse's work trip can understand this challenge, and how important it is to squeeze in time to make memories together that aren't pre-meeting breakfasts or post-conference dinners.

 
The 2 tours we scheduled were a big part of making our captured moments all together so much fun. Not only did they give us a fantastic window into the city of Barcelona, they were interesting and entertaining for both our 11- year old daughter and her parents.
Runner Bean offers a variety of tours, ranging from free-of-charge to a nominal 15-20 Euro fee per person. The tour sizes are small—no more than 15 people—which means you are never out out of earshot of your guide, and get to know the others on the tour more personally.

 
We chose two tours to take during our family time—an evening Dark Past Night Tour, and a Saturday morning Kids & Family Tour.
While the Dark Past Night Tour is not typically recommended for children under 14 due to its focus on the Spanish Inquisition, we spoke with Runner Bean via email prior to our booking, and were able to determine that our almost 12-year old would be fine with the content. Even so, our guide, Ali, was very thoughtful about checking in with our daughter throughout the tour, and letting us know that if anything became too much, to give her a signal.
Our kid now delightedly tells her middle-school friends about the three forms of torture employed by the inquisitor—the fire, the water, and the rope—but (I promise) was in no way traumatized by this gruesome discovery. As noted on the Runner Bean website, this tour is not a ghost tour, and isn't presented in a spooky way, but rather, describes the Spanish Inquisition in a factual way (with a good bit of humor to break up the gore.) Walking around the streets of El Born at night, twisting and turning down tiny streets with our guide, was half of the thrill of the tour. Later on in our week, when my daughter would discover a place in full daylight which we had seen on the tour, it was like finding a hidden treasure.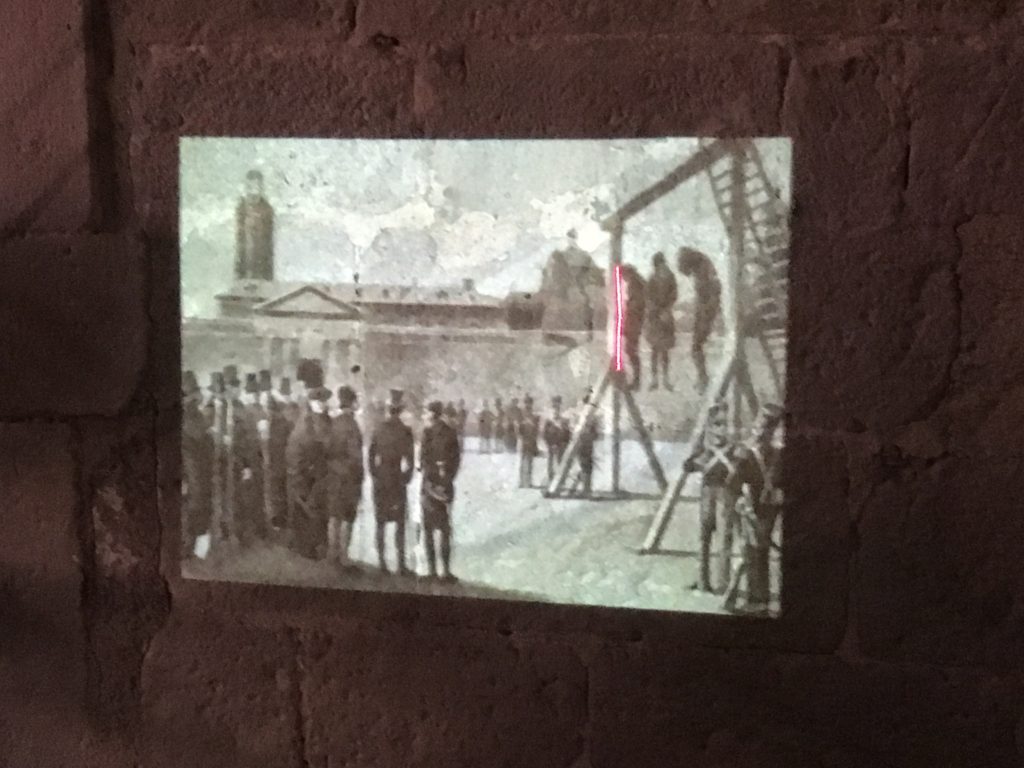 After spending time with Ali, we felt like we really understood the history of Barcelona much better. As we toured other historic sites throughout the week, the information on the Runner Bean tour helped us to make connections and stitch together the Catalan past.
At the end of our time in Barcelona, we enjoyed the Kids and Family Tour. While this made a great bookend to our trip, if you can take this at the beginning of your stay, it would be a fantastic introduction to the city. Upon arriving at our meeting place, the group was divided into two tours by age. Our "older kid" group took off first to explore the Gothic Quarter, quickly setting down with activity books and a competition to see if the kids could complete a task and win us all some sweets. The kids succeeded, and we each got to enjoy a candy from one of Barcelona's oldest confectionaries. (The sweets were delicious.)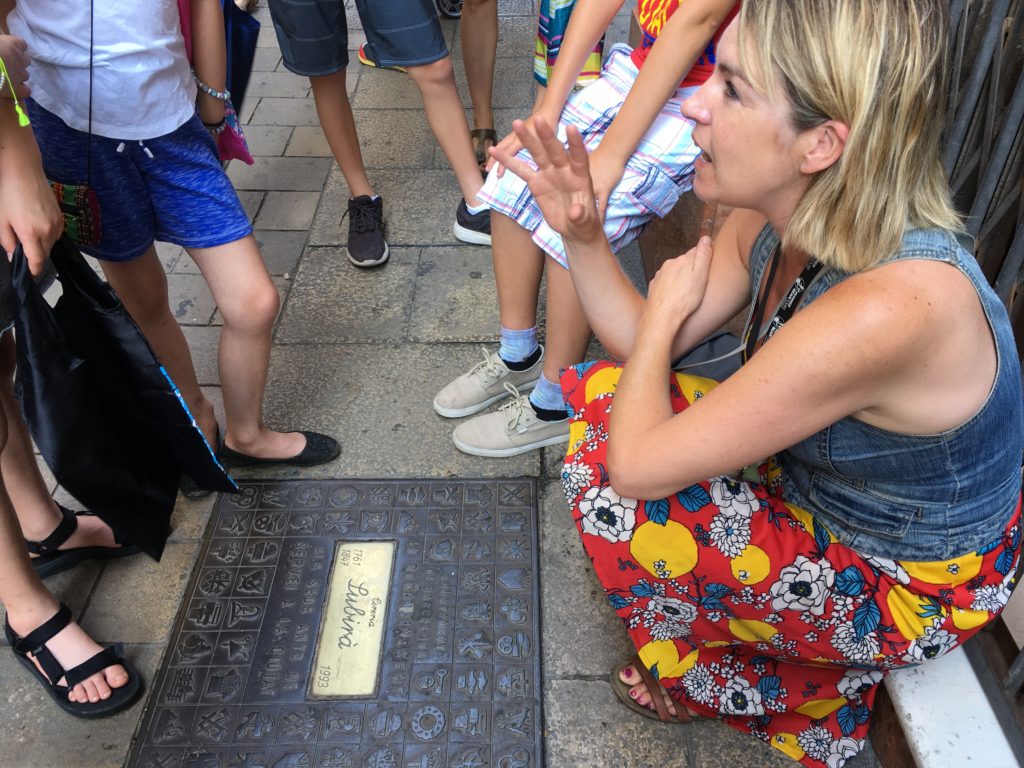 Our guide, Lisa, did a terrific job improvising when several of the typical sites featured on the tour were closed due to an official Catalan holiday. Throughout out 2.5 hours, we were able to explore many of the key sites in the Gothic Quarter, all while learning about special Catalan traditions. Because she was knowledgeable about so many places, she could fill in the gaps in our tour without missing a beat.
I won't spoil anything here, but learning about Catalan holiday traditions—particularly Caga Tio and the caganer—made the kids squeal with laughter. Our daughter has requested that we have our own Caga Tio for Christmas this year, and we are really looking forward to the new addition to our holiday celebration.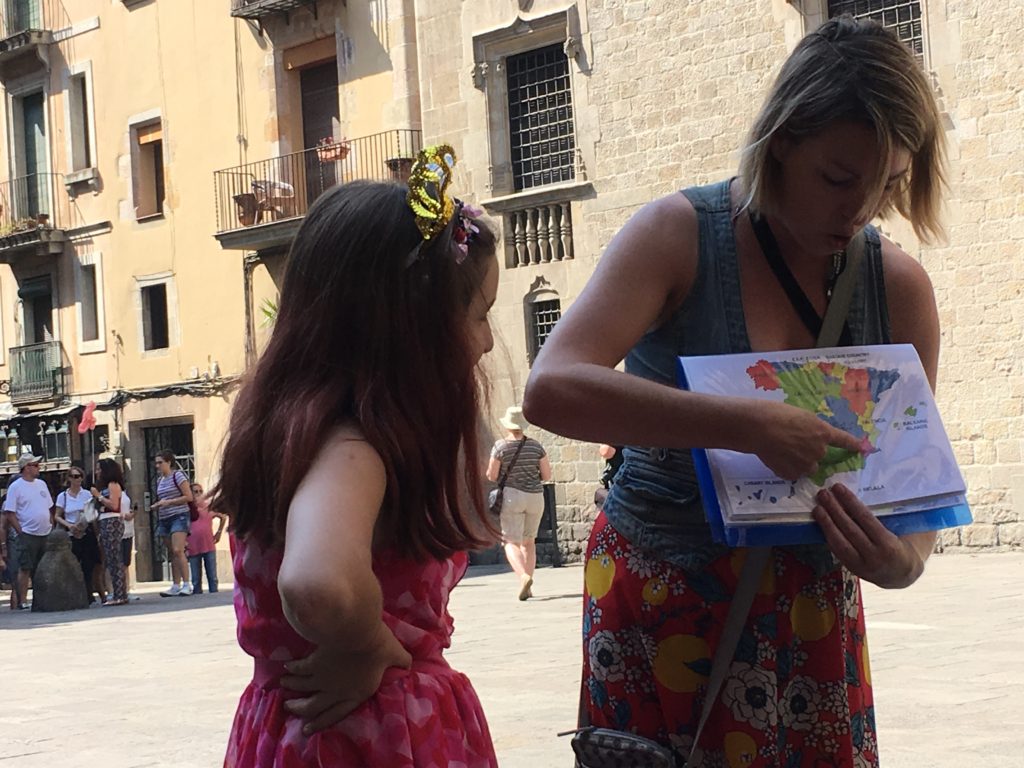 We found our guides to be personable and deeply knowledgeable. The fact that they are native English speakers with excellent Spanish fluency doesn't hurt, either. The duration and breadth of our tours was just about perfect, and their small size made them feel more personal. While they are walking tours, the walking was not overly intense or difficult, and there were plenty of stops along the way for those who need breaks.
The tour business is big business, and throughout our stay in Barcelona we saw many tour companies leading large parties around the city. For our Euro, though, I don't think you can get a better tour in Barcelona than the ones run by the folks at Runner Bean.