It's that time of year again when many people are looking forward to spring break travels to warmer climates. Doesn't a warm, sandy beach sound fabulous right now?! Often times I get asked the question, "what natural remedies do you pack when you travel?". Whether its jet lag, digestive distress, bug bites, sun burns, constipation, difficulty sleeping or some other "not so fun on vacation" ailment, I like to be prepared. I've listed below a few of my favorites that absolutely get packed every time I leave the house for a vacation. Happy Travels!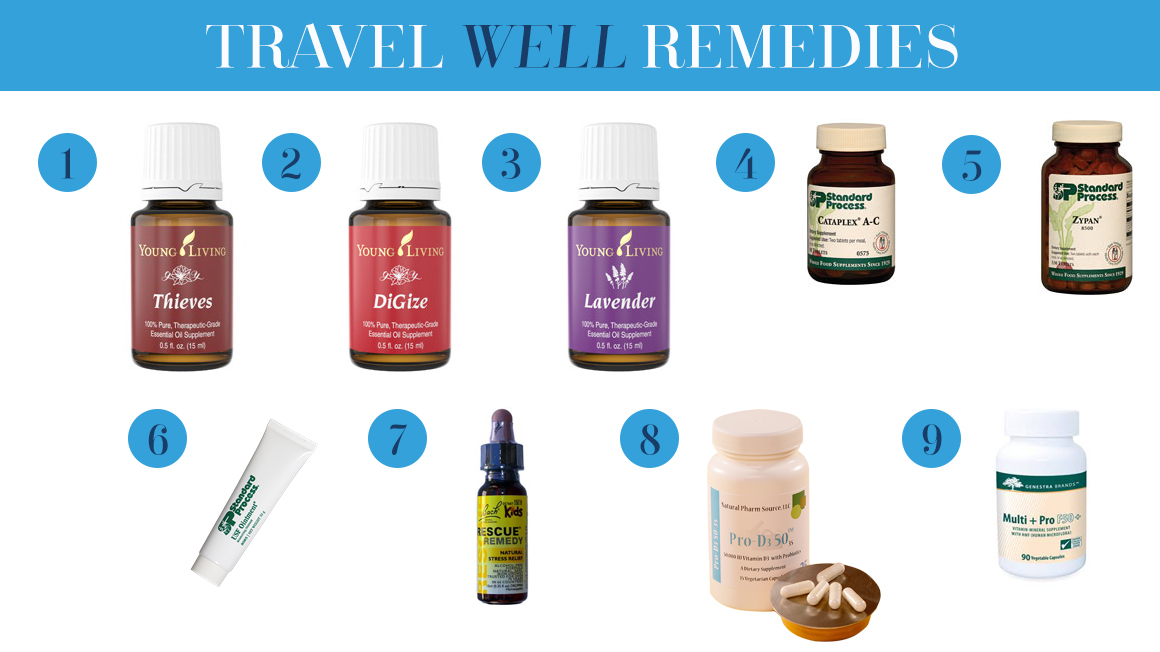 ---
1) Thieves Essential Oil –
I rub this on my kids feet daily and I often will take orally with capsules to ward off cold/flu. Fantastic for supporting the immune system. Coming in a spray and wipes it is also great for wiping down airplane trays, rental cars and little hands before roadside picnics.
2) DiGize Essential Oil – another essential oil that I love to use for any tummy troubles. Big or small!
3) Lavender Essential Oil – an excellent topical for bug bites and burns. Also good for calming, sedating, sleeping and nausea.
4) Cataplex AC – taken at the first sign of illness, Cataplex AC is my first go-to for immune support!
5) Zypan – another digestive support which I keep on hand for those unfortunate food poisoning events.
6) USF Ointment – this salve is fantastic for diaper rash, cuts, scrapes, burns, irritations and dry skin.
7) Bach Rescue Remedy drops for kids – my kids call these "birdie drops" because I tell them they look like little birds when they come running up with their little mouths wide open. They taste great, travel easy and can be used anytime you or they need a little calming affect. It's heaven in a bottle!
8) Pro D 50 – If sickness does occur we often take this product which contains 50,000 IU's of Vitamin D3. Taken for 3-5 days at the first sign of illness it will stop a cold/flu in it's tracks.
9) Mega Pro 50 Billion – all natural, non-dairy, containing six species of friendly, non-pathogenic microorganisms to support digestive health and immune support. Again, we take this at the first sign of illness or if know exposure to something we would rather not experience.