As luxury car aficionados, my husband and I have wanted to try Silvercar for months now. This car rental service claims to be the first-ever hassle free car rental company, and part of that process includes letting renters do everything via their phones—booking, picking up, dropping off, and making requests.
But that's not all that makes Silvercar a luxury car rental service. It comes down to the type of car they rent out: the flawlessly sleek silver Audi A4.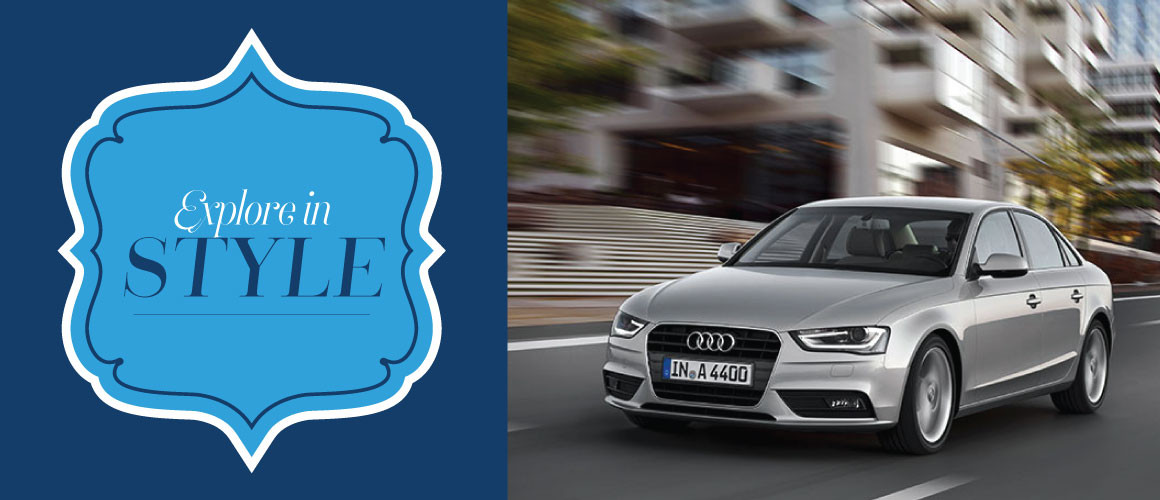 Silvercar exists in 10 cities including Chicago, but because my family is based there, we never have cause to rent a car in our own city. When I was prepping for our trip to San Francisco, however, I noted that Silvercar had a branch at the San Francisco Airport. I was anxious to see if they'd live up to their claims.
Because every time you rent a car from anywhere else, you may think you're getting one type of car, but too often you end up with a car you'd never drive. Then it's another hour at the check out counter trying to remedy the situation.
Was Silvercar any different? ABSOLUTELY. Here's why:
---
Download the app for super easy booking. Prices when we were in San Francisco ranged from $59 to $89 per day. I was able to book everything via the Silvercar app, as well as request a booster seat for our son Harry. Once the reservation was set, I received a message saying that when we landed at SFO, we'd receive further instructions on where to pick up the car.
As a bonus, immediately after you download the app and verify your email, you'll receive a discount code for $50 off your first rental within the app's Message Inbox and also a referral code where you'll earn $25 for each referral you send to Silvercar that results in a completed drive. The person you refer also earns $25. Right away, the company wants you to spread the word, and they give you the ammunition to do so.
My husband asked me periodically if there was anything else we needed to do, but really there wasn't…until we landed.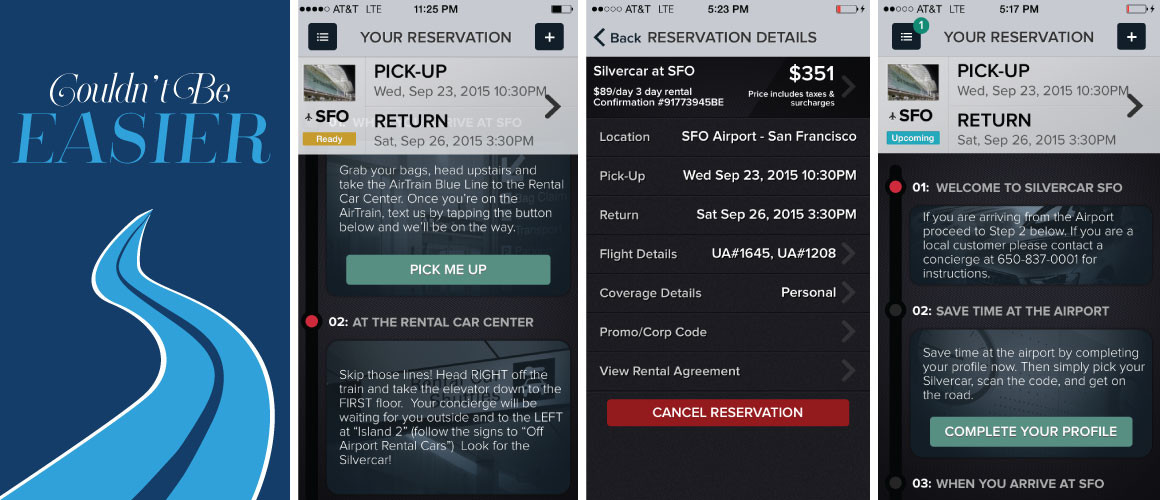 Check your phone for further instructions upon landing. Unfortunately, our flight landed late (nearly midnight), and I had worried along the way about what that might mean for our car rental. My phone buzzed with a text message from Silvercar the second we landed at SFO. They'd been tracking our flight, and simply asked that we send a text when we got off the tram to the rental car area.
The app went on to include very detailed instructions about getting to the tram and which way to turn when we stepped off. When that time came, a friendly man in a silver Audi was waiting to pick us up and drive us to our rental.
He provided our car and a clean good as new booster seat (at no charge) and then showed us how to work the unique functions of the A4, including satellite radio, toll tracking, wifi navigation, and sun roof.
Unlock with your phone. The Silvercar representative also told us that now that we were set up in the service's system, we wouldn't have to rely on a representative the next time we booked a car. All we have to do now is make our reservation, and scan our phone at the dashboard. Even easier.
Skip the gas station. Unlike virtually every other car rental company out there, Silvercar doesn't require you to re-fill the gas tank before returning your rental. If it needs re-filling upon your return, they charge a flat $5 fee, and take care of filling the tank at street price—no mark ups. That alone saved us time and stress on the way back to the airport.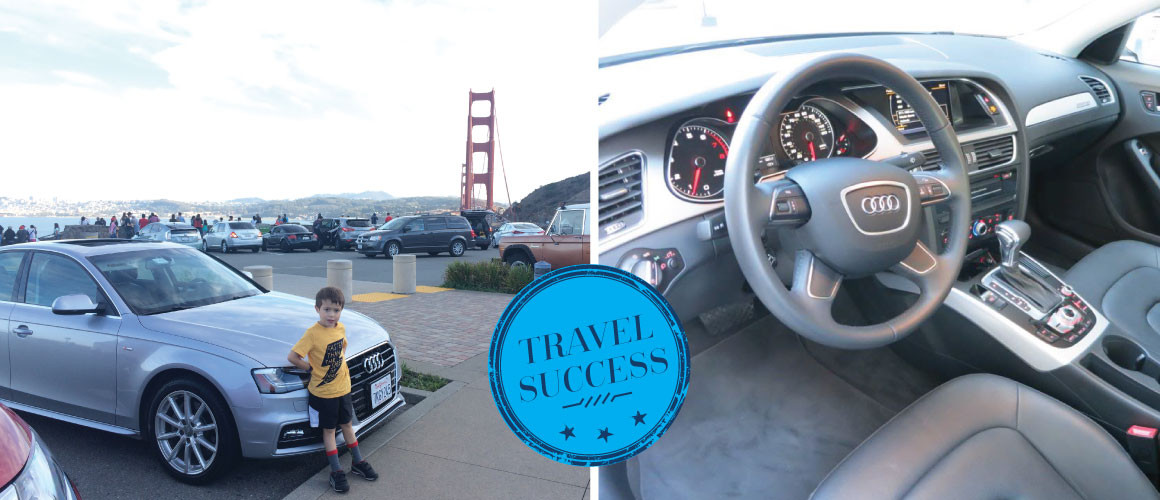 Park and go. But that wasn't the only stress relief. Instead of having to return the car and wait for someone to check me back in, our Silvercar Concierge scanned the car to end my reservation and by the time we were boarding the plane, I already had received a text of our receipt.
A few days later, Silvercar also texted a second receipt with updated toll charges from the toll pass we used to cross the Golden Gate Bridge in the car.
I thoroughly loved driving the Audi A4. It was a really fun car, with wifi navigation that made getting around the city easier than ever. Plus, we looked super stylish and slick everywhere we went—instead of rolling up in a mini van.
We picked the right city to try Silvercar, too. San Francisco is a great place to have a car. It enabled us to fly kites in one of the beautiful city parks, experience the Golden Gate Bridge, check out the Palace of Fine Arts, enjoy an afternoon in Sausalito, and drop by our favorite west coast indulgence In-N-Out burger. We even took a drive down the coast for lunch in Half Moon Bay before cruising back through forest and mountains to the airport.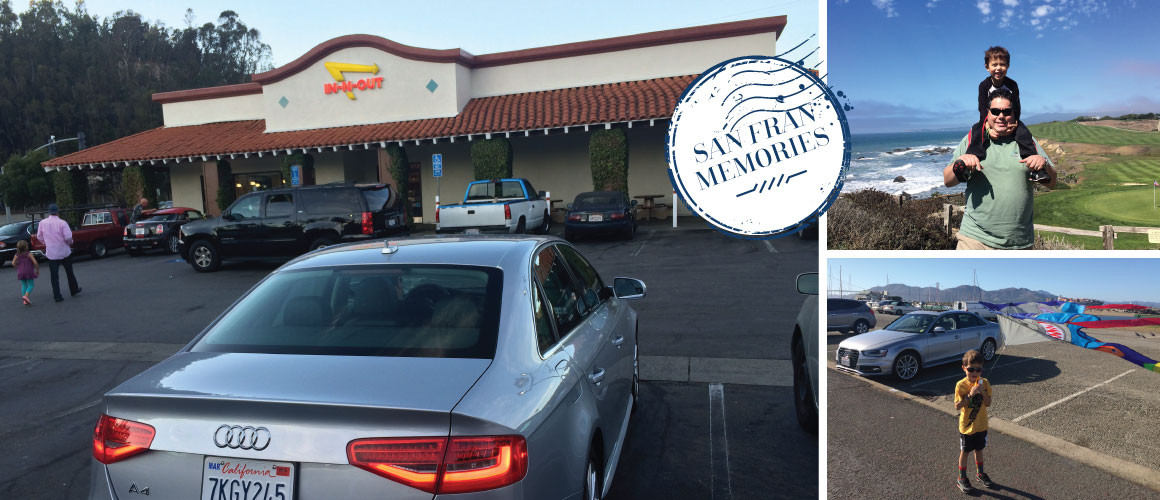 Our entire Silvercar experience was downright pleasurable and completely hassle free. Normally, car rental can morph into such a stress factor, but not with this detail-oriented service.
My husband loved it, too—specifically the lack of shady salespeople offering last minute upgrades and long lines.  Silvercar was a shining light in our San Francisco experience, and we can't wait to try it in other cities.
DISCOUNT: Now it's your turn to try renting a Silvercar and let us know your thoughts. Use my referral code SHIRSCH1 when you create a Silvercar profile online at Silvercar.com and receive $25 via Paypal after completing your first rental. I can't wait to hear how much you love it!
---
I received a discounted press rate from Silvercar for purposes of this review.  All opinions are my own.
Photo Credits: wired.com, thepointsguy.com, & viewfromthewing.boardingarea.com