Charleston – The Holy City – what a beautiful place!  We just spent a few precious days in Charleston and were completely bowled over by the high quality of food we enjoyed and the richness of the activities we selected while we were there.  And Charlestonians are kind, warm and eager to share their good times.
Welcome to Chareleston!
Visiting Charleston is simply captivating.  It is not surprising that Charleston just took first place in Conde Nast's annual competition for best cities!
Charleston Airport is an easy, small airport that makes entering the city a breeze.  As soon as we deplaned we headed for the car rental counter and within minutes we were on our way into town.  
Since Charleston is a small city it is easy to navigate.  We decided to stay for a few days and see what fun a family could have in this historic place.  There were a few standout activities that we enjoyed very much.
A Walking Tour of Historic Old Town
On more than one occasion we parked and walked so we could "feel" the place and enjoy the architecture and general feeling of the closely packed neighborhoods.  One area that was particularly pleasant was Battery Park which has a display of canons dating back to the Civil War along with an "allee" of shaded live Oak Trees with plenty of dangling Spanish Moss to set the mood.  Our kids loved exploring the canons and the elevated walking path along the water.  
We followed it along to see Rainbow Row and learned that the architecture commonly associated with Charleston – Georgian style buildings painted in brilliant jewel-box colors are of a style completely borrowed from the architecture commonly seen on islands like Barbados.  Years ago when there was a trading route that included the Caribbean the folks who built these houses said "if it works in the islands, it will work here".  And they were right.  The play of light on these buildings make this a painter's paradise and the wide verandahs do an admirable job of capturing sea breezes which are merciful on a stifling hot, humid day.  Pour a cold drink and stroll the narrow streets.  On the waterside of Rainbow Row there is a small park which has a nice playground right on the water along with a community center building where there are clean bathrooms.  This part of town has few public facilities so people traveling with kids will want to know about this spot.
A Moving Visit to A 300 Year Old Plantation in South Carolina
Boone Hall Plantation  is privately owned and opens its doors to paying visitors curious about life on a Plantation.  Spreading over more than 700 acres, Boone Hall, offers a mix of experiences.  On the lighter side it is possible to have a house tour of the Plantation House which is interesting as was a plein-aire wagon tour of the property where we observed the intensity of their well-known fruit growing operation, the remnants of lines drawn by Union Army during the Civil War, and pecan trees planted more than 100 years ago which still bear nuts.    
On the more serious side Boone Hall also maintains 8 very well preserved slave cabins with automated, didactic presentations that bring to life the peril, rigor and sadness of slave life.  We took our time with this portion of the visit as we had heard these are considered to among the best preserved slave cabins in the South.  We and our children learned a lot – our kids had a lot of questions about the conditions of slavery and the painful history of slavery in the United States.  While this aspect of the visit was not easy it was important and we were grateful to have had the opportunity to broach this topic with a living history that provided a memorable and powerful context for comprehension.  
Boone Hall maintains a small market just up the road from the main entrance where we bought peaches harvested from their trees – these peaches were quite possibly the best I have ever tasted and I recalled our guide at the Plantation telling us that South Carolina grows more peaches and produce than Georgia.  Who knew?  Now we know.  
Near Boone Hall is the Charles Pinckney House which is now cared for and operated by The National Park Service.  The Pinckney House is free and offers a very well presented presentation about the history of the area and plantation life over the centuries.  The House also occupies a parcel of land that boasts beautiful Live Oak Trees with Spanish Moss, large, open fields where you can feel the history from a classic verandah complete with rocking chairs.  
Lastly Highway 17 which brings most visitors to Boone Hall and environs is also the area where many Gullah people sell their famous sweetgrass baskets.  These are worth having a look at and make a nice souvenir.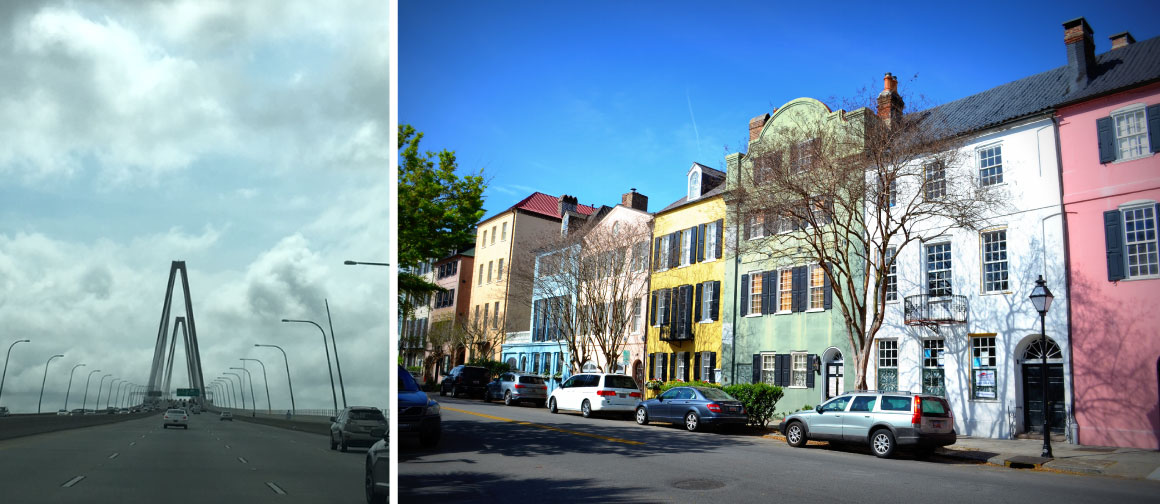 Refresh At the Beaches
Low Country Life is all about a slow pace, an offshore breeze, a cool drink within arm's reach and some time at the beach.  The Charleston area boasts many fine beaches.  One that we really enjoyed was off Sullivan's Island  which is just a short drive toward the coast from Charleston.  The beaches offer wide, hard-pack sand (you could ride a bike on it) and seemingly miles of quiet, private, breezy beach with very shallow water which is superb for younger children.  Note there are no facilities at the beach however the central part of town has some restaurants and small stores where you can relax and refresh as well. 
A Retired Aircraft Carrier Is A Great Place to Ride Out A Tropical Storm  
While we were visiting, Tropical Storm Colin suddenly formed and promised to dump torrential rains on the area.  Precautions were being taken at the local level regarding flash floods and more.  As visitors we had no property to secure so we rode out the storm by making a fantastic visit to Patriot's Point   home to a retired Air Craft Carrier (Yorktown), destroyer (Laffley) and submarine (Clamagore) plus an intensive Viet Nam Experience and more.
 One ticket gets you into this top-flight military museum which, aside from providing wonderful shelter from a big storm, taught us much about life aboard these remarkable vessels and the various combat theater's in which they participated.  If you have not been to such a museum I highly recommend it as children relate to the physical spaces in surprising and wonderful ways.  Such living museums require some time, so allow yourself a few hours to truly enjoy the experience of exploring and let history come to life for you and your family.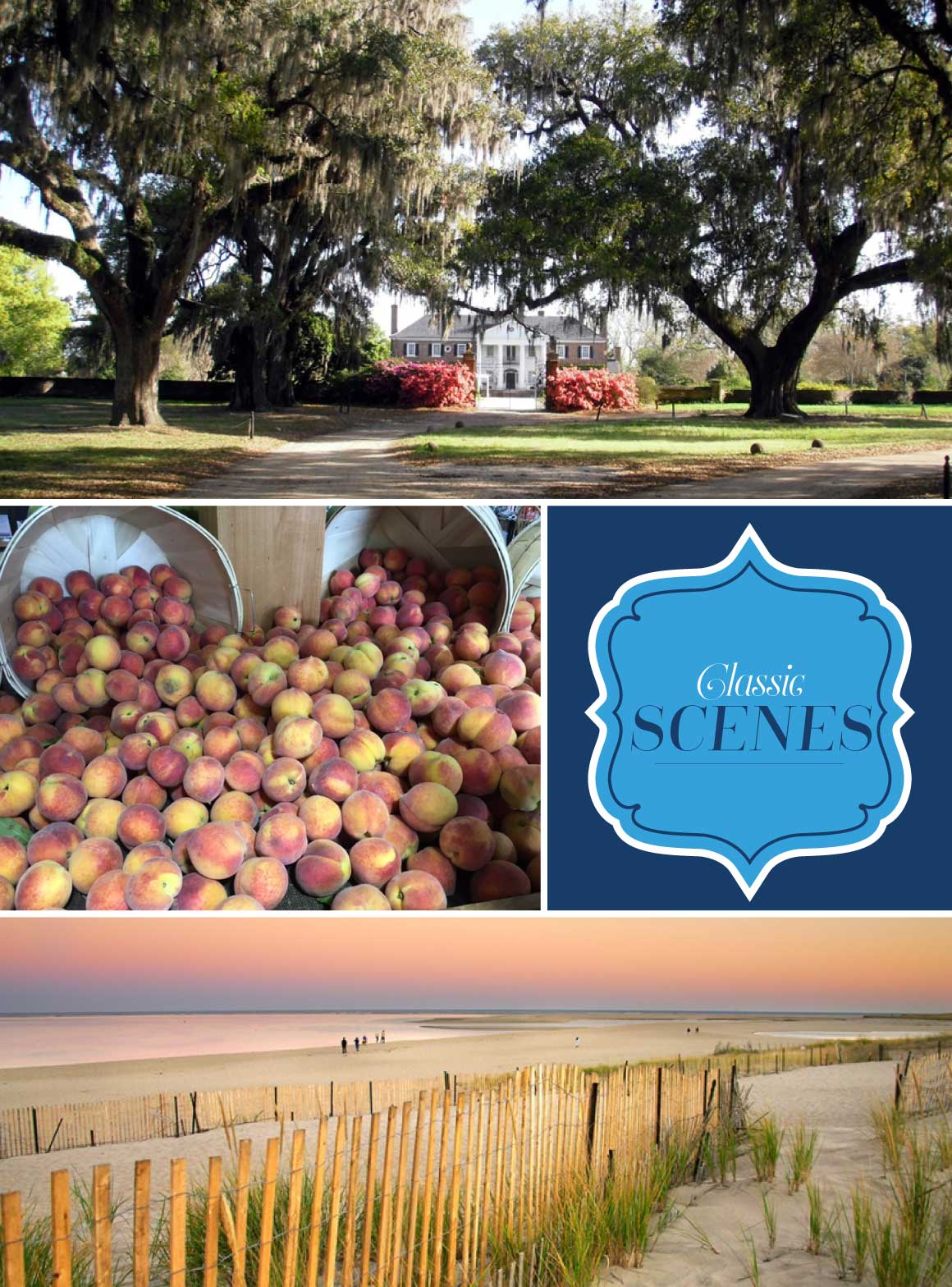 Eat Like A Casual King In Charleston
The area around Charleston boasts a sandy soil that encourages everything to grow.  And grow everything does!  From peaches to strawberries to seafood that's just fresh and divine this area is just dynamite if you enjoy fresh food, local sourcing, creative approaches to cuisine and more.  While there are just too many restaurants to choose from in this area there were a few that were absolute stand-outs for our family.  On this trip we were especially interested in finding the best BBQ and the freshest local seafood.  Our research paid off!
This BBQ spot smokes and cooks it's own meats.  They make their own bbq sauces.  They also make fabulous side dishes, deserts and more.  We liked this place so much we ate here twice.  We especially liked their pork belly, pulled pork, ribs and mac n cheese.  Oh and I shouldn't forget their banana pudding which was so good it made our knees knock.  The place is noisy and casual as a bbq joint should be.  Come hungry and have fun with their menu!
This small, casual spot along the highway to James Island is a great local haunt.  They have a small dining room and a brisk carry-out business if you prefer to take a picnic to the beach.  All the seafood is super-fresh, the owner is a kind man and the vibe is local, Southern and relaxed.  We especially enjoyed their She Crab Soup which was packed with crab and flavor.  Their shrimp and calamari were also stand-out good.  
This site was once a Navy fleet landing building, hence the name, Fleet Landing.  This upscale restaurant enjoys a commanding view of Charleston Harbor and is easily accessed from historic downtown Charleston.  The seafood here is fresh and very well prepared.  We especially enjoyed Fried Oysters with cheesy grits, fabulous calamari, and terrific She – Crab Soup which was accompanied by a personal bottle of sherry with which to season the soup.  We also enjoyed fresh shrimp, fish and more.  Fleet Landing gets busy at dinner so if you have to wait you can play Bags in front or stroll along the water toward the adjacent park area where there are memorably fabulous porch swings available for visitors to while away the wait time.  
---
Pin for later!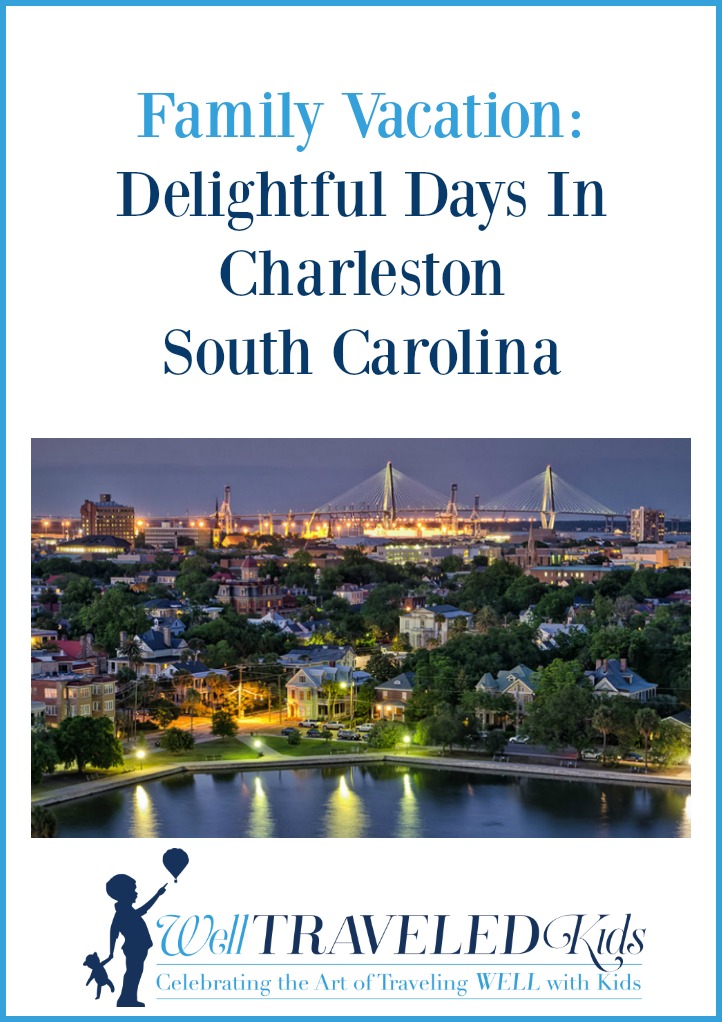 ---
Photo Credit:
tourcharleston.com
,
Boone Plantation
,
Beaches
,
Rainbow Row