The Metropolitan Museum of Art is absolutely beautiful and not to be missed when you visit New York City. And, yes!… Do bring the kids. They'll have fun too!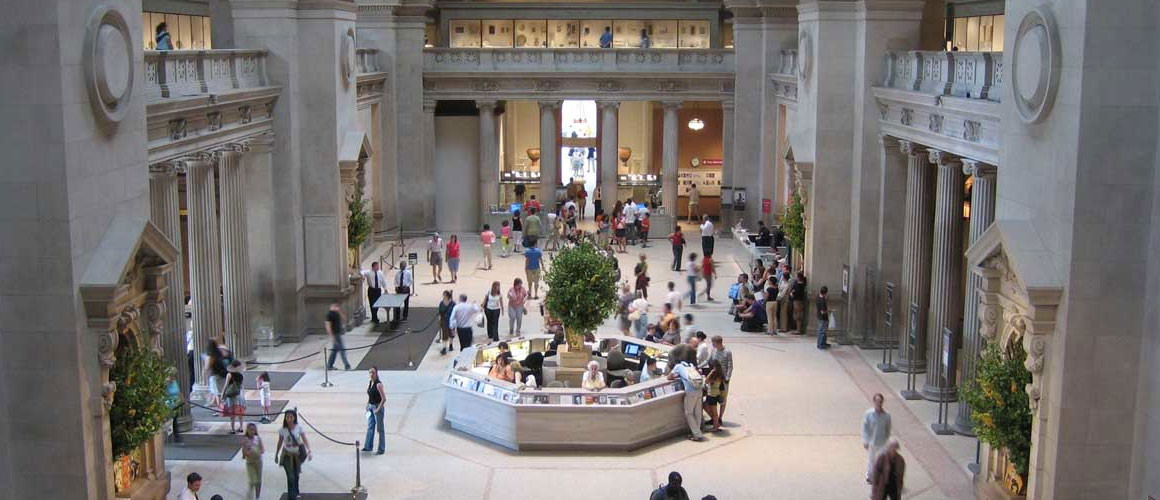 ---
Here are a few tips on enjoying the Met with little ones:
Before you go:
Take a quick look at the website. Pick out what the grown-ups want to see and decide what the kids might be interested in.
Don't plan on doing too much. This place is huge! Accept that you won't be able to see it all. Plan on spending two hours, maybe three. It's ok… you can always come back!
And remember, kids under 12 get free admission, so it won't feel like a waste of money even if you end up only spending one hour.
When you get there:
Pick up a map. Figure out where the various areas you want to visit are located.
Tell the kids where you're going ("Who's ready to see knights in shining armor?!")
Then, make your way slowly to that area while casually strolling through the collections the grown-ups are actually interested in… (sneaky!)
As you walk through the museum, try to get the kids engaged in looking at art. Here's how:
Tips for helping children enjoy art museums:
When looking at artwork, kids probably won't be able to relate to the history behind the art or its cultural significance. But remember: every child makes art. They draw, paint, play with clay. Also, most children today have taken photos with a cell phone or tablet. So kids can always relate to art by looking at artistic technique and process… The trick is to help them really LOOK.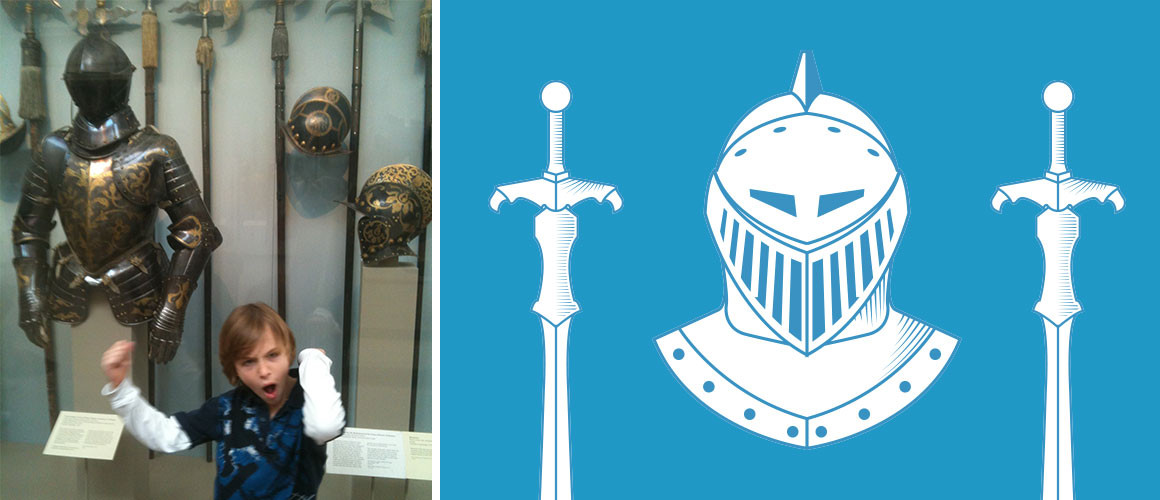 ---
Questions you can ask:
"What part of this painting do you think was easy to paint? What part was the most difficult?"
"How many different brush sizes do you think the painter used?" (look close but don't touch!)
"The label says 'pencil and watercolor', can you see the pencil marks underneath the paint?"
"How do you think the sculptor created this shape? Using his/her hands, or using sculpting tools? What kind?"
"Where was the photographer standing to take this photo?"
"Did the photographer capture an interesting moment in time? What about 5 seconds earlier or 5 seconds later?"
"Sometimes photos are not in color but in black and white, do you think that makes them more or less interesting?"
You can also play Scavenger Hunt
"In this room, there is a painting with a lady wearing a red hat. Can you find her?"
Hint #1: Pick a "smallish" detail, so they really have to look.
Hint #2: Pick an artwork across the room, so they don't find it right away.
Do this in every room as you walk through the museum.
With siblings, you can make this into a friendly competition, keeping score of who finds the artwork first.
Or you can make art…
If you have time and your kids are little artists themselves, bring small sketchbooks and #2 pencils (pens, markers and crayons are not allowed) and have them sit on a bench and draw. You can even join them!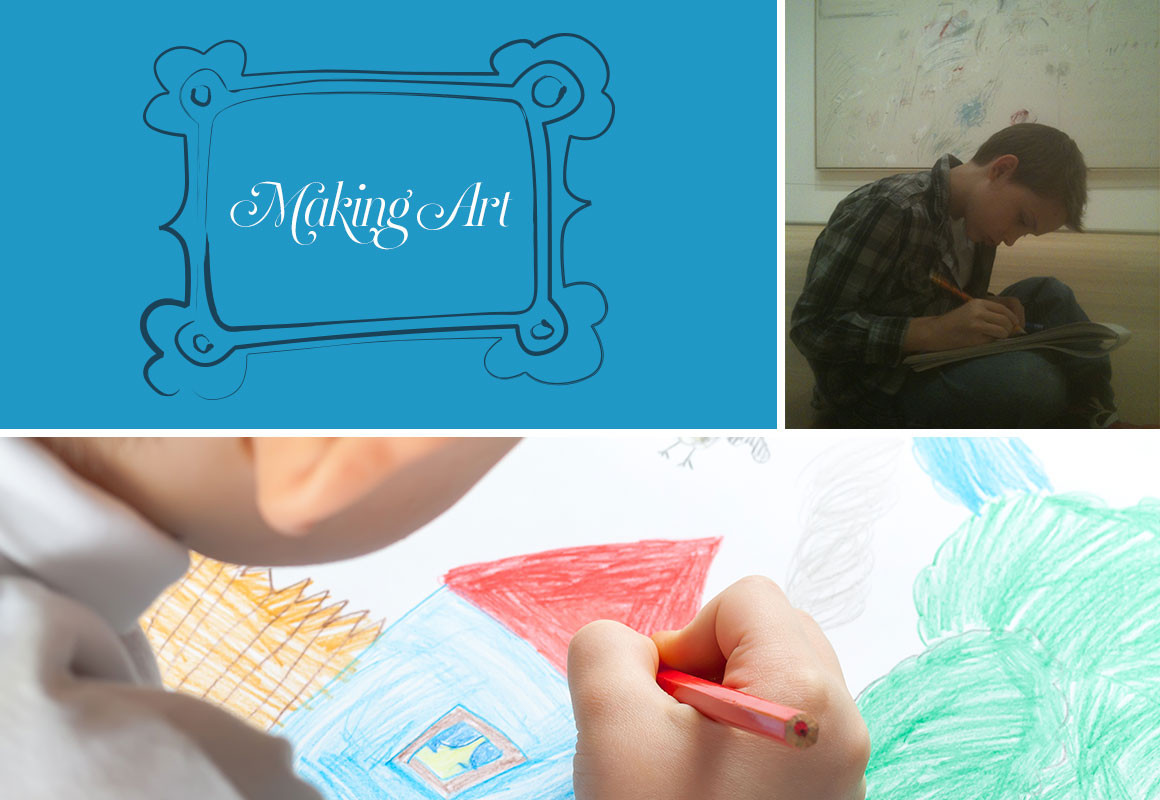 ---
Art at the Met:
Here's the art our family likes to see at the Met, and how we help our kids use their imagination to experience it.
Our kids always enjoy the Arms & Armor collection. They get to see lots of different weapons! Ask them to guess how heavy everything is and how strong the warriors must have been.
I know a lot of people enjoy the Egyptian Collection, but it's often very crowded so we tend to skip it. If you have to see Egyptian Art, the Temple of Dendur is pretty impressive. Tell the kids this was a religious building and let them imagine what it would be like to walk inside.
Modern Abstract Art can be tricky to relate to, but my kids really like Jackson Pollock's paintings. I think they enjoy the radical idea of placing a canvas on the floor and dripping and throwing paint at it! Ask kids if this sounds like an interesting way to express emotions.
In the Impressionist section, make sure to see Degas' paintings of ballerinas rehearsing and performing. If your kids are dancers themselves, have them compare their experiences (their dance studio, their recitals, the outfits and slippers they wear) to what they see in the paintings.
For kids interested in fashion, the Costume Institute has gorgeous pieces from different time periods. Kids can imagine what it would be like to wear these clothes every day. Would they still be able to play? Would they need help getting dressed or could they do it alone?
And don't forget the Unicorn Tapestries in the Medieval section. Absolutely beautiful and easy to relate to princesses and fairy tales. Plus everyone can marvel at the sheer number of hours it took to create these wall hangings.
Visiting the Met with children can be a very enriching experience. The trick is to really look at the artwork, and then to have conversations helping the kids relate the art to their own lives.
Have fun!