For seasoned travelers, a trip to Lake Geneva, about an hour-and-a-half north of Chicago, may seem a bit pedestrian and more like a day trip than a weekend getaway. Yet leaving Chicago's hectic pace and flat, busy streets behind for the bucolic vistas and gently rolling hills of Wisconsin is as therapeutic a getaway as any, especially for a single mom with two young children in tow.
My 6-year-old daughter and 8-year-old son eagerly anticipated our weekend spent at the Grand Geneva Resort & Spa, so much so that nary an "Are we there yet?"  passed their lips. Before we knew it we were at the resort, ready to explore activities on and near the property.
We arrived so early on a Friday morning that our room was not quite ready. After a quick lunch out by the pool and a brief discussion about family activities with the concierge, we tried again to check in. As I waited at the front desk for room keys, the children fidgeting and bickering next to me, the concierge came over with tickets for gelato and escorted them for their scoops while I finished-up, grateful for a few quiet moments. This hotel caters to families (the concierge keeps drink coupons on hand as well for weary or disgruntled adult counterparts).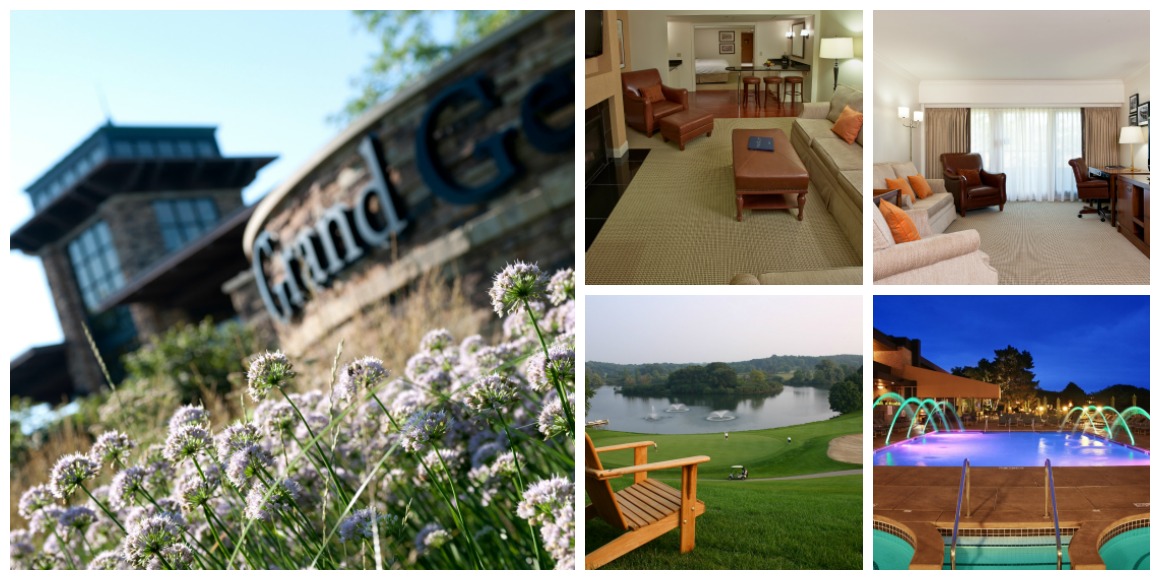 Our Premier Suite was well worth the wait and afforded us an ideal set-up for the weekend. Two double beds and a pullout sofa bed gave everyone a separate spot to sleep. A large bathroom with a separate, walk-in shower and oversized, jetted tub kept both my son and daughter happy. They loved the TV imbedded in the bathroom mirror.
During the day, the wet bar, island with stools, and living room gave us plenty of space to regroup between activities. Though we were too busy to ever sit out on our ground-level patio, each morning we enjoyed the view of the golf course and private lake before heading out for the day.
All of the rooms at the Grand Geneva are nice, but families who opt for suites have access to the Geneva Club included in their rate (available with other rooms for an additional fee). The added convenience of breakfast, afternoon snacks and evening hors d' oeuvres during applicable hours meant we never needed to worry about meal times and could stave off hunger in between.
A resort for all seasons.
Summer is my favorite time to visit Lake Geneva, but the Grand Geneva Resort & Spa easily keeps families occupied regardless of the season. It's easy to plan a weekend getaway and never leave the property. The 1,300-acre resort features: two championship 18-hole golf courses (lessons available for both kids and adults); the WELL Spa + Salon; a 10,000-square-foot fitness center; indoor and outdoor tennis; The Mountain Top – a three-chair, 18-run ski and snowboard facility; outdoor and indoor pools; The Adventure Center; the 50,000-square-foot Moose Mountain Falls Waterpark at Timber Ridge Lodge; and Dan Patch Stables, where you'll find horseback, pony, sleigh and carriage rides, depending on the season. A resort trolley or van takes guests between facilities and activities (included in the $15 daily resort fee).  

We valeted our car while on the property and spent the bulk of one day at the waterpark and pool. As a single mom, both children needed to come out of the water for bathroom breaks at less than convenient locations outside of the facilities. Otherwise, I found it easy to keep them both occupied and in the same space; the waterpark's Canyon River was a family favorite, especially with one child not yet swimming.
From the Adventure Center, guests can rent bikes, hike, play disc golf, try archery, play volleyball, and picnic. Daily events such as nature walks, kids' adventures, movie nights, family feud, ping pong tournaments, and ceramics go on from morning until night. More adult evening activities included Paint 'N Sip, Whose Line Is It? Improve, and Taste of Wisconsin pairing cheeses and microbrews.
My kids loved taking part in Round Robin Art, where we each got to paint part of a canvas to build a family "masterpiece." One night, we sat in on part of Diary of a Wimpy Kid in the resort movie theater after dinner. Some kids were in their PJs and brought snacks along. It was the perfect place to unwind before bed.
The Kids Are Grand children's program keeps children busy during the day when parents are otherwise occupied for an additional fee. In-room childcare is also available from staff members who are certified in infant and child CPR. During the summer, Kids' Adventures from the Adventure Center is an onsite camp for kids, offering two sessions a day for an additional fee.
Fuel up the family.
No one should ever go hungry at the Grand Geneva. Between the resort and the neighboring, on-property Timber Ridge Lodge & Waterpark, there are plenty of casual and more formal dining options. For families with kids who can sit through a longer, more formal meal, don't miss the Geneva ChopHouse or Ristoranté Brissago. For more casual fare, the Grand Café, Links Bar and Grill, Leinenkugel's Mountain Top Lodge (in winter), and Smokey's Bar-B-Que House offer plenty of variety in different settings so that no one needs to dine twice in the same place.
Head to Café Gelato for a coffee or sweet fix, or visit Hungry Moose Food Court for quick snacks on-the-go. In the evening, adults enjoy live piano and libations in the Lobby Lounge, relaxing around the Embers Terrace outdoor fireplace, or dancing in Evolve nightclub.
Exploring the environs.
With downtown Lake Geneva and its stunning lake just minutes from the resort, it seemed a shame to miss its attractions. Just strolling through town and into quaint shops is relaxing and there are casual restaurants not far from the lake, such as Popeye's and Sprecher's, that are perfect for families.
My kids loved our stop at Kilwins on Main Street for ice cream cones and some homemade fudge for a back-at-home sweet reminder of our trip.  
While in Lake Geneva, we took a cruise on the lake in lieu of walking a segment of the public path around it. Our U.S. Mailboat Tour celebrated 100 years of service and is one of the few places where mail is still delivered by water to some of the estates and homes on the lake. Though snack concessions are available for purchase and bathrooms are onboard, the cruise may prove a little too long for very young children. Lake Geneva Cruise Line also offers shorter cruises, such as the Ice Cream Social and the Geneva Day Tour, which are offered well into the fall season. Cruises depart from the Riviera Docks and advance reservations are recommended.
The Tristan Crist Magic Theatre, also on Main Street, is another not-to-be-missed attraction. The intimate venue provides great viewing from every seat, and the large-scale illusions and sleight-of-hand tricks amazed all three of us; audience participation throughout kept everyone engaged. Both my children left the 75-minute show wanting to practice magic and we barely made it out of the theater gift shop without purchases.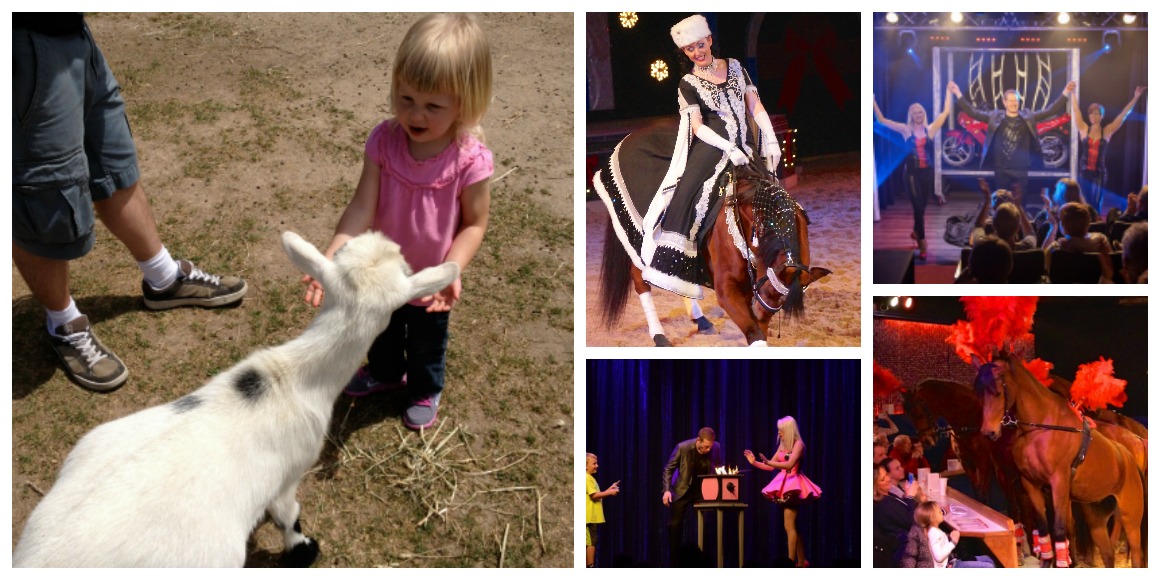 A third exceptional attraction, the Animal Gardens theme park, is located in nearby Delavan, Wisconsin. Between the petting zoo, exotic bird show, and the Dancing Horses Theatre, we spent an entire day on site. Though my kids were too fearful to feed the animals in the petting zoo, both enjoyed listening to Echo, the parrot, talk and sing and the other exotic birds ride bikes, paint and show off other skills. A train ride on the Wildlife Trail introduced us to some of the other exotic and indigenous animals on property and a chance to feed deer in the deer park. Our favorite part of the afternoon was at the Dancing Horses show (1:00 p.m. Wednesday, Saturday and Sunday), where an array of breeds performs alongside costumed trainers and riders in a 300-seat theater.
We ended our action-packed three days at the Grand Geneva Resort and Spa and in Lake Geneva feeling there wasn't time to fit everything in, but I'm certain this Midwest vacation getaway warrants a return visit. My kids are ready to pack their bags and head up north the first chance we get.
We were guests of the The Grand Geneva Resort and Spa for purposes of this review.  All opinions are my own.
---
For more information on: the Grand Geneva Resort & Spa visit
www.grandgeneva.com
, on Tristan Crist Magic Theatre visit
www.lakegenevamagic.com
, on Lake Geneva Cruise Line visit
www.cruiselakegeneva.com
, on The Dancing Horses Theatre visit
www.thedancinghorses.com
and on Animal Gardens visit
www.animalgardens.com
, on Sprecher's
www.sprecherspub.com
, on Popeye's visit
www.popeyeslkg.com
.
Pin this for later!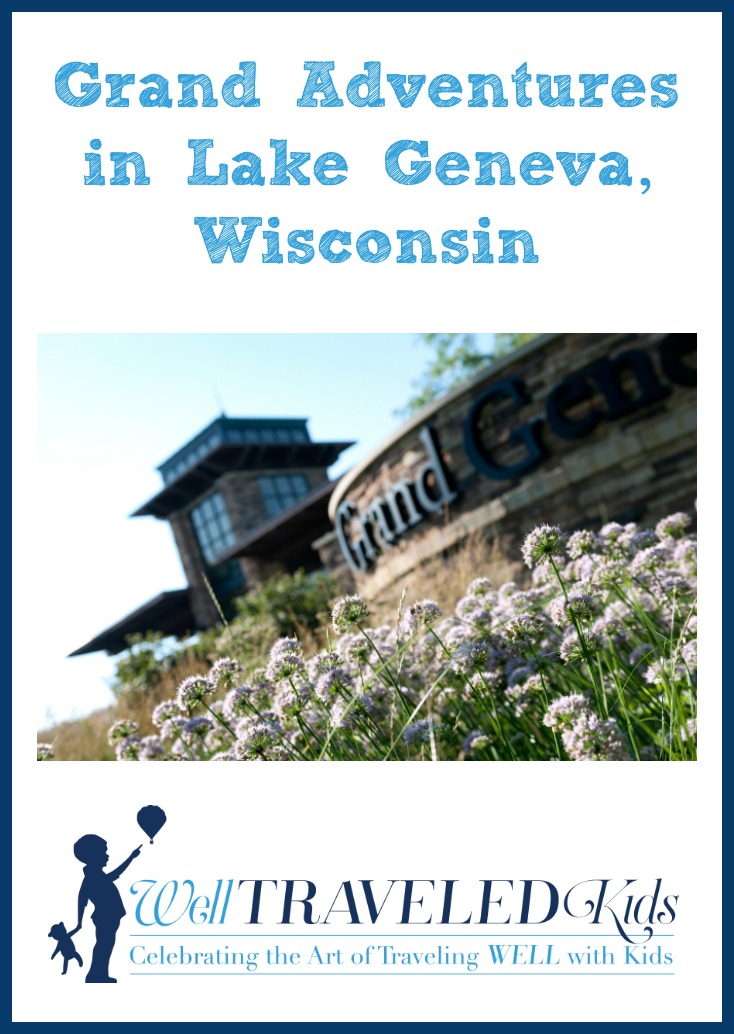 ---
Photos courtesy of The Grand Geneva Resort & Spa