Everyone told us it would be too hot and too crowded, but we still managed to have a fabulous time at Disney World in July with our 6 year old son and 3 year old daughter.
Click Here to read: TRANSFORM YOUR FAMILY DISNEY TRIP INTO A LUXURY VACATION AT WALDORF-ASTORIA ORLANDO
---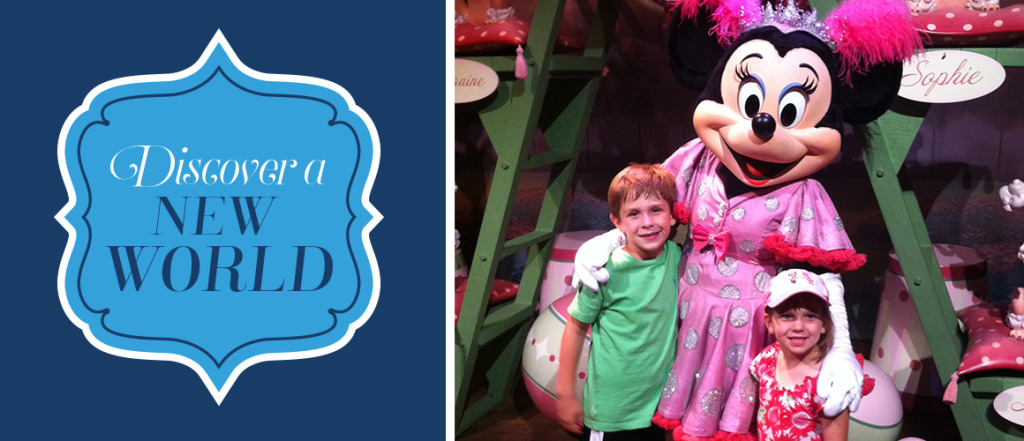 ---
My hints for a wonderful Disney vacation:
Find out what the "I absolutely must see or do" attractions are for each child in advance of your trip. We studied the parks' website in detail. The children knew in advance we would not have time to see absolutely everything, and so they were not disappointed because we were able to do the things important to them.
Buy park tickets ahead of time and register them on the free Disney- sponsored MyDisneyExperience app. You can sign your whole party up for 3 of the new Fastpass+ prior to your trip which allows you to bypass the lines for 3 of your favorite attractions. The app will give you a one hour timeframe for each attraction. We planned the rest of our day around these events. Once you finish your 3 passes, you can sign up for additional passes, one at a time, at Fastpass+ kiosks around the park. Other than a 30 minute wait to meet Minnie Mouse, we didn't wait more than 15 minutes all day.
Make a lunch or dinner reservation for Cinderella's Royal Table if meeting the princesses is on your must -do list. You can make a reservation up to 6 months in advance.
Check current wait times for each ride on the MyDisneyExperience app on your smart phone. In between our Fastpass+ scheduled rides, we would see what was nearby with a short wait. My nostalgic favorite, It's a Small World, only had a 15 minute wait at 1pm- plus the wait was all in air conditioning. Score!
Rent a stroller for children under 5. Even though we never use a stroller in our real life anymore, a stroller at Disney helped keep our 3 year old cool and happy. If she's happy, we are all happy!
Bring water bottles you can refill for everyone. Stay hydrated.
Seek out air conditioning whenever possible. There is never a wait to get on the Carousel of Progress and you get to sit in a cool, dark room for 20 minutes. Also, we found no wait at the Monsters Inc. Laugh Floor comedy show which my kids ended up loving!
Go swimming. We allowed 2 days of our trip for just hanging out at our hotel pool.  We stayed at the Waldorf Astoria Orlando on Disney property.  It was fun and relaxing. You can schedule a Disney character breakfast at a hotel if you need to have a little Disney in your day. We like the Garden Grove restaurant character breakfast at the Disney Swan hotel.
Happy travels!
Click here to read TIPS FOR MICKEY'S NOT-SO-SCARY HALLOWEEN PARTY