Disclosure: We spent two sensational nights as complimentary guests of the resort for purposes of review. Thank you to the Boca Raton Resort & Club for an incredibly fun and unforgettable perfect family vacation!  As always, all opinions are my own.
As winter weather approaches in my hometown Chicago, I always get busy planning my escapes to the Florida sunshine throughout the winter months. The planning and the escapes help keep me sane. Dreaming of the perfect family vacation complete with warm weather, bright sunshine, sand and sea water really warms my soul!
Welcome to Boca Raton!
However, winter or not—Boca Raton is an amazing destination for families. And the Boca Raton Resort & Club  is consistently recognized as one of the finest luxury resorts for families looking to enjoy some fun in the Florida sunshine and a perfect family vacation.
Families have been doing just that for decades. The Boca Raton Resort & Club celebrated it's 90th birthday recently. Legendary architect Addison Minzer designed the resort, and it has been maintained as a glamorous luxury resort for families who appreciate a fine hotel experience. The experience includes so many fun options, that you never need to leave the resort.
Enjoy the Luxury of 2 resorts in 1!
Like the Boca Raton Resort & Club, the Boca Beach Club Resort—a smaller and more modern resort located across the marina and directly on the beach—is a Waldorf Astoria property. Guests of each hotel can enjoy the perks of both hotels. However, unlike most hotels we visit, the Boca Raton Resort & Club and the Boca Beach Club Resort also serve as private clubs. All of the grounds, golf, tennis, spa, and  restaurants are only open for guests of the hotels and members of the club. This means that locals and people staying in other hotels are not able to enter the hotels, eat at the restaurants, or use the beaches and pools. The private designation adds a level of exclusivity and an added touch of luxury.
Guests and members have at their disposal an infinite number of opportunities for enjoyment, relaxation, and amenities for every type of family. We spent a long weekend at the Boca Raton Resort and loved every minute. There's so much to see, do, and eat that we never wanted to leave the resort. We couldn't even fit it all in during our short stay. It was an amazing luxury family beach holiday!
Here's what we recommend for experiencing a perfect family vacation at the Boca Raton Resort with kids!
Be ready to be treated like a VIP family:
We couldn't help but feel like we were special guests from the moment we drove up to the resort.
A guard house sits at the entrance to the front drive, and only hotel guests and club members are allowed access beyond. We had to confirm our reservation with guards before we could proceed up the meticulously manicured grounds and spectacular fountain to the gorgeous, pink historic resort.
Our personal concierge greeted us at our car when we pulled up and escorted us into the hotel to check us in. Meanwhile, the bell staff unloaded our car.
The concierge sat down with us in the beautiful grand foyer and confirmed all of the dinner reservations that we had made in advance when I booked our stay. She also explained the ins and outs of this huge resort to us first timers.
Then, she gifted Harry a lanyard with a resort scavenger hunt called Minzer's Quest. Upon completion, he would receive his name on the Minzer's Quest Wall of Fame and win a free treat at Serendipity. Harry loves a challenge, so he was excited as she explained he'd have to tour around both the Boca Raton Resort and the Boca Beach Club Resort to win the treat and get his name on the wall as a winner.
Next, we headed to our room and were treated to some of the most amazing welcome amenities I've ever experienced: treats for Harry from Serendipity and an amazing spread for my husband and me to enjoy.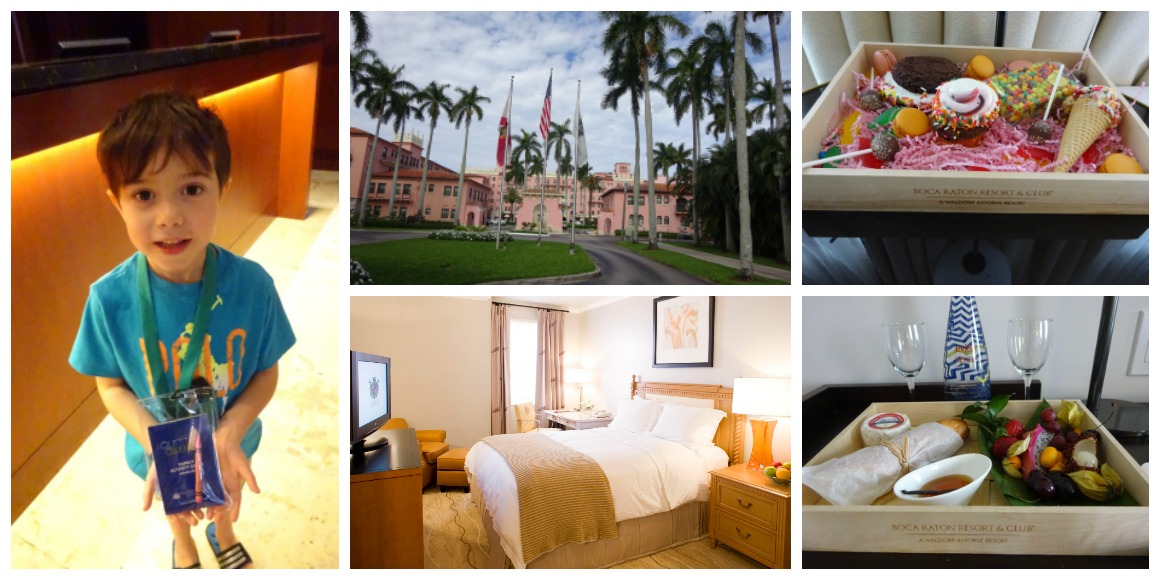 So many room style choices for families:
The Boca Raton Resort & Club is a huge property with many room styles and locations.
We booked a room in The Cloister because those rooms had just been newly renovated with over $100,000 invested in each room. We loved the location—close to all of the amazing restaurants and the main pool at the resort—and the gorgeous, modern, luxurious style of the rooms. However, we found them to be on the small side, especially with the added roll away bed for Harry. That's because The Cloister is the original iconic building built in 1926.
When we return as a family, I'll book one of the larger category rooms in either the Beach Club, Yacht Club, or The Tower so that we will have more space to spread out.
All resort restaurants are family friendly and exclusive for members and guests:
We loved that only hotel guest and club members could enjoy the amazing culinary experiences offered at both resorts. As a result, even though we were staying during the prime winter holiday season, we were still able to secure reservations for dinner at restaurants and easily find seating without a long wait at lunch and breakfast.
All resort dining is family friendly, and there are more restaurant options than we had time to try during our three-day stay, so we can't wait to return. We loved walking downstairs from our room in The Cloister each morning for breakfast in the bright open Palm Court.
For a quick lunch and desserts during, we couldn't get enough of Serendipity. We love visiting the iconic Serendipity 3 in NYC for frozen hot chocolate, and we were thrilled to have that same delicious treat in Florida! And we couldn't pass up a leisurely lunch at acclaimed Sushi Master Masaharu Morimoto's signature sushi bar Morimoto, across the hall from Serendipity.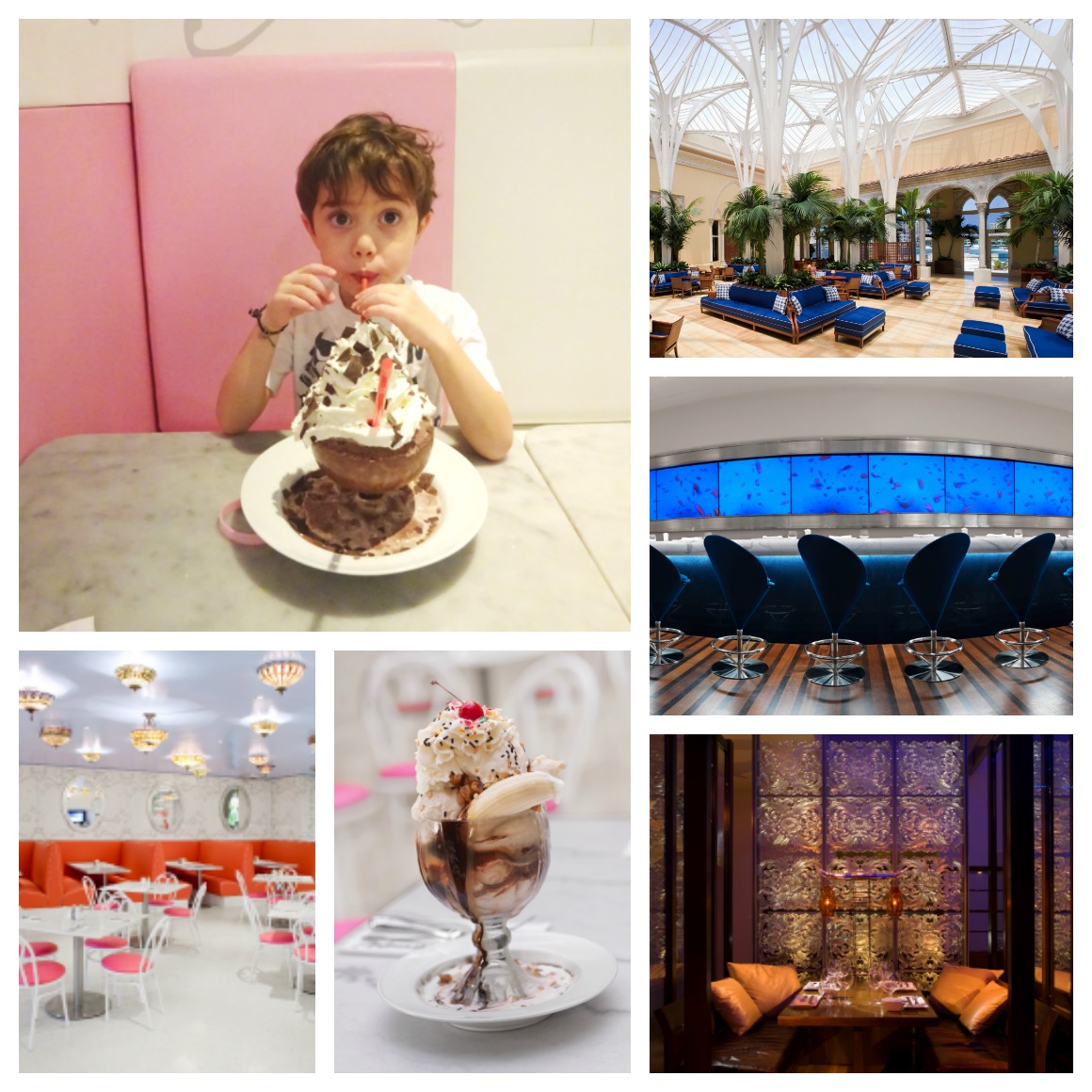 For dinner, we adored the casual American fare at 501 East Kitchen. I loved the steaks and seafood. My husband is a big bacon lover, and he was pleased the assortment of menu items included candied bacon and smoked pepper bacon.
Another night, we grabbed drinks and seafood at the contemporary restaurant at the top of The Tower, The Blue. We loved the views and the sophisticated sexy date night vibe of our window seats in the bar.
Next visit, I definitely want to make reservations at Lucca for Tuscan food and plan for a fresh seafood meal at SeaGrill in the Boca Beach Club.
Time to hit the pools and the beach!
We had a blast playing at the pool near our room and also the pools and the beach at the Boca Beach Club. Flow House Boca sits right off of the main pool at the Boca Resort and is a little surfer paradise. The FlowRider is a dual-sided wave simulator where hotel guests can have the ultimate surfing experience.

The Resort offers surf lessons for those wanting to learn to body surf or stand-up surf during their stay. On weekend nights, there's also a Glow Flow night surf session. I was so excited for Harry to try the FlowRider, but he was feeling shy and I couldn't talk him into lessons. So we grabbed drinks at Shaka and watched the other kids learning to surf. I hope on our next visit Harry will be brave enough to try.
I'll also definitely plan ahead and reserve a luxury cabana for the day at the beach club so we can have a private seating area, bathroom, and TV. With the private butler and food service, we will be in heaven!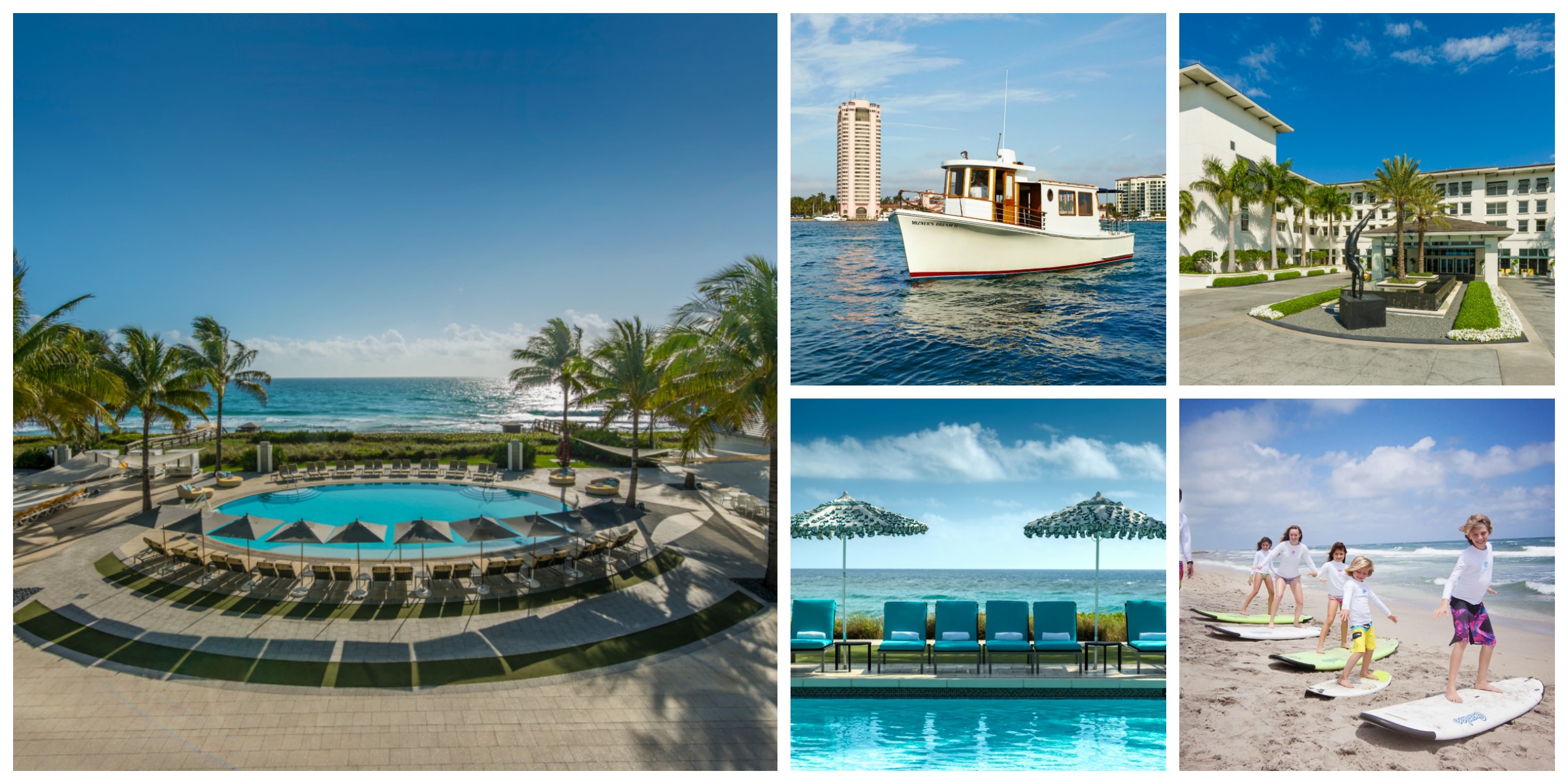 Sail away on Mizner's Dream:
You can see the resort's 32-slip marina from the pool. Guests jump aboard the Mizner's Dream boat to catch a complimentary sail over to the Boca Beach Club resort. Harry loved taking the boat ride back and forth.
Let the kids play at Quest Club:
The bright and colorful Quest Club is the kids club that serves both resorts. During the week it serves as a drop off club for kids ages 3 to 9, and hotel guests receive two complimentary hours of child care. On the weekends, they run a kids camp complete with counselors who are CPR- and water-certified to swim and play with the kids from 9 a.m. to 4 p.m. Quest Club has a big TV for movies and an arcade to play games. Parents are free to stay and play with the kids in the space or leave and come back.  

We signed Harry up for one day of camp during our stay, and he had a blast. He loved the shirt and backpack he received, and made lots of friends. They started off playing cards, and then the day was full of activities that took him back and forth between the two resorts. When I picked him up in the arcade at the end of the day, he had made some great friends and begged to return again.
Escape the kids, and head over to the award-winning Waldorf Astoria Spa:
I wasn't going to miss the chance for an amazing spa experience, so while Harry was busy having fun at Quest Club, I spent the day being pampered. The Waldorf Astoria Spa was absolutely breathtaking. I could instantly understand why it was named the #1 Spa in the World in Condé Nast Traveler's 2014 Readers' Choice Awards.
The spa is well known for its ritual baths. A water journey ritual complete with nine individual mineral baths, waterfall showers, whirlpool, steam, sauna and inhalations rooms.

I spent the day so grateful to be enjoying the gardens, spa pool, relaxation rooms, and my amazing massage treatment.
Plan a vacation date night with trusted hotel babysitters from Sitters In A Second, Inc.:
If you've followed my travels, you know that when I travel in Florida I love to hire Sitters In A Second, Inc. to watch Harry. That gives my husband and I a chance to enjoy a vacation date night. Harry loves it because he knows that a fun sitter is coming in a familiar and trusted uniform to be his buddy for the night.
The best part of working with Sitters In A Second, Inc. is that their sitters are active. I always request a sitter who will swim and take Harry for his own little date night around the resort.
Our sitter arrived a few minutes early, as always, and Harry was excited. Katie, an enthusiastic local college student, made for a fun companion for him. They spent the evening exploring both resorts to complete the Minzers Quest scavenger hunt. By the end of the evening, Harry had landed himself on the Minzers Quest Wall of Fame and a delicious Serendipity dessert with Katie.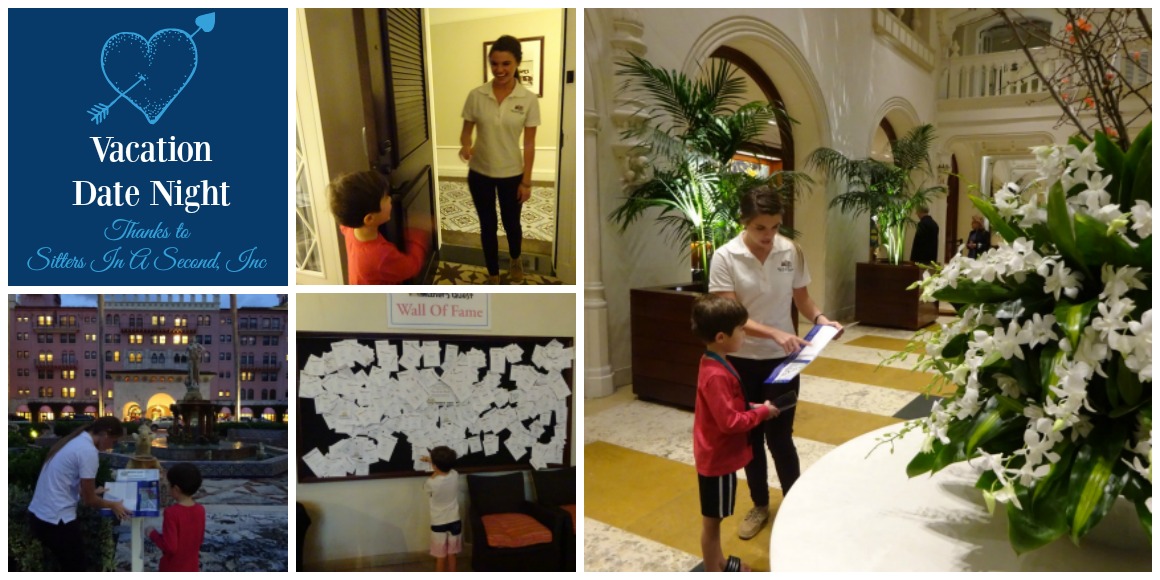 For our next stay: Boca Raton Resort & Club is a great resort to spend the Holidays with family.
I can absolutely say I'd love to plan a return vacation stay at the Boca Raton Resort during the holidays and through New Year's Eve. The resort goes all out at holiday time, and is famous for their big New Year's Eve Bash, Rock the Block, complete with fireworks, entertainment, bars, and food. Easter would be another fantastic time to visit and enjoy the huge Annual Easter Egg hunt on golf course.

Take advantage of the luxury amenities
.
There were so many fun activities and luxury amenities that we didn't have a chance to try them all—like taking a ride in the Maserati house car that provides guests transportation around Boca for great local shopping and sightseeing. Sadly, we never made time for this, but plan to on our next stay.
Don't forget to schedule a game of golf, tennis, or croquet.
The resort offers outstanding sports facilities and an amazing golf course, tennis courts, and even a croquet field.
We can't wait to return to the Boca Raton Resort & Club!
Overall we enjoyed the perfect family vacation that I had been dreaming of all winter and can't wait to return to Boca Raton Resort & Club!
Looking to plan a luxury family vacation to the Boca Raton Resort & Club? Pin this for later!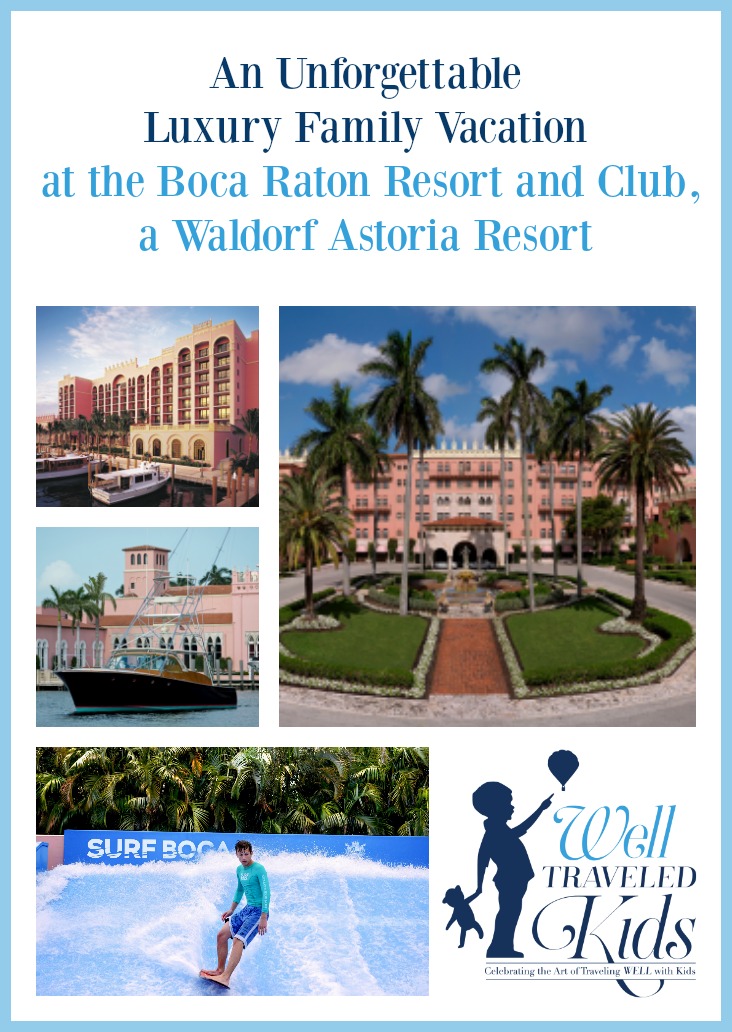 Photos courtesy of The Boca Raton Resort & Club and the Boca Beach Club