"Have you seen Blue Man Group?", I asked this question of friends recently and everyone said "yes"! How had I, a person who loves the performing arts, never been to Blue Man Group?  When I was asked to attend a performance on behalf of WellTravelledKids.com I said "yes!" And I figured I should take my kids aged 5 and 8 as they love theater shows as much as I do.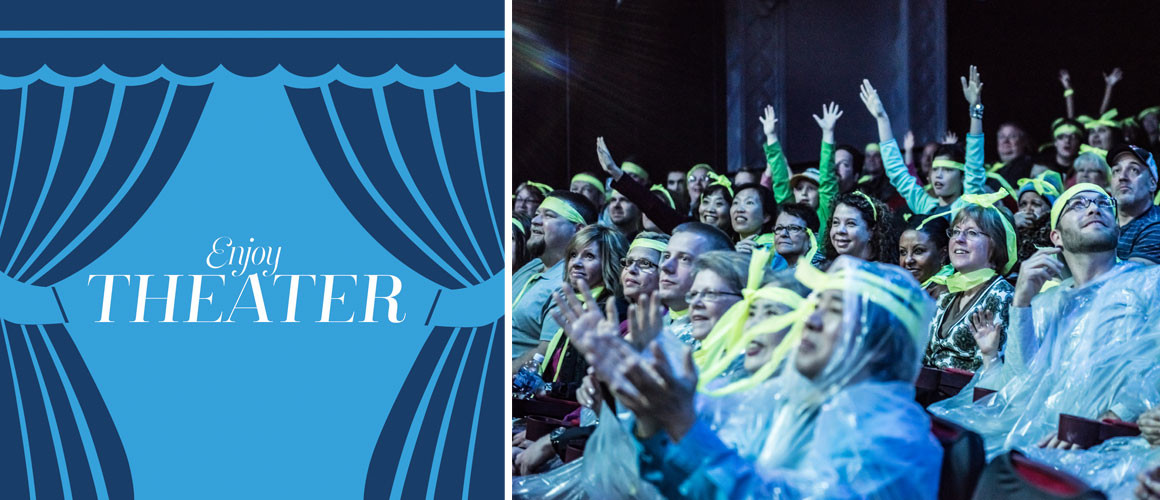 We were rewarded one warm, August night when we attended. The show was fun, memorable, creative and very good for children and adults alike.  Amazingly we found street parking in front of Briar Street Theater and if we hadn't we could use the theater parking lot for a nominal fee.  The neighborhood was buzzing with life as we stepped into the theater lobby.  The kids loved the lobby décor which is comprised of a neo-steampunk presentation of tubes, bubbling fountains, very funny photos and more to entertain the audience.  My personal favorite was a doctored photo of Jackson Pollock painting a famous canvas where the Blue Men were digitized into the photo.  When you walk into the lobby you are transported into Blue Man's-land.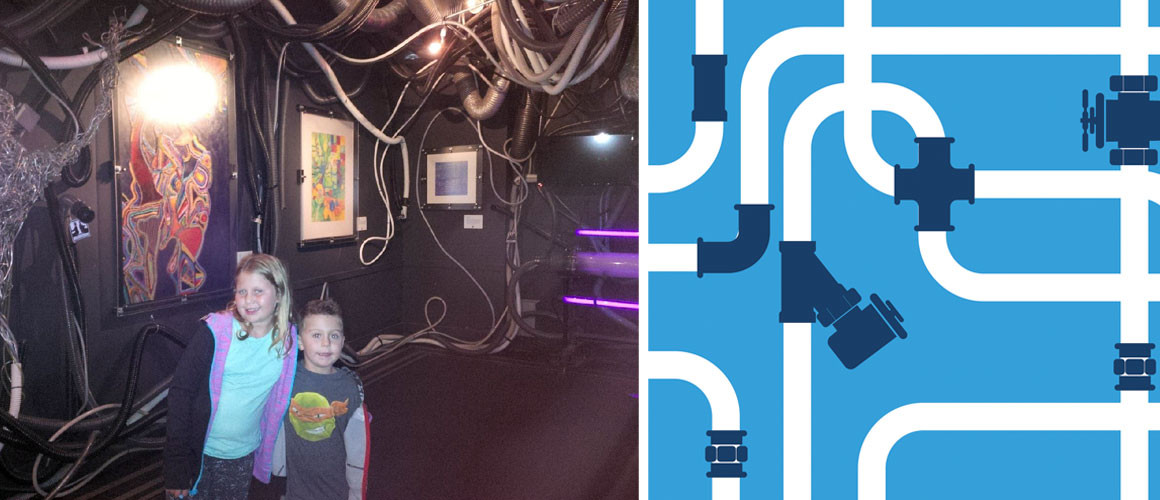 Blue Man Group performances are total fun for a family and I can think of a number of reasons why you might enjoy this show:
Live theater is always exciting.  There's something about watching people perform that is good for all ages.
The show is inoffensive.  The three Blue Men are funny and intriguing but never offensive nor violent.  It's refreshing to watch a show where the worst thing that can happen is you might get a paint spatter on yourself.
The plotless show is more an experience of vignettes that stimulate each viewer to think about the world at large, about the role of technology and just when it seems like too much of an intellectual exercise giant balls drop into the audience and they pump up the dance music.  Can't beat that!
Blue Man Group dwells in the realm of fun, fantasy play that kids will like.  Adults will find it refreshing to experience such silly fun on stage. We laughed a lot during the show and our kids especially laughed and found the silliness of the show to be just their thing.
It's important to support long-running shows as they give life to our arts community.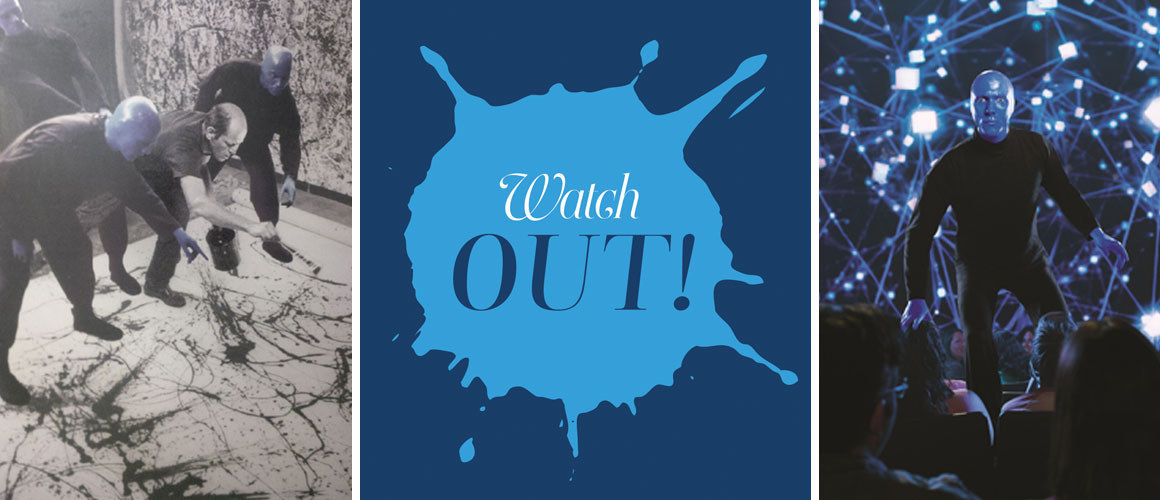 Of course Blue Man Group might not be for everyone.  People who can't experience strobe lights should not attend as they are used in the show and might present a health risk to people with certain health conditions.  Children with a fear of the unusual (ie: people in blue face paint} might feel overwhelmed by the show as might people who don't like loud presentations.  To this end Blue Man Group offers, at no charge, ear plugs to everyone and noise cancelling headphones for the little ones.  In truth I did not find the show to be especially loud, and I am sound-sensitive.  I did very much appreciate the theater's gesture to make people comfortable.  And finally, if you cringe at the thought of audience participation this show might not be for you.  During the show the Blue Men venture into the audience and solicit a couple volunteers to "help" them which is all in good fun and truly part of the humor they generate in the sweetest ways.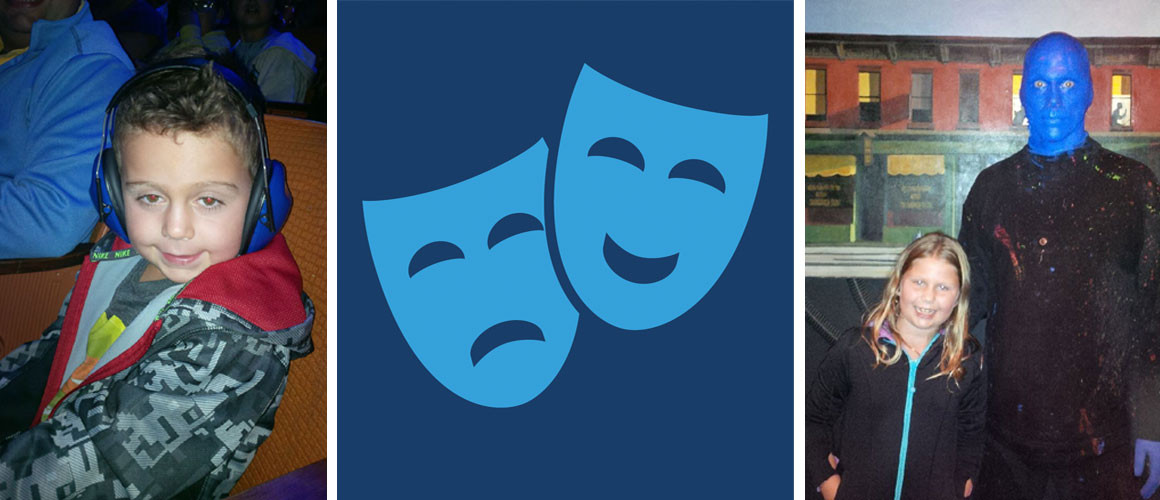 Our kids really enjoyed the performance and I am very grateful we were able to experience it as a family.  I have a lasting memory of our kids smiling and laughing all along the way during the show.
Blue Man Group is described as:  enemy of monotony, remedy for boredom, promoter of overjoy and elation.   What fun!
We were guests of the Blue Man Group for purpose of review. All opinions are my own.
---
Photo Credit: http://blueman.com, mtv.com, Lindsey Best