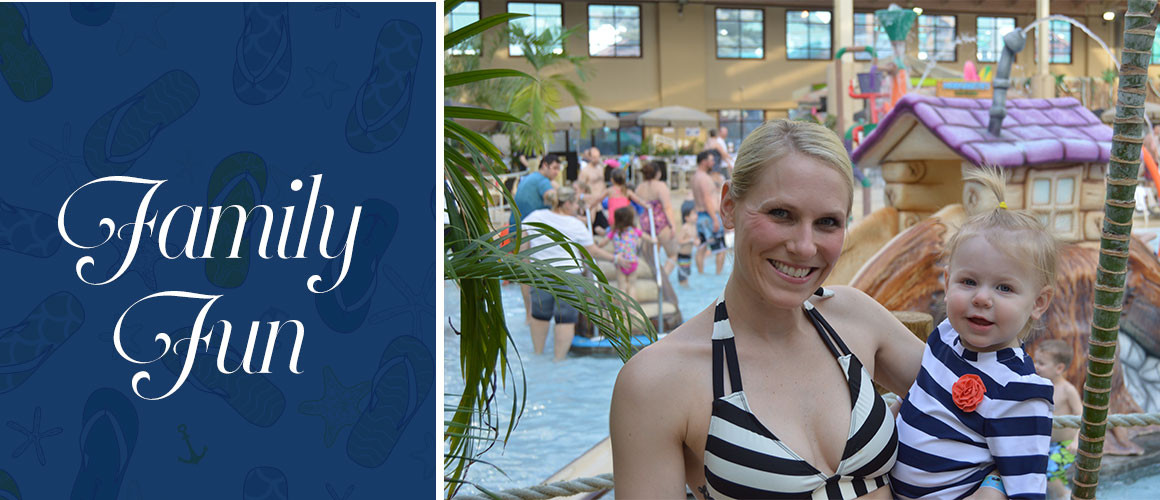 ---
Winter has officially become difficult in the Midwest. Kids are cooped up with boundless energy just waiting to be exerted somewhere, and parents are getting cabin fever, running out of creative indoor ideas. Since this isn't my first (winter) rodeo, I planned a road trip to the Wisconsin Dells with some of our best friends. We thought it would be a simple way to get the kids together for a weekend, catch up over cocktails in the evening, and maybe do a little shopping. What we didn't realize was how much excitement this trip would generate for our little ones, and that they would demand to go back every day after we returned home!
I had never been to the Wisconsin Dells before, and having heard mixed thoughts from friends, decided to reach out to some local moms to determine the best resort to take our families. Wilderness Resort was highly recommended, so I made reservations in one of their four bedroom condos for the eight of us. We have four kids between our two families- ages 1, 2, 3 and 4, and I was nervous about keeping them entertained, contained and on a semblance of a schedule.
When we arrived, I was greeted at the front desk by a knowledgeable and informative staff, who gave me a map and rundown of the massive property. Since I selected a condo instead of a basic room, we weren't connected to the main area but I was assured that convenient shuttles ran constantly.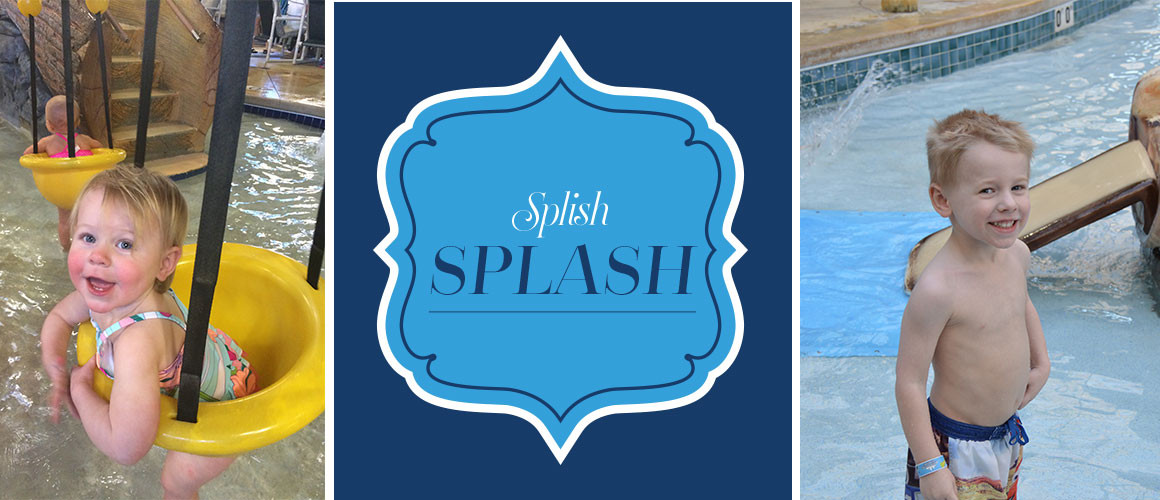 ---
TIP: When checking into a condo at Wilderness Resort the rooms are guaranteed to be ready by 4pm, BUT you can pick up your water park passes as early as 11am (with a text sent to you when your room becomes available- nice touch!).  
We were surprised by the size of the condo, and were able to let each of the kids have their own sleeping area down a hallway that was separated from the main room by the kitchen (KEY when you put the kids to bed and want to stay up and chat!). The condo included everything we needed and more: a dishwasher, washer/dryer, cozy fireplaces, and a massive whirlpool tub. The decor was traditionally "cabinesque," with log accents, moose print furniture and an antler chandelier over the dining room table.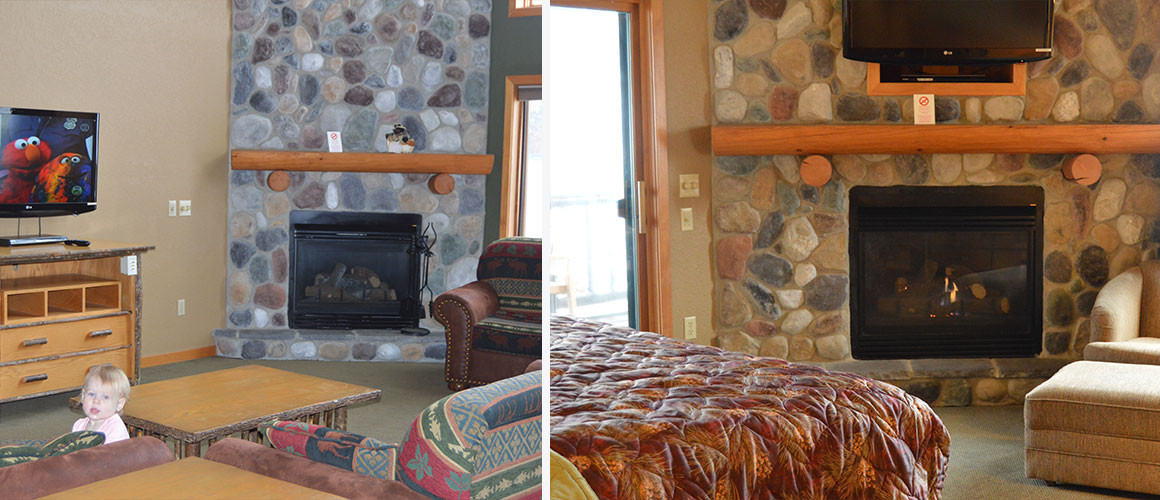 ---
TIP: Need more rooms? Use spare bathrooms as sleeping quarters for smaller kids- bring Pack n' Plays and white noise machines.
We threw our suits on and headed for the water parks, calling the shuttle to pick us up. It arrived in less than two minutes, dropping us at the door of our requested pool. Wilderness has three main water parks to choose from, each having different features for different ages, but all are accessible through indoor walkways.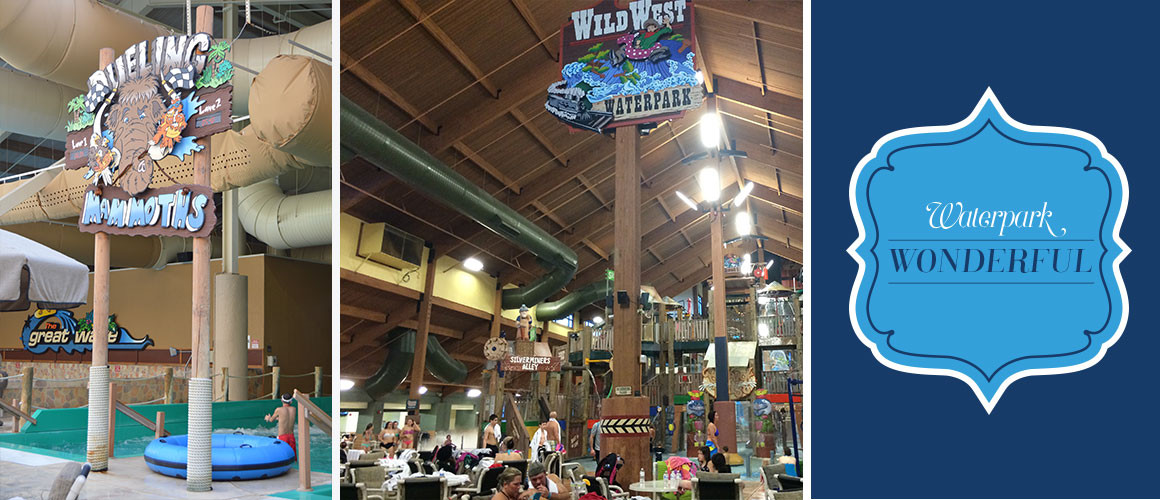 ---
Klondike Kavern
– Lazy River, Indoor/Outdoor Hot Spa, Play & Spray Park, Indoor/Outdoor Pool Basketball Court, Body Slides and Raft Slides including the Hurricane extreme thrill slide
Wild West– Raft and Body Slides including the Black Hole thrill slide, Bumper Boats, Small Kids Play Area, 4 Story Play & Spray Park, Indoor/Outdoor Hot Springs
Wild WaterDome– Small Kids Zero Depth Play Area, Nation's Largest Indoor Wave Pool, Family Raft Rides, Indoor/Outdoor Adult Swim Up Bar, Cabanas for Rent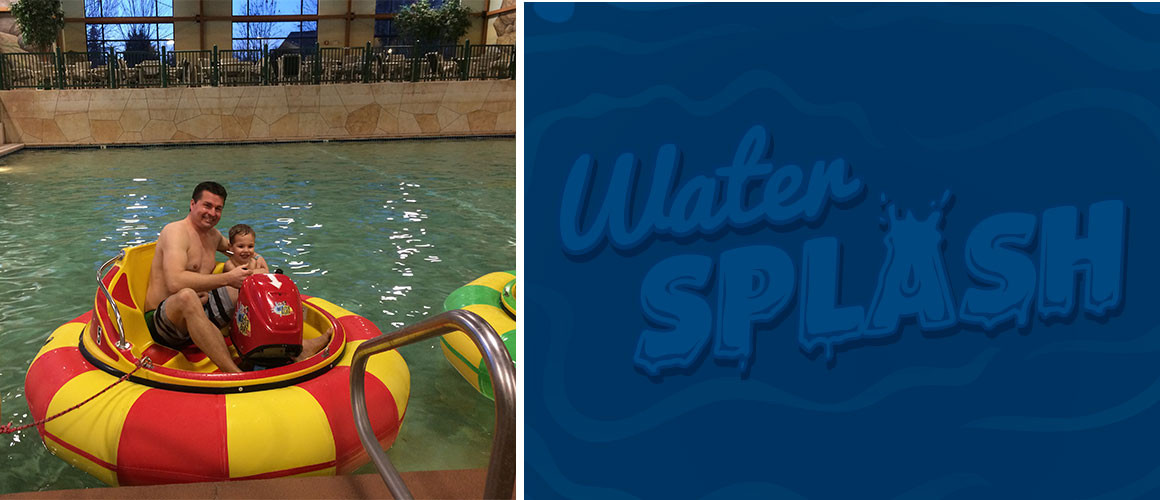 ---
TIP: Arrive when the park opens (check times for different parks with Front Desk) to secure a table and chairs OR reserve an Indoor Cabana for your group. Prices per day vary based upon occupancy and availability; you can inquire when making a reservation.
As for food, guests aren't allowed to bring outside food into the water parks. This was a toughie for me since our kids were ravenous after expending all of that pent-up energy, and we can be picky about what we serve our kids. I am not a fan of french fries, chicken nuggets, and typical fast food fare, but this is what many places offer these days. Wilderness does have restaurants where you can dine with your kids (ours wouldn't sit still, so we bought lunch/snacks at the Eateries that bordered the pool). We did find Uncrustables and Deli to Go items that were healthier, but of course our kids spied the Cheetos and ice cream. For most meals, we headed back to our condo since we still are on nap time schedules anyways.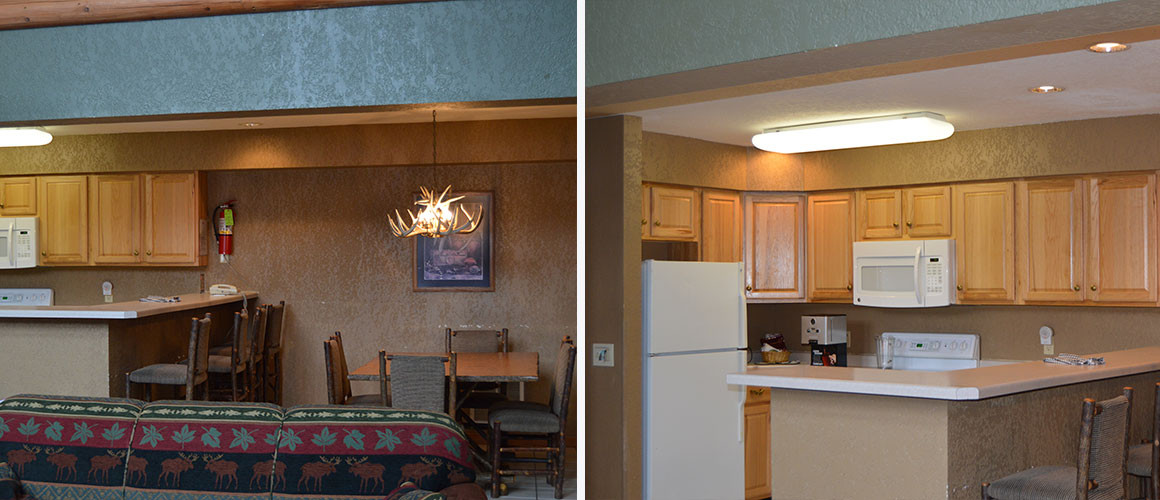 ---
TIP: Bring your own food to stock the fridge to avoid being tempted by the Cheese Curds (if you give in, make sure you savor every bite, though… I love 'em). Salad kits, fresh fruit, sandwich supplies and pasta worked well for our group. You can also order pizza to your room for an easy meal.
We received Wild Fun Passes for the family, which includes access to all of these attractions and cost $24.95:
1 Admission to the Northern Lights Sky Ropes Course 
9 Holes of black light mini golf at the Wild Buccaneer 
9 Holes of black light mini  golf at the Wild Abyss 
1 Bumper boat ride at the Wild West Bumper Boats
1 Game of laser tag at the OK Corral Lazer Arena & Lazer Maze 
1 Admission to the NEW Wilderwoods Indoor Go-Karts 
$1 Off hand-blended ice cream at Pistol Pete's
It was nice to get out of the water for a bit and enjoy some of the activities. Our older boys had a blast in the bumper boats with their dads…and I think the dads almost enjoyed it more than the kids!
TIP: You can buy one Wild Fun Pass for the family and share it, letting each kid pick one of the attractions to participate in.
I must mention the cocktails available for the adults. They had a fully stocked bar at each of the parks, with top shelf liquor like 1800 Tequila. I ordered a frozen strawberry margarita and was magically transported to Spring Break 2002…then crashed back to reality when I had to go change diapers. My friend had a mojito and was pleasantly surprised at the excellent mixology. Not gonna lie, with four kids under 5, we all needed a cocktail by the end of the day!
My friend and I left the kids during nap time one of the days and headed to the outlet mall, which is just a few minutes from the Wilderness Resort. They include some of my favorite stores like Banana Republic, Coach, Gap and J. Crew Outlets.
Although the resort was packed, we didn't feel claustrophobic or crowded. The lines for the water slides were a tad long and it was tough to snag a table, but our kids had an amazing time nonetheless. We decided to make this an annual trip and will definitely be back to the Wilderness next year!
I was provided with Wild Fun Passes for our group, but all opinions are honest and my own. Hero photo credit: wisdells.com/wisconsin-dells.htm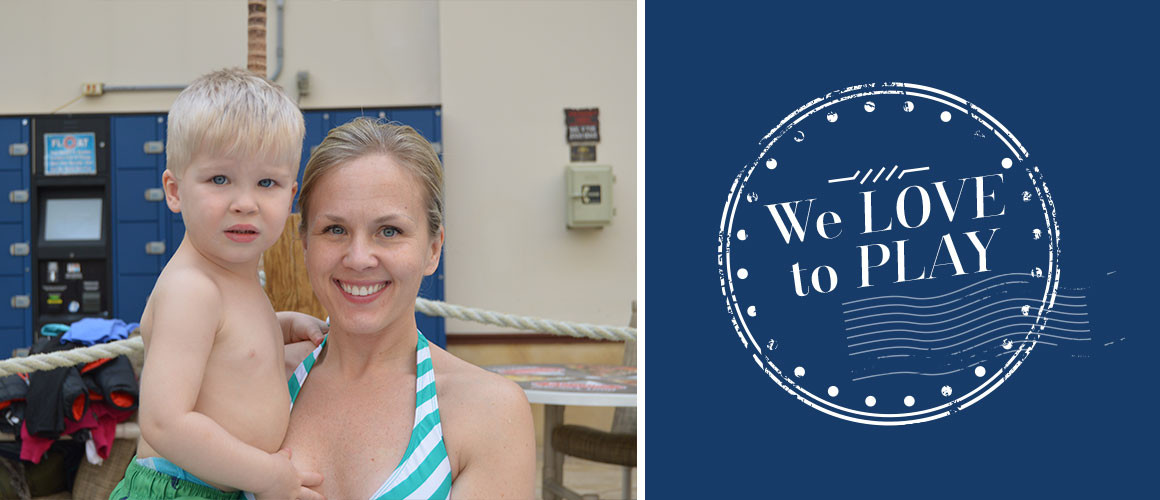 P