Disclosure: Thanks to Grand Geneva Resort and Visit Lake Geneva for hosting our family adventure in Lake Geneva for purpose of this review! We had a blast! All opinions are my own.
Have you ever searched for a perfect vacation spot only to find it right in your back yard? That's exactly the way I felt last week on our very first family trip to Lake Geneva. We live on the north shore of Chicago, just an hour road trip to Lake Geneva. Why did I not visit this amazing fun family travel spot sooner? I have no idea! I've had so many friends rave about visiting Lake Geneva and the surrounding areas but we had yet to schedule a family trip. Well, we've just returned home and I absolutely can't wait to go back! If you are looking for family vacation ideas for spring break I highly recommend a fun family adventure in Lake Geneva!
First, book your Spring Break stay at a Lake Geneva luxury family resort!
We loved our luxury family holiday at the Villas at Grand Geneva Resort. All the villas were completely updated and refurbished in 2017 and are totally gorgeous. We stayed in a lofted one bedroom villa with a pull out sofa. Our villa was perfect for our family. My husband loves to cook breakfast, especially on vacation. He woke up early and went to work in the beautiful full kitchen and made us a yummy breakfast that made the whole villa smell delicious in the morning.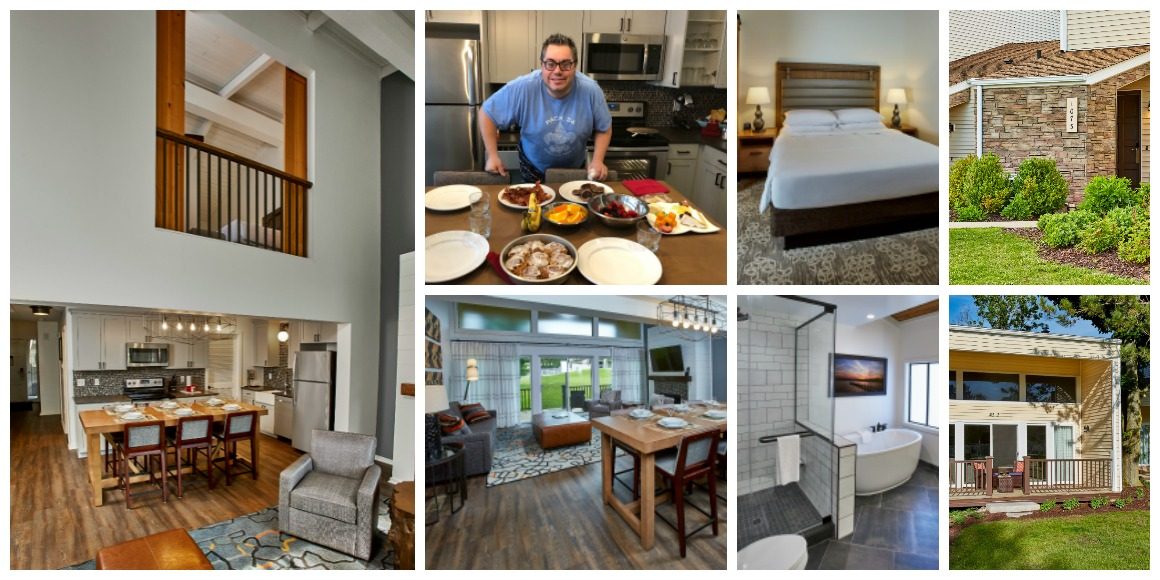 We also made good use of the indoor gas fireplace, the washer/dryer and of course the second bathroom. It was raining when we visited, but we'd love to return and make use of the outdoor furnished sitting area that leads to the pool and outdoor fire pit area exclusive for Villa guests. Oh and the Villas are pet friendly. So, if you have a dog that want's to join in the fun, this will be a perfect family vacation spot!
We loved staying at the Villas and riding the Grand Geneva trolley all around the property. Grand Geneva is a fabulous resort that was built in the late 1960s as the original Playboy Resort. The resort has changed a bit since then and it's fun to see the old Playboy Resort memorabilia on display.  Grand Geneva now is a year round favorite to families who love golf, skiing, swimming and more.
During your stay be sure to book a reservation for a family dinner with a view at the Geneva ChopHouse. This upscale white tablecloth restaurant features stunning views of the award winning golf course. We dined on steaks and chops that were absolutely mouthwatering. Who knew the perfect steakhouse is in Lake Geneva?!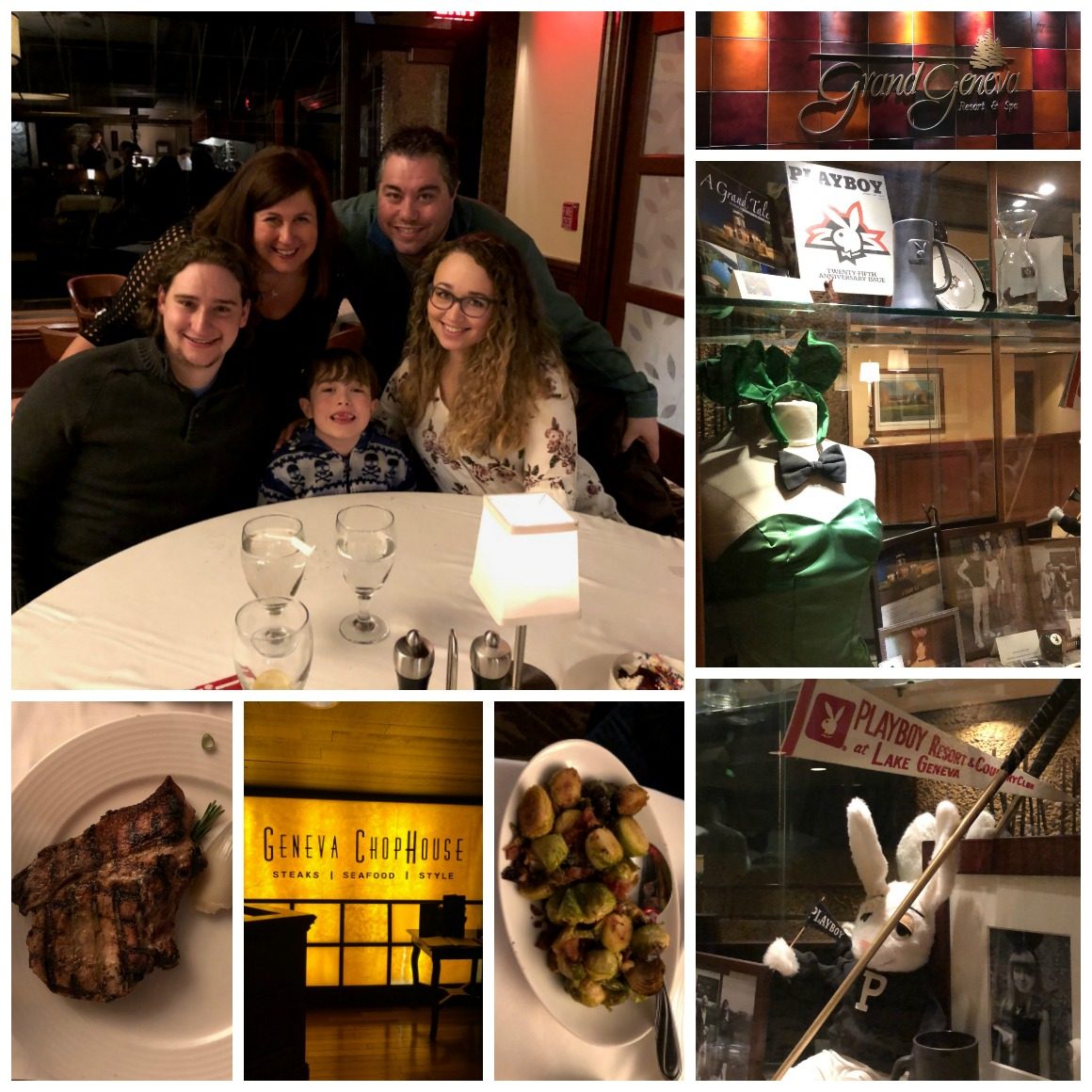 Here's 7 fun family vacation ideas for enjoying spring break in Lake Geneva:
Splash and play!
Can you believe we had never visited an indoor waterpark before this trip? We hoped to go skiing on our February trip but it was unseasonably warm and rainy so we hit the pools instead.
My 7 yr old son Harry had been begging to go and boy did he love it. I've got to admit we all had a blast at the Moose Mountain Falls Waterpark at Timber Ridge Lodge at Grand Geneva Resort. Harry loved braving the two gigantic waterslides. We spent the day alternating between the water slides and drifting leisurely on the lazy river.  
Play a round of golf!
If the weather is good over spring break I know we'd definitely plan on bringing our golf clubs. Lake Geneva is home to some of the best golf courses in the country. If you aren't up for a full round of golf Timber Ridge Lodge & Waterpark offers mini golf and so does Lake Lawn Resort. There's also lots of driving ranges and multiple golf pros in town to give lessons.
Ride a Horse!
Dan Patch Stables at Grand Geneva is the perfect place to saddle up for a guided trail ride for kids aged 7 and up. Kids 6 and under can go for a pony ride. Your little horse lovers won't want to miss a show at The Dancing Horses Theater.
Be Daring!
Take your little adventurers soaring on a zipline or hit the high ropes course with Lake Geneva Canopy Tours. Kids 7 years and older will love this eco-adventure.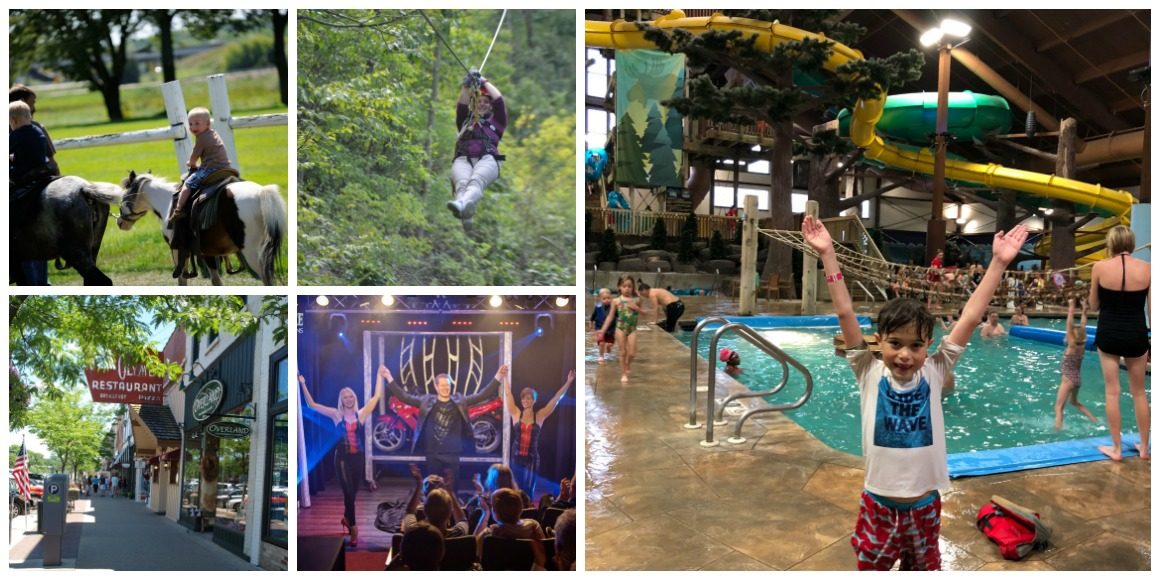 Spend some time in town!
Take a stroll down "Main Street" that allows you to peek inside historic stores, homes, a school room and more. Take the kids shopping at  Allison Wonderland for toys and dolls then wander over to Bob's Beach Shack for a souvenir t-shirt! Admire the small town scenery  then grab lunch or dinner at one of Lake Geneva's many great restaurants. 
Be sure to take your little star gazers over to Yerkes Observatory, home of the largest lens-type telescope in the world!  
Go for a family hike!
Lake Geneva is a great place for a rustic hike at Duck Lake Nature Area trail.  If it was me, I'd prefer to go for long walk on the 21-mile Geneva lake shore path.  I know I'd really enjoy the views of multi-million dollar estates and beautiful landscaping along the lake.
Experience real Magic!
I've had several friends rave about the Tristan Crist Magic Theatre show. Everyone says it's a super magic show that will really wow the whole family. I've heard that the theater often sells out and to guarantee seats it's recommended to book tickets in advance.
I totally love Lake Geneva!
This may have been our first family adventure in Lake Geneva but it certainly won't be our last! What are your fun family travel tips for Lake Geneva? I'd love to know what you recommend so I can check it out for our next family trip. I'm seriously kicking myself for not visiting sooner!
Click the photos below to add to Pinterest: