Want to know a traveling secret?
Our family flies all the time, and we haven't checked luggage in years. We fly domestically and internationally with nothing but carry-ons. Last summer, we spent 10 days in Norway and Switzerland, even attending a wedding (formalwear for everyone, plus a wedding present!) and managed to do it all with just carry-on luggage.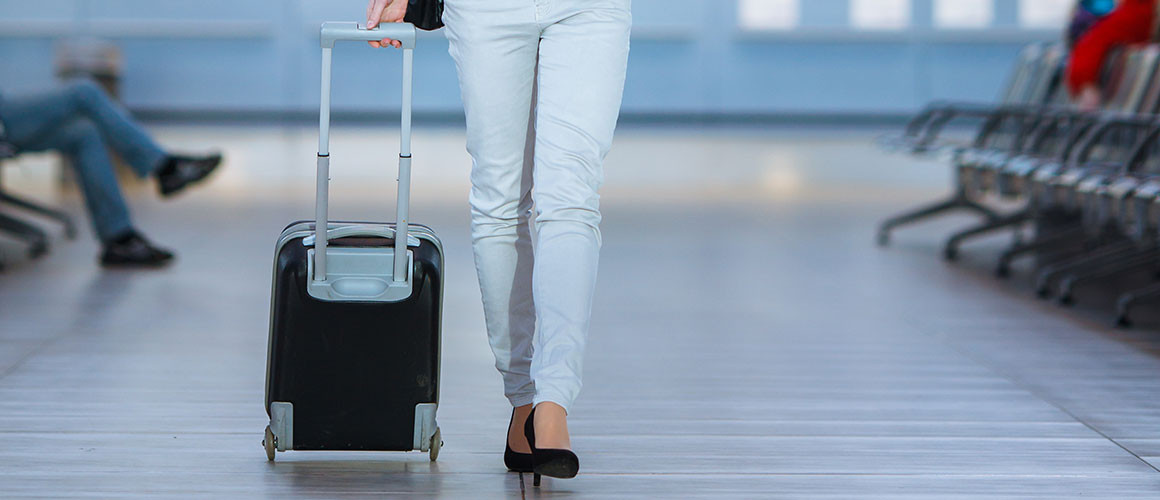 ---
When we arrive at the airport, we never stand in that long line to check our bags, but instead go straight to security. We don't pay any extra fees. When we arrive at our destination, we skip baggage claim and start our vacation immediately. Maybe most importantly, our luggage never, ever gets lost!
And when we're back at home, unpacking our suitcases, we never have to face the fact that we didn't actually wear half the clothes we brought!
Here's how I do it:
On the plane…
I bring one small purse and one tote. The tote is large enough for my purse to fit into.
My husband brings his laptop bag.
Each kid gets their own small backpack. The kids' backpacks are reserved for fun things to do in the air: books, small games, snacks, etc…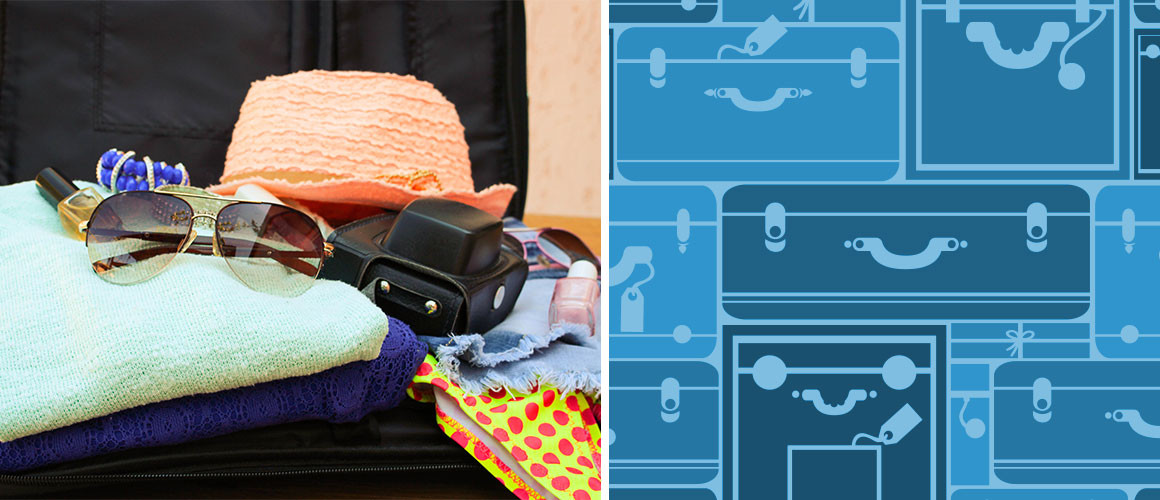 ---
The mighty carry-on…
Each family member gets their own carry-on luggage for their clothes, shoes and toiletries. We prefer small suitcases with wheels.
With limited space, it's important to plan ahead and be organized. Instead of shoving everything that we MIGHT need into a huge suitcase, I spend a little extra time and effort before we leave determining what I KNOW we will need and make space for only that.
First, I count the number and types of outfits we'll need. I determine the number of days our trip will last, accounting for travel days (important when we have multiple destinations) and probable activities (fancy dinner, hiking, etc)
Hint: I always find out if I'll be able to do laundry on our trip. I might not need to wash clothes, but it's nice to know if it's an option… If we're renting a vacation home, then we'll have a washing machine. If we're staying at a hotel, I check if they have laundry service.
Packing myself
Here's my method for space-saving packing: MIXING and MATCHING, and LAYERING. It works for any wardrobe… for clothes in any style, any cut, any length.
Main requirement: I expect to wear each item of clothing two or three times.
First the shoes: on most trips, I only bring two pairs of shoes, selecting ones that are good for walking and that go with everything… usually one pair of sneakers or boots that I wear on travel days, and one pair of pretty flats or sandals that look nice with both pants and skirts.
Then, I divide my clothes into 3 categories:
Tops (shirts, blouses, tank tops)
Bottoms (pants, skirts, shorts)
Warm Layers (sweaters, hoodies, cardigans)
MIXING and MATCHING, and LAYERING: I bring tops and bottoms that I can mix and match, plus layers for warmth. I make sure all the clothes work well together in a variety of different combinations. And I always bring more tops than bottoms.
Finally, I pick one day at home before our trip and spend an hour TRYING EVERYTHING ON in front of a full length mirror. I make sure that every bottom has at least two or three tops that go with it. I try on shoes, jewelry and any accessories as well.
Added bonus: if there are no full length mirrors where we're going, I already know how each outfit looks!
And I often also bring a pashmina or wool wrap. It keeps me warm and looks elegant over any outfit. I keep it in my large tote on the airplane to use instead of a blanket.
(Winter travel: Winter clothes are bulkier than summer clothes, so I bring fewer pieces on snow trips. We each also bring a jacket or coat that we wear on the plane.)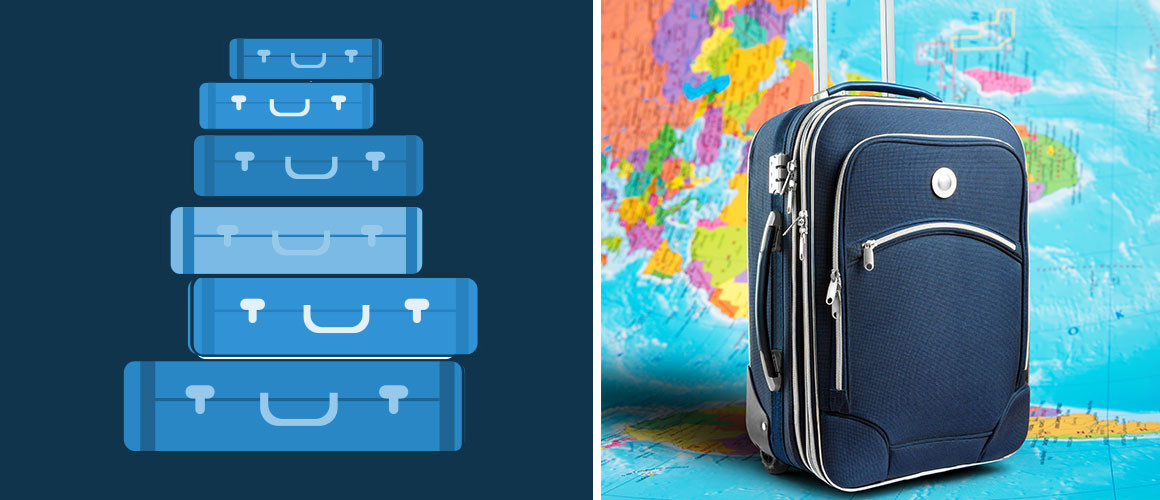 ---
Quick carry-on checklist for myself:
For a ten day trip, I usually pack:
1 extra pair of shoes
6 tops
4 bottoms
2 warm layers
Sleepwear, underwear, socks, etc
And voilà: Combining these with what I'm wearing while traveling, and since every bottom gets two or three tops, I have here more than a dozen outfits!
Packing the kids
For my kids, I bring a different outfit for each day, since it's unlikely they'll stay clean enough to wear any item more than once!
On the other hand, their clothes are smaller and take up less space, so it's easy to fit more into a suitcase.
And again, I make sure all their clothes can mix and match.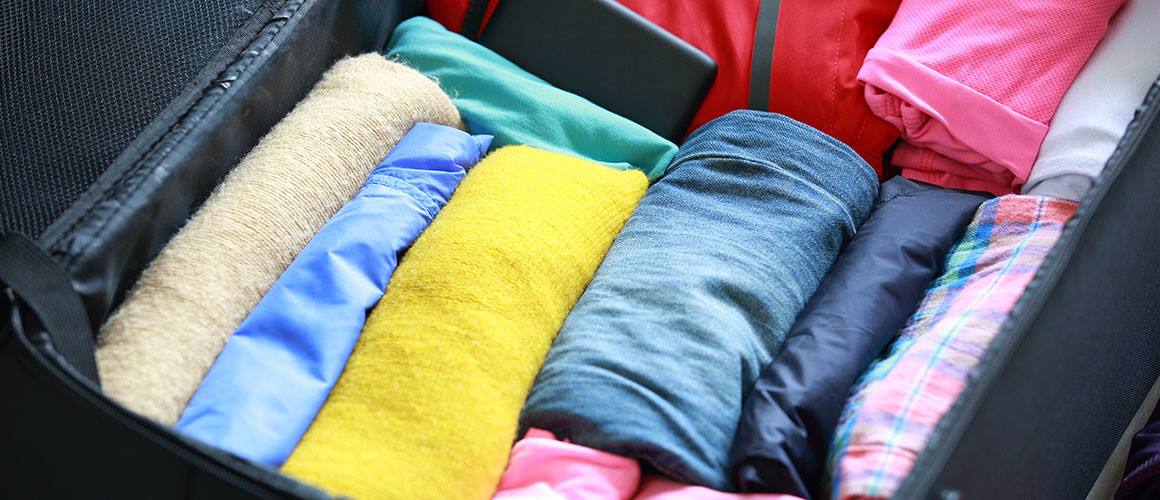 ---
Quick carry-on checklist for the kids:
For a ten day trip, I usually pack:
1 extra pair of shoes
10 tops
10 bottoms
2 warm layers
Sleepwear, underwear, socks, etc
And the rest…
For toiletries, I bring everything the kids and I need in travel sizes, or I transfer our favorite products to smaller bottles.
Anything larger (like spray sunscreen), I'll just buy when we get to our destination.
I have two small foldable hairdryers. One is set to 110V to use in the US. The other is set to 220V to use overseas.
And that's it. With a little planning before our trip, I can fit everything we need into our carry-on suitcases.
And if I want to buy a souvenir… I just get jewelry!