I get a lot of comments and compliments in the airport. It's bizarre. No, I'm not a celebrity (le sigh)…I have the go go kidz Travelmate. I swear, at least 5 random people always want to talk to me about it whenever I'm in an airport. It doesn't matter what city I'm in, strangers' will literally approach me with a round of twenty questions about this amazing device.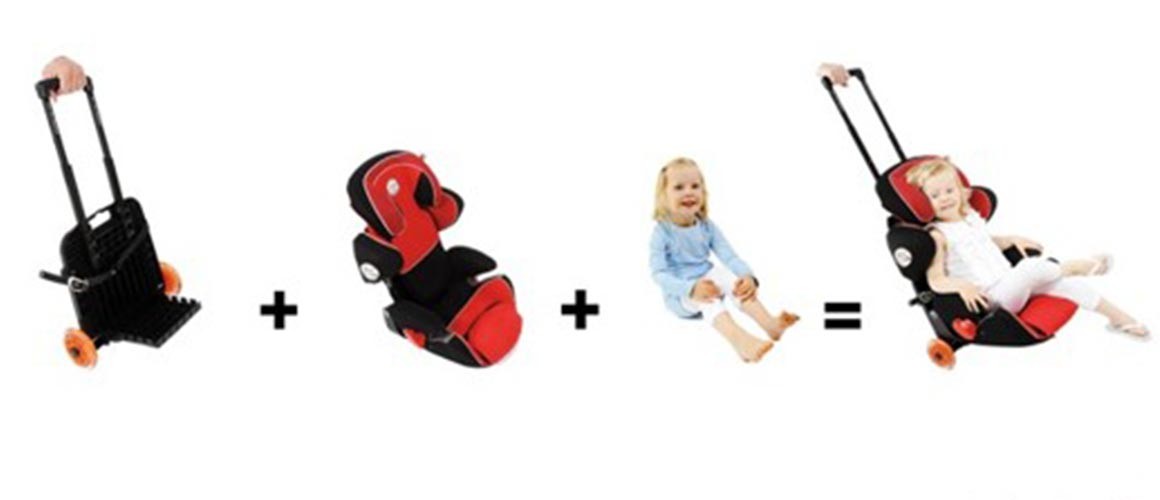 ---
So what is it exactly?
The go go kidz Travelmate is basically a set of plastic wheels, a platform, a handle, and a strap
. You can take almost any regular car seat, set it on the platform, and strap it in. Easy day. The car seat immediately becomes mobile almost as if you're pulling a suitcase. My three-year-old daughter loves riding in it. I can push her in front of me like a stroller or pull her backwards behind me. My husband and I have been using this ingenious device since Reagan was out of her infant car seat. We all zip through the airport efficiently bypassing hordes of families struggling to cart their 9,000 pieces of gear. I do not know how people carry a car seat, push a stroller, and manage their luggage…especially those with multiple children. We roll right by the toddler throwing a tantrum and making herself weigh 750 pounds with no stroller in sight. I am lucky that my sister blazed the trail and had the go go kidz Travelmate for her tikes long before I had my daughter. Thank you, Joanna!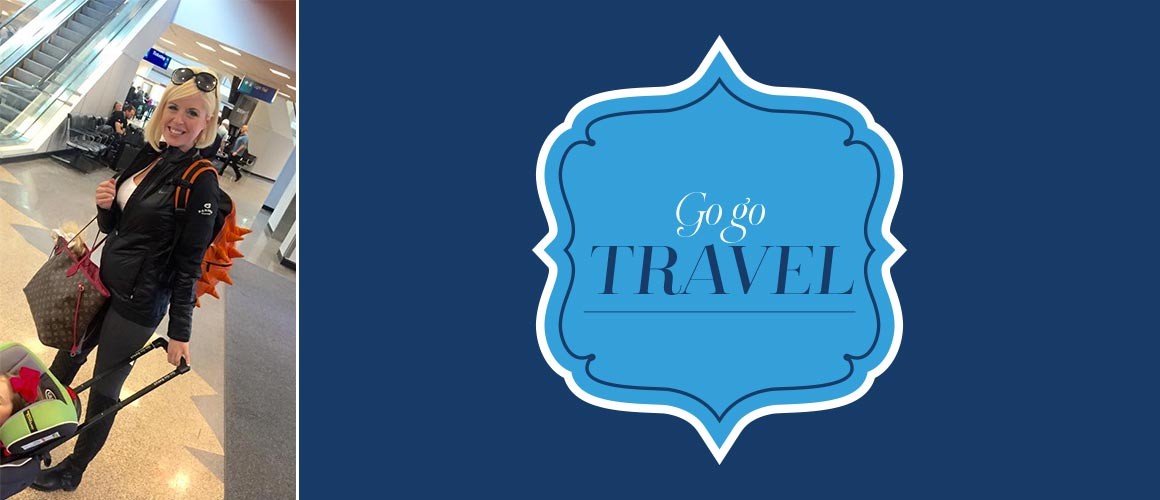 Here are a few tips to using the go go kidz Travelmate:
At security, ask for the seat and wheels (while still connected) to be hand-checked (wanded). This means that it does not go through the x-ray machines. The wheels make the car seat too big to fit through the scanner. Some TSA agents will ask you to try to disassemble it, but you don't have to. Ask for a hand-check.
At the gate, ask for a Gate Check tag.
While boarding the plane, leave the seat and wheels connected right at the door of the plane. It will be taken to cargo.
At the end of your flight, wait for the seat and wheels to be brought right up to the door of the plane immediately after you deplane. Usually, this takes about 5 minutes.
Vrroooom, you're off!
The moral of this unsolicited advice is that since you have to bring a carseat with you anyway, it should make your life easier and not heavier…I mean harder. For under $100, this minimalist travel gear is  a great buy.
I was not compensated in any way for this review.  I just absolutely love my go go kidz Travelmate and wanted to share why its my favorite piece of toddler travel gear!