I am the type of gal who wears a dress and wedge espadrilles while mowing the lawn. I am not a fan of spiders, but will happily catch a grasshopper to show my 3 year old son what this amazing insect looks like up-close. To go without WiFi is a slightly terrifying thought in my world, but checking my iPhone while helping my son build sandcastles is a welcome event. You won't catch me in yoga pants, but you will see me diving into the foam pit at my son's gymnastic center in a maxi skirt.
I am a reformed tomboy – you can take the girl out of Michigan, but you can't take Michigan out of the girl. I grew up going to glorious locales such as Caseville, Mackinaw City and Saugatuck, participating in camping, fishing and horseback riding. My children have been raised in a more urban environment, so I feel it is important to bring my well-rounded outdoor experiences to them, whatever that may look like for our family.
My mom met my children and me in South Haven, Michigan recently for a glamping adventure. I decided I would do things a new way with my children while still carrying on the camping tradition. I have such fond memories of our "pioneer days," but there is no badge or medal for roughing it. When it comes to camping with little kids, especially ones who nap, glamping is the way to go for our family.
---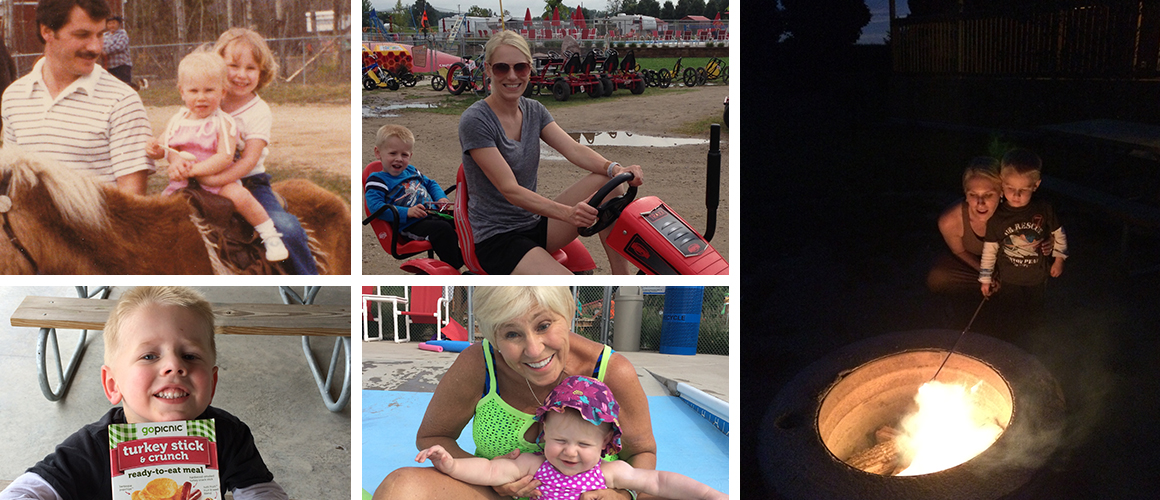 ---
Food
Hot dogs, s'mores and pie iron sandwiches are de rigueur for any camping trip. These are a rite of passage and must be experienced at least once. Here's the thing – you don't have to cook every meal over an open flame. I purchased a stock pile of GoPicnic Ready-to-Eat meals that required zero prep or cleanup. They don't contain any trans-fats, high fructose corn syrup, artificial colors and flavors, providing a variety of protein and fiber-packed munchies. Keeping your family well fed = happy campers!
Entertainment
Our campground was a Yogi Bear's Jellystone Park™ Camp-Resort, which included dozens of activities for kids of all ages. The swimming pool had a zero-depth entry, which allowed my 8 month old to splash in the shallow water while my 3 year old waded in the 2 foot deep portion. They hosted outdoor movie nights, campfire story time with milk and cookies, pedal carts for rent and even breakfast with Yogi Bear. When I was little, we rode our bikes around the campground, cooked meals and explored the area. I feel that as long as your family is happy, do what works for you!
Sleeping Arrangements
Some people would call my type of camping "cheating";I just call it smart. There is nothing like sleeping in a tent, seeing the shadows play on the walls and the sun filter in through the roof. I might venture out in a deluxe multi-room tent when my kids are a little older, but this round called for a log cabin complete with bunk beds, air conditioning and WiFi. You might say to yourself, well, this isn't camping at ALL. It might not be your type of camping, but my son was so proud of himself for climbing to the top bunk by himself, we were all well rested, and I was able to FaceTime my husband for our son's first s'more. Priceless.
Whatever your camping adventure may bring, be it glamorous or rustic, enjoy the time spent together. It will be a well-remembered adventure that you will cherish for years to come!
---