Aspen has always had a romanticized lure for me based completely on the many movies I've seen. They highlight the beautiful mountain ski destination as a backdrop full of gorgeous resorts and lodges with warm fireplaces and steamy hot tubs.
My husband and I never learned to ski growing up and have always tended to opt for beach vacations or city sightseeing trips. But, I've loved hearing accounts of my friends ski vacations and seeing their gorgeous mountain ski photos with lots of fresh powder.
Click Here to read TIPS FOR SENDING KIDS TO SKI SCHOOL FOR THE FIRST TIME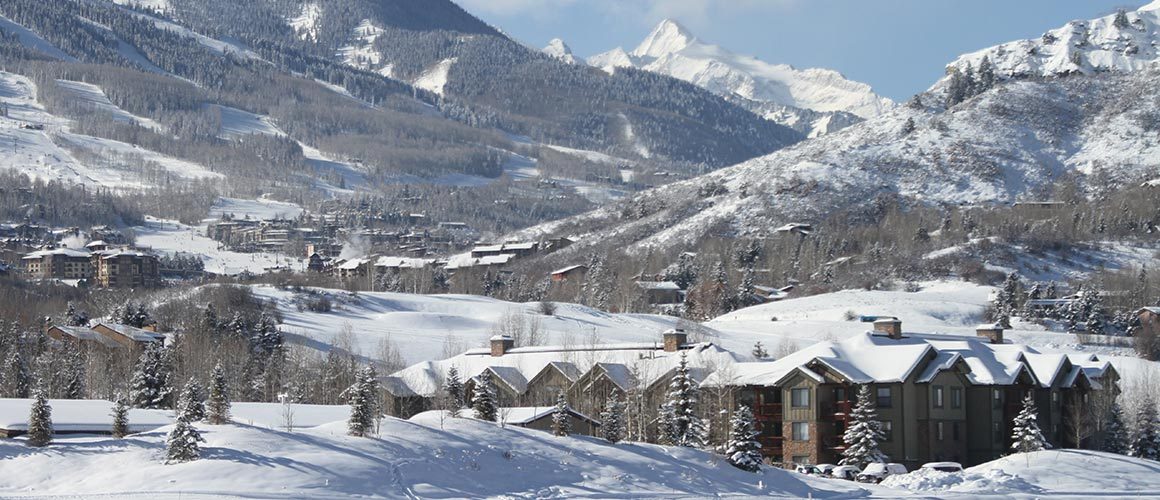 I decided last year, on a pre-ski season trip to Vail, that 2016 would be the year we take a real ski vacation. Just because my husband and I can't ski doesn't mean our 5-year-old son, Harry, shouldn't learn. At 40, it's a little late for us parents to take up the sport, but I'm passionate about giving Harry experiences that will be life-long gifts. Learning to ski at a young age has been on the top of my list of necessary gifts to give him.
Since I'd always been drawn to experience the natural beauty and luxury of Aspen, and Aspen Snowmass has a reputation for having some of the best ski instructors in the world, it was the obvious destination choice for our family's first ski trip.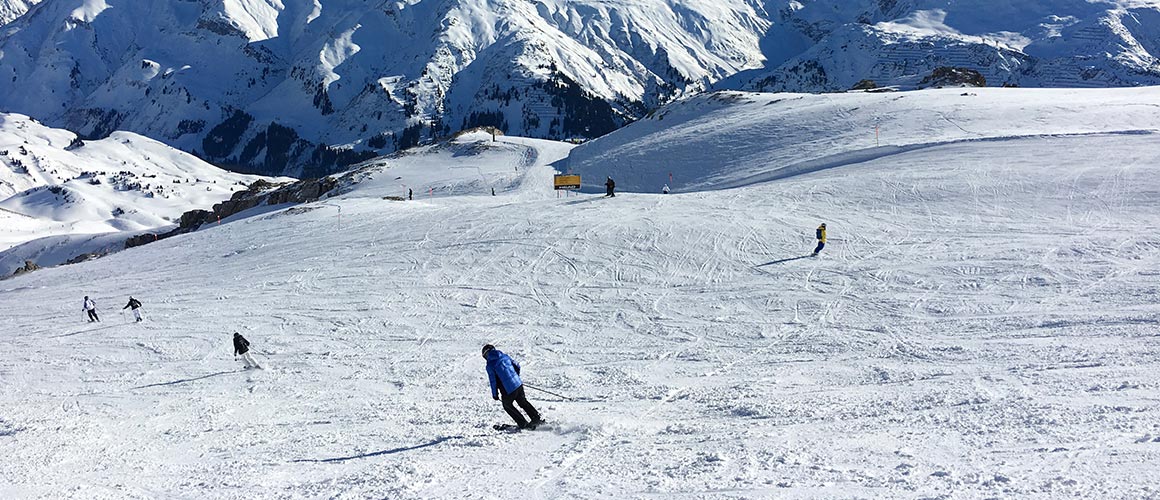 As a non-skier, I was excited, anxious, and nervous to sign Harry up for ski school since I had no idea what to expect.
I spent time browsing the Aspen Snowmass Ski School website, and then called to ask questions about ski school and private lessons. Clueless as to what to expect, I asked tons of questions that I'm sure might have seemed silly and obvious to a skier. I was given detailed answers, and I took notes to  be sure we had everything to prepare Harry for a successful first skiing experience. I hung up the phone and immediately went online to order Harry rental ski gear in his size from KitLender.
Click here to read ST. REGIS ASPEN – THE ULTIMATE WARM AND COZY LUXURY ASPEN FAMILY SKI RESORT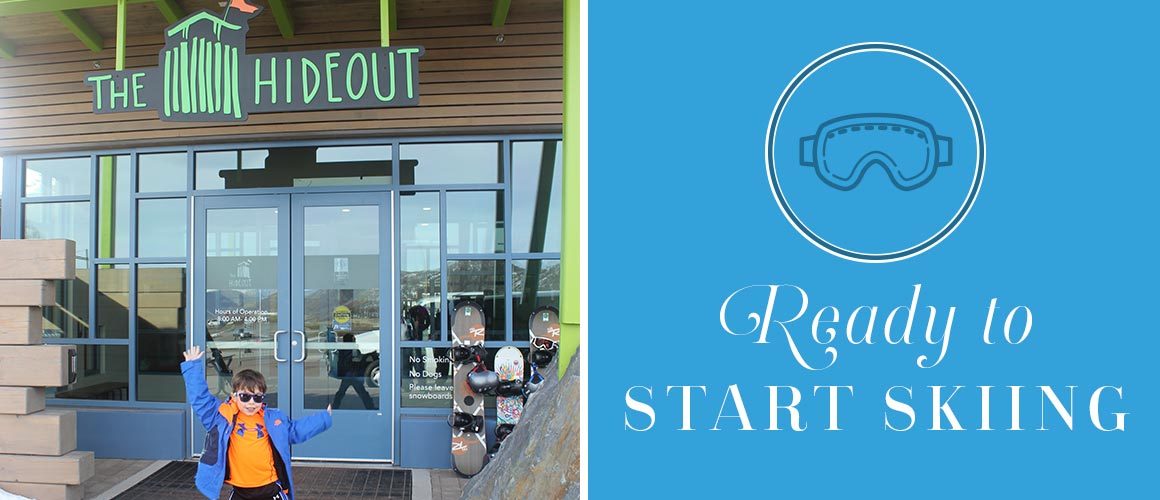 I had enrolled Harry at the Hideout ski school at Buttermilk Mountain, home to a ski school with a renowned reputation for teaching kids starting at 2 ½ years old. Because I wasn't sure if Harry would enjoy skiing or ski school, I only signed him up for two days: one day of ski school in a group class and a private lesson on the second day. I figured he'd enjoy making friends with kids his own age on the first day, and then once he was comfortable would really benefit from a private lesson on the second day.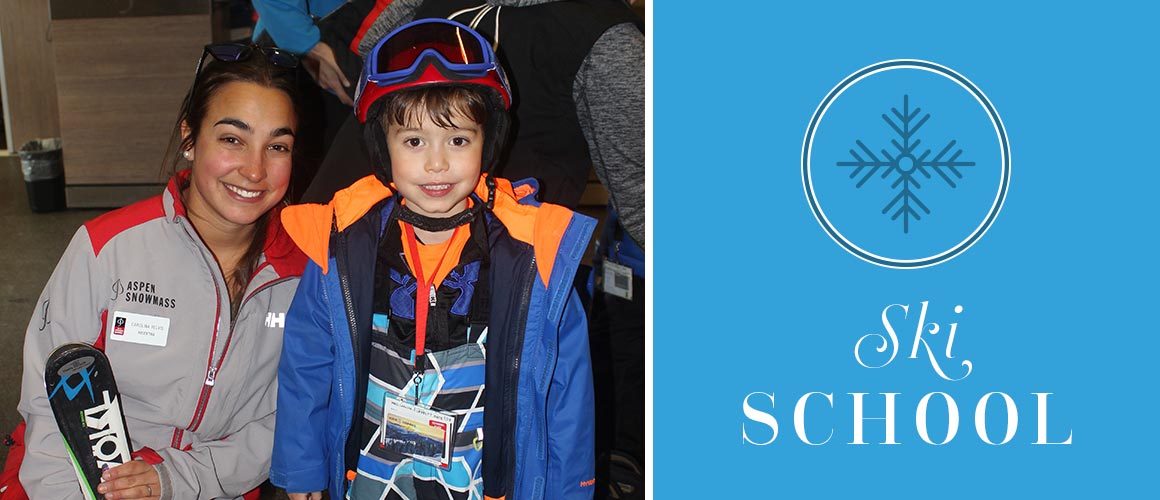 As soon as our plane landed in Aspen, surrounded by the breathtaking mountains, I was so excited for Harry to experience skiing. We wanted to give him an idea of what to expect since he really didn't know much about skiing.
We walked from our hotel, the St. Regis Aspen, over to the bottom of Aspen mountain, where the talented and experienced skiers would come in at Ajax. The energy of the skiers celebrating was contagious. Harry couldn't wait to start his first day of ski school the next morning, and taking in the electric vibe off the mountain, my husband and I were more than a little sad that we'd never learned this amazing sport.
The next morning we were up bright and early to have a delicious, filling breakfast at Trecento Quindici Decano in our hotel and hydrate before heading to the slopes. I had my notes on what to pack for Harry's first day based on my phone conversation with the friendly and knowledgable folks at the Hideout. Harry was prepped and dressed to impress for his first day at Buttermilk Ski School.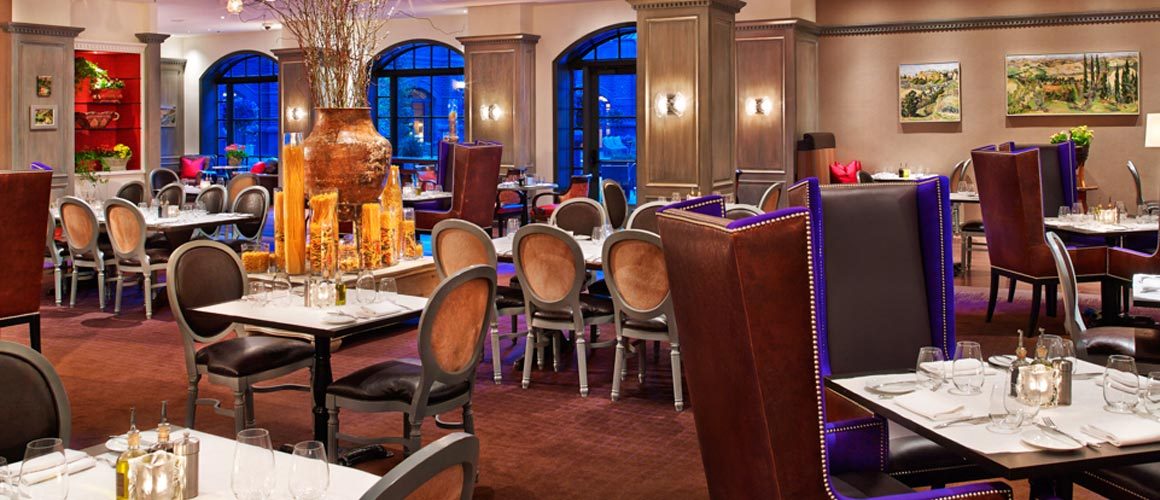 We arrived at the Hideout facility about 45 minutes early to fill out the necessary paperwork and set up Harry with his ski equipment. The facilities at the Hideout are full of fun play spaces, obviously built with little kids mind. Harry loved it from the minute we arrived, and was anxious to gear up and get started.
Next, we met Harry's two ski instructors for the day, Carolina and Denisa. He immediately fell in love with their big smiles and lovely Argentinian accents. They introduced him to four kids his same age and skill level, and he was off with only a quick wave goodbye to us.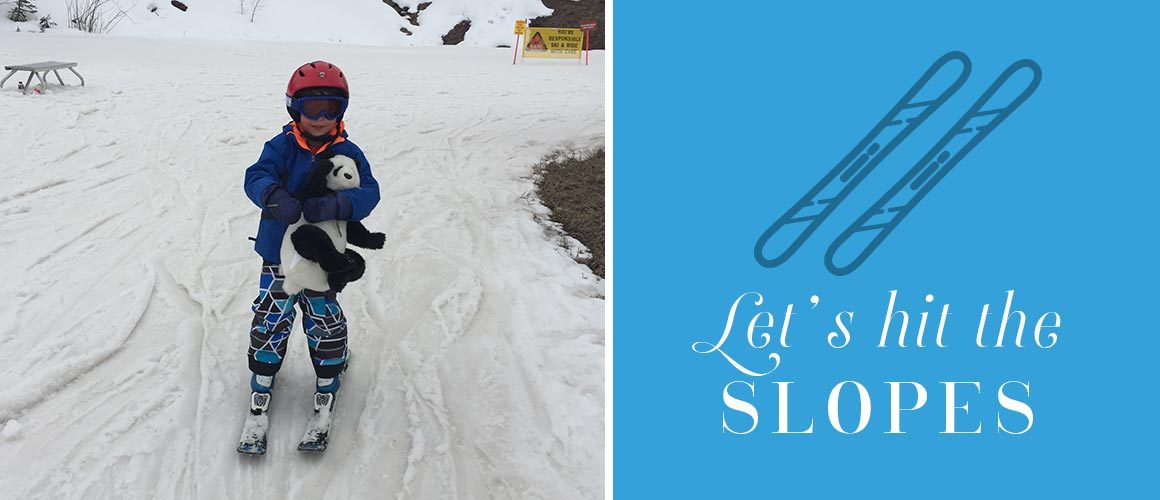 We snuck around the back to spy on his class as they got started with beginner drills and learning the basics of life on skis. Harry had a big smile and seemed to be having a blast, so we were immediately confident in our decision to enroll him.
For security and safety reasons, parents aren't allowed to stick around the Hideout facility. That left my husband and I with two full days to explore Aspen kid-free. Those days were awesome and romantic, filled with shopping, exploring, relaxing, and long lunches (a luxury we couldn't have enjoyed with our 5-year-old!). It was our little vacation within a vacation.
When we picked up Harry the first day, we were anxious to see his progress. His teachers gave us a progress report, and we were amazed with all he'd learned in just one day on skis. He kept hugging Denisa and Carolina and saying he couldn't wait to return the next day.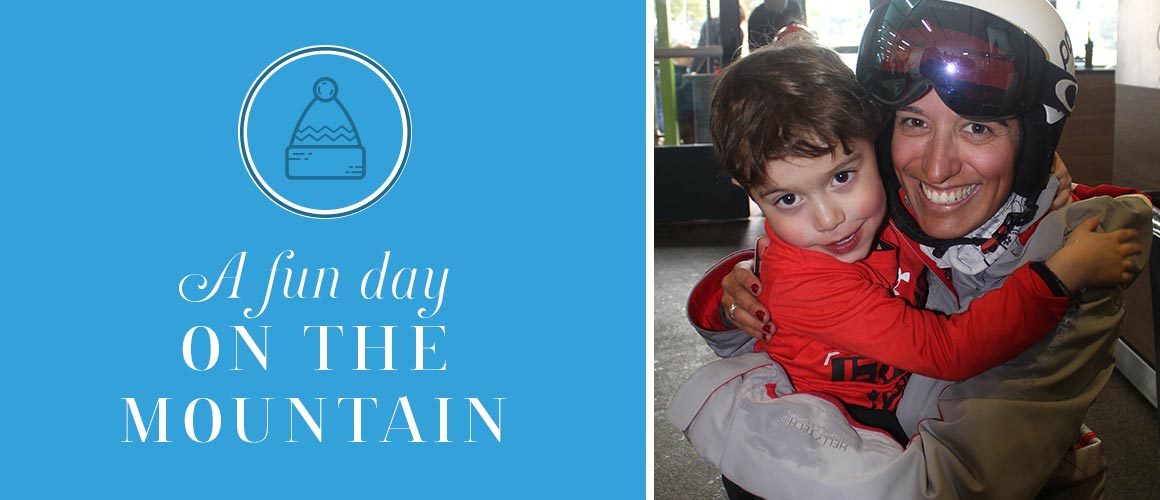 The second day, Harry had a private lesson with Denisa. Because this day at ski school was a private lesson, we were allowed to follow along and take some photos. We trekked out in our snow boots first thing in the morning and watched Harry do warm up drills at the Hideout. Then, we followed him to the first teaching slope.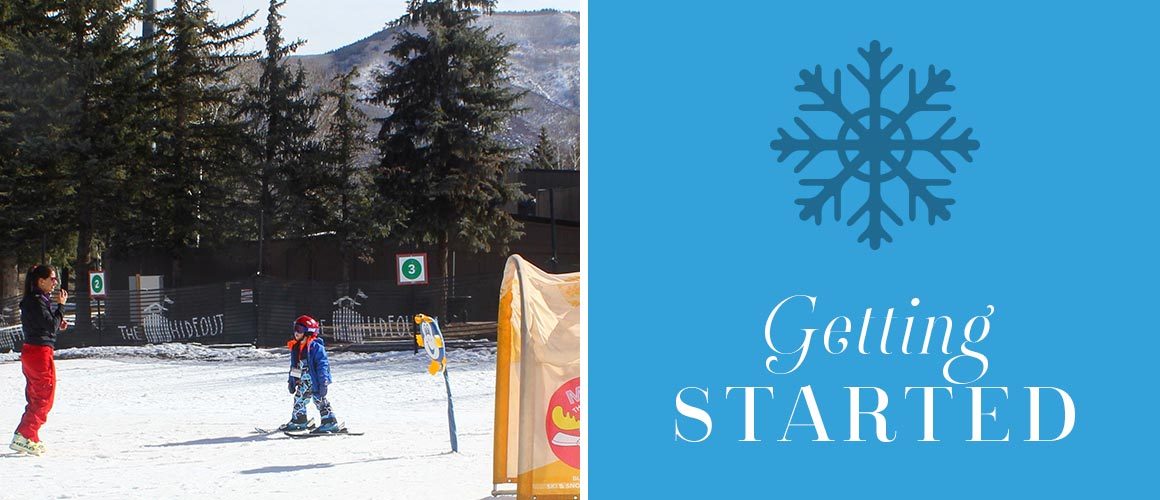 He was already getting on and off the magic carpet like a pro and skiing and stopping quite well.  Denisa explained that they were working up to taking him up the bigger slope, and if we came back later we could see him ski the slope and do the ski lift.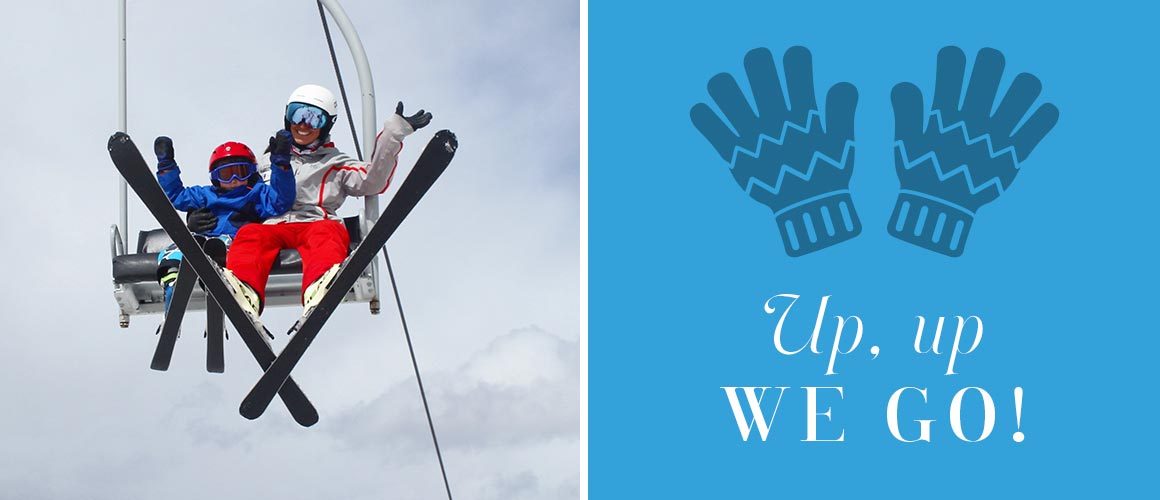 We returned around 2 p.m., and Harry dazzled us with his ski skills. He and Denisa rode the ski lift up to Panda Peak and skied down tossing a panda stuffed animal back and forth and having a blast. My husband and I were impressed with Harry's new skills and his endurance having skied all day long.
Here's a video that Harry's ski instructor Denisa took for us from her phone skiing next to Harry that afternoon. It's so cool how quickly she was able to teach Harry and turn him into a ski lover!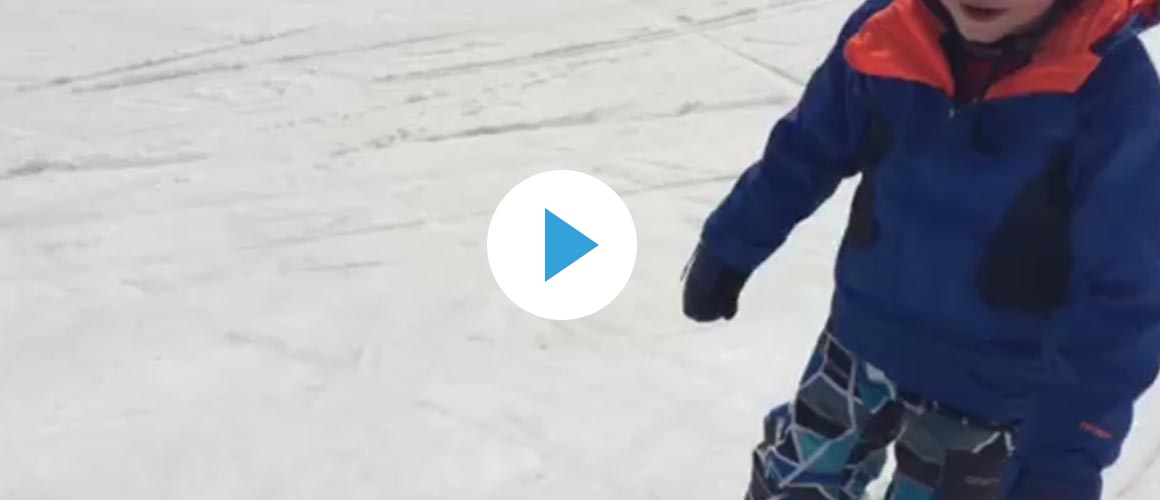 Denisa asked us if he would be returning the next day for another day of ski school. With his skills, she said, he would be ready to ski the big mountain slope the next day. When we heard he was actually good enough to ski the real mountain so quickly, naturally we were disappointed that we hadn't signed him up for a third day.
However, we had already planned other fun family Aspen activities, and decided to keep our plans. Looking back, we wished we would have gone ahead and sent him back to ski school. He spent the whole day begging to ditch us for more lessons with Denisa.
Sending Harry to ski school in Aspen turned out to be the amazing gift of which I'd dreamed. It's been a week since we returned from Aspen, and Harry hasn't stopped asking when he can go to ski school again. He loves showing off his ski photos and videos to all of our friends and family, repeatedly telling us how much he misses Denisa. But there are more ski vacations in his future, Harry will be happy to learn.
If you are a non-skier parent like me, and always wished you'd learned to ski, consider gifting your kids ski lessons while they are young. If they love it like Harry, it will be a gift that will last them a lifetime!
Special Thanks to all who made this vacation so special! Aspen Snowmass provided a complimentary ski school experience, Kit Lender supplied complimentary ski gear rentals, and Trecento Quindici Decano at the St. Regis gifted us our breakfast—all for purposes of review. As always, all opinions are my own, no matter who is picking up the check.