This spring break we traveled to Puerto Rico with our kids. We love to experience different cultures and book activities and tours when we travel so we rented a car from the airport and headed out on our adventure.  Our first stop was to El Verde BBQ.  We were hungry after our flight and just happened upon this Chicken Shack.  The parking lot was full and it seemed to be a local favorite.
We ordered a whole chicken, plantains, yuca that was covered in a butter garlic sauce along with rice and beans.  As soon as the chicken hit my kids mouths they said YUM.  It was so good that we went back again another day!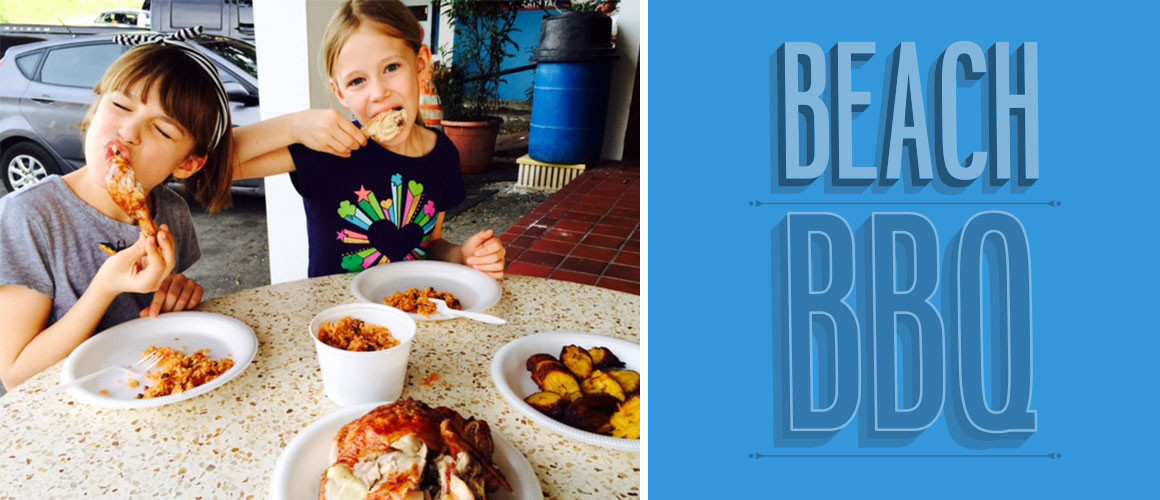 ---
We stayed at the
Wyndham Grand Rio Mar Beach Resort and Spa
. This is your typical resort with all of the amenities.  It has a kids club, pool, beach, Casino, golf and spa.  There literally is a little for everyone.  We did not use all of the facilities but it was a great home base.
For dinner we ended up heading to a spot called The Kiosks in Luquillo.  They are basically a row of shacks along the side of the road that do not look like much but food is delish and great value.   We stopped at a place Edelweiss.  My husband went for a whole red snapper, while I chose the flank steak wrapped around mashed plantains.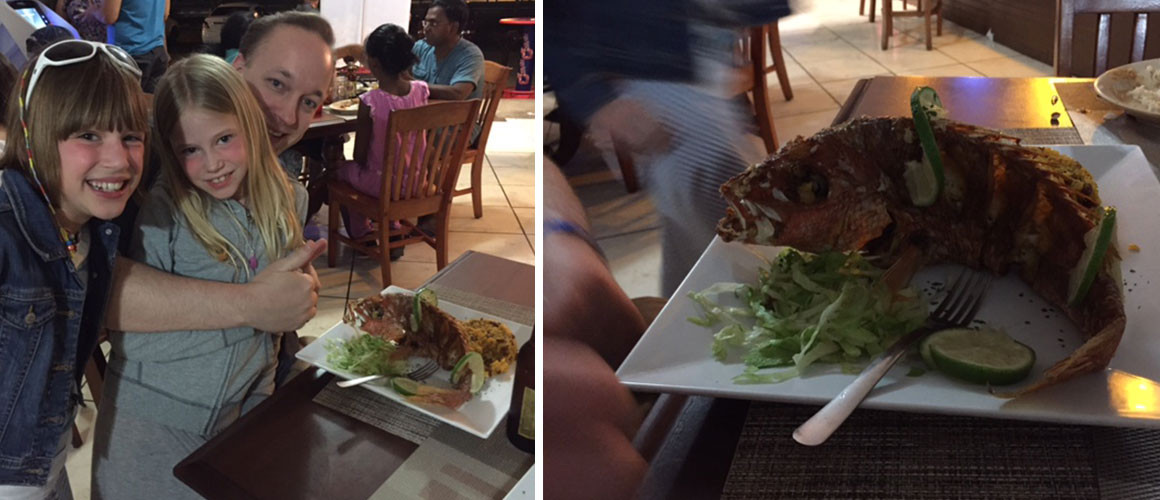 ---
The next day we woke up and headed out for breakfast.  We were headed to the
El Yunque rainforest
for our activity that day so stopped at a spot on our way.
Lluvia Deli Bar and Artefacto
was a delightful find.  It was an urban environment with featured artists and delicious food and coffee.  Across the street was a great shop for souvenirs and local art as well.
We headed to the rainforest and were making our way to the waterfall that we could jump into the water.  I did not take my friends warning to go early (first thing in the morning) before the tourists.  We headed there around 11am and it was us and about 100 others taking in nature.
That evening we headed to Bio Bay.  This is an activity that you need to book well in advance of your vacation.  It books up fast.  We chose Pure Adventure Tour Company.  They are one of the newest companies but we really enjoyed the guides and their science backgrounds.  There are 2 tours to choose from a 5:30pm departure and an 8:30pm.  We choose 5:30pm for our kids.  It was a great choice for us.  The kayaks are tandem.  We headed out into the bay through the Mangrove trees in the daylight, hung out in the bay and went back after dark.  This was a highlight for my family.  Afterwards in the park we hung out and grabbed some frozen drinks and food from local tents set up around the area.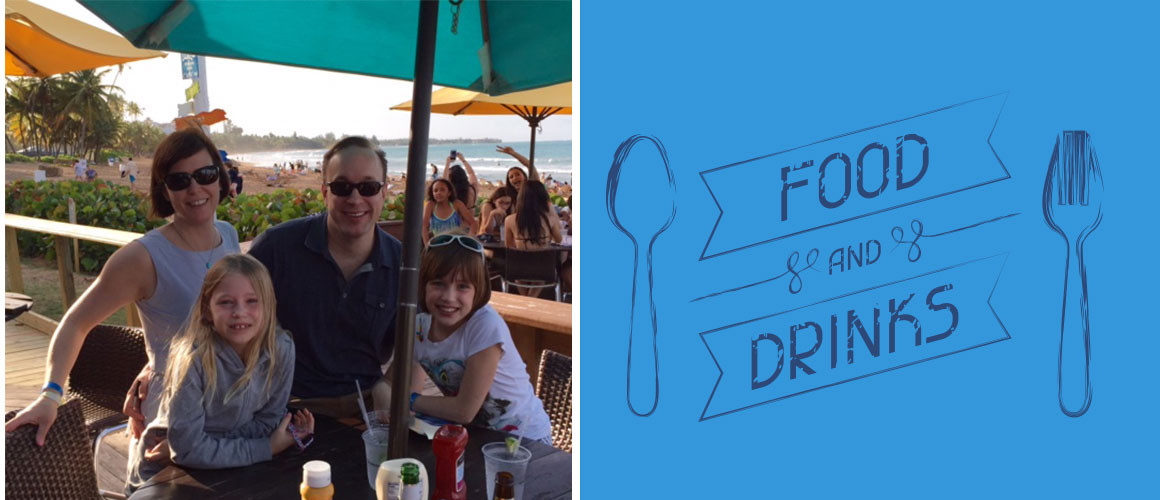 ---
The next day we spent a little bit of time in Old San Juan.  Here we could of allowed for more time to take in the history and culture. However, we had a zip lining tour in the afternoon that cut into our Old San Juan time.  Our zip lining adventures were with a tour company called
Ecoquest
.  They could not have been a better bunch of guides.  My older daughter really started to freak out once up on the platform.  The guides quickly seized control and took her under their wings.  They brought her to a lower platform where she ended up enjoying the last part of the adventure with us.  The staff was so friendly.  There are many different tours to choose from.  I can not recommend them enough.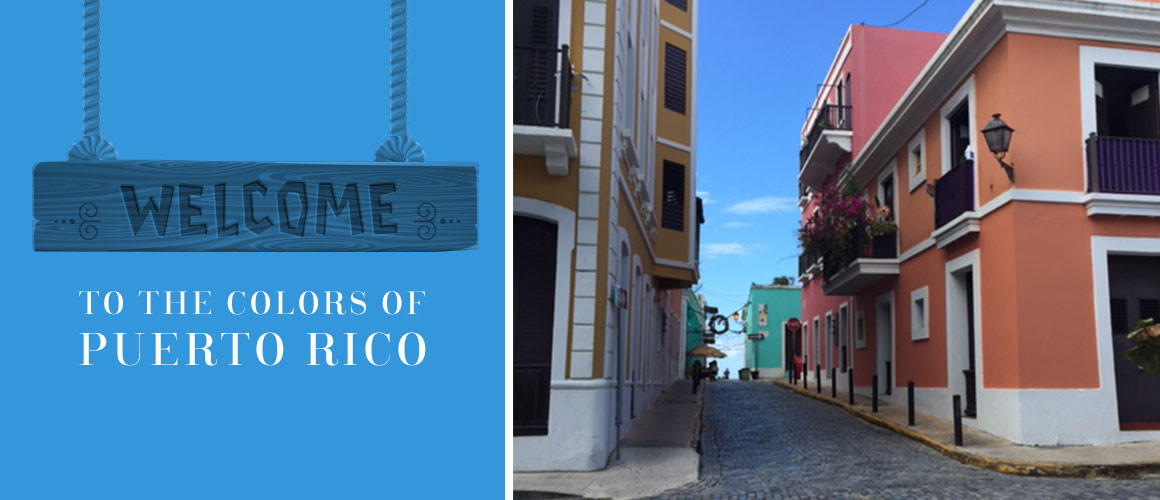 ---
The guides from Ecoquest sent us into town for dinner for the best ceviche, called
The Ceviche House
.  It's Peruvian and Puerto Rican cuisine, but fresh fish and yummy desserts.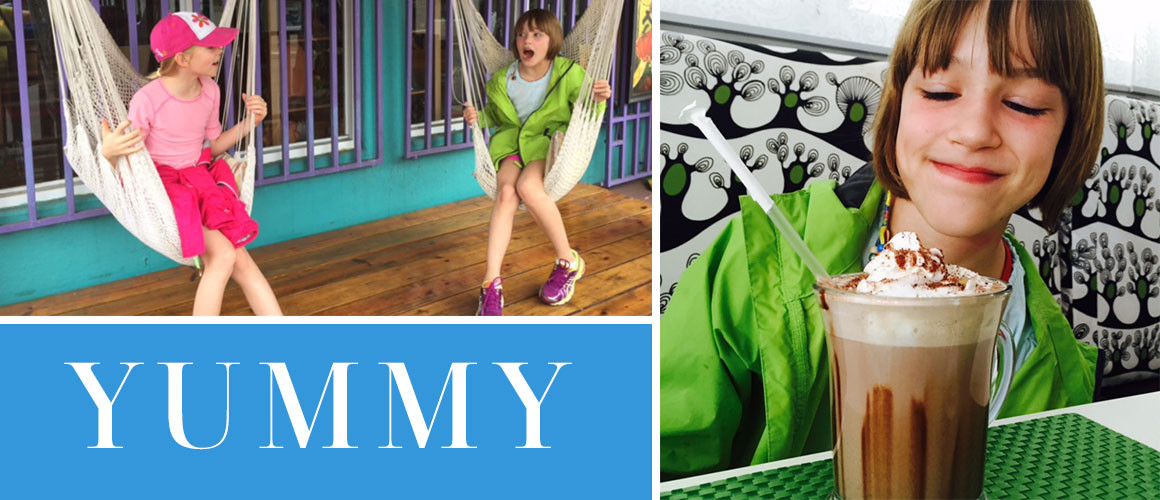 ---
Our final day was spent lounging around the beach and pool back at our resort.  We grabbed a pizza from the Barista Cafe' in the hotel for lunch.  We found this to be the best bang for our buck, plus we got it delivered to where we were beachside.  For dinner, we stayed on the hotel grounds and headed to Iguana's Pub.  It's Puerto Rican fare and in a country club setting.  Great views and outdoor seating with live music surrounded by the golf course. Perfect for our last night.
Overall, we had a wonderful vacation experience exploring and eating local in Puerto Rico.  Puerto Rico is definitely on our radar for another visit.  We liked the fact that there were no customs to go through.  You still use the dollar as money and there were not any roaming charges on our phones, but yet we were living island life for awhile and enjoying an american culture different from our own.