Disclosure: We were guests of the luxurious Pendry Hotel San Diego for purposes of review. We absolutely loved our stay! All opinions are my own.
---
Where to stay in San Diego with kids?
San Diego is a great city for families! There are so many fun things to experience with kids in San Diego from playing at the beaches, to exploring the city, and visiting all of the tourist attractions. It's very easy to fill your family vacation days here. We've visited often with our son and always had a blast.  Each time I plan our trips, it's fun to decide where to stay in San Diego with kids.
We started our recent California coast luxury road trip with two nights in San Diego at the Pendry Hotel. The Pendry Hotel is the newest luxury hotel in San Diego having just opened in February 2017.  This luxury boutique hotel offers huge suites with an awesome California hipster luxury vibe, and being in San Diego, there's always a beach vibe, too!
We loved everything about our stay at Pendry San Diego. Here are our favorite reasons why you should choose the Pendry Hotel over and over again when deciding where to stay in San Diego with kids.
This luxury hotel not only will appeal to kids but parents will especially love their swanky stay at Pendry San Diego. There are several restaurants to choose from at the hotel, as well as a super snazzy champagne vending machine. The whole place has a fun, whimsical, sexy, lighthearted vibe that just makes you want to hang around. If you ask me, I'd say Pendry San Diego is the perfect blend of city cool and family friendly.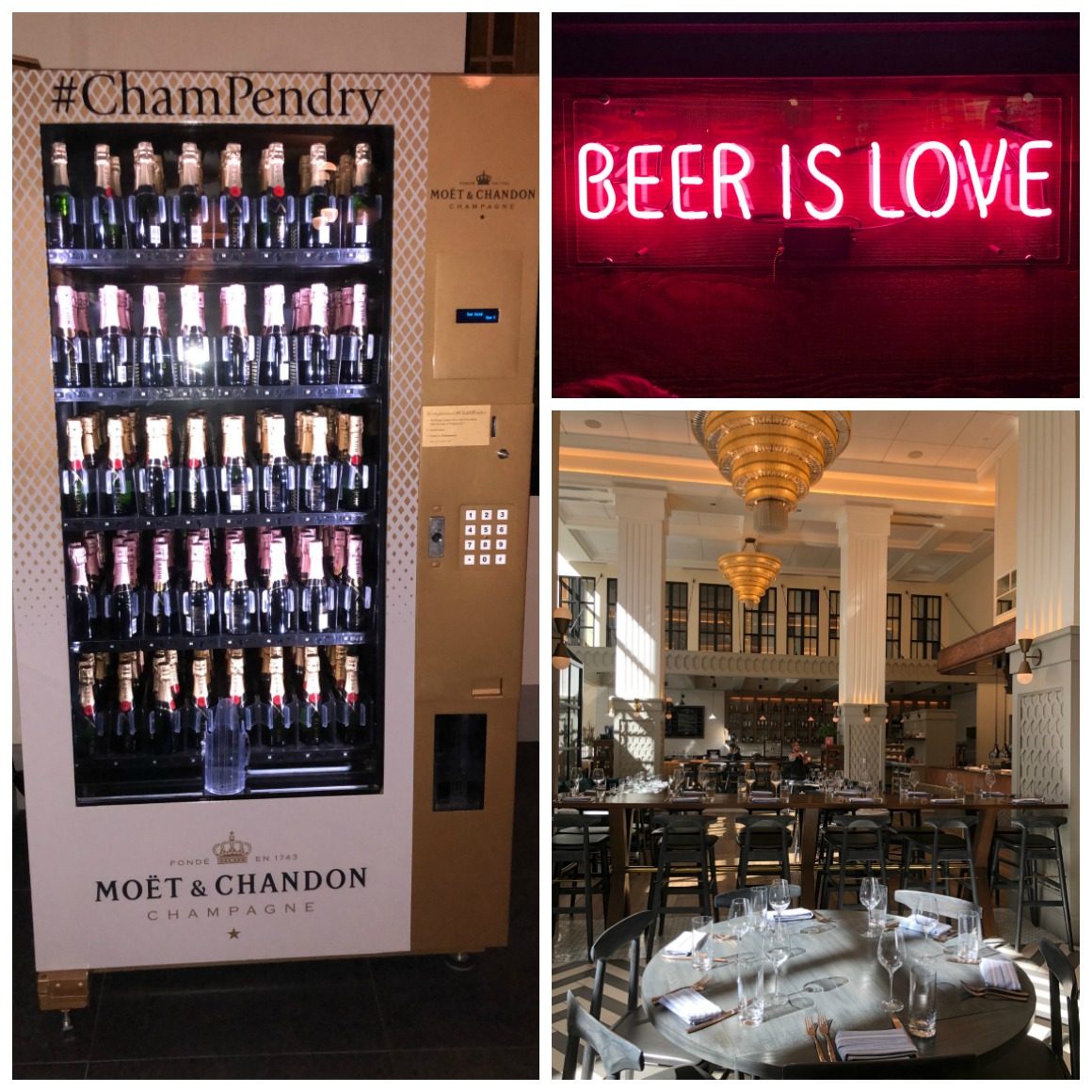 Ultimate luxury San Diego boutique hotel
We loved our room at the Pendry San Diego. The two-bedroom suite is totally perfect for families, with lots of room to spread out. Everything in the hotel still feels very new, and the beds were super comfortable. The rooms are bright with modern decor. We fell in love with rabbits and surfer wall paper!
Each bathroom was huge. Both bathrooms only had showers, but they were super luxe with multiple shower heads and great water pressure. Our room didn't have bathtubs, so you may want to ask about that when reserving your room, if you need a bathtub for your family.
This gorgeous suite is perfect for families traveling with lots of kids and luggage. We loved the layout of the rooms and appreciated all of the luxury amenities. With bed-side plug-ins for your electronics plus beautiful and new flat-screen TV's, it's so easy to make yourself at home here. The Pendry San Diego is also pet-friendly! We weren't traveling with any pets, but I definitely saw some well traveled pet pals during our stay!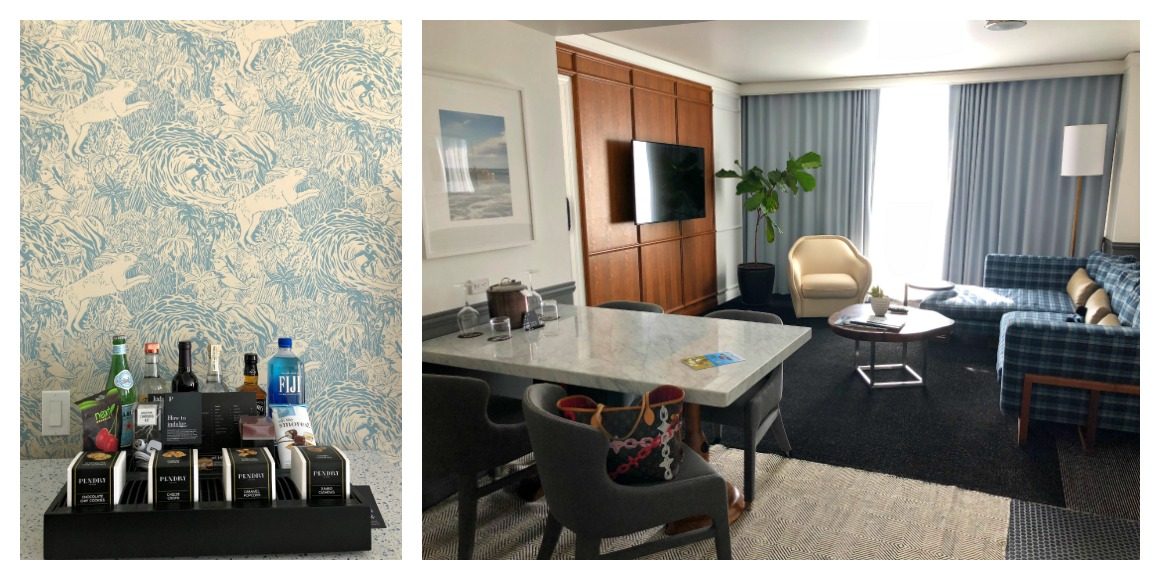 Perfect San Diego location
The downtown location of the Pendry Hotel can't be beat! As one of the best Gaslamp quarter hotels, we were  in walking distance of some of San Diego's best attractions. While California is generally pretty car reliant, and we did use our car to explore some other parts of San Diego, we easily walked around the Gaslamp quarter, to the San Diego waterfront, Petco Park baseball stadium, and the fun shops at Seaport Village.
Excellent customer service
Immediately upon arrival, we received such a warm welcome from the valet, the front desk staff, and bellmen. Everyone was so genuinely friendly and outgoing, we knew we made the right choice to stay at the Pendry San Diego.
Kids staying at Pendry San Diego are treated like royalty! Our son Harry loved the teddy bear and kids backpack welcome gifts. For adults, the hotel generously supplied us with cool swag at check in like Pendry leather luggage tags and selfie sticks. For turndown service, we received delicious macaroons each night!
The Pool House ROCKS!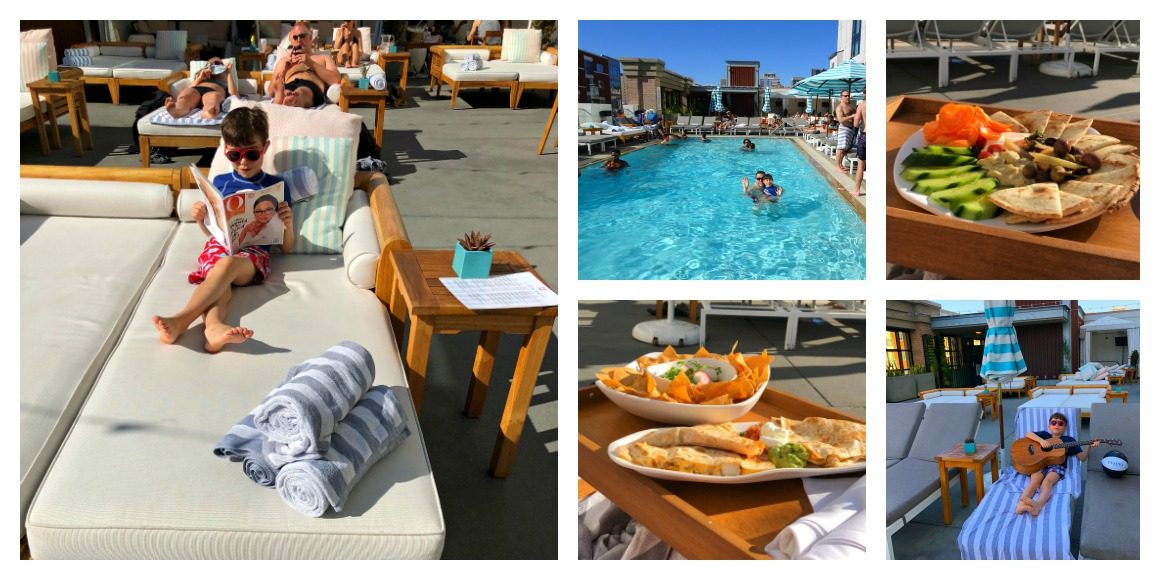 The Pool House at Pendry San Diego has some of the best views in the Gaslamp District. Perched a few floors above 5th Avenue, the Pool House has fabulous cabanas and a great pool menu for snacks. At Spring Break time, there were tons of kids, making it a super family-friendly environment.
Locality and Sustainability
The Pendry San Diego has a sincere focus on locality and sustainability. The sustainability shows in the guest rooms with product dispensers that have replaced travel-size plastic bottles found in most hotels.
One of the coolest things about this hotel is the presence of local art throughout the hotels. The Pendry San Diego goes out of their way to highlight local goods and local artisans. The coolest example of this is the guitar check-out program. The hotel has locally-made guitars on loan that you can take back to your room, which of course Harry loved rocking out with!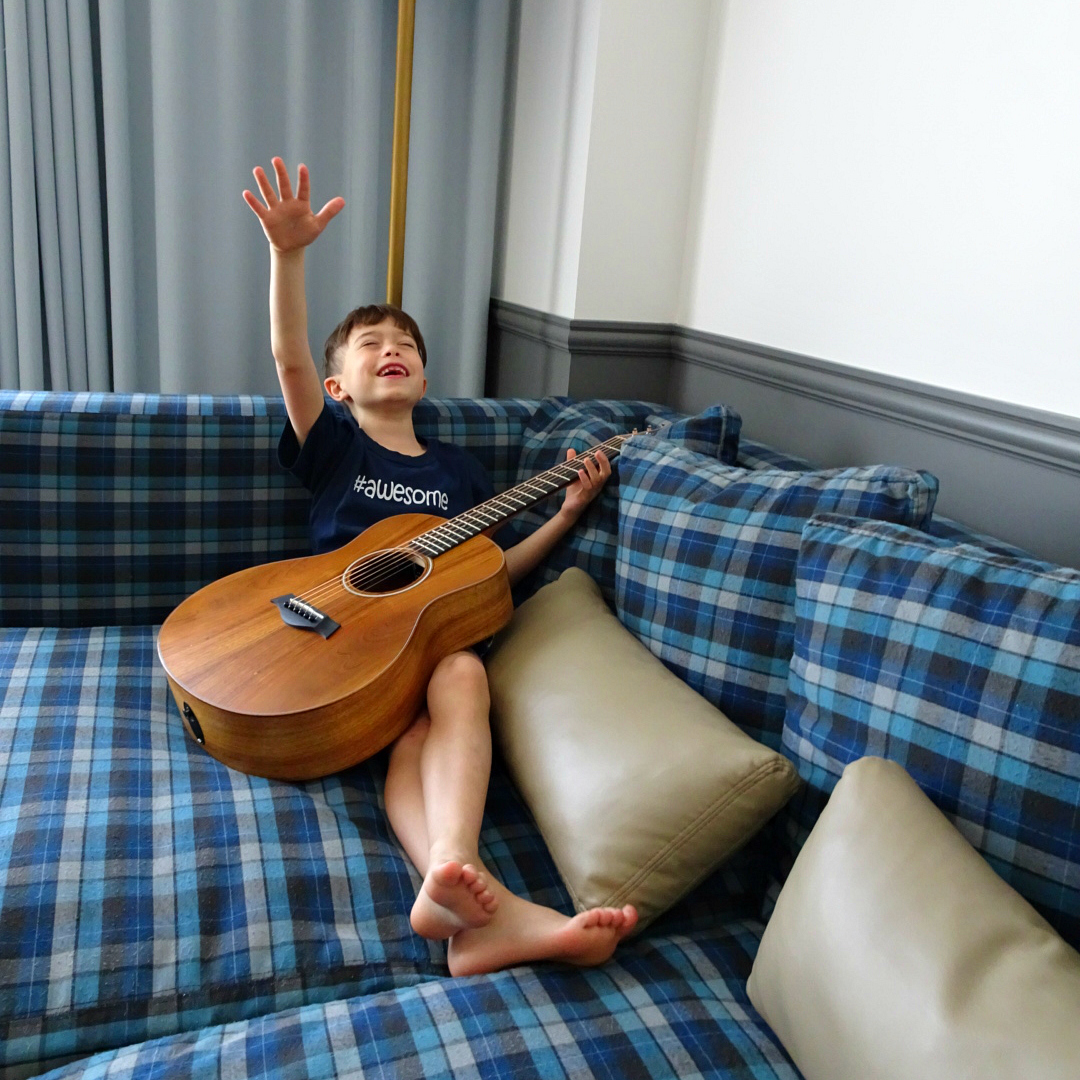 The best place to stay in San Diego with kids!
With all of the fun activities and great restaurants at the Pendry San Diego, this is the kind of city property that you really don't need to leave. It offers everything a family needs for a fun San Diego family vacation.
However, there is so much to do in San Diego with kids, you will likely want to venture out at least a few times. Here are a few additional suggestions for the best things to do in San Diego as a family during your stay at Pendry:
Seal Cove in La Jolla

San Diego Zoo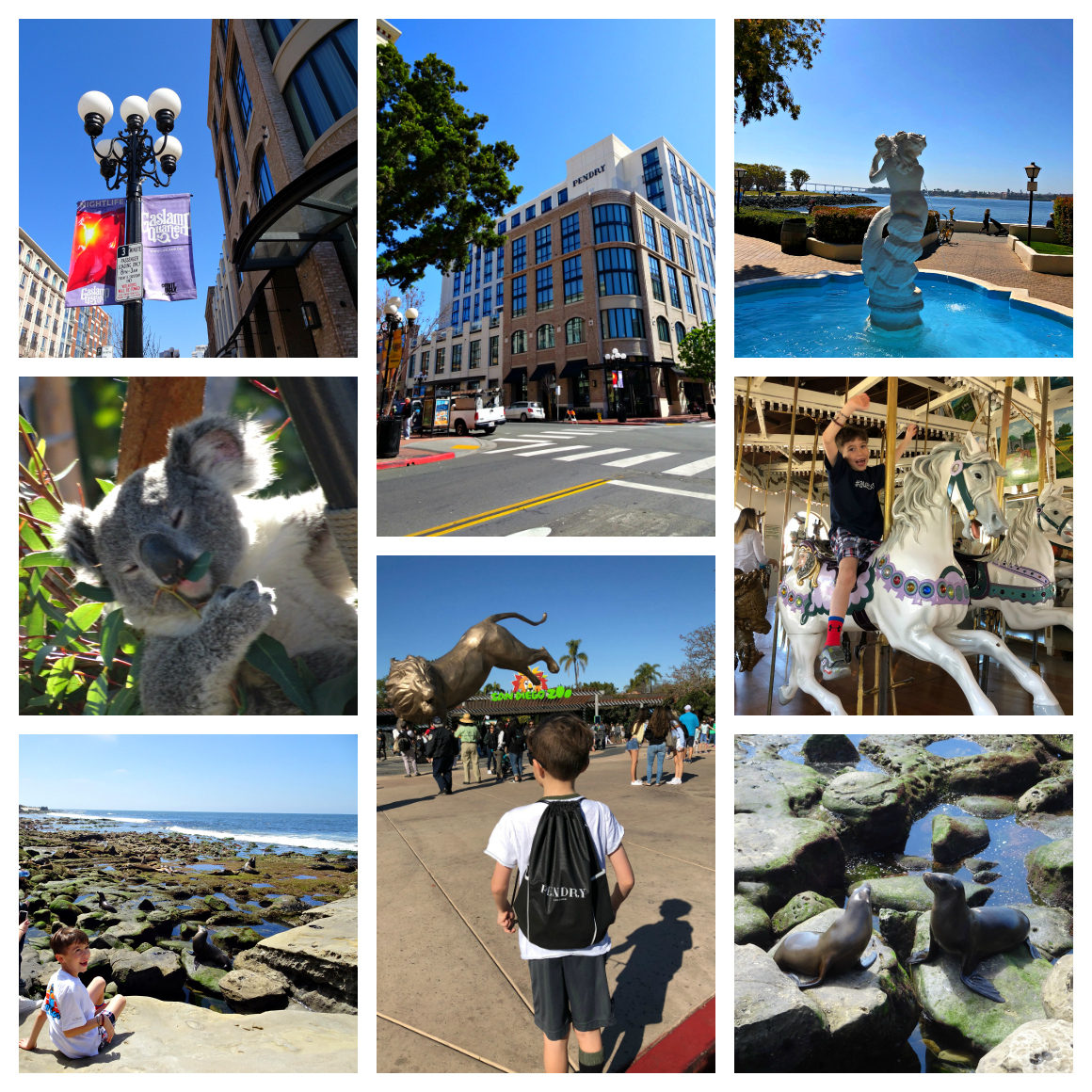 ---
Planning a family vacation in San Diego with kids? Pin this for later so you remember where to stay in San Diego with kids!