Disclosure: We were guests of Montage Laguna Beach for purposes of review. We loved every minute and can't wait to return again soon! All opinions are my own.
---
Laguna Beach with kids
Southern California beaches are all incredible, but my favorite has always been Laguna Beach. Laguna Beach is an amazing vacation destination for families. I've spent a lot of time vacationing in Laguna Beach with my family over the years and I love each of our beach memories.  
On our recent luxury California coast road trip from San Diego to San Francisco, we had one night to spend in Laguna Beach before continuing North along the coast. I was dying to stay at Montage Laguna Beach. I've had my eye on it for some time.  Montage is known to be the most luxurious coastal hotel in Laguna Beach, and I've stayed at most all the other luxe Laguna Beach properties so I was excited to see if it truly blew away the competition.
Staying at the Montage Laguna Beach with kids is incredible. We fell in love with its amazing location overlooking the ocean. Everything about this hotel is luxurious, especially the way the rooms overlook the Mosaic Pool and the coast. My only regret was that we were only able to stay for one night before continuing North on with the rest of our coastal road trip. I can't wait to return when I can stay longer and truly vacation here.
Here are just a few reasons we recommend a family stay at the Montage Laguna Beach with kids
---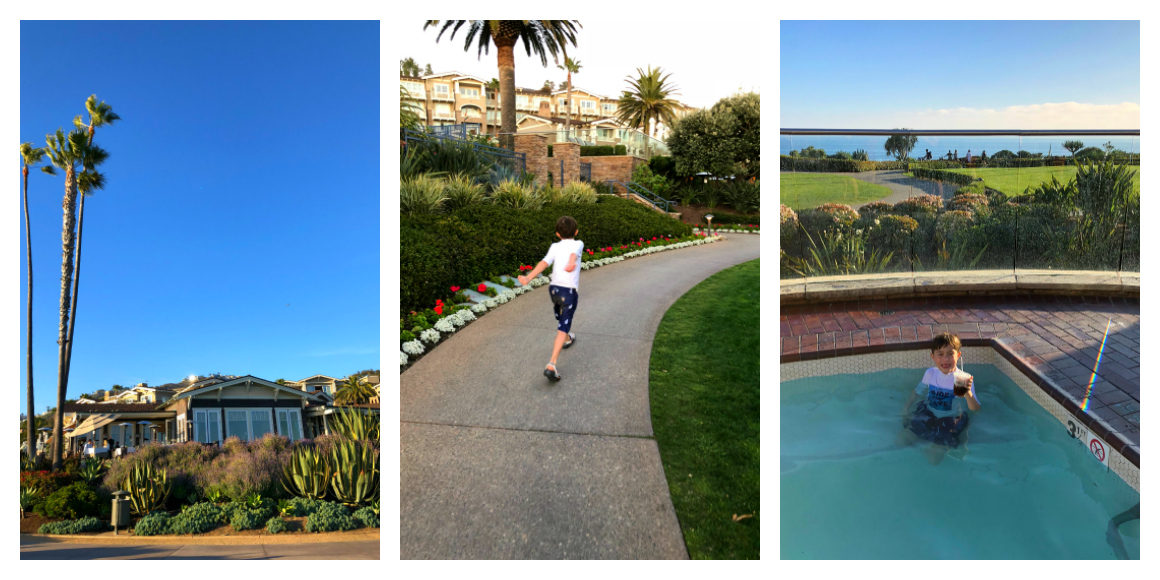 Family Friendly Southern California Luxury
The Montage Laguna Beach is extremely family friendly. We saw lots of families from the moment we walked into the hotel. They were gathering in the living room, enjoying drinks, snacks and ocean views.
At the Mosaic Pool, there were tons of kids for Harry to play with while we relaxed and enjoyed the poolside views. We met several families vacationing together and many of them said they come to the Montage Laguna Beach every year for vacation.
The Montage Laguna Beach restaurants are also extremely family friendly and have great views. We had dinner at The Loft and fell in love with all of the small plates of California cuisine that we sampled. I really appreciated that they had grilled organic chicken on the kid's menu and not just typical kid junk food.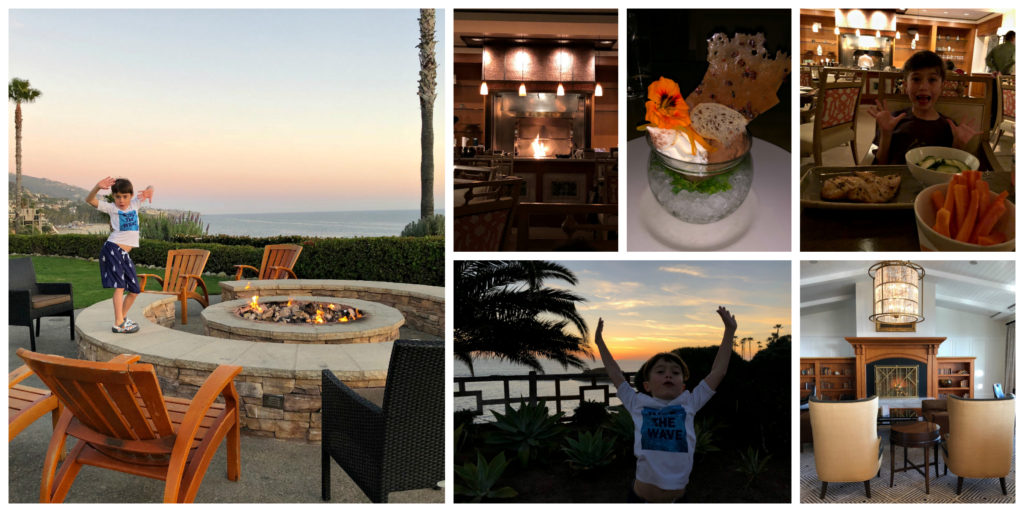 At night, families gather and watch sunset together. Afterwards they snuggle around the outdoor fire pits overlooking the ocean. We visited on a weekend and there was fun live music that night for hotel guests to enjoy in the living room.
Prime Laguna Beach Location with Beach Access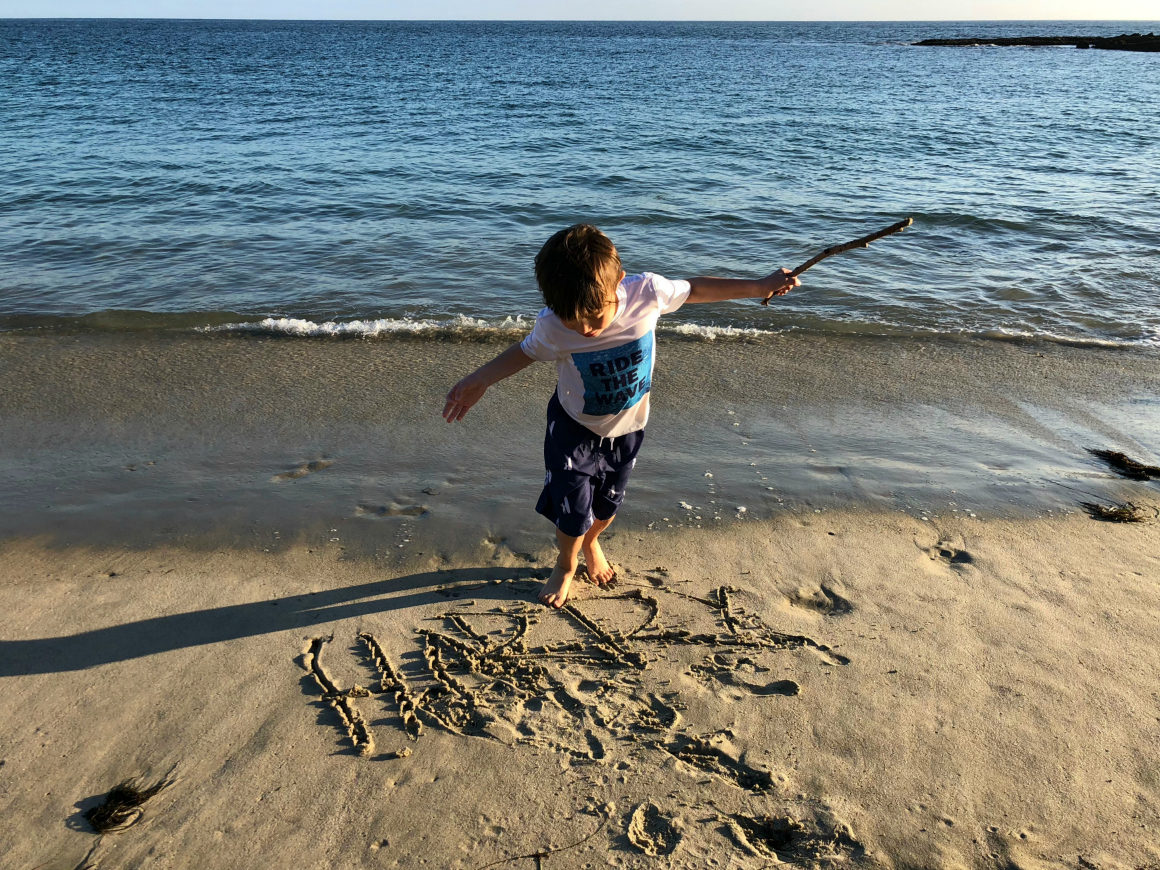 Our favorite part of staying at Montage Laguna Beach was playing on the beach and walking down to the tidal pools. Many Southern California hotels sit on bluffs above the ocean, with no direct or easy access to the water. The great part of staying at The Montage is that you have beach access right outside your hotel room.
At low tide, there are amazing tidal pools, with different rock compilations to play on. It's also a spectacular place to take pictures at sunset. We were so lucky to visit during whale migrations, and we could see them playing in the water, right off the shore. We could also see the whales right from the balcony of our room!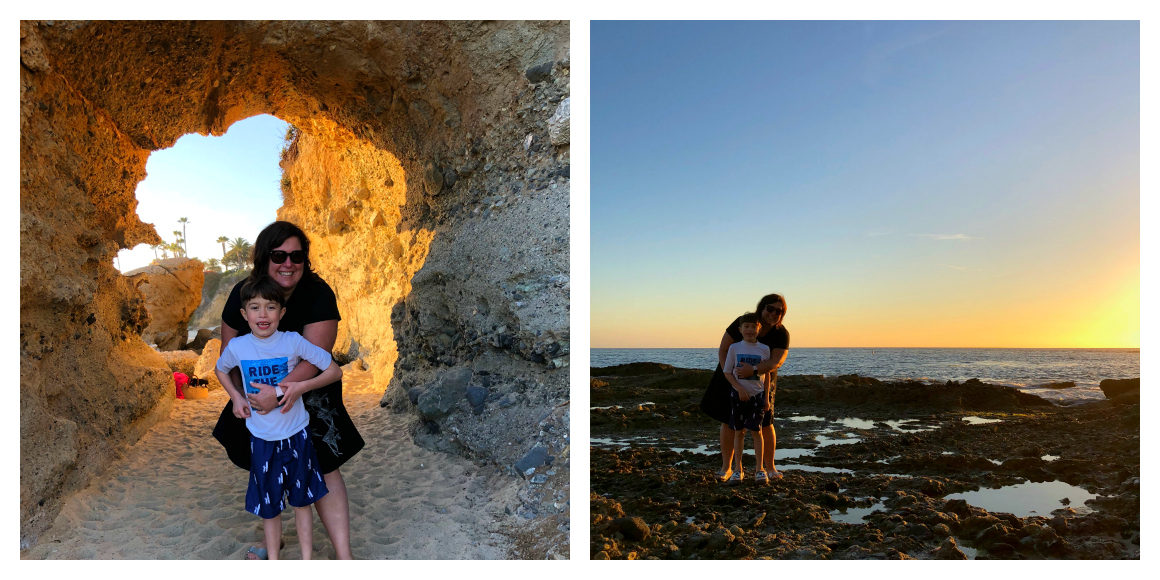 Luxury Service Levels at Montage Laguna Beach
Throughout our stay at the Montage, we had excellent service. Two team members who went above and beyond to make our stay special were Cody at the pool and Marin at The Loft. Both of them took special care of us and made our visit memorable. Our champagne service with amazing chocolate strawberries is a nice touch!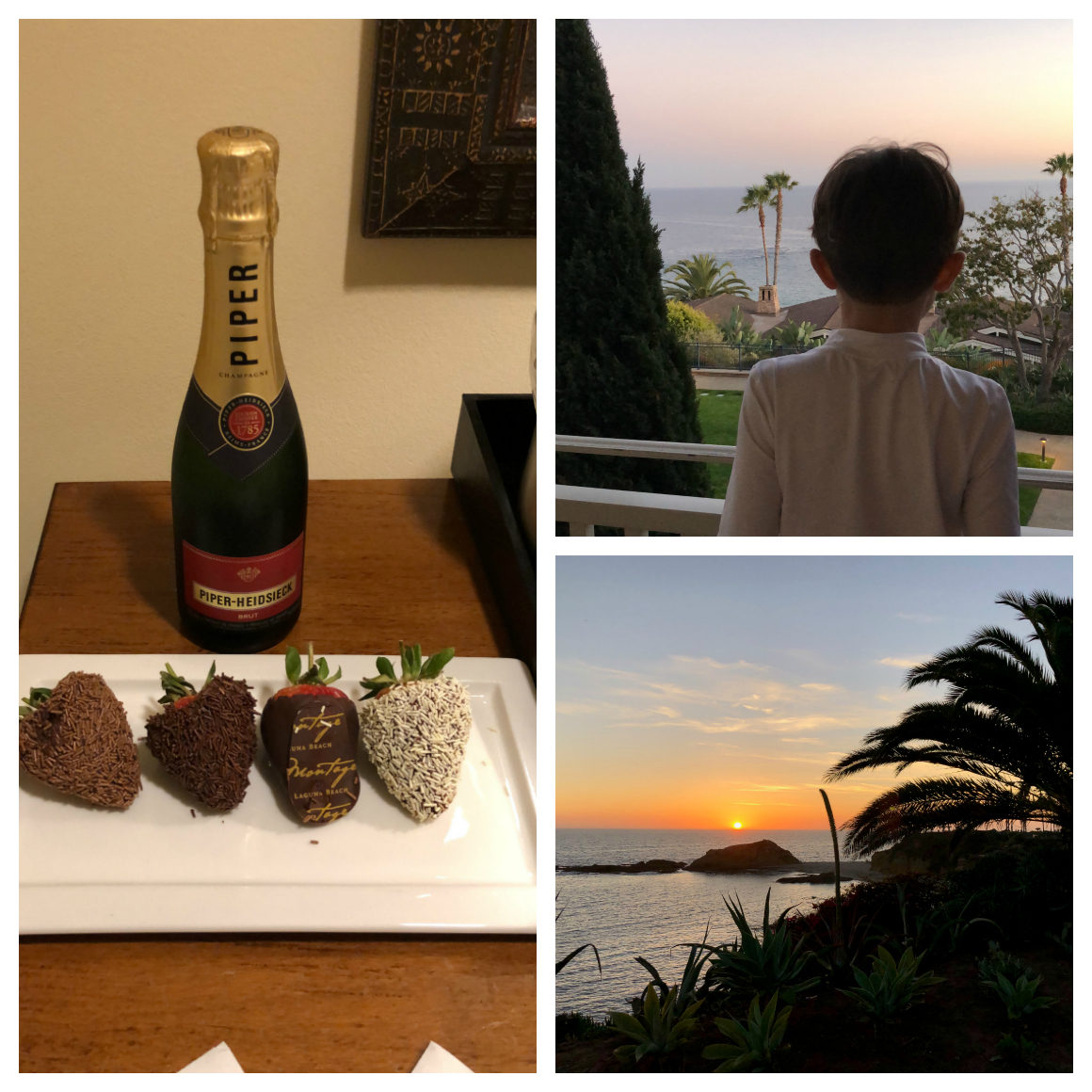 ---
Why We Want to Return to Montage Laguna Beach
There are so many reasons we want to return for a longer stay at Montage Laguna Beach. Because our road trip visit was very brief, we didn't get to experience all of the amazing things they offer for families. Here's just a sample of the amazing services and amenities lineup they offer for families:
Paintbox Children's Programs
:
Harry would love to return and spend a day at Paintbox, where children "enjoy thematically planned days that tie together arts and crafts, games and creative activities both indoors and out at the pool, beach, tide pool and events lawns."
Montage Merits
:
Kids staying at the hotel can earn merit badges for completing different activities during their stay. I know Harry would love this award program if we had more time to stay and participate. He's a Cub Scout and loves anything with a badge involved
Pacific Dream Photography
Pacific Dream Photography has a studio at the Montage. We used them in Hawaii and they took great pictures of us. I would love to come back for professional family photos with the scenic background of Laguna Beach.
Montage Laguna Beach Restaurants:
I would love to try more of the restaurants at the hotel. The dining options all look exceptional. Based on our outstanding dinner experience at The Loft, we would love dining at Studio, Mosaic Bar and Grille, and Lobby Lounge.
Spa Montage
:
The treatment menu at Spa Montage looks incredible. I would love to return and experience Spa Montage, and try some of their treatments and therapies. In addition to a spa and salon, Spa Montage offers wellness programs and fitness programs that I would love to explore during my next stay.
Coastal Chords Program
:
Harry loved playing the complimentary guitar provided to hotel guests at The Pendry Hotel, Montage's sister property in San Diego. We love that this program is also offered at Montage Laguna Beach and can't wait to take advantage of it on our next Laguna Beach family vacation.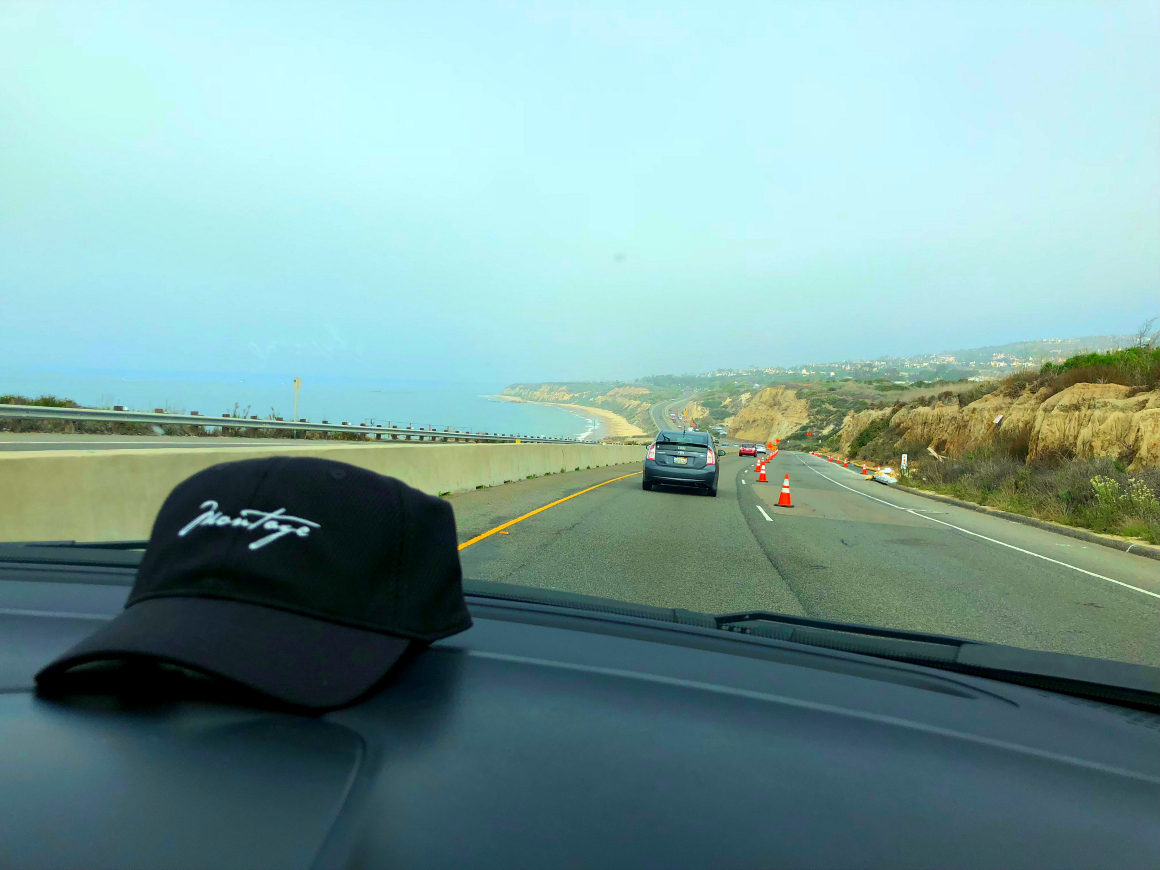 Planning a luxury family beach holiday in Laguna Beach with Kids? Pin this review of Montage Laguna Beach for families and save it for later!