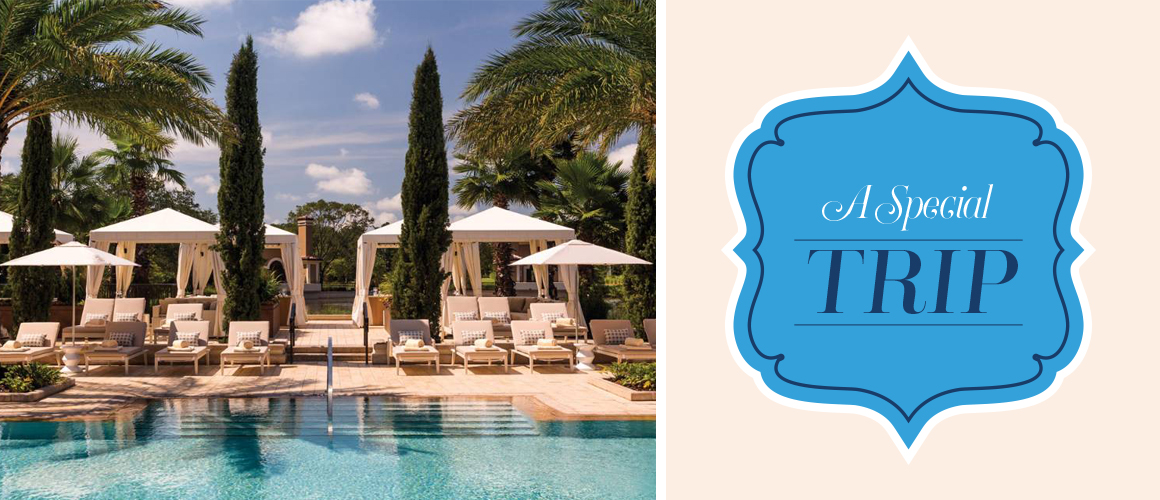 ---
A Four Seasons Hotel in any city can transform a trip into a special adventure.  At the new Four Seasons Orlando, their special touches make it a destination all its own. From splashing and sunning to lots of fun family activities around the beautiful grounds, my 4-year-old son, Harry, and I had fun and made long-lasting memories.  In
Wednesday's post
, I shared our deliciously fun experience at the Character Breakfast with Goofy & Friends at the hotel's Ravello Restaurant.  In
Thursday's post
, I shared Harry's favorite activities at the Resort's lavish pools. We've been back home for over a month now and he still talks about how much he loves the splash pad and pools!  Harry is a true explorer, so we made sure to enjoy all of the other aspects of the resort during our stay.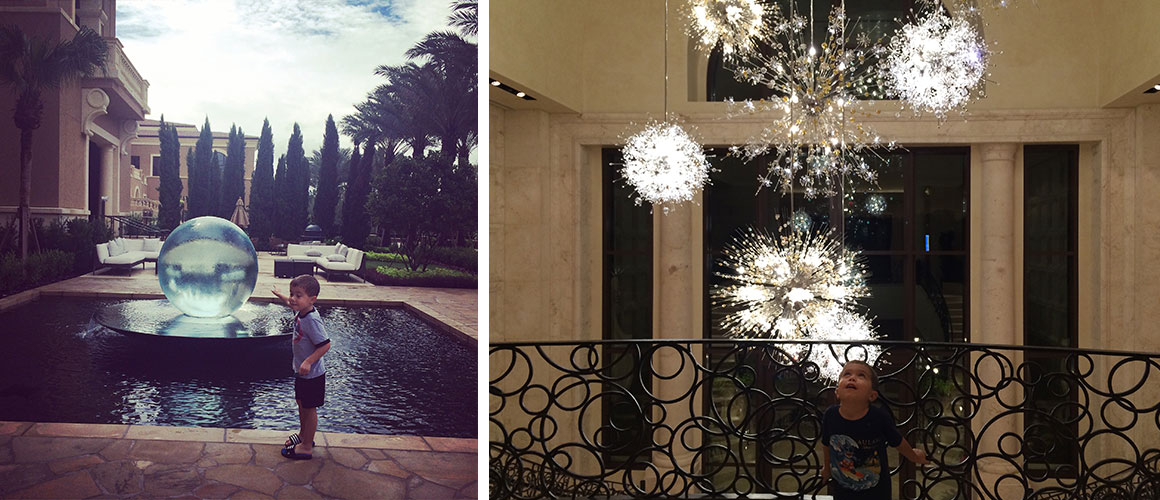 ---
More of Harry's favorites include:
Kid Camp– The "Kids For All Seasons" is a complimentary camp for kids 4-12. I hadn't really planned on leaving Harry there, but we went inside to check it out and he didn't want to leave! He saw the giant Volcano and kids playing with toys, trains, and video games with the friendly staff and he decided to stay a while. We left him for a few hours and he had a blast!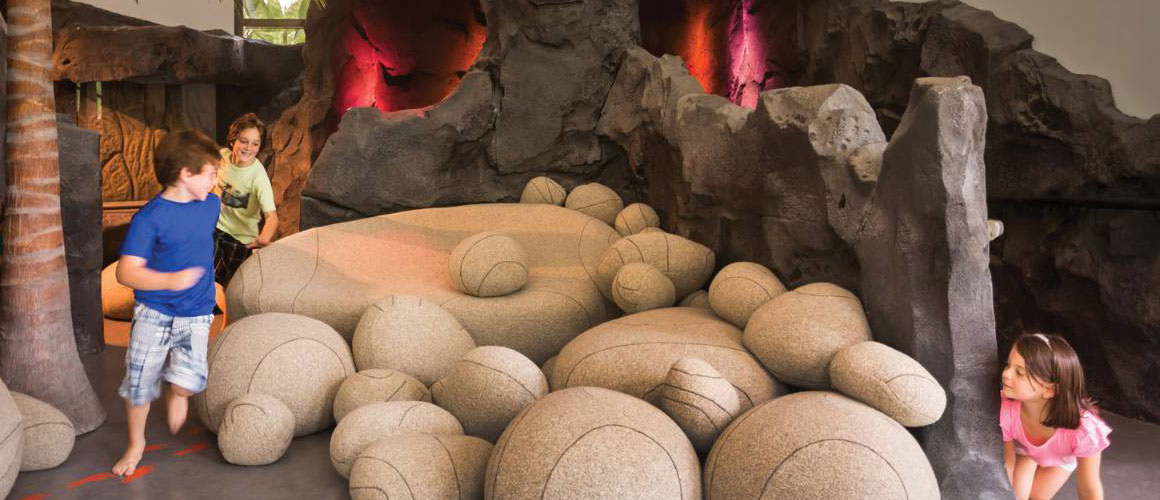 Photo credit: Four Seasons Orlando
TIP– Even if you don't plan on leaving your kids you should take them into the club and play together as a family. The space is really fun. When we visited, we were a family with infants playing in the volcano and having a blast.
Lawn Recreation Area: On the lawn in front of the "'Kids For All Seasons Camp" is a beautiful recreation area with bags games, lawn darts, pool tables and shaded sitting areas.
TIP: This is a great spot for an after lunch swim break so that little ones can digest their food before jumping back into the pools
Ipads in the rooms: our room came equipped with an iPad to control the lights, temperatures, etc in the room.  Harry LOVED it!
Giant interactive touch screen TV in the lobby:– While I was busy checking us into the hotel Harry found the Giant touch screen TV in the lobby and loved touching different areas on the screen to show him all the resort had to offer.  Throughout our stay, we stopped there for him to play a minute and there were always lots of kids crowded around touching the screen.  Very popular with kids for sure!
Playground: Just off the "Kids For All Seasons Club" is a big playground with monkey bars and slides that Harry loved. We always try to find great active play as a family and this was perfect.
Big Kid Attractions- Harry was very interested in the giant drop waterslide, climbing wall, basketball courts, and sand volleyball. Unfortunately, he was too little to play in these areas, but he told me that he wants to hurry up and grow more and come back to check them all out!

---

For every child's dream come true, mom and dad also enjoy a little time to dream and unwind. In typical Four Seasons fashion, the hotel provided all the little pleasures and big fun we enjoy too.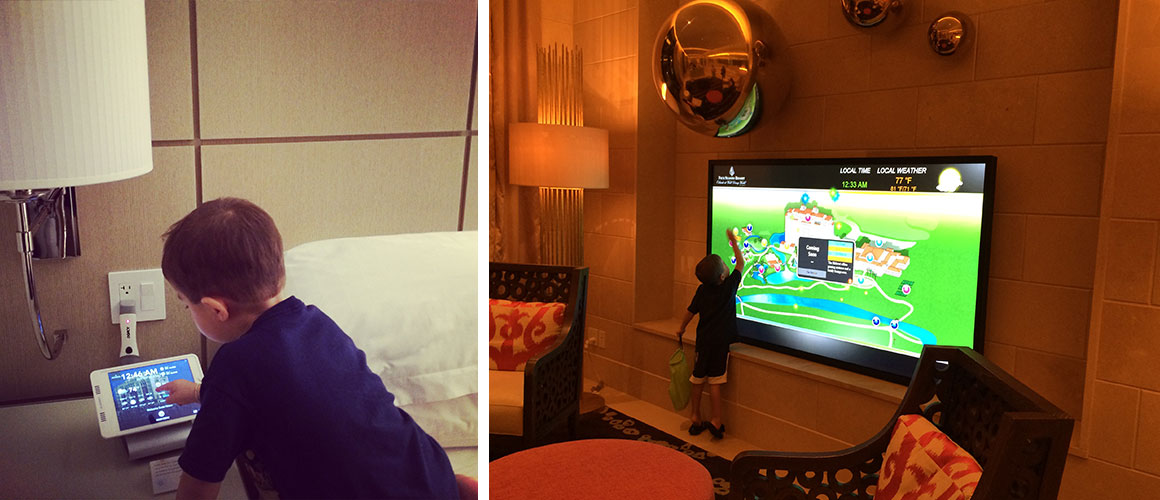 Mom & Dad's Favorites:
Ambiance: My husband and I loved how the resort was located on Disney World property but removed from the crowds and chaos that come with the parks. The grounds were vast and spectacular. Staying there really felt like a family retreat.  It's the perfect place to stay as a family when you want to relax and have some fun away from all the sensory stimulation of the parks.
Kids For All Seasons Camp: I had never left Harry at a resort Kid's Camp before this trip and was reluctant to do so on a family vacation. However, once he saw the kids and played with the fun staff he insisted on staying to play a while. We really enjoyed leaving him for a few hours to check out the resort and enjoy the room a bit without him. I would highly recommend it!  Harry still talks about how much he loved playing in the giant volcano.
Oasis Adults Only Pool: While Harry was in Kids Camp, my husband and I stopped by the Adult pool for a bit. It truly was a posh relaxation oasis. BLISS!
Pool Service and Seating: The pool service at all of the pools was exceptional. We were very pleased and enjoyed lunches, snacks, and drinks by the pools daily. There is plenty of shaded or full sunshine seating located all around the grounds of the pools and lazy river.
The Spa: I had the pleasure of enjoying a morning at the spa. The spa is beautifully decorated and has a wonderful relaxing vibe. Treatments are just as amazing as you would expect from a Four Seasons Spa.
TIP: Book a massage with Jane, she's terrific! You will thank me! Also, if you have kids who want to do a mommy and me experience they offer some fabulous treatments for kids and moms together.
A nice touch – welcome treats and kid-sized robes: Upon Check in Harry received a lime green pool bag and lots of yummy treats in the room. He also had a fluffy kids robe and slippers waiting for him on his bed.
TIP: If you know you are checking in late in the evening with kids who will be sleeping on the pull out bed, call ahead and ask that the bed be made up before you arrive.   It was so nice to arrive in the room and have Harry be able to jump right into his bed.A Few Minor Hiccups during our stay:
The resort is well done and very beautiful, however, it was very obvious during our stay that we were experiencing a brand new hotel and that everyone working there was still in startup mode learning the Four Seasons way of operating. Here are some examples of what I mean by hiccups:
All of shops were under construction and not yet opened when we visited.
The locker rooms in the spa were not completed yet, so the spa had me change in the fitness center locker room and then walk down the main hallway back to the spa in my robe, which was not the most blissful experience for someone bashful like me.
Our room was over a construction area, so we had loud noise in our room each morning.
Housekeeping was very nice but also new and learning the ropes. My husband unpacked and placed his shorts on the top shelf in the closet which was covered in a thick layer of dust that covered his clothes since it appears they forgot to clean that shelf
My family has severe feather allergies and returned late one night after leaving the Magic Kingdom to find they had taken out our hypoallergenic bedding and replaced it with feather bedding. This was quickly fixed but tough to take at 12:30AM when everyone just wants to go to sleep.
For all of those reasons, we were a little disappointed to paying full rates of around $550/night during this start-up construction newly opened phase. However, at checkout in the end, the hotel made an effort to address these shortcomings by adjusting our bill. I'm sure that by the Thanksgiving Holiday and certainly by the Christmas Holiday season this hotel will offer the famous Four Seasons flawless experience to guests.  I wish we had waited till then to book but I'm still thrilled that we were one of earliest families to stay in this marvelous hotel.
My recommendation is to absolutely book this hotel for the Holidays and beyond. I'm sure the hotel will be a 5-star, well-oiled machine by then! I hope to return and stay again soon and check it all out for myself. We do plan to head back to Disney World the first week of December for Mickey's Christmas Party and perhaps we will give it another try then to see if it lives up to all of our expectations and is worth every penny.
Hero image photo credit: Four Seasons Orlando