I first traveled to San Francisco when I was 10 years old. Thirty years later, I still remember so many details of that specific trip. Despite how young I was, for some reason, my memories abound.
Those memories include our stunning accommodations—the Palace Hotel—and our family brunch at the Palace Hotel's gorgeous Garden Court restaurant, decked out in sparkling chandeliers.
"Isn't this the most gorgeous room you've ever been in?" I remember my mom exclaiming that morning.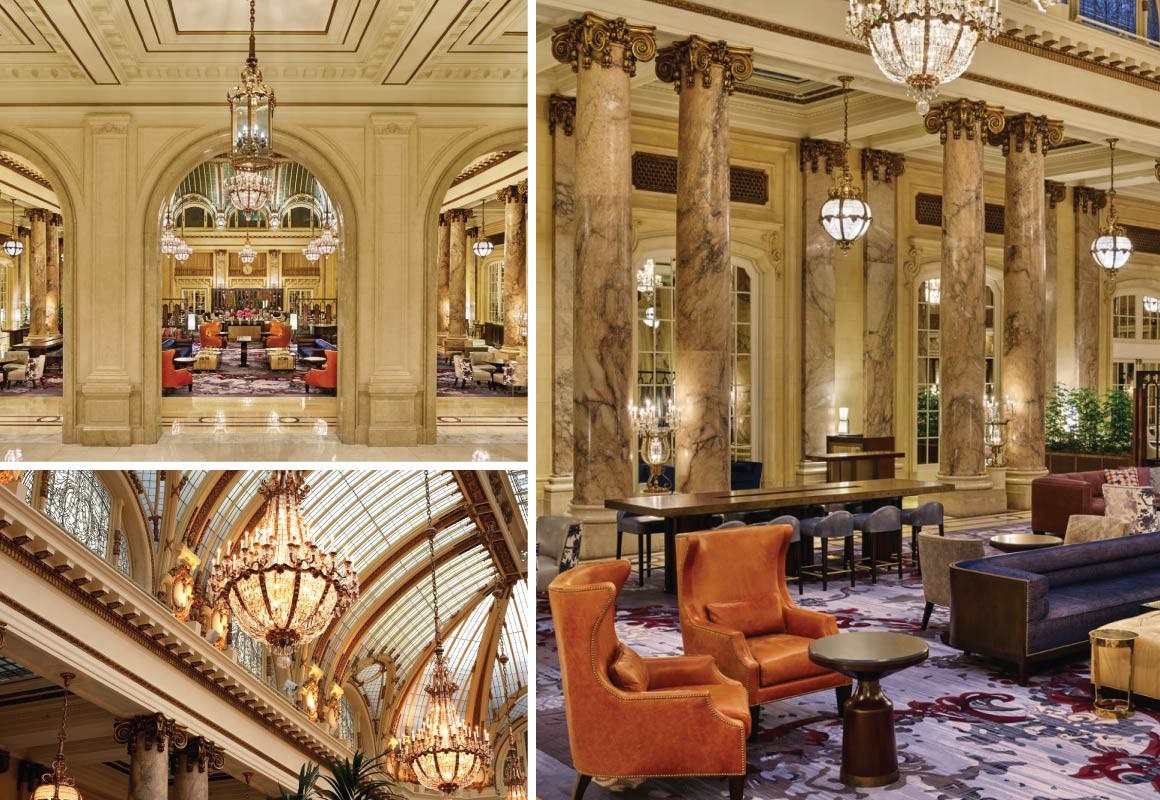 Those memories made me excited to travel back to San Francisco with my husband and our 5-year-old son Harry this fall. I made a reservation for us at the very same hotel I'd visited at age 10—located right in the heart of the city, within walking distance to the Embarcadero and Ferry Builidng. And I was excited to see the Palace Hotel totally reinvented this year.
Did it live up to the memories of my 10-year-old self? Read on to find out.
---
The architecture: The Palace Hotel took the best parts of its original architecture and design, and updated it to modern, impeccable perfection. I love when an historic hotel has been brought back to feeling like it did in its hey-day—all glamour and luxury, while still letting you know and feel that you're in a place that's more than 100 years old.
The service: We arrived late (after midnight) in our Silvercar, and the Palace Hotel was incredibly quiet. The staff greeted us warmly, and directed us to our suite, where they already had the couch ready for Harry and everything set up exactly as I'd asked. We have allergies, and the staff had ensured that all of our pillows and comforters were pet and feather-free. Not only were they clearly paying attention to my requests, but their top-notch service was kind and refined.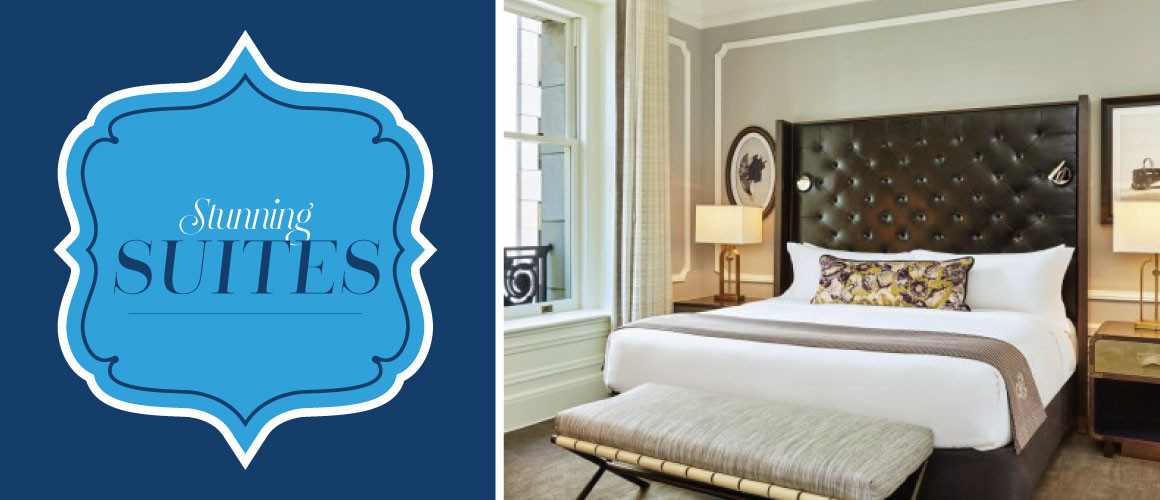 The suite: Our room was very elegantly appointed, with beautiful art on the walls. The bed especially stood out to us. Without a doubt, it ranks in the top three hotel beds I've ever experienced—so lush and comfortable—(and we've stayed in a lot of luxury hotels).
Another suite favorite: Our bathroom. The serene bathrooms come with a the Toto Washlet, a toilet with a remote that warms the toilet seat and acts as a bidet that washes and dries for you. The novelty of it was a big hit with Harry.
The Garden Court: We woke up early our first morning, and took Harry to The Garden Court for breakfast—the restaurant I so remembered from my first San Francisco trip. And it was every bit as beautiful as I recalled, maybe even more so because of the contrast of the new furniture and the historic fixtures and architecture.
Harry called it the most beautiful room we'd ever eaten in, and I have to say I agree. So of course we ate there every morning for the next three mornings.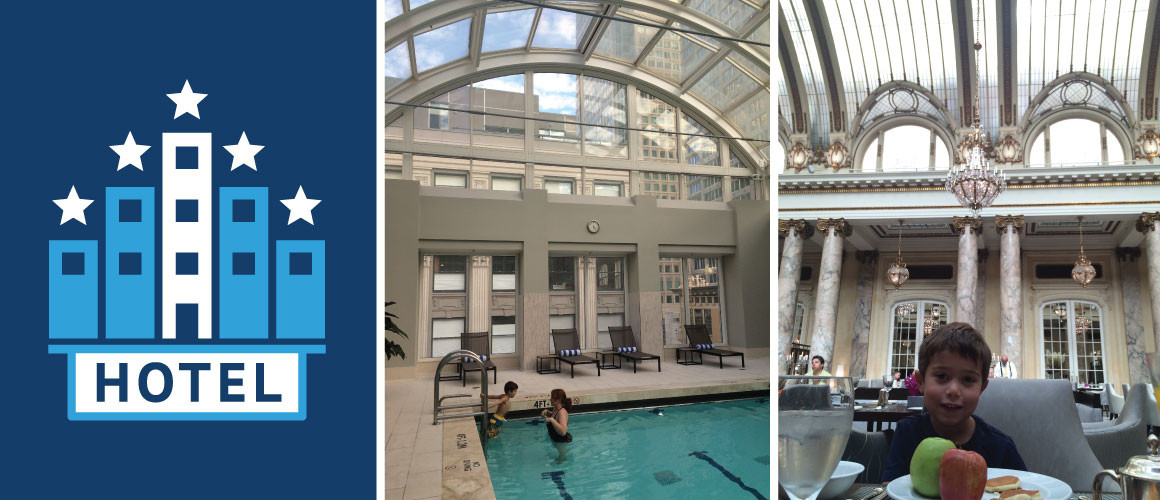 Our last morning, though, we had to get up and go early, so breakfast at The Garden Court wasn't an option. That news brought Harry to tears, which encouraged me to do what I could.  I took Harry's hand, and we ventured to the closed restaurant and requested a bagel. The staff graciously obliged.
The Pool: It's not often that you find a historic city hotel with a beautiful and modern fitness center and pool.  The pool area is absolutely gorgeous with a glass roof similar to the one at The Garden Court. Harry had a blast swimming after a long day of sight seeing and the pool was the perfect place for his babysitter from Sitters In a Second, Inc to entertain him while we enjoyed a night out in San Francisco.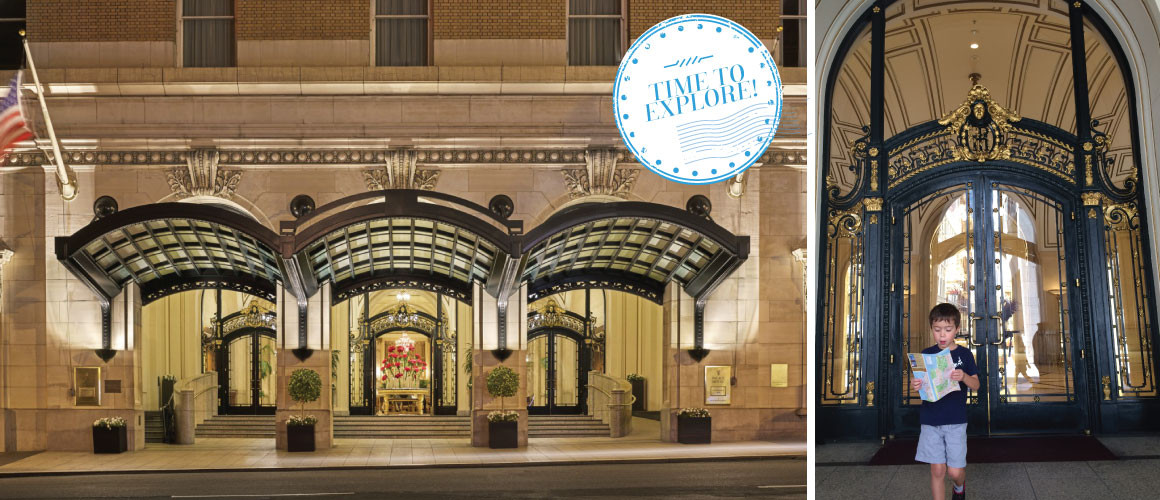 The concierge: This was a major highlight of our Palace Hotel stay. Normally, I do plenty of research before a trip—where should we eat? what can't we miss? But this time, because we'd been traveling so much, I was running low on time.
I emailed the concierge the day before we arrived, asking for recommendations for two days with a 5-year-old. I expected one or two ideas in response, but the Palace Hotel's concierge, a friendly man named José, wrote back with an entire itinerary for two days of fun with a 5-year-old in San Francisco.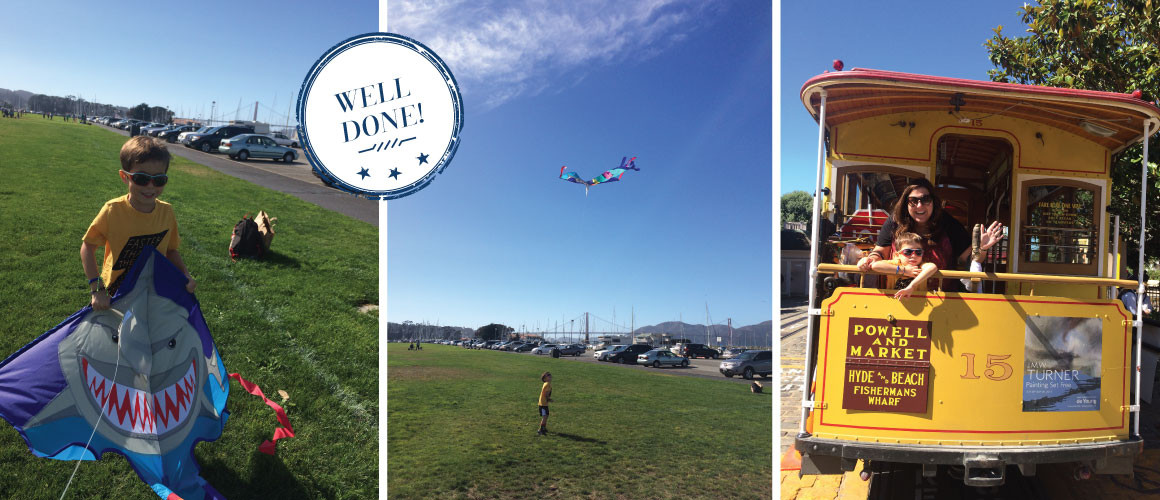 His plan for us was so thoughtful, I didn't have to think of anything beyond it. Among our favorite of his suggestions was a kite shop and where to go to fly a kite (featuring views of the Golden Gate Bridge). José also told us when to expect traffic, which cable cars to ride, and what to look for on each line. José knew exactly the type of places Harry would enjoy, and he—in addition to the Palace Hotel—made San Francisco a great place to be with our son.
---
Photo Credits: sfpalace.com