The new  Virgin Hotels Chicago oozes cool. This first-of-its kind for the Virgin brand, the hotel mixes Chicago-hipster with London-punk—and doesn't miss a beat.
I booked a room to treat my husband and our son Harry to a Chicago stay-cation over Easter weekend. Since before the hotel even opened in January, I'd grown excited anticipating my own stay there.
As an entrepreneur and someone who loves travel, I make it my business to follow Richard Branson and the Virgin brands. Branson has a clear zest for life, fun, travel, and branding. I couldn't wait to be one of the first people to see it all come to life in his first hotel.
He didn't let me down. Even before I stepped inside, I knew I was somewhere special. The hotel lives in the historic Dearborn Bank Building, constructed in 1928 in Chicago's Loop, and the name Virgin Hotels fills the space above the door in bright red neon letters. The moment you enter from the street you experience the hotel's rock star flair and feel the urban-chic vibe from the friendly hipster staff.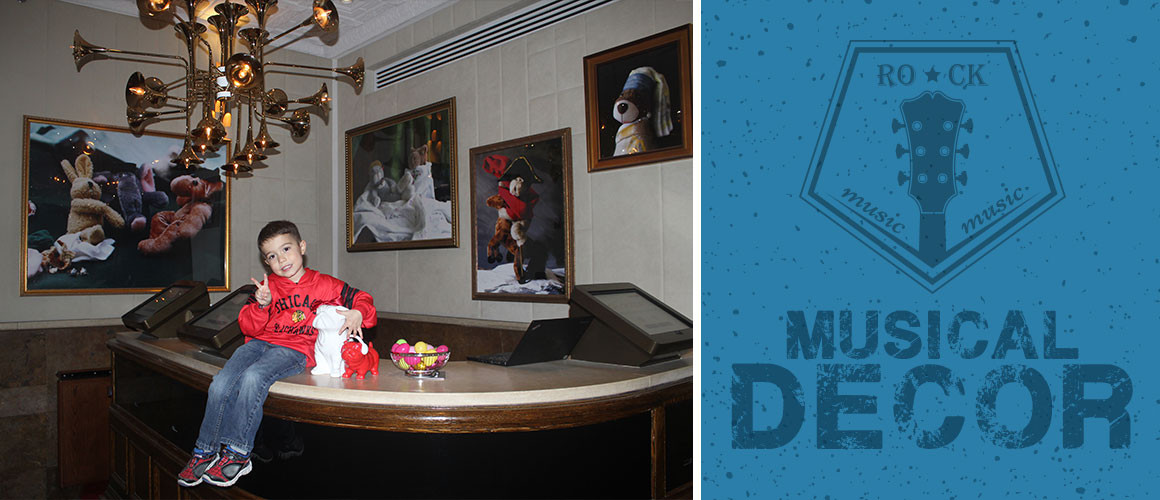 ---
Inside, a small front desk meant the welcoming hostess came directly to us, checking us in on an iPad. Harry immediately picked up on photographs of teddy bears imitating famous artworks lining the walls. The photographs aren't meant for kids, but kids definitely think they're awesome. They set the tone for a fun, playful stay.
The hipster staff was so wonderful and welcoming to Harry from the moment we arrived.  He loved every person we met. On Easter, one of the staffers dressed up as Anna from Frozen and hung out with Harry all afternoon.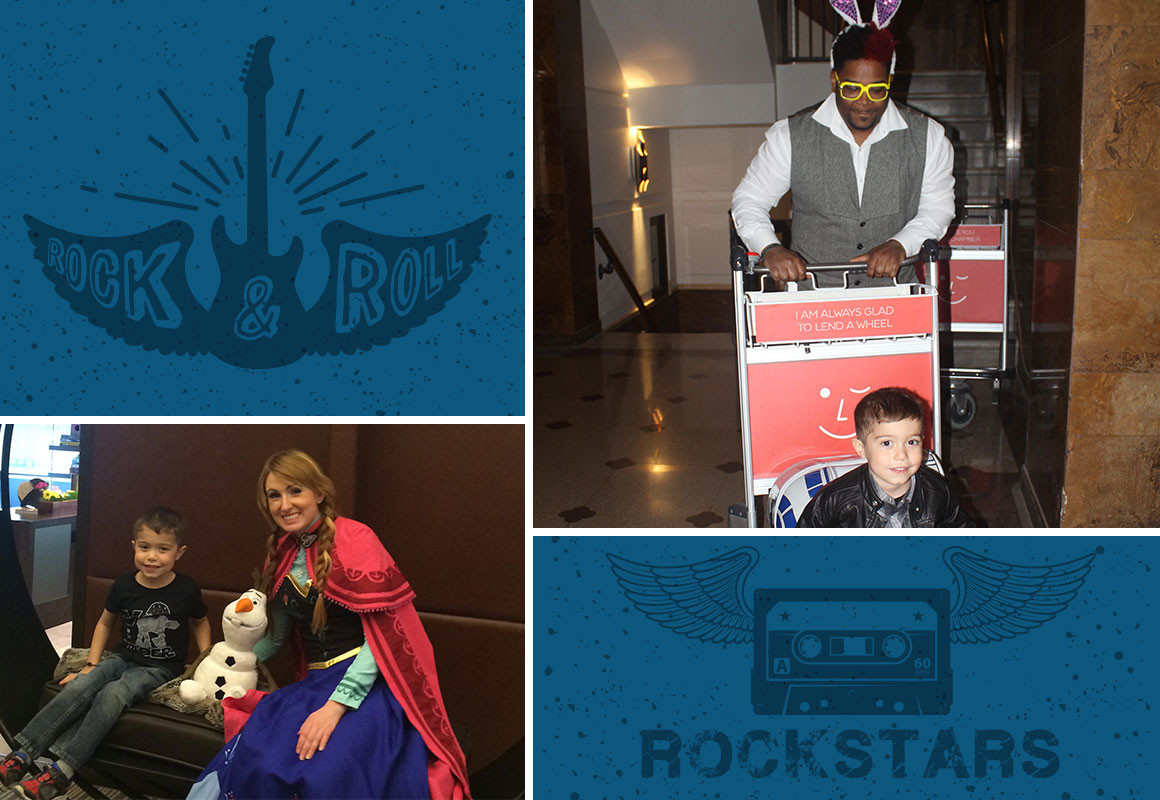 ---
Branson's team called on architects and designers from the theatre and entertainment industries to help build out the hotel space, and that uniqueness comes through in everything from the stairway carpet (which resembles a bright red paint spill) to the valet parking stand (modeled after a red London telephone booth).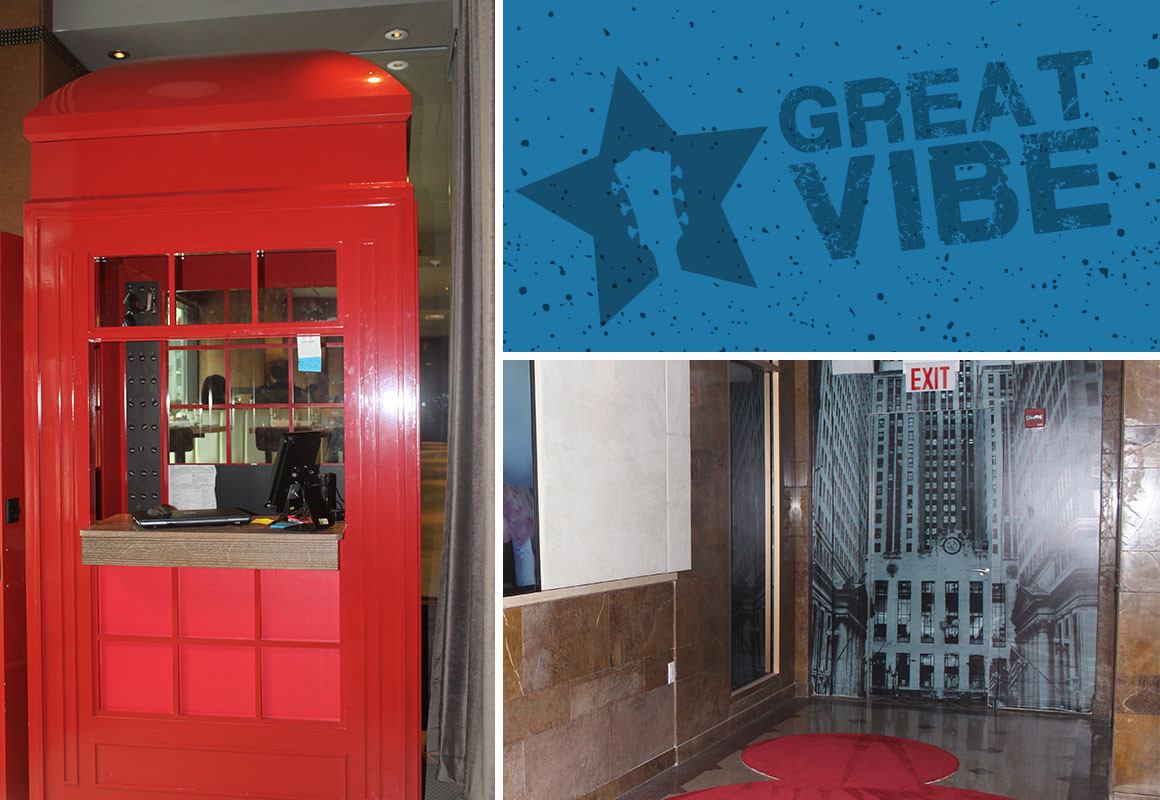 The small, historic elevator that took us to our room on the 17th floor had shag carpet hanging from the walls, and when we got to our floor, Harry ran to the white dog statues guarding the pet-friendly rooms.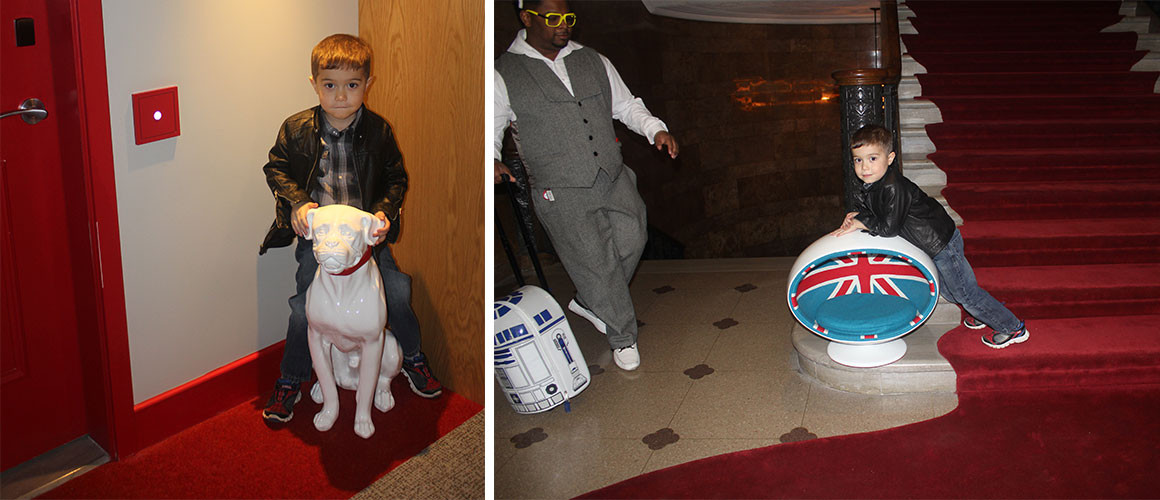 ---
Inside our Chamber
He adopted each of those dog statues as his own, but our room (called a "chamber") itself was pet-free. Because we're allergic to dogs, the hotel staff went above and beyond to search through each room's short history and matched us to one that had never had a dog in it. They also went the extra mile to ensure that our bedding was all feather-free.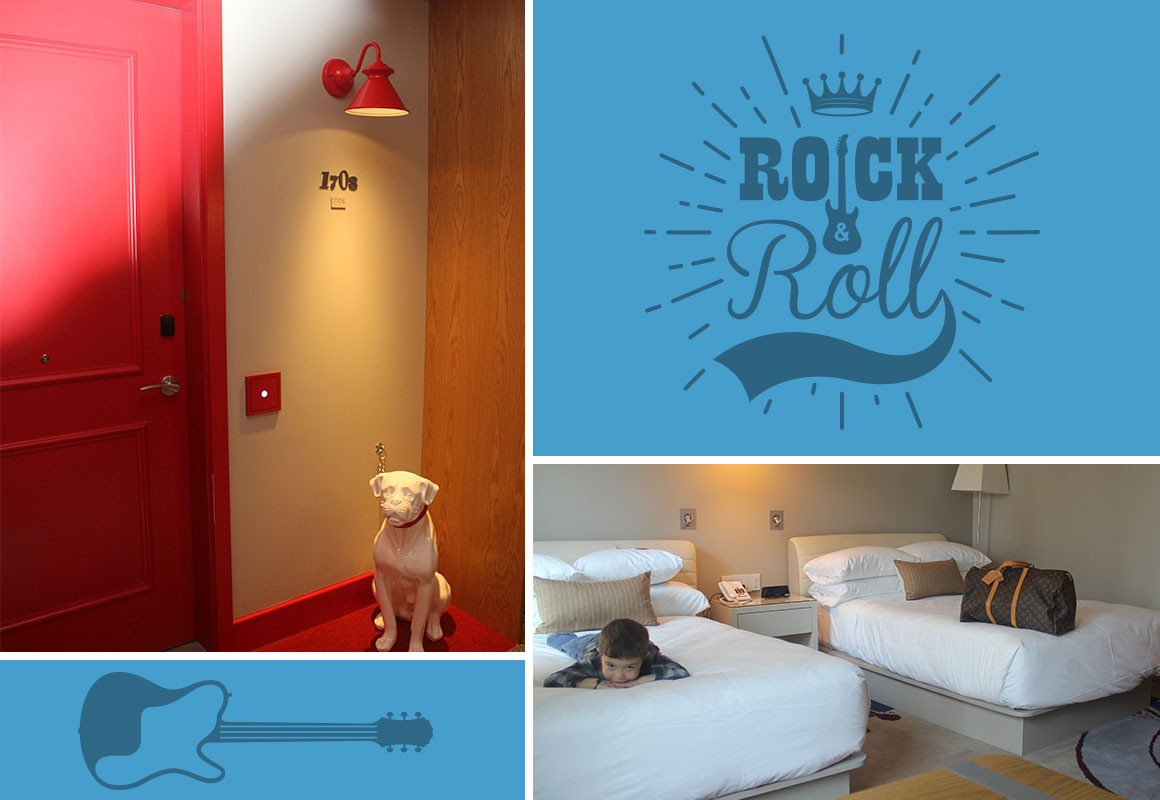 ---
The room itself was minimalistic in its décor, but very stylish. Each piece—from the custom closets to the artwork—was extremely well thought out.
Our room had a sink and oversized vanity area separate from the bathroom and perfect for having space to put on my makeup and get ready to go out. Sliding doors closed off the front area of the room from the bed area, allowing for extra privacy—and a place for room service to leave orders without disturbing the guests.
The room featured unique touches that set it apart from other hotels, lending more of a luxury experience in a boutique hotel. Our room included a customizable mini bar, plush robes, and a small Virgin Red Smeg refrigerator—the first of its kind in hotels in the United States. And a bonus: minibar drink and snack prices match street prices, so you don't feel bad breaking into the fridge when you get thirsty.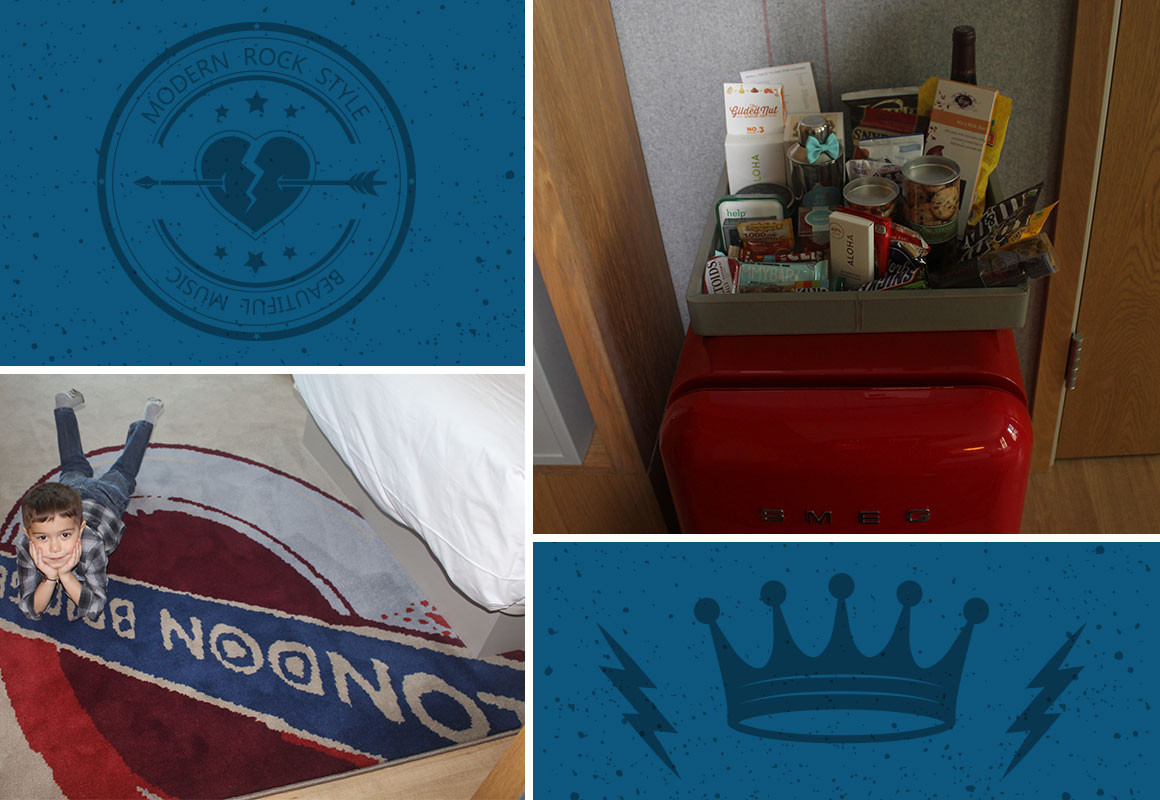 ---
Thoughtful Design
That was one of many ways I could tell the Virgin Hotel's designers put thought into those little areas that annoy travelers. They also offered free, super-speedy wifi, ear plugs on the pillows, and unique beds custom designed for Virgin Hotels with a ledge at the bottom so you can sit and talk or work from the bed. Bedside clocks project the time onto the ceiling, and the minibar is stuffed with many treats either British or locally sourced from Chicago—such as the Bow Truss Coffee.
The technology was even more impressive than the interior design. "Lucy"—the Virgin Hotel version of Apple's Siri—guided us through an app that let us control everything in our room, from the temperature to room service. The app even turned our phones into TV remotes.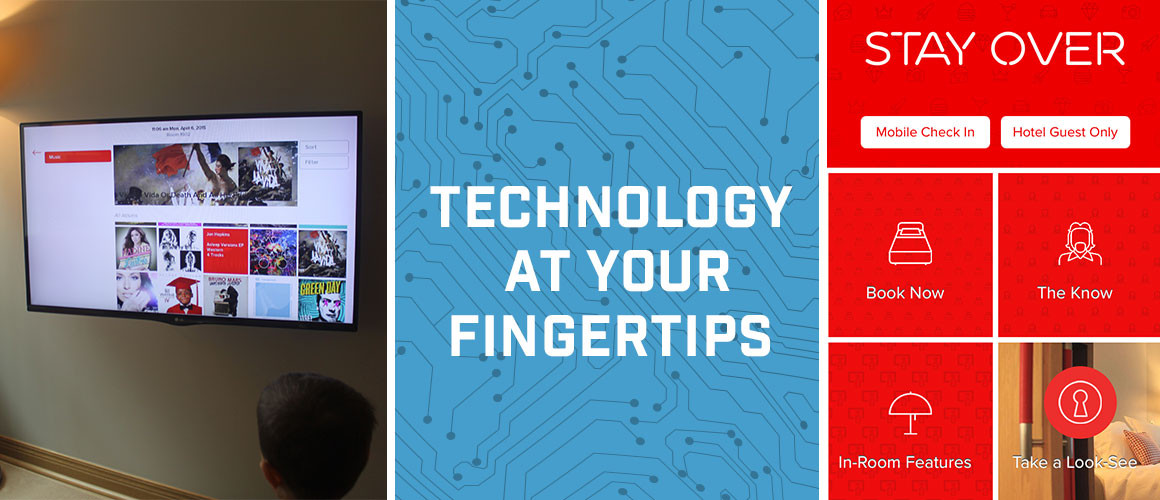 ---
And because Virgin has its roots in the music industry, the TV came thoughtfully pre-loaded with playlists and albums for various moods and scenarios. Harry's favorite: Katy Perry. Our room housed an impromptu dance party, which remains a highlight of the trip for all of us.
Light hearted Virgin Hotels branding was evident throughout the hotel and inside our chambers which added an element of fun to the stay.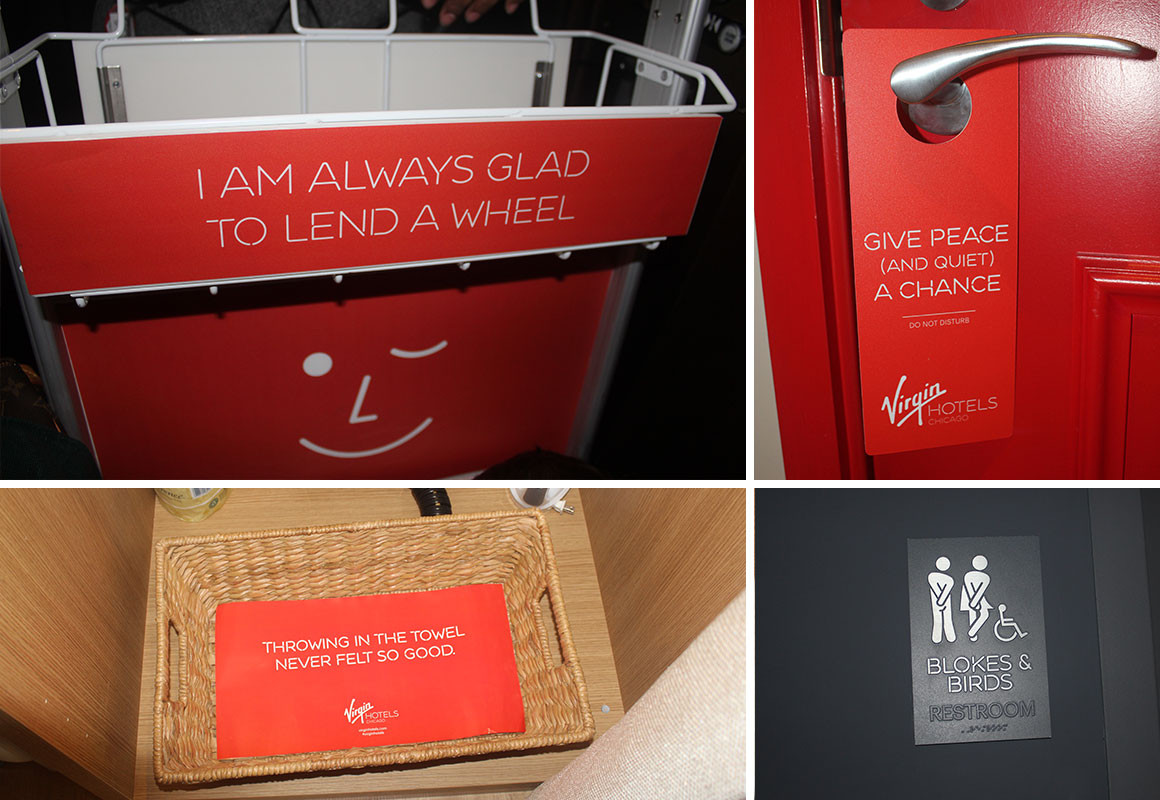 ---
The hotel also put priority on sustainability and green initiatives, as evidenced through the room and in the house car: a Virgin Red Tesla. When Harry and my husband saw that, they wanted to jump right in.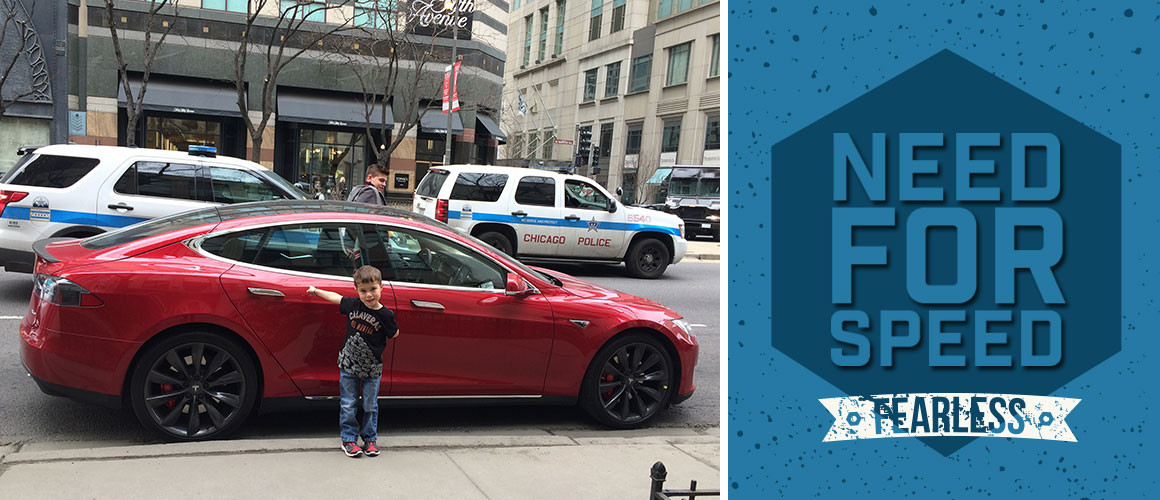 ---
We requested that the car drive us a few blocks away to the new Maggie Daley park, just so they could test it out. And the staff happily obliged us. On the walk back, we stopped at the famous Garrett's popcorn for a treat and reflected on how perfect a stay here would be in the summer months, with easy access to Millennium Park concerts and fireworks. A perfect spot to stay for Lollapalooza for sure!
Posh Public Areas
Back at the hotel, we explored the public areas. The second floor is home to The Funny Library, which features a giant table for people to hang out with games, joke books, memorabilia, and candy. Harry was in heaven playing Connect Four with his dad.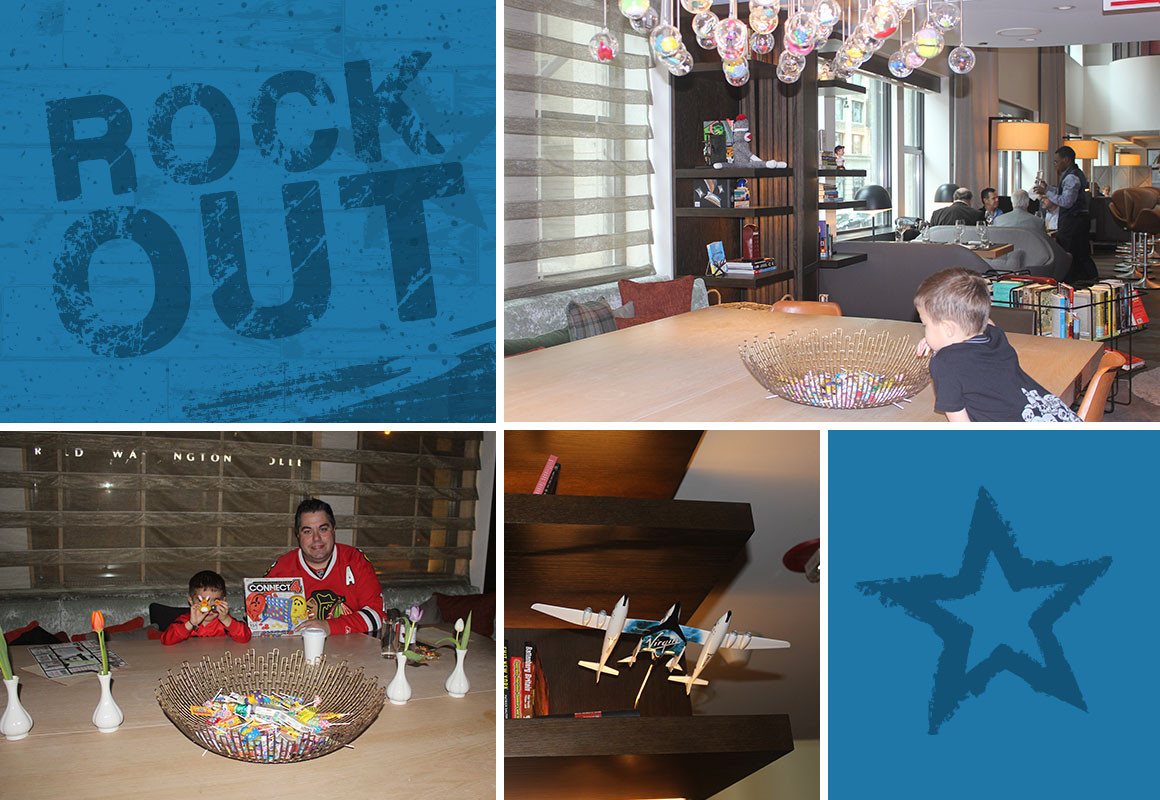 Next door, the Shag Room resembles a scene out of Austin Powers, with shag carpet and giant round couches. Very sexy! To a four year old this room with the lighting and colors changing was absolutely awesome!
There's also a hip and fancy dining room and bar called The Commons Club, which hosts an "Upside-down Tea Party" on Saturdays. The tea comes in alcohol-infused options, melding a rock star vibe with English teatime. This is definitely not your Grandma's tea service, and definitely worth checking out. I hope to visit soon and report back on this one!
Downstairs on the street level, there's Two Zero Three, which turns from a coffee bar by day into a wine bar by night. And across from that, there's a diner called Miss Ricky's, which features hipster versions of traditional diner foods. Music remains a focus, with Rolling Stones memorabilia along with other bands from the Virgin label decorating the space.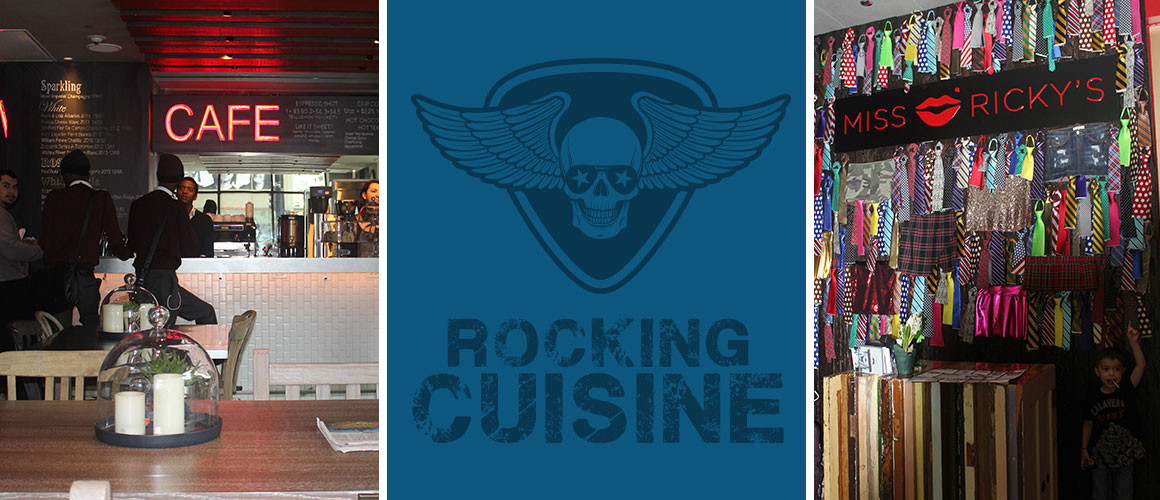 The only thing missing from these spaces were kids' menus at any of the restaurants. That really surprised me, knowing that Richard Branson just became a doting grandpa. The hotel's frequent visitor program, called The Know, does inquire about kids, though, so I can only imagine that dining options aimed at the younger set aren't too far in the future.
After all, the energy throughout the hotel is contagious for kids, as Harry can attest. When we return to the hotel next time, we will absolutely book a suite so we can enjoy more space and Harry can spend time in the oh-so-stylish Virgin Red Vespa chairs.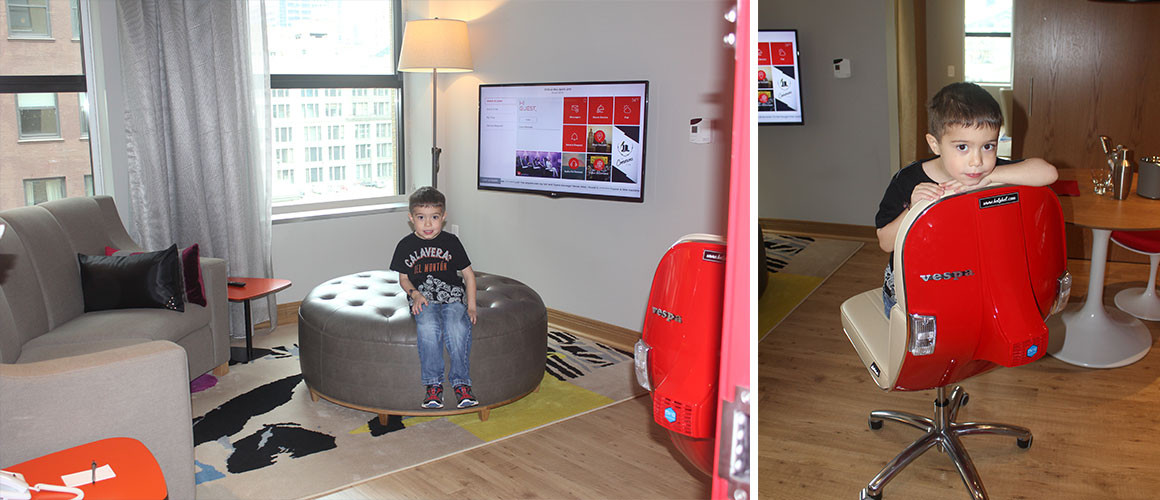 I would definitely recommend a stay at the Virgin Hotel Chicago to families who think of themselves as hip, and who value days spent at the theatre, shopping, or attending any of Chicago's many summer music festivals. This is the perfect spot for the coolest of kids—rock star chic London in Chicago, a boutique American hotel with a European energy.
We were guests of Virgin Hotels Chicago for purposes of this review. As always, I give my honest opinions no matter who is picking up the check.