A vacation to Phoenix in late August or early September may not be the first thing that comes to mind when you think of a fun family getaway but let me tell you why you might reconsider.  Cheaper airfare and hotel prices and fun spots to play together like the Children's Museum of Phoenix! Located in downtown Phoenix, just a short drive from most of the Phoenix area destination hot spots, is one of the best children's museums I have even experienced with my children.  It's easy to get to, there's tons of free (shaded!) parking and that's before you even get inside.
---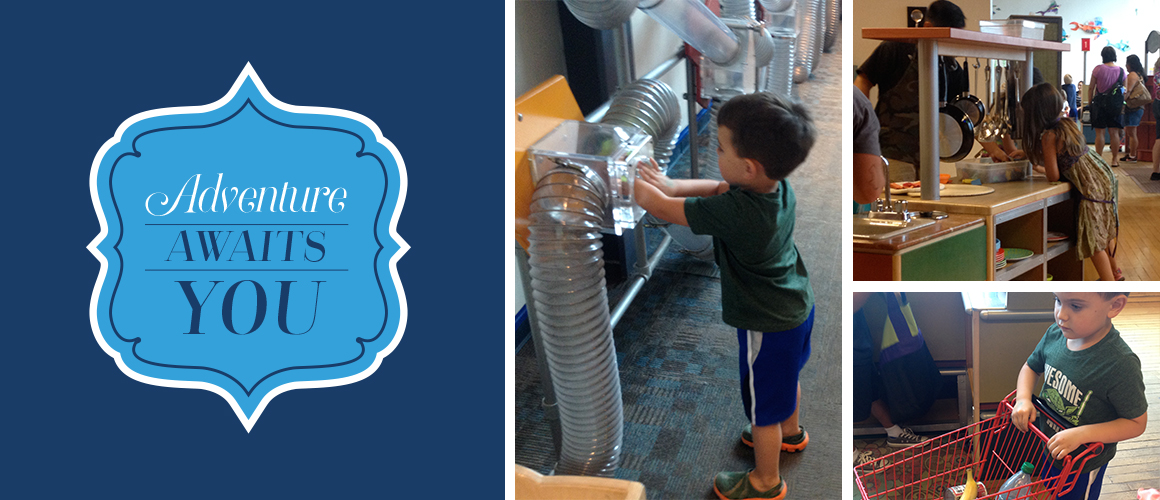 ---
Founded in 1998, the Children's Museum of Phoenix is based on the principle that "learning is joy". With hands on, interactive exhibits designated for children ages birth to ten there is sure to be enough fun for the whole family that will entertain and excite for a full day.
When visiting their grandparents in the area, the Children's Museum of Phoenix has become a sure favorite spot for my kids (ages 5 and 7). There are way too many exhibits to cover here but listed below are a few of our favorites.
Art Studio– glue, scissors, crayons and an 11-foot tall rocket ship to paint!
Book Loft– comfy, cozy and a great place to bring it down a little
Market– my kids love to role-play. Here they can be a store merchant, pizza maker, anyone!
Noodle Forest– My personal favorite. Oodles of noodles suspended from above creating a textural wonderland of exploration, bumping around and just plain fun
Pedal Power– master the art of pedaling in this make believe roadway. Complete with a car wash!
Space for "three and under" – with no threat of big feet stepping on them this area creates a sure place for parents of little ones to relax.
The Climber – offering a bird's eye view this challenging climb built from all kinds of wacky objects is our first stop, every time.
Whoosh – where sound, movement, color and the power of air come together this jungle of tubes will burst rainbow colored scarfs 20 feet above only to float gracefully down to the hands of anxiously waiting kids
Other things that REALLY matter
Restrooms on each floor with changing tables, family restrooms, "boys" restrooms, toddler sized bathroom fixtures
Nursing permitted THROUGHOUT the museum with special designated space for those wanting more privacy
Restful seating throughout the museum
Bottle warmers in the eating area
a full calendar of a variety of activities for all ages including yoga, little rhythms, art, dancing, zumba and sugar free all-stars just to name a few
---
Mindful Museum
As a leader in mindful health for the body, mind and environment, check out these facts I love!
*Non-toxic materials throughout the building and exhibits including office supplies, printing materials and janitorial supplies
*Earth-friendly and sustainable materials like wheat board and recycled cardboard
*Socially responsible materials and practices like choosing local vendors, accessibility to public transportation, bike racks throughout the museum
*Bathroom floors made of repurposed toilets, sinks and mirrors
*Museum walls painted with VOC-free paint
*Entirely tobacco free environment
---
Awards
TripAdvisor Certificate of Excellence 2014
Parent's Magazine 10 best children's museums in the country 2011
Numerous Nickelodeon's Parents Picks Awards for Best Museum
---
Important Facts
Open Tues-Sun 9-4
Free first Friday of the month 5-9p
Website posts how many field trip attendees expected each day
Members free, non-members $11, children under 1 free
Discounts for military, fire and policemen and women
Accessible via car, light rail, bus and Valley Metro
www.childrensmuseumofphonix.org
So if you find yourself in the Arizona heat season looking for a place to cool off or any other time of the year my kids and I give the Children's Museum of Phoenix a super thumbs up!