"We're going on a weekend adventure," I told my children. "We're going to be tourists in our own hometown." My announcement was met with lukewarm enthusiasm although, to be accurate, my 6-year-old and 8-year-old hadn't actually lived in the city since one was a toddler and the other a baby.
So, we left the suburbs early one fall Friday for the Chicago Hilton on South Michigan Avenue, a venerable institution in the city since 1927. If the 1,544-guest room property was good enough for dignitaries and celebrities, it was good enough for my two intrepid travelers.
Click Here to read – SUMMER IN CHICAGO: TOP 15 EXPERIENCES FOR FAMILIES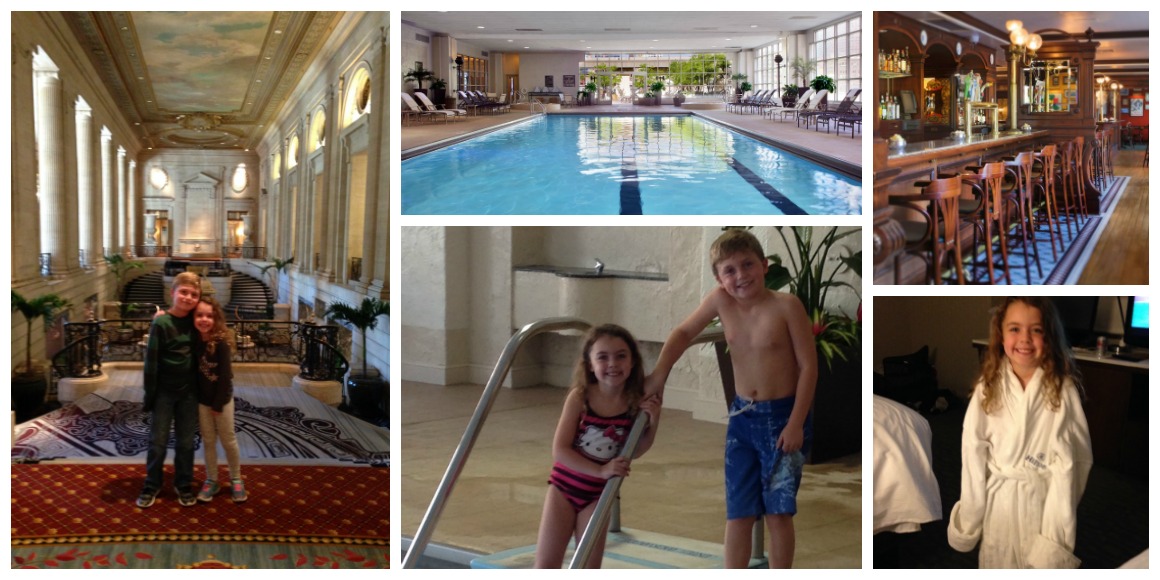 After a quick check-in we grabbed lunch at Kitty O'Shea's Irish Pub where my children devoured chicken and fries from the kids' menu and I munched on a corned beef sandwich. We were in a rush to get over to the nearby Field Museum for an afternoon spent exploring exhibits. The Hilton is in a great location for exploring attractions kids love – close to Museum Campus (the Field Museum, Shedd Aquarium and Adler Planetarium), Millennium and Grant parks, and the Art Institute.
The Field Museum is great for families because it offers exhibits that appeal to both younger and older children, not to mention their adult counterparts, left tagging behind them. I attempted to herd my two in one direction while lugging coats and a museum map. My kids loved the Inside Ancient Egypt and Mammals of Africa exhibits, and begrudgingly tolerated being dragged through the Grainger Hall of Gems. After three hours everyone was ready to head back to the Hilton for a dip in the pool.

Click Here to read our picks for the  7 BEST CHICAGO SWEET TREATS
In the evening, we Ubered over to Texas de Brazil, a Brazilian-American steakhouse where meats are brought to the table, with sides and salads served via buffet. The all-you-can-eat experience may be wasted on young children but the variety is not; my little one loved the filet and lamb chops while my son tried black beans and rice for the first time. Prices for kids 6-12 is 50 percent off regular dinner prices, just $5 for 3-5-year-olds, and free for kids 2 and under. Watching all the servers walk around with cuts of meat keeps children entertained, as does getting up for repeated trips to the buffet.
We capped-off our evening with a trip to 360 Chicago – the Observation Deck at the John Hancock Center. Even in the evening, we all found it thrilling seeing the city lights from the 94th floor and my daughter braved Tilt with me – an attraction that gives guests an angled view of Chicago from 1,000 feet up – while my son watched from a safe distance.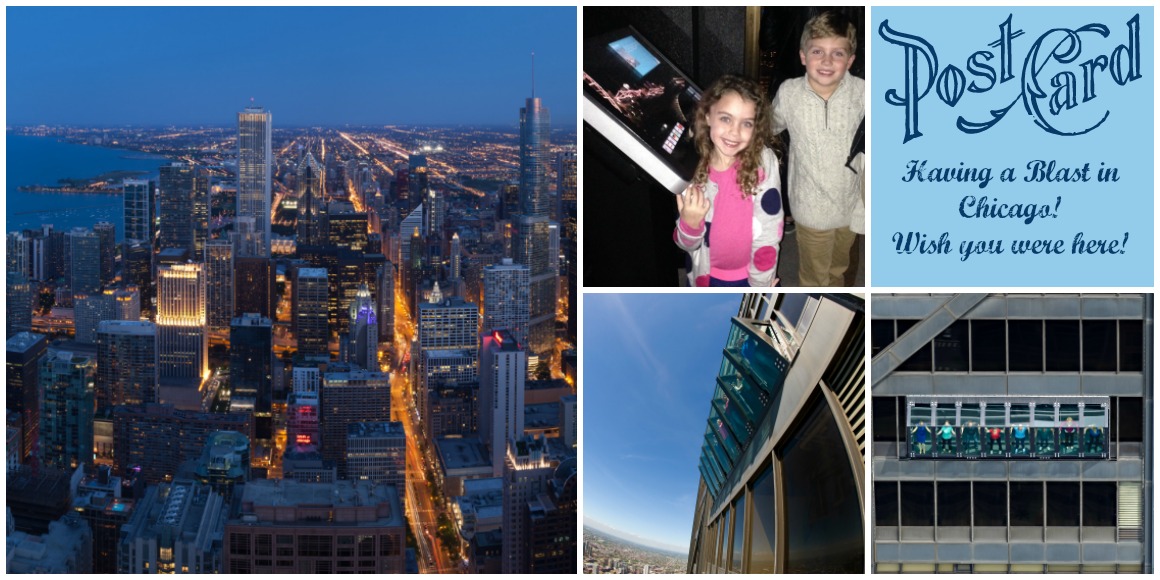 We started our next day grabbing a quick breakfast in the Executive Floor Lounge – a worthwhile convenience primarily for that feature, when it's necessary to start the day quickly. The prospect of spending the whole day at the Shedd Aquarium had both children eager to head out and it's well worth all of that time. Don't miss the aquatic show at the Abbott Oceanrium or a chance to see a dive presentation in the Caribbean Reef. We took a break sitting on the floor in the Wild Reef to hear a fascinating presentation on the sharks swimming a safe distance away in an enormous tank, and to grab a late lunch in the Bubble Net food court. From the Singray Touch (open seasonally) to the Belugas and sea lions there really is something for everyone.
After a quick fresh up at the Hilton it was out again, this time to dinner at Pinstripes Chicago, In the River East Arts Center, where you can bowl or try a round of bocce before or after dining on a wide array of entrees. The kids' menu is pretty extensive and dinners include a starter of parmesan bread and marinara sauce, an entrée, a beverage and a choice of four desserts for $9. We didn't pay for bowling or bocce (reserve time in advance of your visit) but my two were happy with coloring the kids' menus while waiting to eat, and service was unbelievably fast. Instead of a post-dinner evening activity we opted to head back to the flat screen TV in our room to watch the Cubs in the playoffs. With two beds and two separate bathrooms in our room everyone was ready and tucked in without missing too much of the action.
On our last day in the city, we indulged in Sunday brunch at Shaw's Crab House. One of the best brunches in the city, buffets are spread out throughout the restaurant, including all manner of seafood, omelet and waffle stations, salads and a sweets table to rival that at any wedding or bar mitzvah. Kids ages 7-12 eat for $10 and kids 6 and under eat free. Though the adult fare is a pricey $55, it includes nonalcoholic beverages and, given the selection, is well worth it.
Click Here to read our Top Chicago Family Favorites Food and Restaurants Guide
Once fueled-up we were ready to walk off our meal at Navy Pier, where we strolled both outside and inside, taking in the views of Lake Michigan and the city before grabbing a birds-eye view from the Centennial Wheel. Not just any Ferris Wheel, this one reaches almost 200 feet up, offering 360-degree views from temperature-controlled, fully enclosed gondolas.
A final stop at the Chicago Children's Museum, located at Navy Pier, and our weekend was complete. My 8-year-old felt some of the exhibits were too young for him but both loved the Climbing Schooner and the Tinkering Lab. I had to pull them from splashing about WaterWays with the promise of Ben & Jerry's before heading home.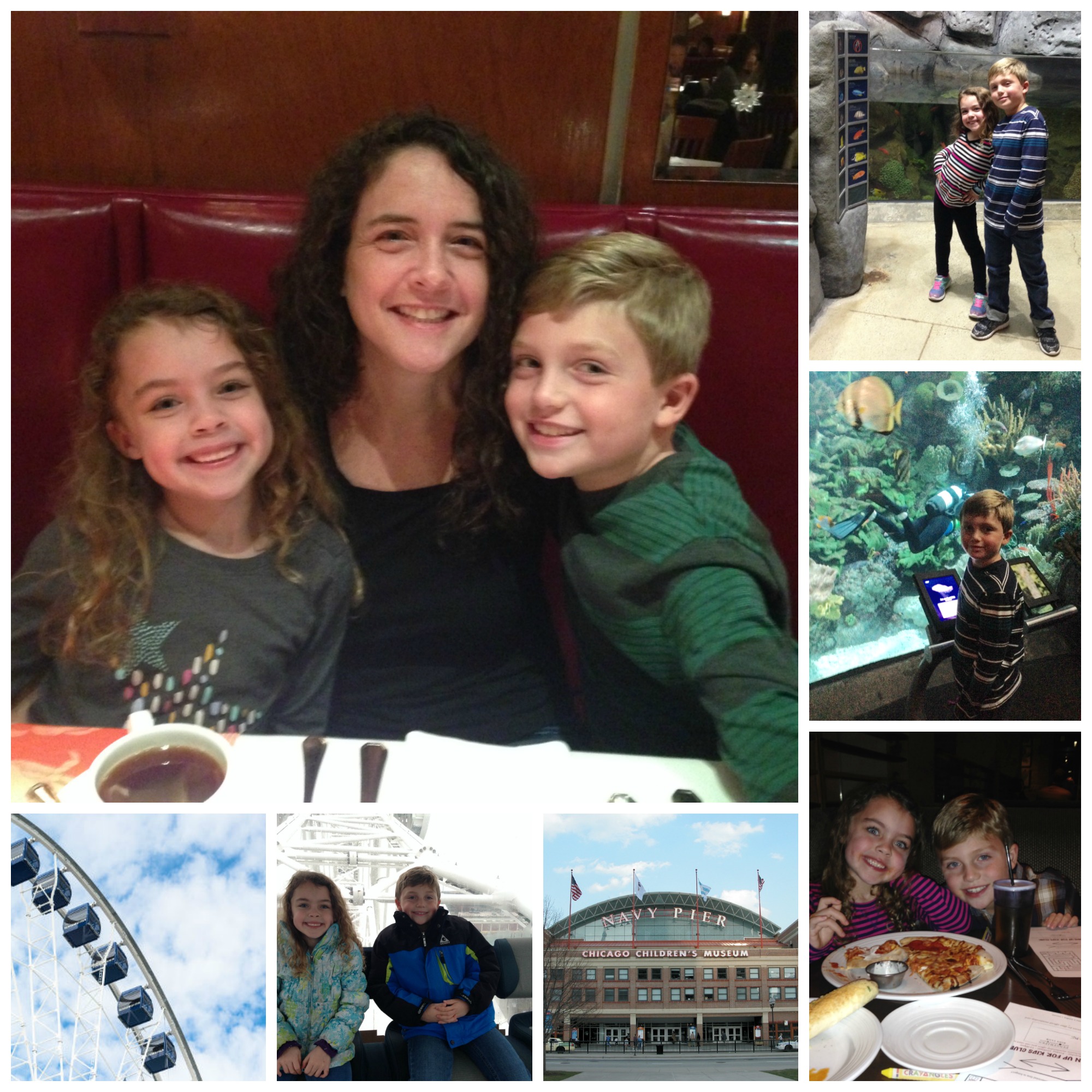 On our drive back to the suburbs, both children asked for repeat visits to the city for further exploration. It seems our weekend adventure in our own "backyard" was a real hit.  Not quite a staycation and not quite an exotic getaway, playing tourists in Chicago struck the perfect balance for my budding travelers.
---
Considering a family trip to explore Chicago? Pin this for later!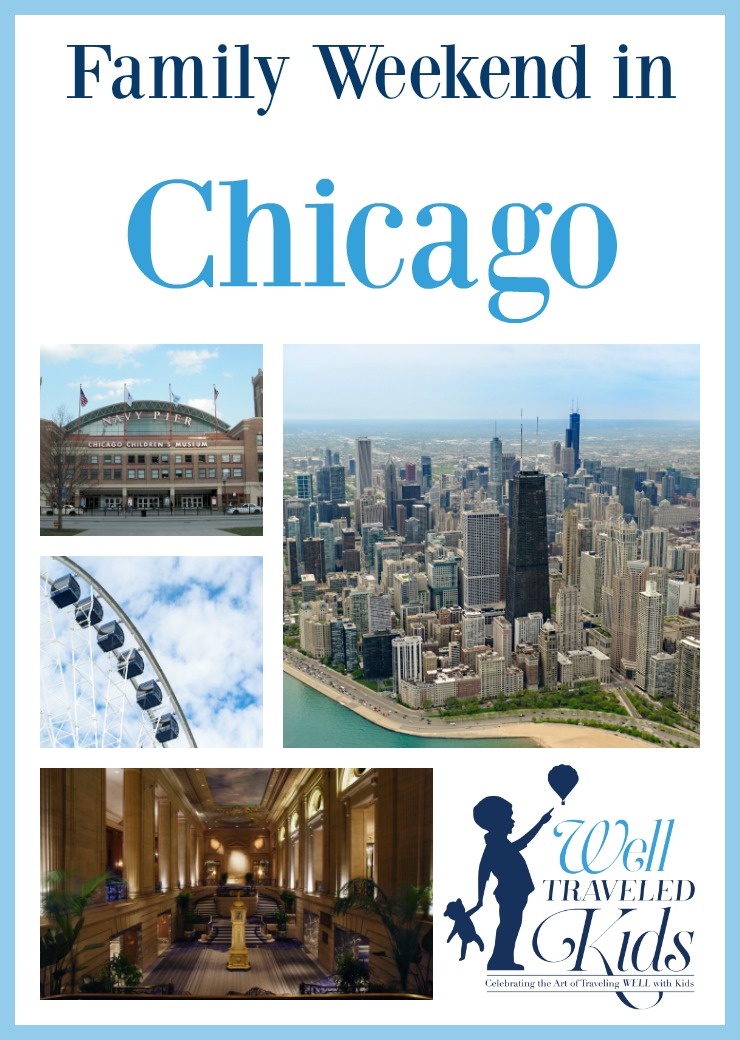 For more information on travel in Chicago, visit www.choosechicago.com; and for information on the Hilton Chicago visit www.hilton.com/Chicago.
**Thank you to the Hilton Chicago, Choose Chicago, the restaurants and attractions mentioned above for a memorable weekend. Media assistance was provided on a complimentary basis for the purpose of this editorial coverage.
---
Photos courtesy of The Hilton Chicago, Choose Chicago, Navy Pier, Chicago Children's Museum, and 360 Chicago