Disclosure: Special thanks to Nickelodeon Punta Cana for inviting me to experience the resort! We spent seven nights at the Nickelodeon Resort Punta Cana. My airfare and three nights were complimentary for purposes of review. We paid for the additional four nights. As always, all opinions are my own.
---

 My kid loves all things Nickelodeon!
My family was excited about the opening of the new Nickelodeon Hotels and Resorts Punta Cana because we love all of the Nickelodeon characters. My 6-year-old son Harry is obsessed with all things Teenage Mutant Ninja Turtles, Paw Patrol, and SpongeBob SquarePants. So, this seemed like the perfect age to take our family vacation at the Nickelodeon Resort Punta Cana.
All-Inclusive Luxury Family Vacation
We spent a week at theNickelodeon Resort and shared our experiences on Instagram, Facebook, and Twitter each day. I've had so many questions from readers and friends since I've returned from our vacation.  I've written a complete and honest detailed review here and answered everyones questions based on our vacation.
Read on for more about our experience. 
Here's my recommendations for others headed to the resort for a family vacation.
---

Getting to Punta Cana
Getting there was easy for us. Luckily, there are direct flights from Chicago to Punta Cana, and it was only a 45-minute drive from the airport to the Nickelodeon Resort. Read on for more about our experience.
All guests receive a warm welcome.
We were greeted with champagne for adults and a slime smoothie for Harry on arrival. While my husband and I checked into the hotel at the reception desk, Harry loved that they had a room for kids to play right off the lobby. He enjoyed his slime smoothie, colored, and watched SpongeBob SquarePants while we took care of the reservation.

After we received our room assignments, a friendly bellman loaded all of our luggage onto a large passenger golf cart and drove us around the resort and over to our building. We were assigned to a second floor basic pad suite in building 2 for our stay. The room was spacious, with a king size bed as well as a couch with a pull-out queen bed for Harry.
And our bathroom was huge. We had a deep soaking tub and rain shower, separate toilet, large closet, and double sinks. The bathroom included custom products and lots of the little extras such as bubble bath, bath salts, dental kits, sewing kits, and shave kits that you'd expect from a luxury hotel. The staff always gave us plenty of plush towels and products for our bathroom, which is awesome when traveling as a family.
Each room also features a bright orange Nickelodeon blimp for decoration. Harry absolutely loved to sit and play on it every minute he was in our room.
Nickelodeon Resort Punta Cana is the place to splash and play in the sun!
We spent our week swimming in the many pools and developed a routine: We'd start at the big infinity pool that overlooked the beach, play in the pool a bit, and then grab a drink at the swim-up bar before heading down to the beach.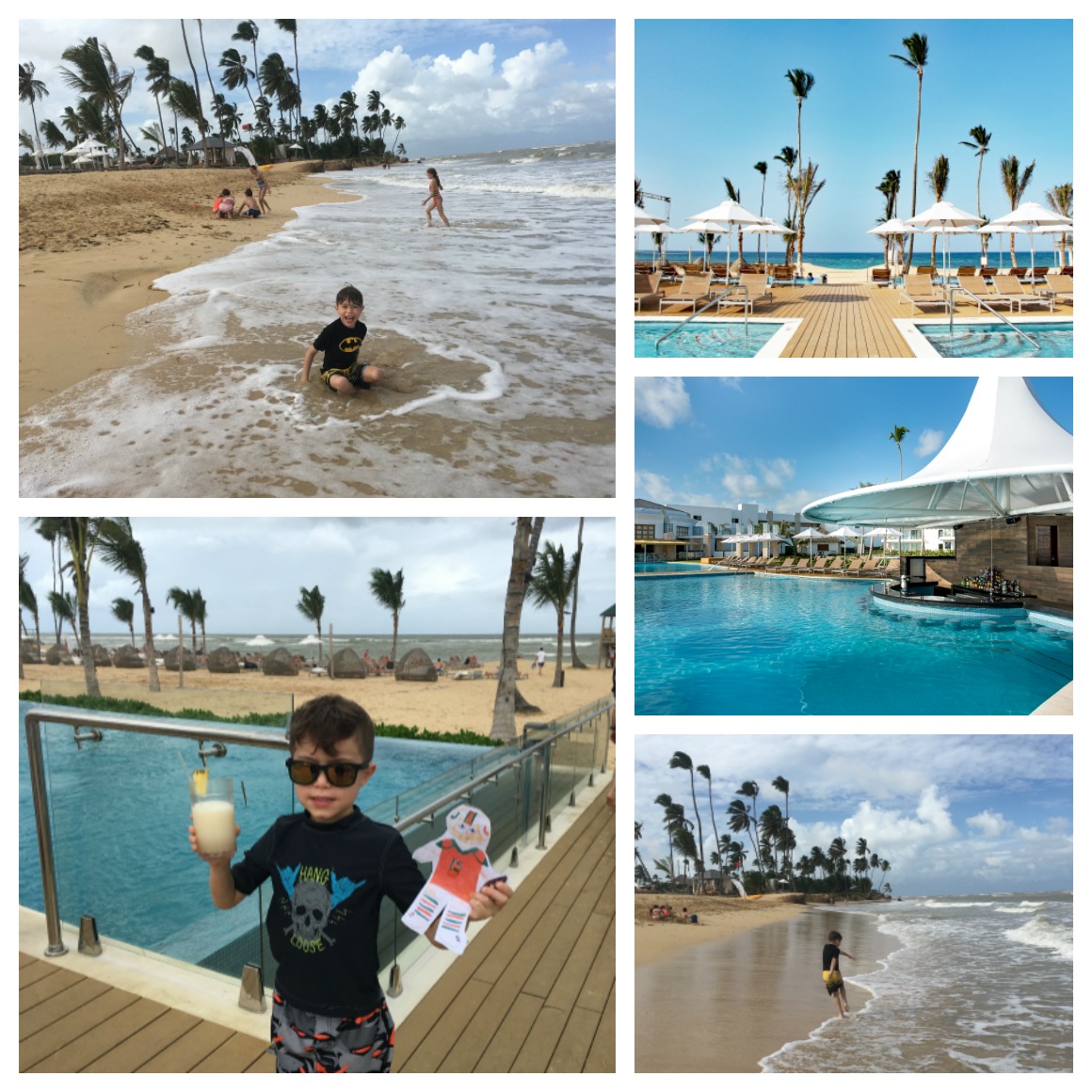 The beach was pristine with plenty of places to spend the day reclining and enjoying. The waves were rough during our stay; however, the sand was soft and the water warm, so it was fun to go down to the beach and dip our toes, build sand castles, and play at the edge.
In the afternoons, we would head over to the Aqua Nick waterpark for daily mass slimings, poolside character appearances, water slides, and lazy river. We stayed until 5 p.m., when it closed each day.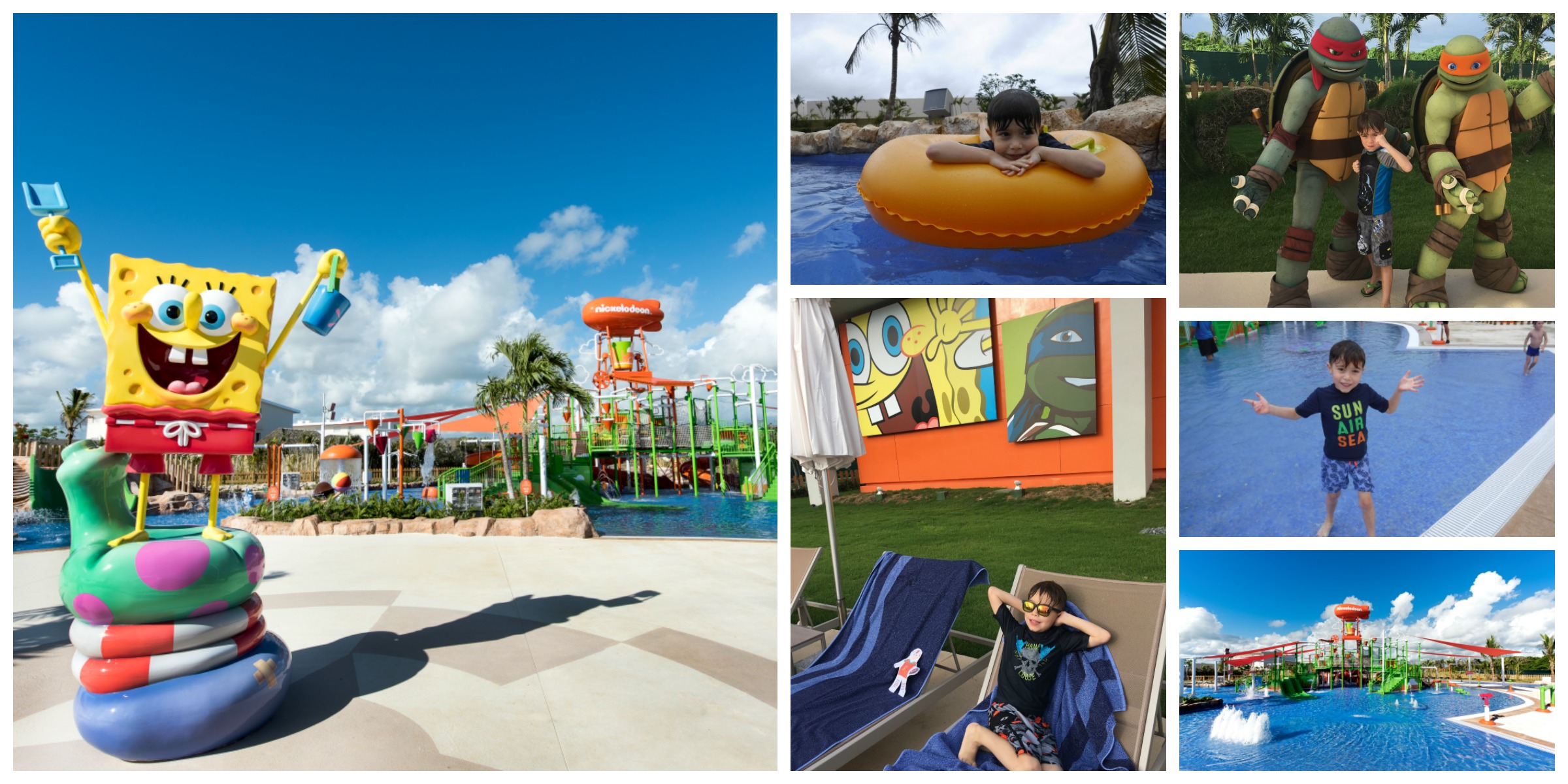 We loved that the water park was perfect for little swimmers. Harry was able to be independent and I didn't have to worry about him on the slides or in the pools since all were in shallow waters. The waterpark is secluded away from the main resort and requires separate check in to enter. I loved how safe and contained the area was making it perfect for families with little kids to let the kids run free.

Occasionally we would stop by the Sports Hub for some free play and hang out. We played board games, pool, and table tennis. If Harry was a little older, I think we would've taken advantage of sports programming such as archery, too.
---

Night time Fun!
In the evenings, we soaked up the fun entertainment. Most nights we would head to the Sensatori Theater in time for the nightly Play House Live kids show. After the show, we would usually take Harry to the Just Kidding kids club and drop him off to play with other kids for an hour or so while we had a cocktail at the Vino Vino wine and piano bar.
While Harry was in the Just Kidding Club, most nights there would be a character visit and lots of activities for the kids. He made friends there who he would look for and play with the next day at the pools. We would pick him up and head to another show or party every night. Our favorites were the Glow Robot Party and the Michael Jackson Party. It was great having family entertainment available so we could all have a blast together each night.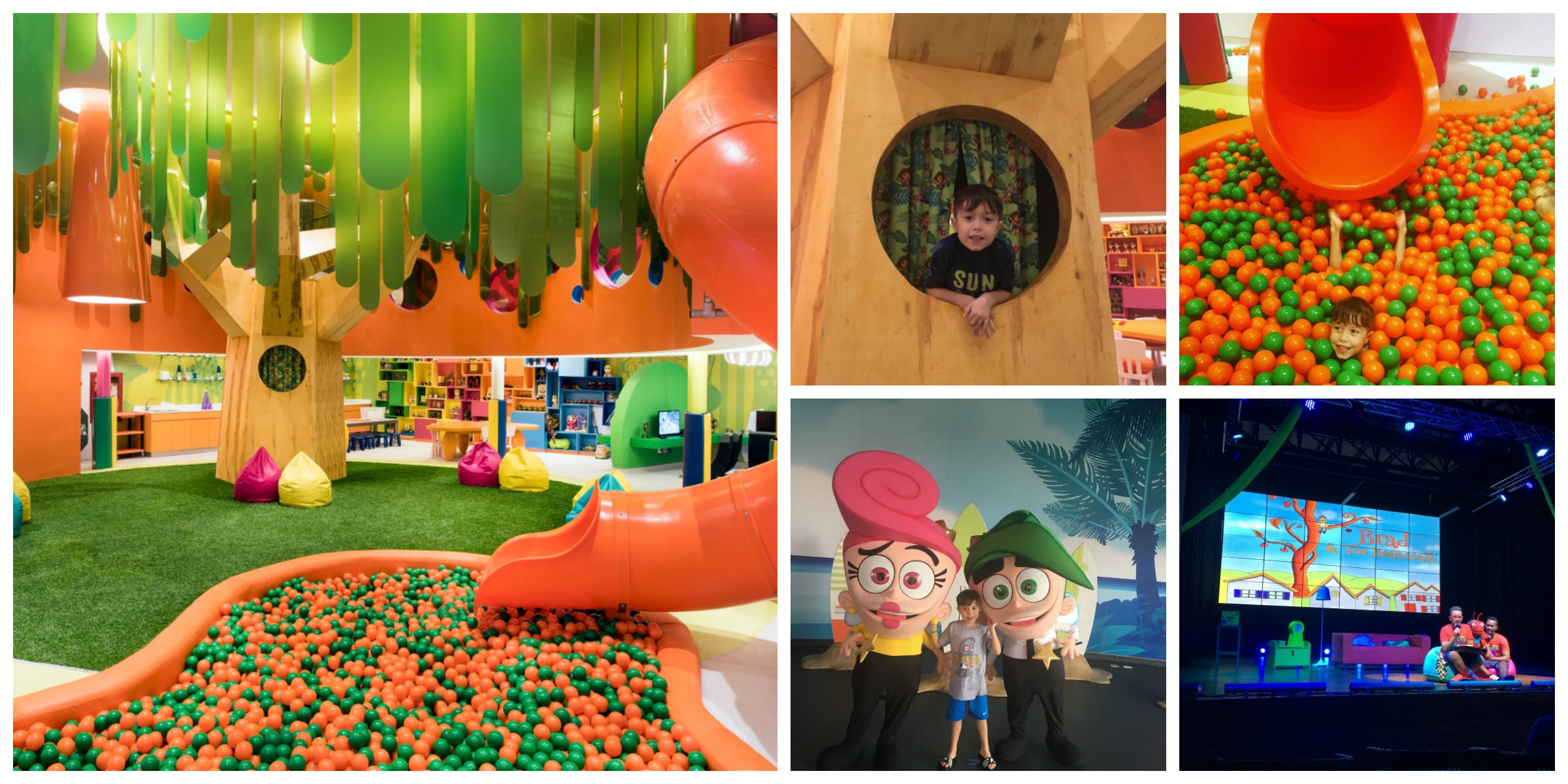 ---

Resort Tips Based on our Experience:
Grab activity schedules and plan for family fun.
The Nickelodeon Resort Punta Cana is connected with its sister hotel, The Sensatori Resort. Both share the property, restaurants, and pools. Each resort has its own weekly schedule of activities and shows that are posted in specific areas of the resort near the restaurants and in the reception area.
We grabbed schedules for each of the resorts. Some nights we opted for the Nickelodeon parties and entertainment, while other nights we'd watch the Sensatori shows. I would recommend that anybody who stays at the resort take both activity sheets upon arrival in order to plan not to miss anything. That's really the only way to know what's happening all around both resorts each day.
Take note: Reservations are required in advance for some dining options.
Nickelodeon Resort Punta Cana has 10 restaurants and bars for guests. All of the concepts are well done and gorgeous spaces. A few of the restaurants required reservations, which we made in advance of arrival. I would recommend families either do the same or book them as soon as they arrive at the resort, as space is limited at each seating.
We booked the Sunday Morning Pajama Jam Breakfast with SpongeBob SquarePants and pals at Zest for our first morning. Harry loved the experience of seeing so many of his favorite characters in one place.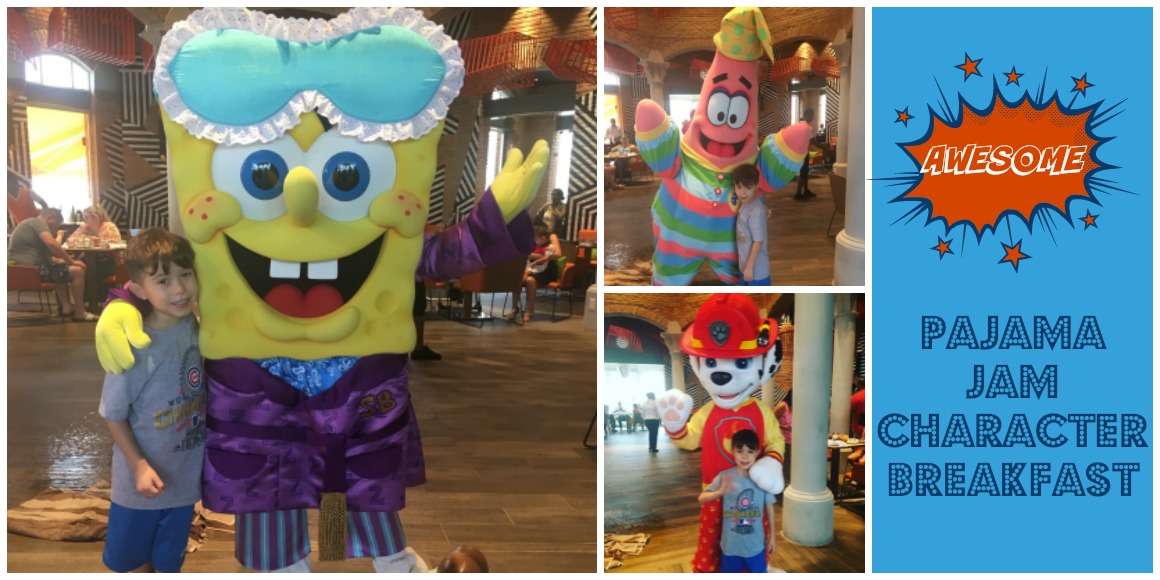 In addition to the character breakfasts, four of the restaurants require dinner reservations: Wok Wok, Verdello, Spacewalker, and Kitchen 23. Kitchen 23 is adults-only and not included in the all-inclusive package, so there is an added charge for each person. Each restaurant is unique and worth trying. Our family favorite was Spacewalker. We loved the interstellar dining experience and themed food and restaurant concept.
Unique dining options offered lots of variety.
We ate all of our other meals at restaurants that didn't require reservations: breakfasts at the Sugarcane buffet when we didn't sleep in too late or the coffee shop Doppio. We had most of our lunches either at Fresco for steak tacos and fresh salads or Aqua Bite for ice cream cones, pizzas, burgers, or bbq wings. Dinners were either at BGRS PH, the Sugarcane buffet, or ordering from the 24-hour room service menu. Our favorite dinner spot was BRGRS PH, where they served burgers cooked inside a food truck parked inside the restaurant.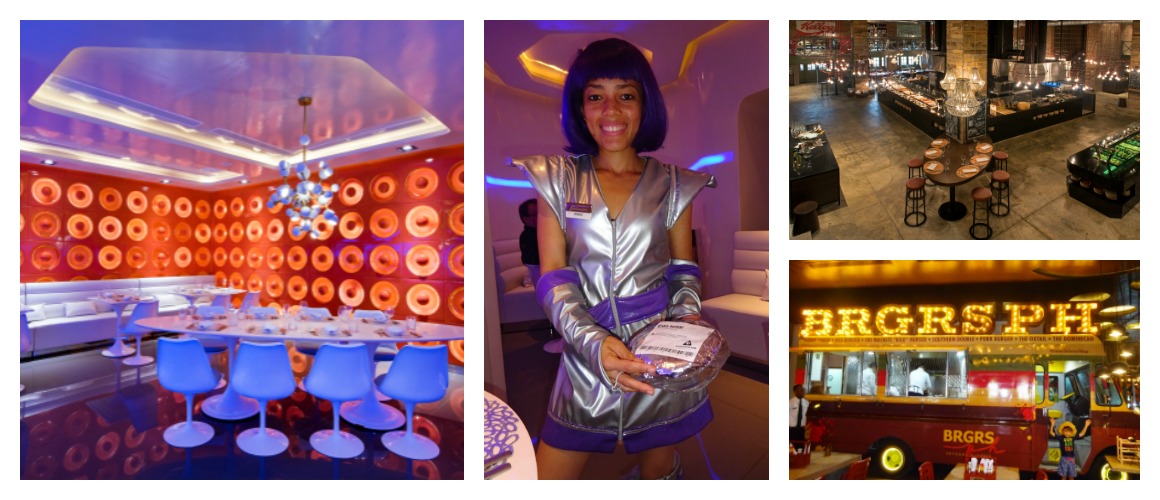 Blissful spa time at Vassa Spa.
The spa is beautiful. It features amazing outdoor treatment rooms and even a beachside massage hut. I booked my massage treatment on a rainy evening, so instead of an outdoor treatment I was in a cozy indoor treatment room. My therapist was personable and skilled at performing an amazingly relaxing massage.
My favorite part of the experience was the hydrotherapy ritual after my treatment. This was a water therapy circuit that combined the sauna and steam room with an ice fountain, cold mist shower, thermal contrast nebuliser bath, cold plunge lagoon, jacuzzi, and a sensory pool. I could have spent hours enjoying the gorgeous surroundings and the bubble beds, triple level hydromasssage, waterfall, and the air sole massage on my tired feet.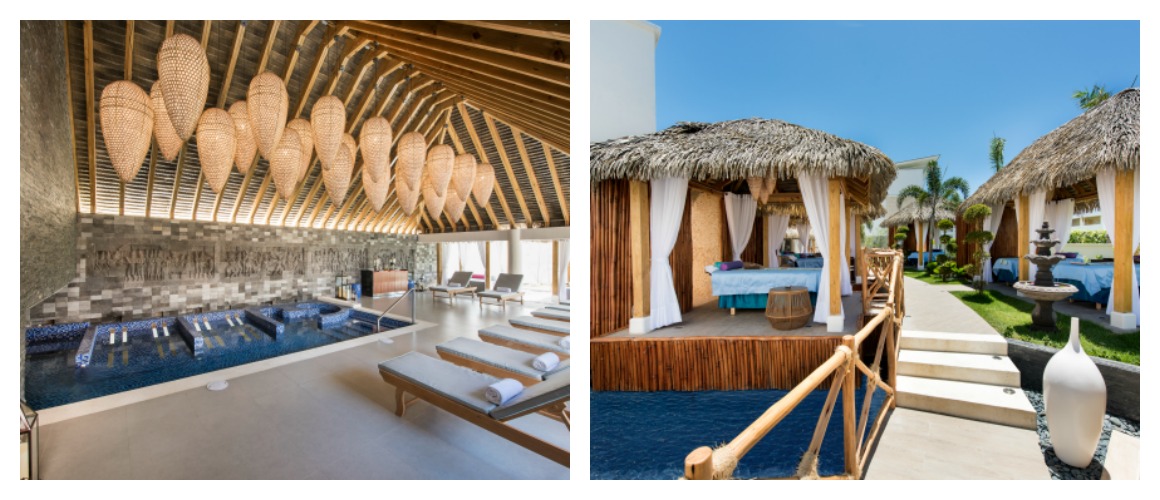 ---

We felt the new Nickelodeon Resort Punta Cana was well done!
Overall we felt the resort was a great place to vacation as a family with our little guy. The resort is newly built and all of the hotel rooms, landscaping, pools, public areas, bathrooms, and restaurant concepts are uniquely beautiful, well maintained, and pristine. The pools and beaches are equipped with ample comfy seating so we never felt that the resort was overcrowded even though we were told they were in fact sold out during our stay.
That said, I did notice some areas of improvement, I will get to those later. First here's what I loved.
Bonus: no bugs!
I was concerned about Zika virus, but we honestly didn't see any bugs or mosquitos during our visit. The property makes every effort to eliminate and control the mosquito, going above and beyond preventative measures set by the World Health Organization and Centers for Disease Control and Prevention, as well as the local governing bodies. They have a full fumigation program that proved successful; this includes daily, weekly, and monthly fumigation tasks using natural repellents Ecofly and Aquareslin Super in public areas of the hotel, guest rooms, and facilities. In addition, mosquito repellent is readily available throughout all restaurants and bars. We put on bug repellant daily as an added precaution, and after a week at the resort, none of us had a single bug bite!
Draws a warm friendly crowd:
During our visit, the resort had a very relaxed international crowd visiting, all of whom were warm and friendly and seemed legitimately happy to be vacationing with their little ones. Harry made friends from all over the world during our trip. Some spoke English and some didn't, but that didn't matter one bit when playing and splashing in the sunshine.
Accommodations designed with families in mind:
The rooms at the Nickelodeon Resort Punta Cana are very comfortable and designed for families. It was obvious they really kept families in mind. They added little things that make a big difference when traveling with kids, such as TVs in the room that have HDMI inputs for watching kids programs on AppleTV or a portable DVD player. We also loved the extra space in the bathroom and the deep tub for bubble baths. The USB jacks near the bed on each side were especially useful for charging devices each night, too.
The resort understands that traveling with kids often requires lots of extra stuff. So they have a baby amenities menu that offers guests a variety of baby amenities and toy lending for kids from ages 2 to 12 years old.
24-hour room service:
Offering 24-hour room service is great for families and something many all-inclusives don't include. We certainly took advantage of it several times during our stay.
Luxury room categories available:
We stayed in a basic Pad Suite room category, which was very nice. However, there are definitely more luxurious accommodations available for families. There are swim-up suite fellows with butlers and pools and even the Pineapple Suite, which is home to SpongeBob SquarePants. If I were to return, I would definitely pay to upgrade us to either a Villa or a 1st floor corner Swank Suite swim-up room.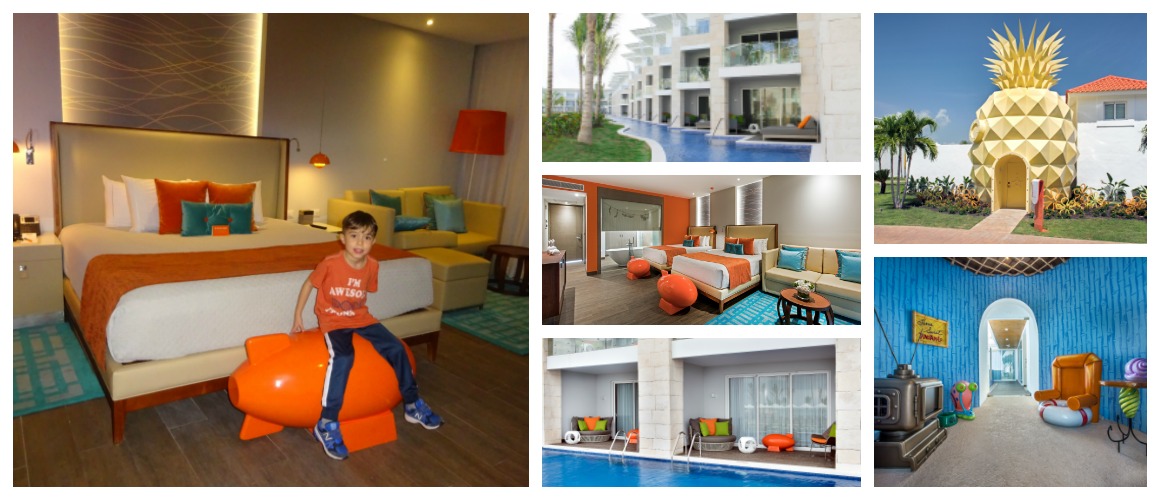 Added Luxury Upgrades:
The resort also offers luxury add-ons—private slimings, in-room babysitters, and private dinners on the beach—for an additional charge.  
---

My Recommendations- As with any new hotel, there were some areas we felt the Nickelodeon Resort Punta Cana could use some improvement.
The Nickelodeon Resort Punta Cana has only been open a few months, so of course we expected a few growing pains. Here are some that I hope the resort will work quickly to improve.
Major language barriers:
I never expected to arrive in the Dominican Republic or our resort in Punta Cana and hear perfect English from the entire staff. However, I was astonished that Nickelodeon Resort wouldn't have more employees who speak and understand English for their English-speaking clientele. During our week-long stay, very few employees we spoke to could really even come close to understanding what we were asking. I relied heavily on my smart phone to translate my needs to staff during my stay. I was especially disappointed with the operators on the phones, the wait staff in the restaurants, and the front desk staff.
No understanding of food allergies:
This was especially frustrating with the wait staff and host staff in the restaurants. My son has an egg and nut allergy, and even when we translated his allergies into Spanish, we felt none of the employees understood or cared. Luckily, those two are pretty easy for me to avoid by ordering meat and veggies at every meal for him, but I was disappointed that nobody could give me ingredients or specify processed foods to avoid for him.
Not a lot of foods we enjoyed:
While the restaurants are visually very cool, we felt the food choices could be better. We're picky eaters and to be honest, we didn't love most of the food. However, there were always enough choices that we were able to find something we could eat at each restaurant.
Also, with the exception of the character breakfast at Zest, there were no crayons or activity sheets at any of the restaurants to occupy kids at meal time. We found the service at all of the restaurants to be very slow, which is especially tough on even the most experienced little epicurean when there are no fun distractions provided.
Mini bars:
When we arrived, there was nothing in our mini fridge. We had to call and ask them to fill the fridge, which they did with water, pop, and beer. But, we found that our mini bar was not automatically refilled daily. Ultimately, we had to call and ask almost every day. Also, they had crackers and chocolates for the minibar but would only give you one or two, and there were three of us. That was annoying. Once we started tipping more, we received the three little snack size bags of chips so we could each have our own.
Flooding rooms:
The resort is new construction, and workers are still trying to improve some construction flaws. It rained hard and often during our stay. Apparently, that type of rain is very unusual there. Our balcony, front door, and closet flooded during each rain. I noticed lots of construction crews working on the rooms, so I suspect this issue will be fixed soon.
Annoying towel cards:
As a frequent luxury traveler, I detest a resort that requires towel cards at the pool. Especially when they will only allow you one towel per person. Everybody knows you need at least two or three towels if you want to lay out and be able to dry off, especially when traveling with kids! This was not a huge deal but an especially annoying daily part of hanging at the infinity pool and the beach with only one towel allowed.
---

Despite these minor issues, we would absolutely return for another family vacation at Nickelodeon Resort Punta Cana, and I definately recommend it to others looking for a fun family vacation.
Overall, we had a fun and relaxing all-inclusive luxury family vacation at the Nickelodeon Resort Punta Cana. I'd definitely recommend it as a great, all-inclusive vacation—especially for families who appreciate a luxury all-inclusive hotel experience and are traveling with kids under age 10 who still love quality character interaction, getting slimed, and a fun water park geared toward little swimmers.
Most of all I have to say that Harry absolutely loved it and has proclaimed it was his most perfect family vacation ever. He printed his photos from the vacation and took them with him to Kindergarten to show all of his friends. So, you have my 6 year old's word that your kids will love every minute.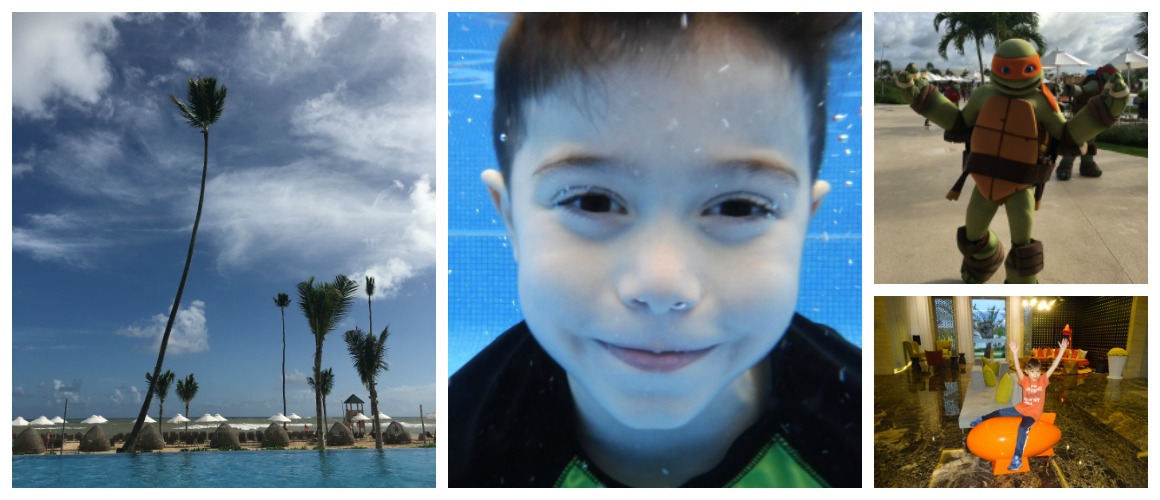 ---

Considering planning a vacation to the Nickelodeon Hotel and Resorts Punta Cana? Pin this for later!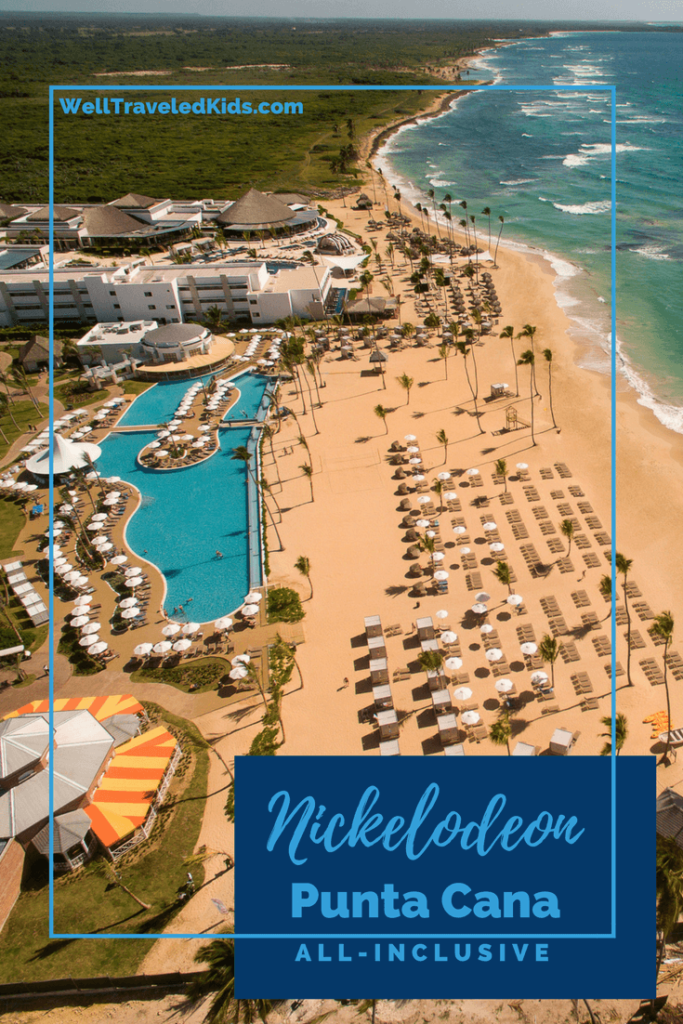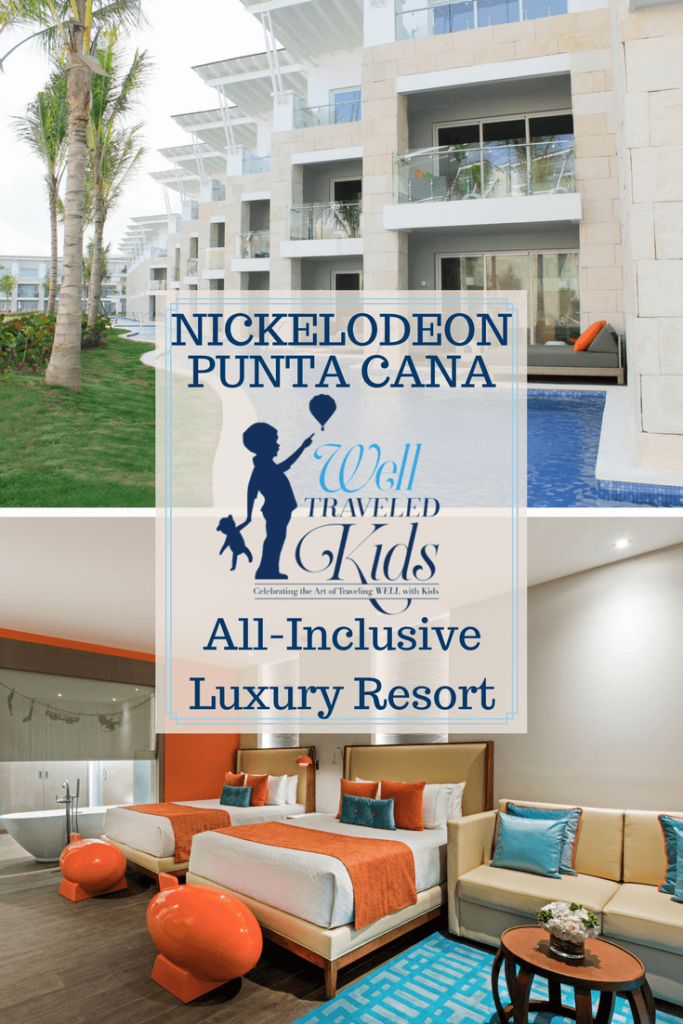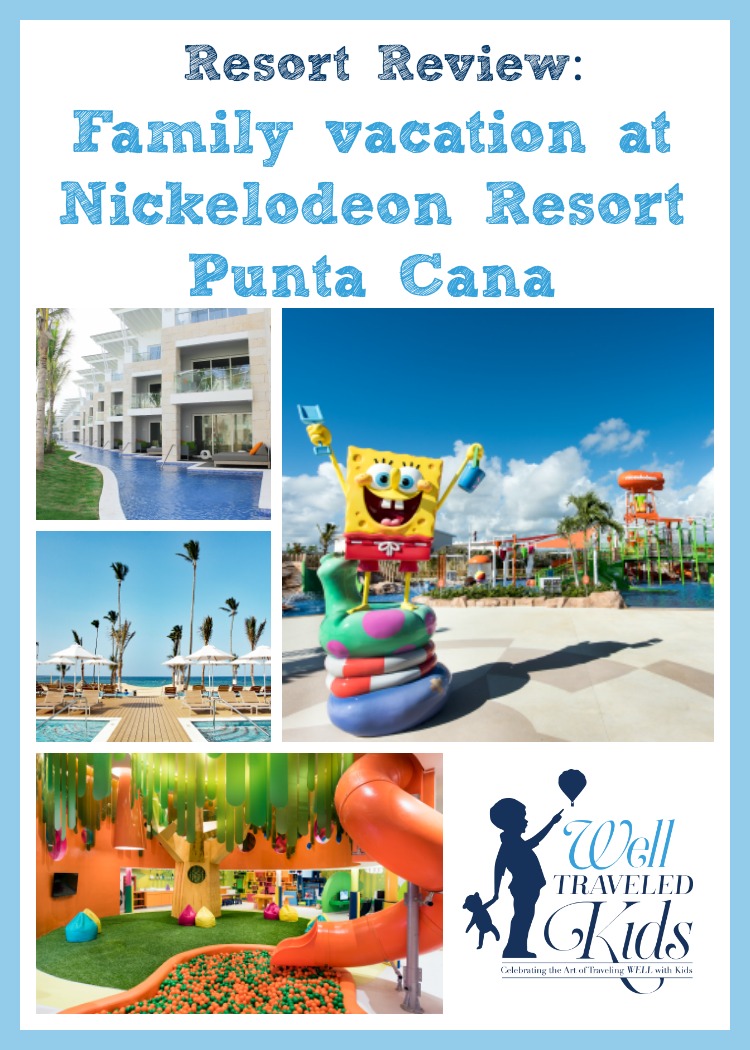 ---
Photos courtesy of Nickelodeon Resorts and Hotels Punta Cana