Chateau St Pierre de Serjac and  Noilly Prat  partnered with Well Traveled Kids for this review. All opinions are my own.
Have you ever dreamed of taking a luxury family holiday to a private villa in France? That's been my dream for years and this summer I made it happen and booked a private French villa for my family vacation! We traveled to the French countryside with our family and best friends family. All of the adults and the kids of every age had a blast. I highly recommend this as a fun summer trip for families looking to book a luxury family vacation in France with kids!
Luxury Family Holiday in a Private French Villa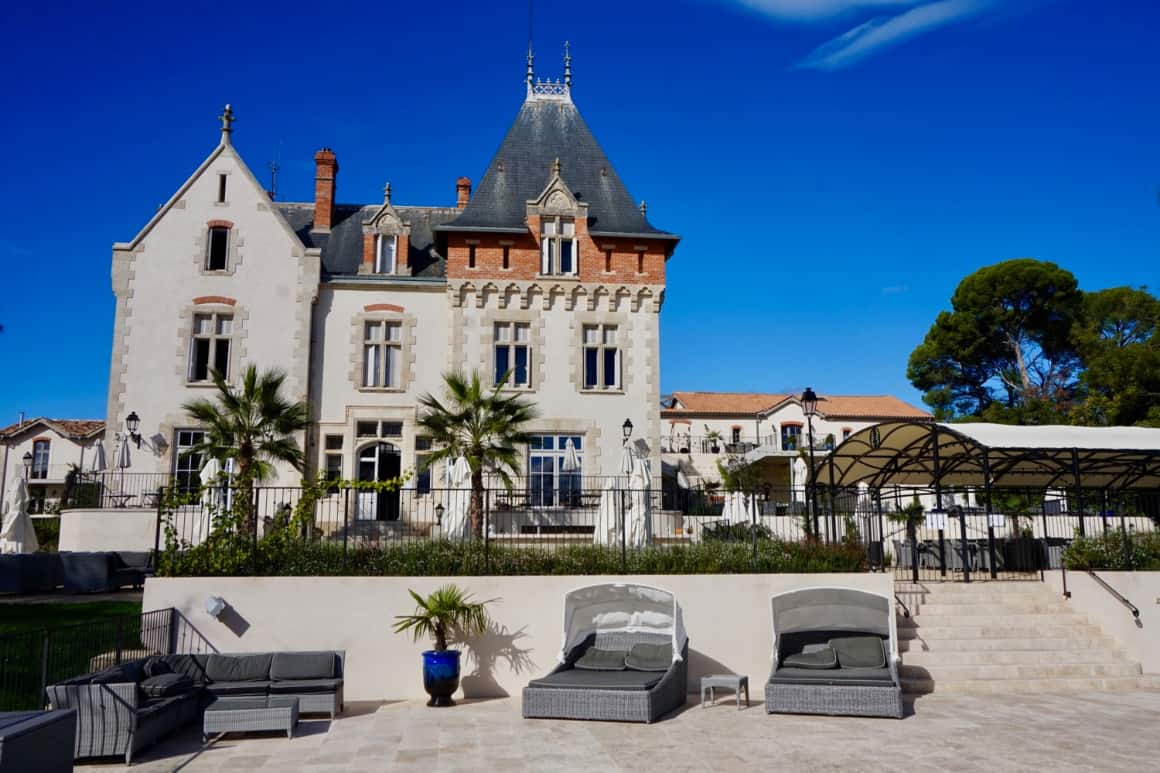 Trust me planning a family trip to France can be a bit daunting so continue reading for my recommendations for an amazing luxury family holiday in France. I promise staying in a private French Villa will make it a trip you will always remember!
Book a Family Stay in a private French Villa with kids
Chateau St Pierre de Serjac was the perfect luxury family holiday in the Languedoc Roussillon region of France.  The Chateau was originally built in the 1800's and the outbuildings were converted into luxurious self-catering properties. It was an easy 3-hour drive from the Barcelona airport and an unforgettable holiday for both kids and adults!  (It is also easily reachable from the town of Beziers where you can take the train from Barcelona or Paris, or by car from Toulouse/Bordeaux or Montpellier/Marseille.)
We fell in love with the self-catering villas and the views of the vineyards!  St Pierre de Serjac is set on 200 acres of gardens, surrounded by endless olive groves and vineyards.  We had a three-bedroom self-catering property with a private pool. There are 36 self-catering properties at the Chateau (and eight hotel rooms), ranging from two to four bedrooms and some with private pools.  You can easily find one to fit your family's needs!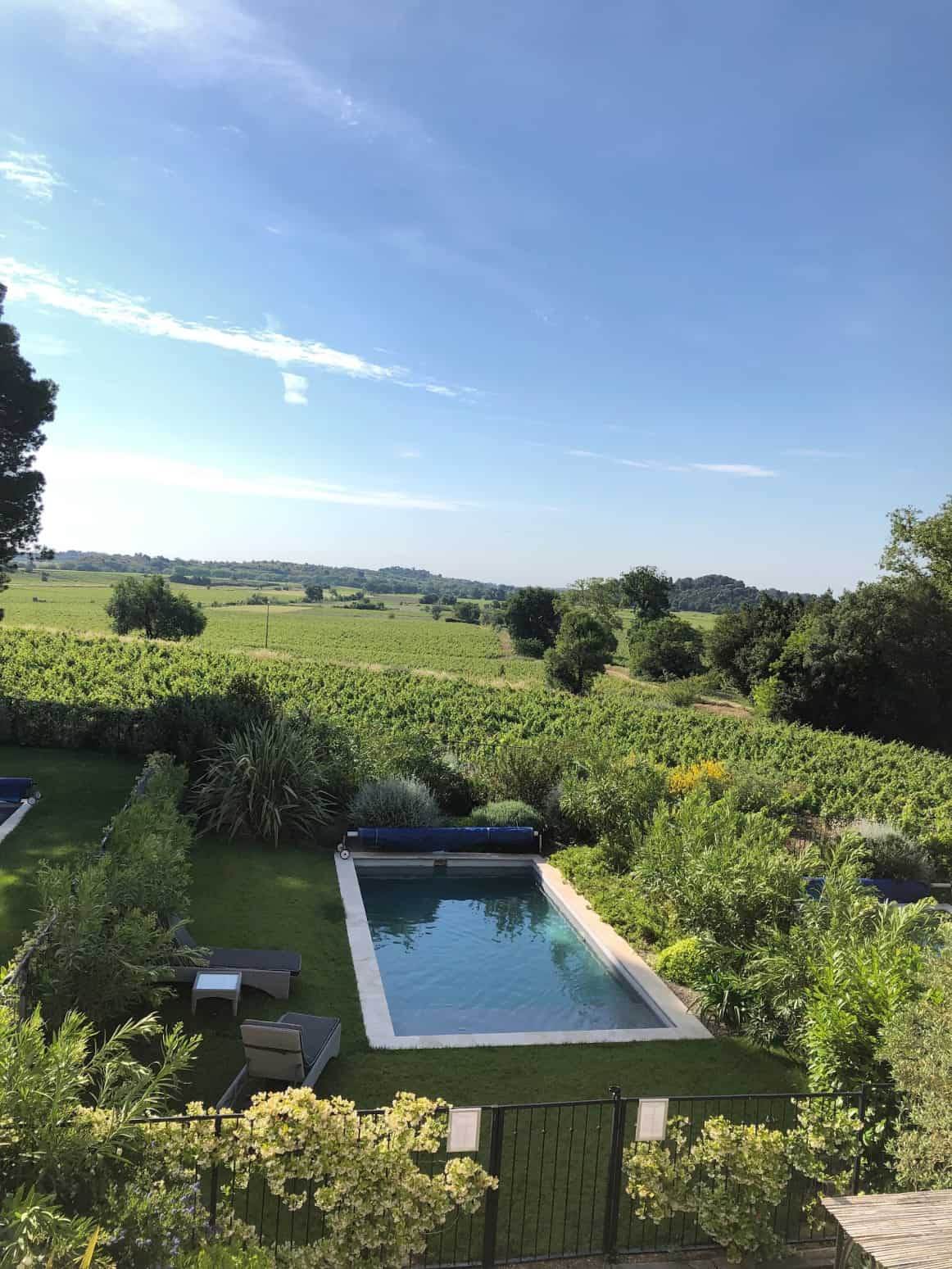 Our friends stayed in a three-bedroom property with a beautiful terrace both in the back and front. Both were completely different, yet both luxurious and comfortable. The villas are stocked with everything you need for a self-catered vacation, and they all have large outdoor dining areas, grills and oversized sun loungers.  We also loved that each room has its' own private bathroom.

Cater in dinner to your private villa
If you are like me and do not like to cook on vacation, you can order take out BBQ packs to be delivered to your villa. We did this on the day of arrival and the kids loved the homemade breaded chicken and the adults loved the meat and cheese platter and the fresh sausages we cooked on our grill. The meal was delicious and not cooking created the luxury family holiday experience I love!
The Bar at St Pierre de Serjac
St Pierre de Serjac also has a lovely outdoor bar on the terrace where you can get bottles of their wine, or wine from their sister property Chateau les Carrasses, or choose a Gin & Tonic from the extensive drink menu.  You can enjoy your drinks in the main area near the infinity pool or on your private garden, most of which have wonderfully large outdoor dining tables.
Be sure to book a dinner at The Restaurant at St. Pierre de Serjac!
We enjoyed superb meals and magical sunsets at St Pierre de Serjac!  Our favorite evening of our luxury family holiday was eating at The Restaurant on site, outside on the terrace with a panoramic view of the countryside (there is also an inside dining room if you prefer).  They had wonderful choices for both adults and kids. We loved the casual nature of the dinner while still enjoying outstanding food with elegant service. The locally sourced ingredients stood out in our dishes. 

We all started with a local oyster and some foie gras, both of which were delicious and paired beautifully with the wine. For our main course I enjoyed shrimp, but, of course, I couldn't help but eat off of my husband's plate as well to taste his filet mignon!  The kids took a break during dinner (after they quickly ate their hand breaded chicken nuggets, pasta and wonderful hamburger) to wander and watch the sunset and play some ping pong and boules, both nearby on the grounds. But they came back to the table quickly when dessert arrived.  They enjoyed ice cream cups, perfect for the kids, and then enjoyed sharing our chocolate fondant dessert and strawberry macaroon.
Taking a family bike ride in France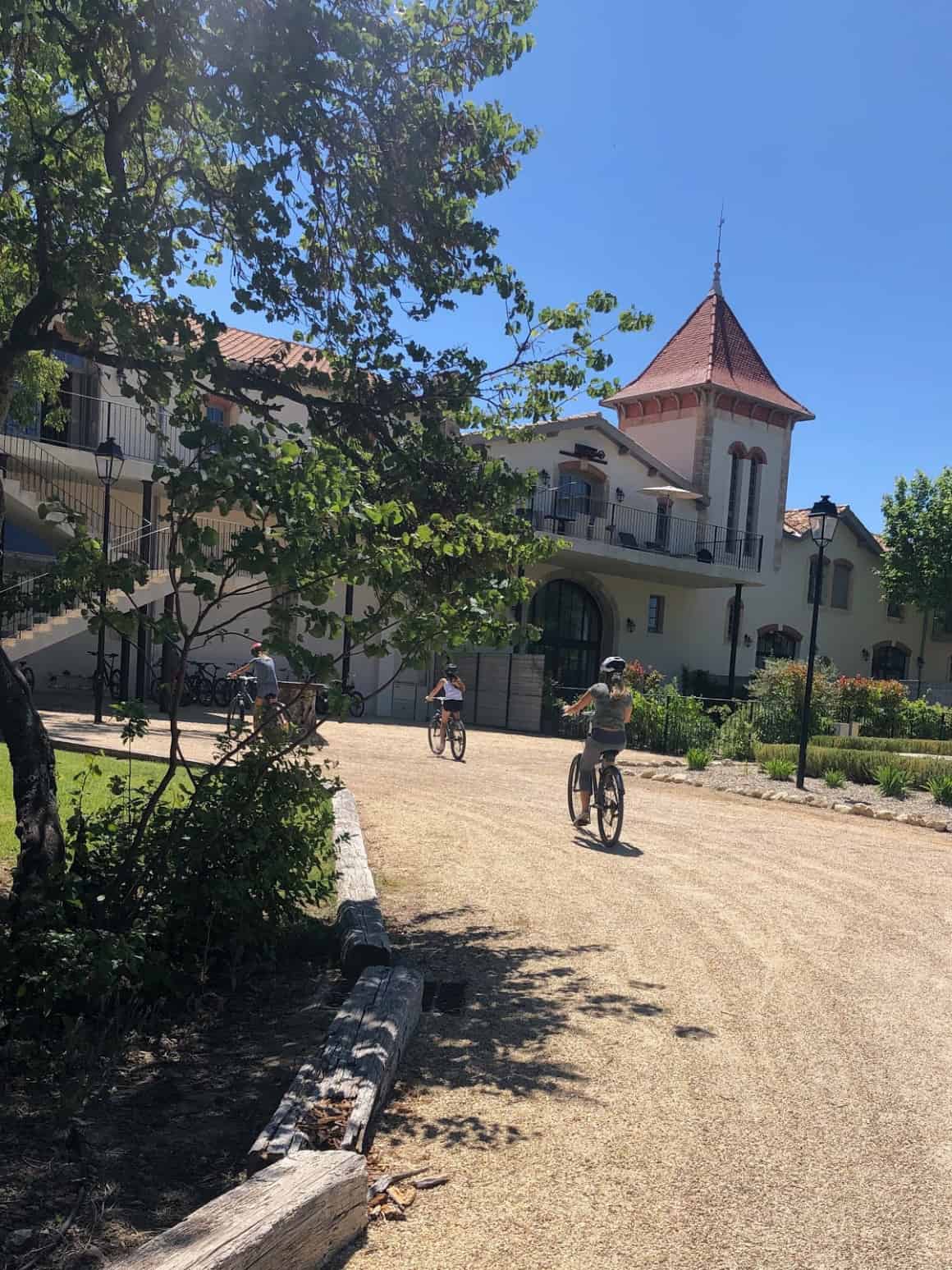 Bike riding through the vineyards was a highlight for adults and kids! We loved the bikes available on property to use anytime. They had all sizes and plenty of them! 
During our bike ride, we passed by the kids' club. They have a wonderful clubhouse and outdoor garden. (The kids club is only open in July and August and during school breaks.)  The Cinq Mondes Spa also looked wonderful; if you come for a vacation in the winter, you can enjoy the heated indoor pool and jacuzzi with the kids during certain hours as well. However, in the summer, it is an adults-only retreat!  There is no shortage of things to do around St Pierre de Serjac, including tennis on property.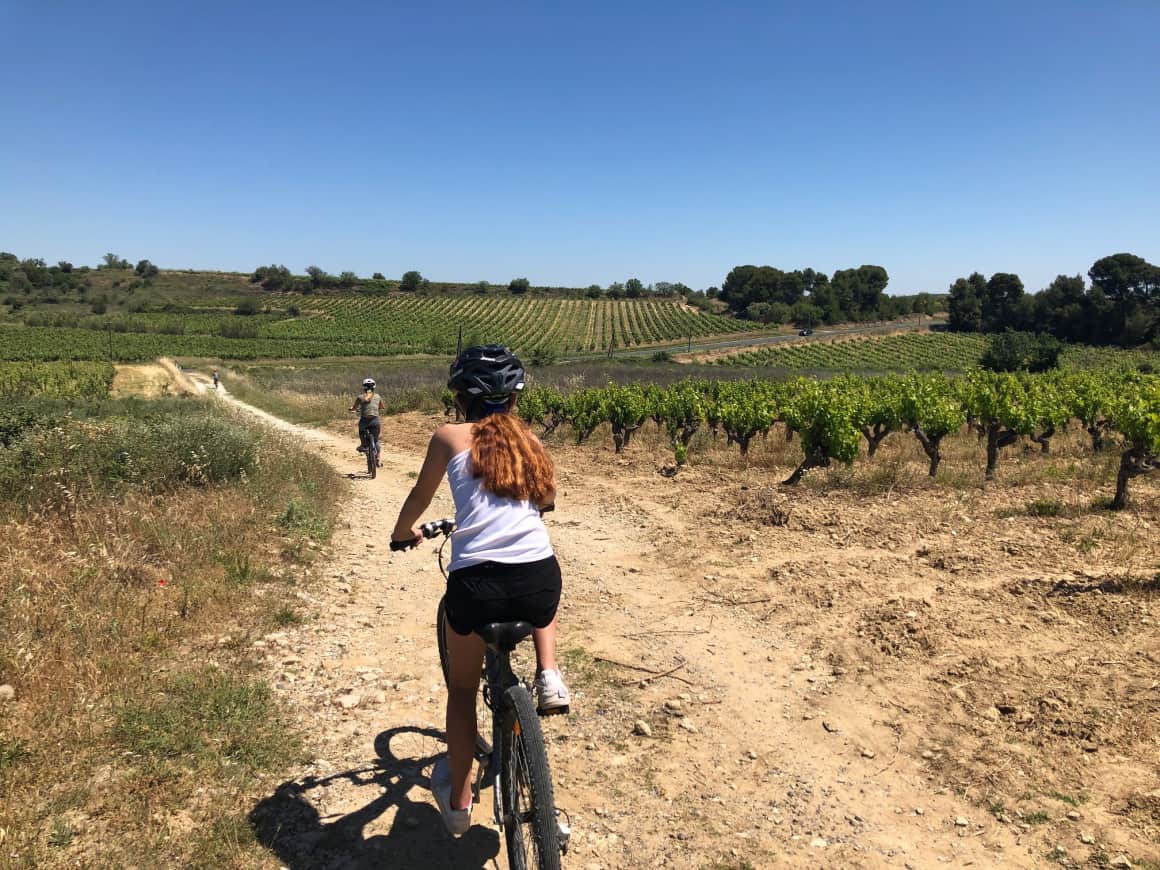 Explore the Languedoc Roussillon region of France with Kids
We wandered off property to explore local towns and wineries. The reception at the Chateau was a fabulous local resource and was able to help us with maps of the local area and suggestions for our days out.  The Mediterranean beaches near Sete or Marseillan are only 35 minutes from the Chateau.
We visited Maison Noilly Prat for a historical guided tour and learned so much about vermouth!  The tour was capped off with an extensive tasting of their entire vermouth collection (including a variety not available in the States).  Even the kids enjoyed this stop as there was a fun game for them during the tour, a juice tasting at the end of the tour and a game of boules in the courtyard outside.  It was wonderful that the kids could learn about the history of the business and play a fun game to stay engaged.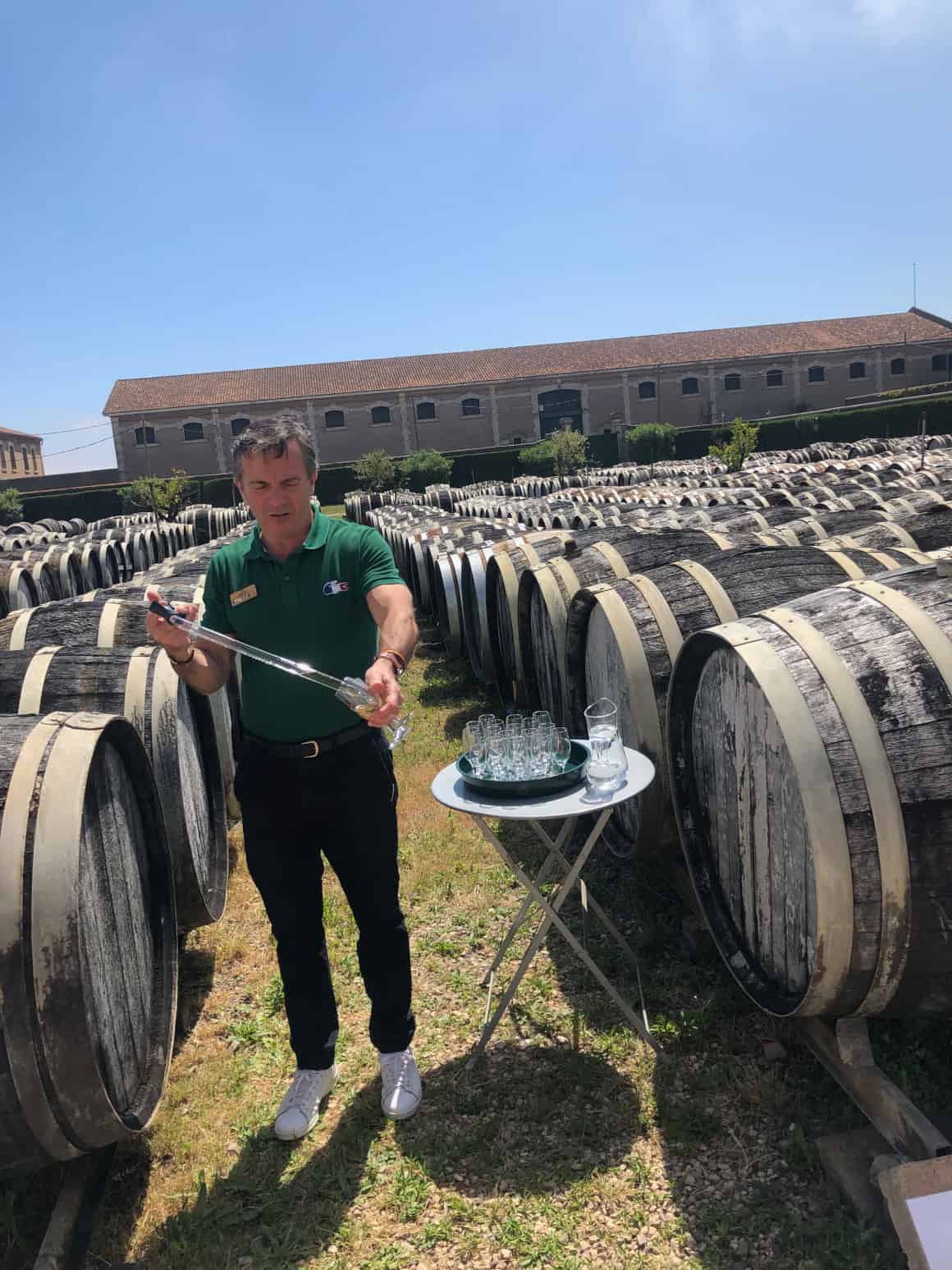 Our tour of Noilly Prat was a perfect day out in the Languedoc Roussillon region of France for the family!
Our whole family cannot wait to return to  St Pierre de Serjac for another unforgettable family vacation in France!
It was difficult to say Au Revoir to our private French Villa. We loved our stay and I have recommended this Chateau to so many people since we returned and my kids can't stop talking about how much they loved this trip. Hopefully we will return soon!