On a recent trip to Berlin, one of the big thrills for us was discovering how good the food is here!  Berlin is known for being a buzzing metropolitan city with a cool vibe and international food culture.  Our family discovered so many great food finds in Berlin that are completely appropriate for both kids and adults.
Currywurst
Since we live in Germany and have plenty of opportunities to eat typical German food when we go out, we were looking for something a little different in Berlin – but we made an exception for currywurst!  Currywurst is a hot pork sausage cut into slices, covered in a curry-spiked ketchup, and usually served with fries (pommes).  Though currywurst can be found all over Germany at fast-food kiosks and on kids' menus, it was invented in Berlin.  There is even a museum in Berlin near Checkpoint Charlie (Deutsches Currywurst Museum) dedicated to the city's signature dish!  We bought our Berlin currywurst from a stand at a festival near Brandenburg Gate, but it can be found on street corners all over the city.
Lemongrass
As we were strolling through the Prenzlauer Berg neighborhood around lunchtime we happened upon this little Vietnamese restaurant. We took a chance and grabbed the last available table and ended up so glad we did! Vietnamese summer rolls (goi cuon), pho tai beef soup, and vermicelli (bun) dishes with grilled pork and spring rolls were all excellent.  Service was efficient even though the place remained packed the entire time we were there.
Anklamer Str. 38, Prenzlauer Berg, +49 30 34623307, www.lemongrass-berlin.de 
Kuchi Mitte
Kuchi serves creative sushi and other Japanese dishes in an effortlessly cool atmosphere.  We loved the communal seating and that there were plenty of other families with kids in the restaurant too.  Our kids discovered their love of lychees at Kuchi after ordering the house-made lychee lemonade.  Everything we had was tasty and arrived quickly, from gyoza starters, to simple maki and nigiri, to the "Extreme" rolls like the TNT roll.  Our children also loved the yakitori and yaki-pork skewers, which would be perfect for little ones who aren't sushi fans.
Gipsstr. 3, Mitte, +49 30 28386622, www.kuchi.de/restaurant/mitte, reservations are recommended and can be made on the website
Henne Alt-Berliner Wirtshaus
Henne is a Berlin institution that has been around since 1908, and looking around the restaurant it's evident that the place hasn't changed much since then.  The atmosphere makes it easy to imagine the days when the restaurant saw the Berlin wall go up and come down right outside its front door.  Photos aren't even allowed inside!  Henne does one thing – milk-broiled half-chicken – and it does it really well.  Potato salad and krautsalat, a German vinegar-based cole slaw, are the only side dishes on the menu, and the chicken is served with a slice of bread.  There are a few sausages available for those who don't like chicken, but the chicken at Henne is definitely the star.  Each expertly seasoned half-chicken is cooked fresh to order, yielding crackly chicken skin on the outside and moist meat on the inside.  I had the added treat of trying a special drink on offer: Berliner Weisse (a sour white beer particular to the region) mixed with a house-made lavender syrup, which was positively yummy and really unique.
Leuschnerdamm 25, Kreuzberg, +49 30 6147730, www.henne-berlin.de, reservations are a must and can be made on the website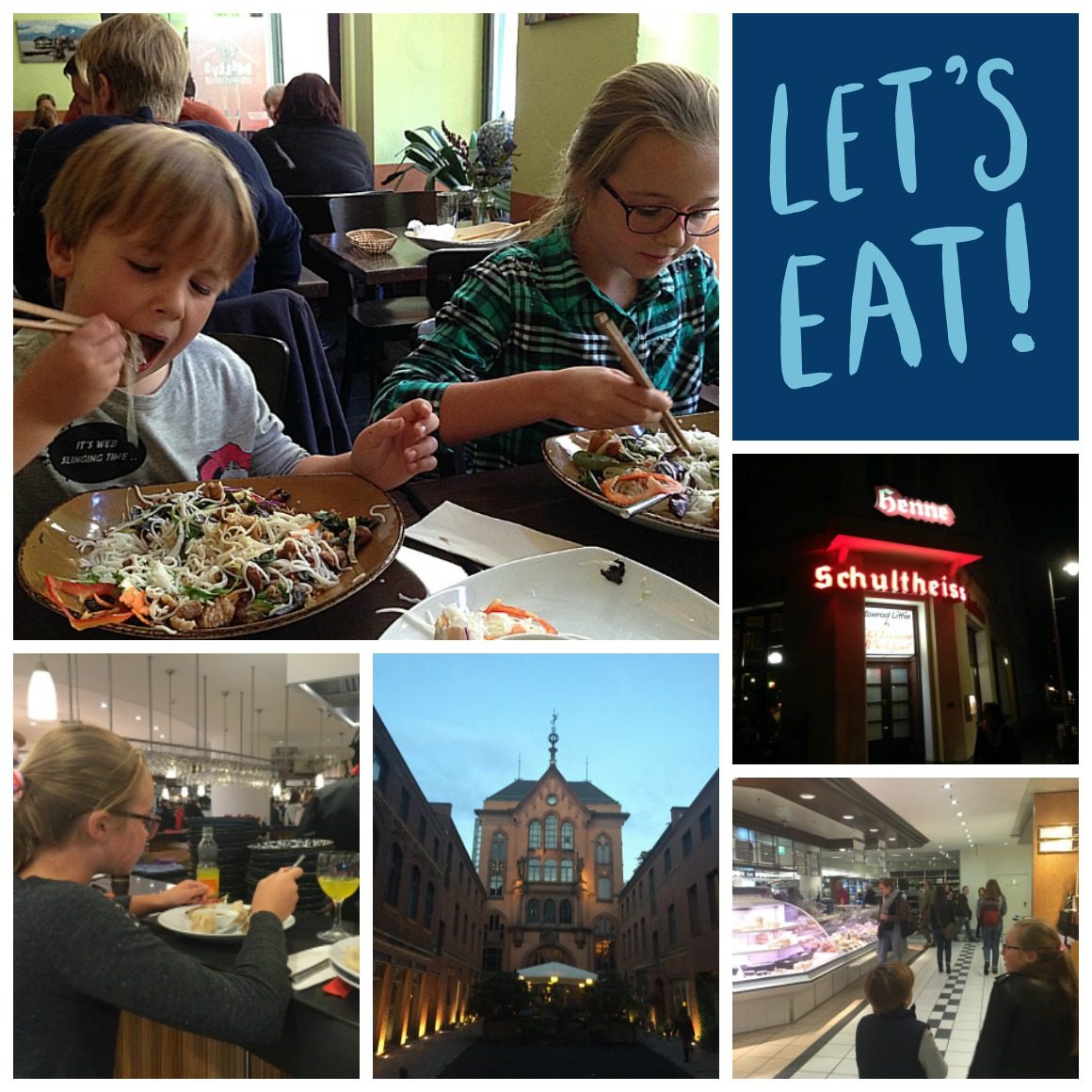 KaDeWe
The Kaufhaus des Westins, known as the KaDeWe, is the largest department store in continental Europe, so it's an important stop on the itinerary for anyone wanting to do some serious shopping in Berlin.  Even more importantly for us, the KaDeWe has a food court that covers its entire sixth floor!  Every corner, nook and cranny of this floor is filled with gourmet foods, wine, chocolates, meats, seafood, cheeses, and lunch counters for any taste.  We sat down at a counter serving Chinese food and ate some noodles and dim sum that were prepared right before us.  Then we moved on to shop for some sweet treats after lunch, all while ogling all the other foods on display.  Other lunch options include an oyster bar, a fish bar, a sausage bar, a pasta bar, a cheeseburger counter, and more.  This is a maze that is really fun to get lost in at lunchtime!
Tauentzienstraße 21-24, Schöneberg, +49 30 21210, www.kadewe.de
Katz Orange
We chose Katz Orange for our "nice" dinner out while in Berlin.  Katz Orange is tucked away in a courtyard off of Bergstrasse in Berlin Mitte, and we looked forward to a special meal as we approached its illuminated brick façade at dusk.  The interior is at once cozy and chic, and we were fortunate to be seated at a table in a little niche with a window overlooking the outdoor terrace.   The menu is really conducive to sharing family-style, which is perfect when eating out with children.  The signature slow-cooked meats are as good as they sound (the short ribs are highly recommended), but we loved the "home cooking with a twist" side dishes even more.  The menu included craft cocktails for the adults (sometimes a difficult find in Germany, where the focus is usually on wine and beer) and fun sodas for the kids. Members of the wait staff were super friendly and chatted up our kids while offering us great suggestions both on and off the menu.  Mom and Dad even ended up with an off-menu homemade hazelnut schnapps to cap off the meal.  We could not have had a better night at Katz Orange – if only we could transport it to our neighborhood!  Alas, we'll have to wait to visit again on our next trip to Berlin.
Bergstraße 22, Mitte, +49 30 983208430, www.katzorange.com, reservations are recommended and can be made on opentable.com
---
Planning a visit to Berlin? Pin this for later!