My 4-year-old son, Harry loves reading books and watching movies featuring wild animals.  On our recent vacation to Miami I surprised him with a VIP tour of Jungle Island so we could go wild with his favorite exotic animals.  Our first visit to Jungle Island and our VIP tour couldn't have been better!  We were escorted around the park by Ryan, a most seasoned guide who grew up at Jungle Island helping his mom take care of the park's famous orangoutangs. Ryan was incredibly warm with Harry and knowledgeable about all of the park's exquisite wild animals. With each animal encounter, Ryan taught us so many interesting facts and kept us learning throughout our VIP experience.  The personalized tours are extremely popular at the park.  VIPs vacationing in Miami including visiting royal families from around the world and celebs like Hayden Panettiere, David Caruso, and Beyoncé flock to Jungle Island to experience the private wild animal encounters with their families year after year.
Here's why the Jungle Island VIP Tour is #nottobemissed in Miami
Pet the Legendary Andean Condor's Collar for a Lifetime of Good Luck: Legend says that petting the white collar of a Andean Condor will bring you good luck for life! Only one lucky VIP tour guest a day will have the thrilling honor of petting  Señor Jefe the Andean Condor's collar at Jungle Island. Guests from around the globe visit to pet the soft white fur collar in hopes of a lifetime of good luck.  I was amazed at how brave Harry was to pet the enormous bird's collar. Crossing my fingers that the legend rings true and Harry has a lifetime of good luck!  Ryan shared a few incredible stories of visitor who had experienced amazingly good luck just days after petting Señor Jefe's collar.  I'm a believer!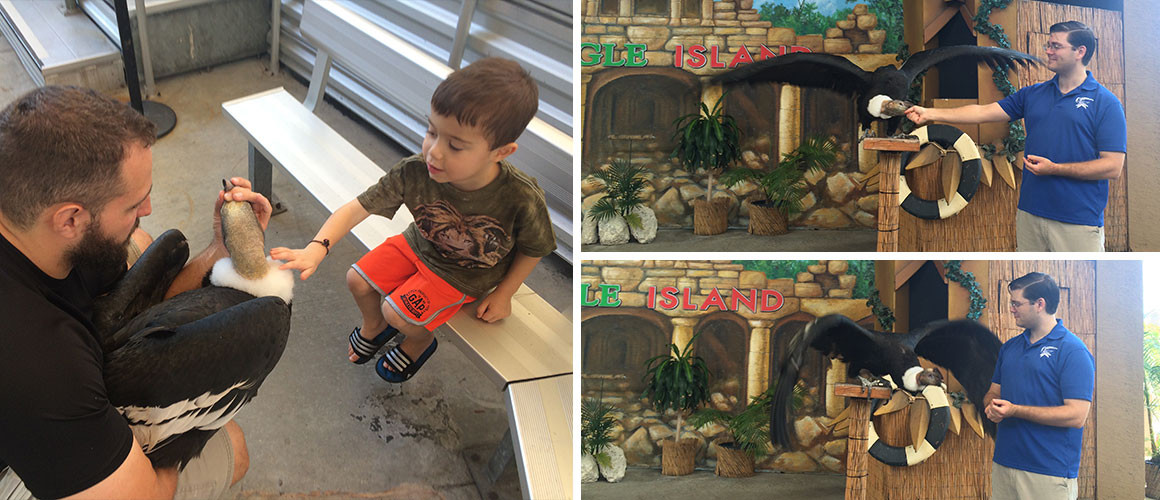 ---
Meet the Endangered Lemurs of Madagascar:
Harry loves the movie Madagascar and the famous Lemur King Julien. However, we learned from Ryan that in Madagascar there would never actually be a King but instead perhaps a Queen Juliana.  Females Lemurs dominate the males in all circumstances.  We had the good fortune to play with Queen Daisy and her pals.  The Lemurs were so soft and friendly bouncing all over us and loving the grapes we fed them!  Harry was so excited by the lemurs jumping around the room and onto our heads.  This experience was awesome!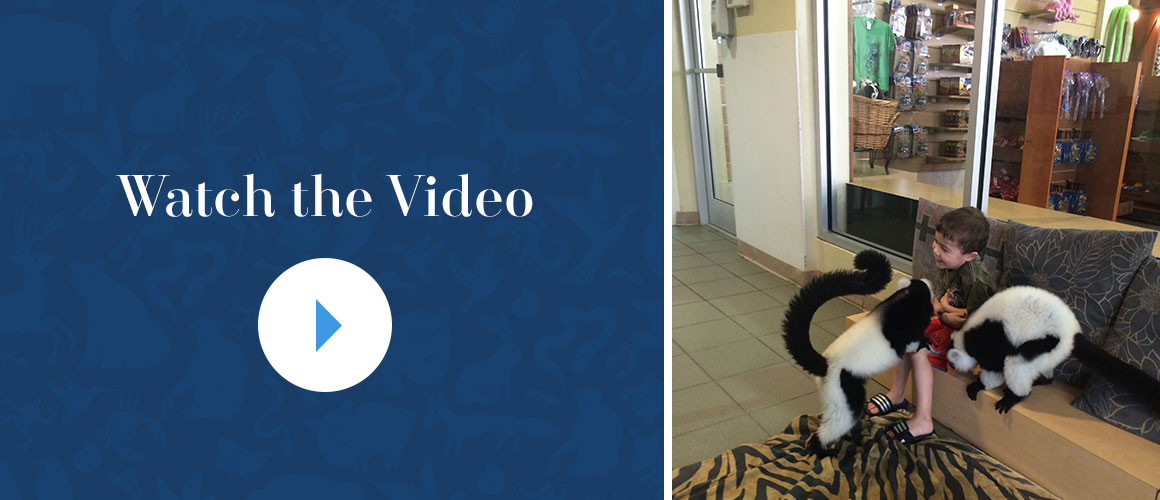 Feed the Kangaroos: What a treat to go into the Kangaroo habitat and feed them grapes!  Ryan warned Harry that Kangaroos would be welcoming as long as we don't jump around which they would consider an invitation to box!  We were careful and the kangaroos were very soft and sweet eating grapes out of our hands.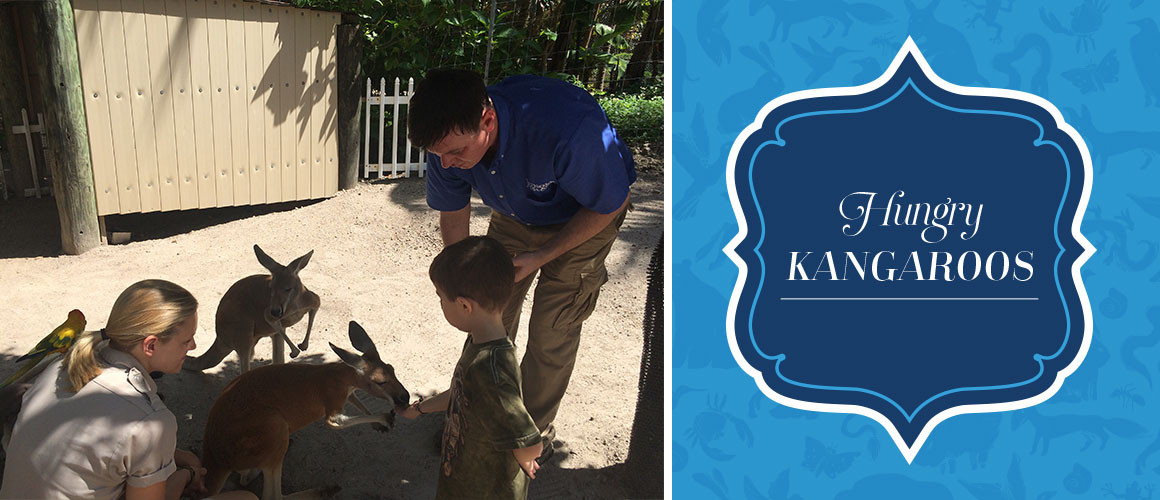 ---
Feed the Giant Island Turtles:
Harry loves turtles so feeding 2 giant island turtles both over 100 years old was a highlight for sure!  Harry bravely held out a large cucumber and the giant turtles would take big bites.  The turtles were patient and allowed us to pet their wrinkly necks.  Harry was in heaven!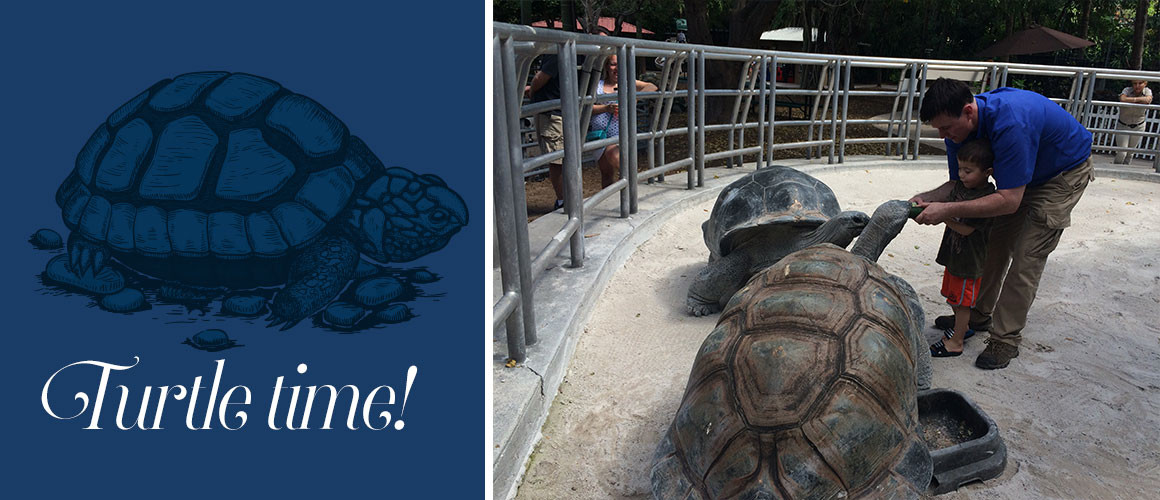 ---
Play with Sparkles the monkey: 
Harry still talks about the excitement of having a monkey bounce around the room jumping on our heads and snuggling us.  He loved Sparkles!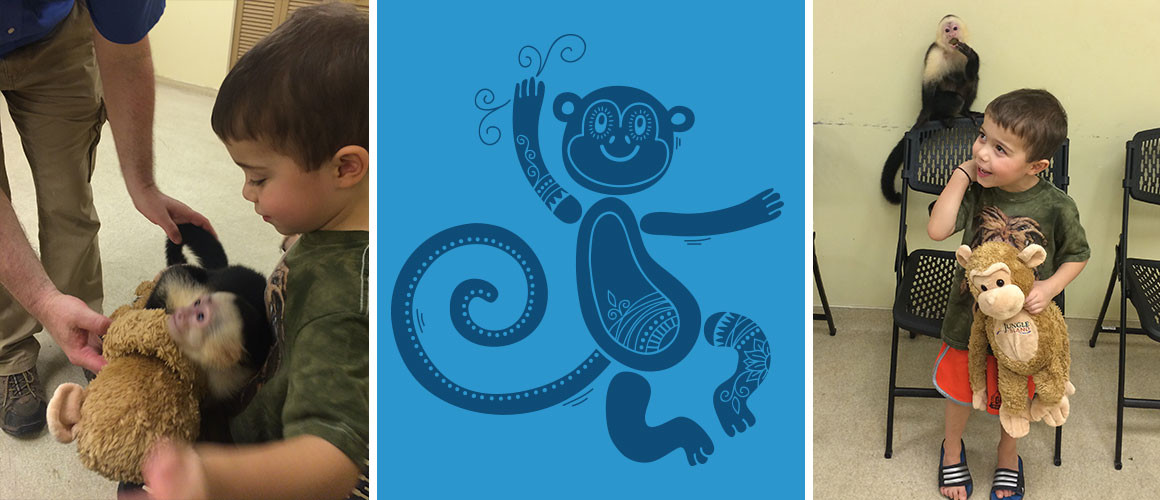 ---
Get up close and personal with snakes, turtles & alligators:
Throughout the parks there are many opportunities to take photos holding snakes, alligators and turtles.  Still amazed that Harry put snakes around his neck but then again what little boy wouldn't think this is the coolest thing ever!?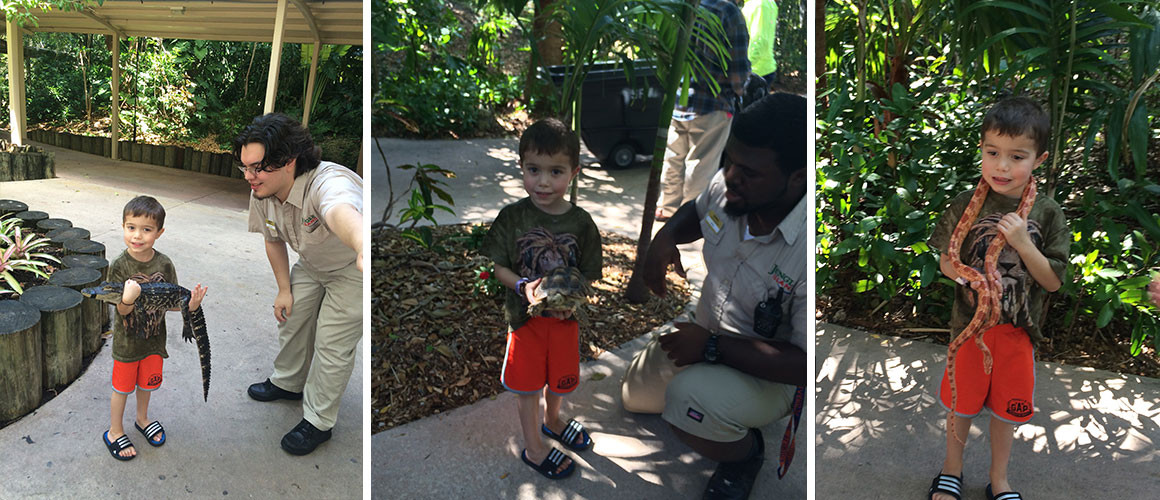 ---
Play with the goats and the turtles:
We visited the petting zoo area where baby goats and lots of turtles play together.  We couldn't stop laughing about how the baby goats would stand on top of the turtles!  Harry fed the baby goats with bottles and spent lots of time petting the turtles.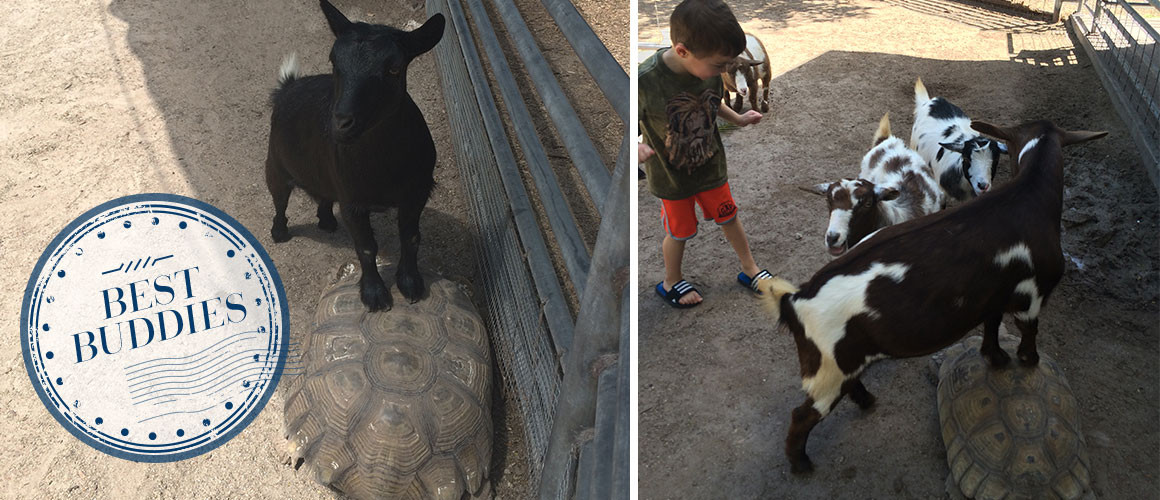 ---
Feed the Birds:
Jungle Island is home to exquisite tropical birds that can be seen around every twist and turn while exploring the park including Jimmy Buffet's own parrots.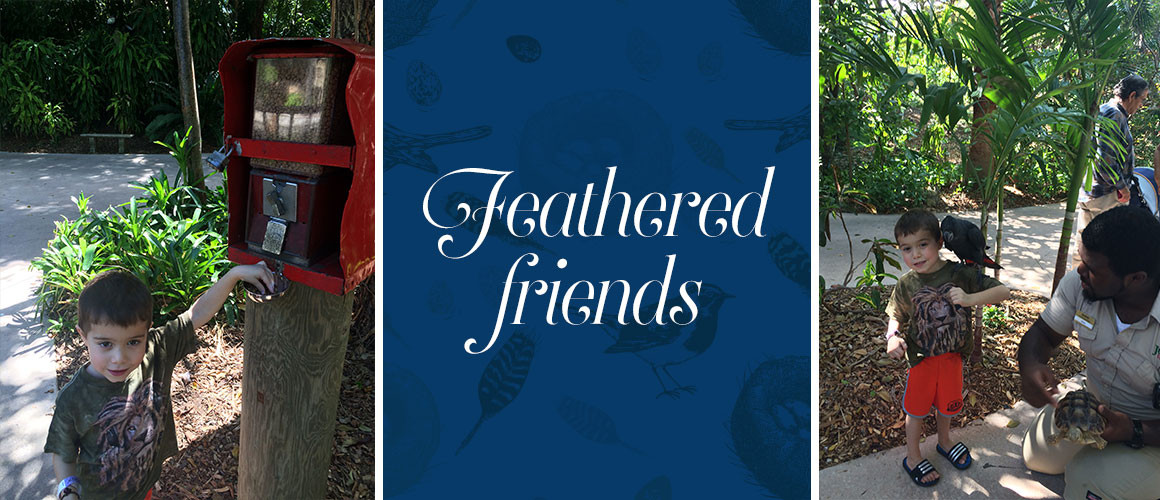 Harry loved putting quarters in for bird food and feeding the gorgeous exotic birds.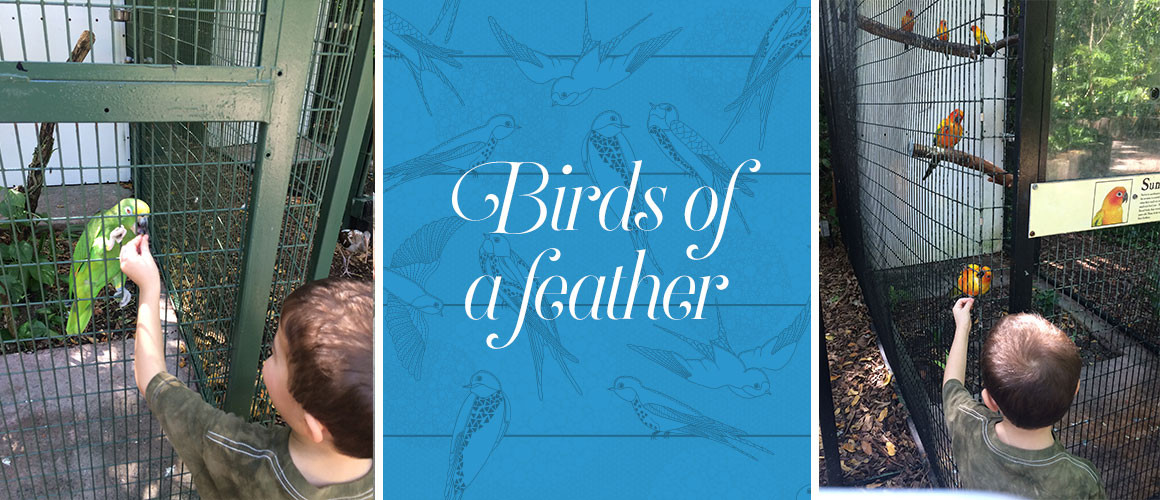 Our VIP tour was sensational and lasted about 3 hours. The unforgettable experience and our fantastic guide, Ryan, completely exceeded my expectations for our visit. VIP tours range in ticket price from $300-$700 per person and are absolutely worth every penny for the up close animal encounter experiences offered. I would absolutely recommend booking a VIP tour at Jungle Island to any animal lover headed to Miami. If the VIP experience price is a little too high for your pocket book, then just visit Jungle Island on a day pass and enjoy outstanding shows, opportunities to feed the animals, and take some unforgettable photos with birds and reptiles.
We were guests of Jungle Island for purposes of this review. As always, I give my honest opinions no matter who is picking up the check.