Before you embark on your once in a decade trip to Walt Disney World (which, a few weeks later, will morph into a "we should go back to Disney World next year" discussion), the first thing that 99 percent of the people will tell you is that you must visit "It's a Small World." Immediately following that unsolicited directive (as if you didn't already know that you should experience this ride), without even letting you get a word in, that same person will segue into his or her own personal memory of perhaps the most famous attraction at Disney World. And I say 99 percent of the people, because every now and then, someone comes along and tells you about a Disney experience that you may not be familiar with, but that is definitely well worth your while. Today, that person is me.
In the words of Will Hunting, "at least I won't be unoriginal" when I tell you that the Hoop-Dee-Doo Musical Revue is the one Disney World attraction that is #nottobemissed. As background, I first heard about the Hoop-Dee-Doo Musical Revue when calling the Disney World hotline (I have no idea what it's really called, but I'm referring to the 800 number that helps with reservations, but isn't really an 800 number), and asking the Disney representative for an activity recommendation that did not involve a character meal. I forget her words, but she somehow described this event as including a campfire barbecue dinner (she had me at barbecue) combined with a live comedy performance that would appeal to adults and children alike (and now the rest of the family was sold).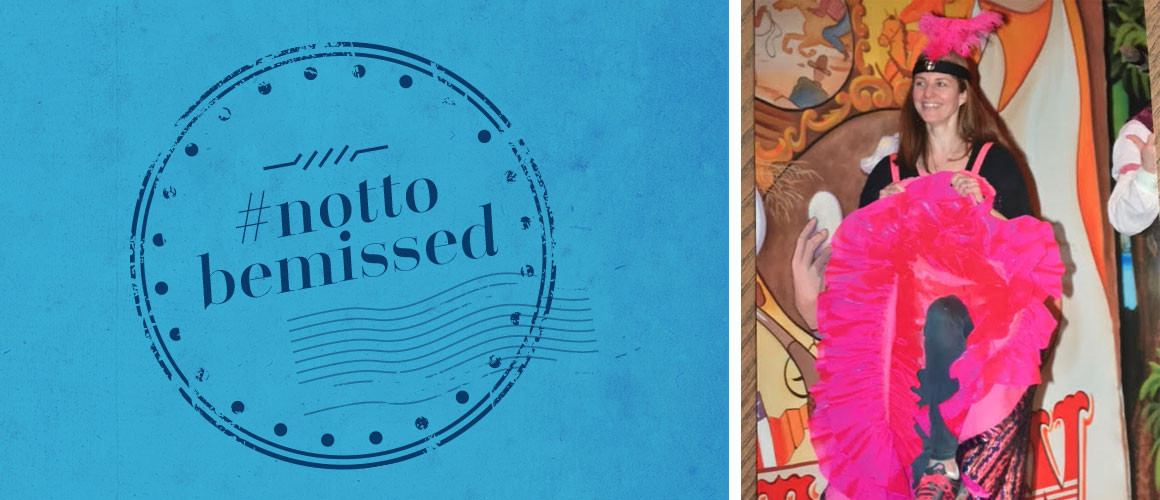 ---
First thing to know about the Hoop-Dee-Doo Musical Revue is that it is not located at the theme parks, but it is located on the Walt Disney World grounds. The performance takes place in a large, almost dining hall-like, room, at Disney's Fort Wilderness Resort. While I'm sure that you can hop on a Disney World bus to get there from a theme park, I recommend going straight from Magic Kingdom as there is a ferry ride that gets you from the theme park to the resort in about 20 minutes (so plan your park visits accordingly). After all, what child doesn't like a boat ride?
Click here to read PACKING THE PERFECT BACKPACK FOR A DAY AT DISNEY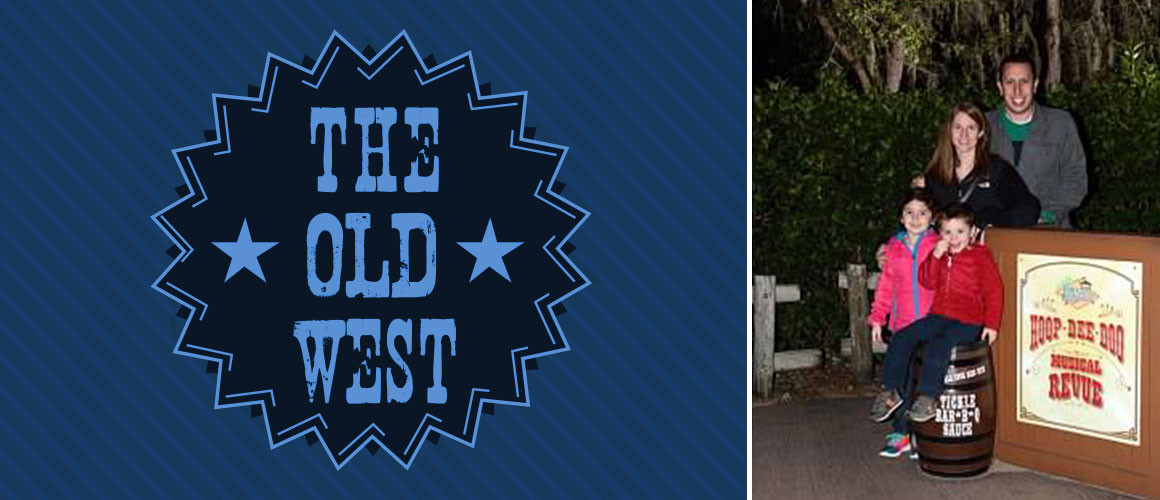 ---
Once you get to the Fort Wilderness Resort, you are immediately thrown back into the well-oiled machine that is Disney World. After your walk from the dock to the resort, which is probably a couple hundred yards, you follow the throngs of people to the outdoor host stand to check in for dinner, get shuffled to a separate line to have your family picture taken by the professional Disney photographers, and then are guided into the dining hall where you are seated at your reserved table. A nice server will come take your drink order (unlimited beer and wine included for the adults, and I'm sure there was juice and milk for the kids, but let's focus on the important things here after a long day of walking around a theme park), bring you some bread, and at some point start slamming metal buckets of food on your table. Yes, buckets are slammed on your table, yes eating with your hands is encouraged (although it may be a little awkward with the mashed potatoes so you can use a fork for that one), and yes the food is actually good.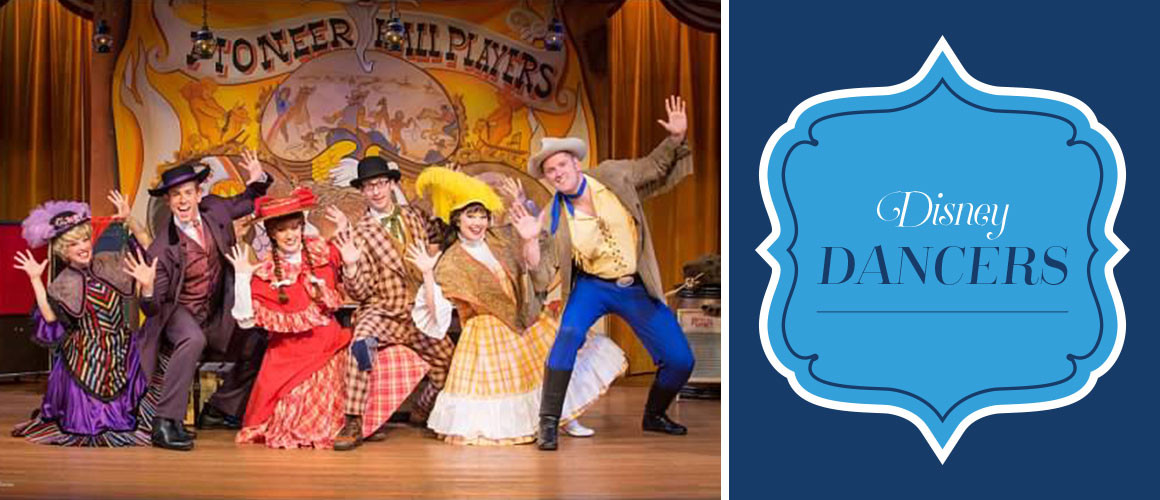 ---
Moving on to the star of the night, the actual Hoop-Dee-Doo show. It's a combination of singing, dancing and comedy, with a ton of audience involvement. It almost reminded me of watching The Simpsons or Family Guy on television, where kids can be totally entertained by the slapstick nature of the show, yet there is also that subtle adult humor that the kids won't notice or understand.
Without giving away all the surprises (as I personally believe that it is better to go into the show knowing less), I will just say that my two kids (6 and 3.5 at the time) sat in their seats for two straight hours, eating, drinking and watching the non-stop entertainment. And you never know, someone at your table may just happen to be called upon by the actors to participate in one of the skits….
Like this post? Pin it for later!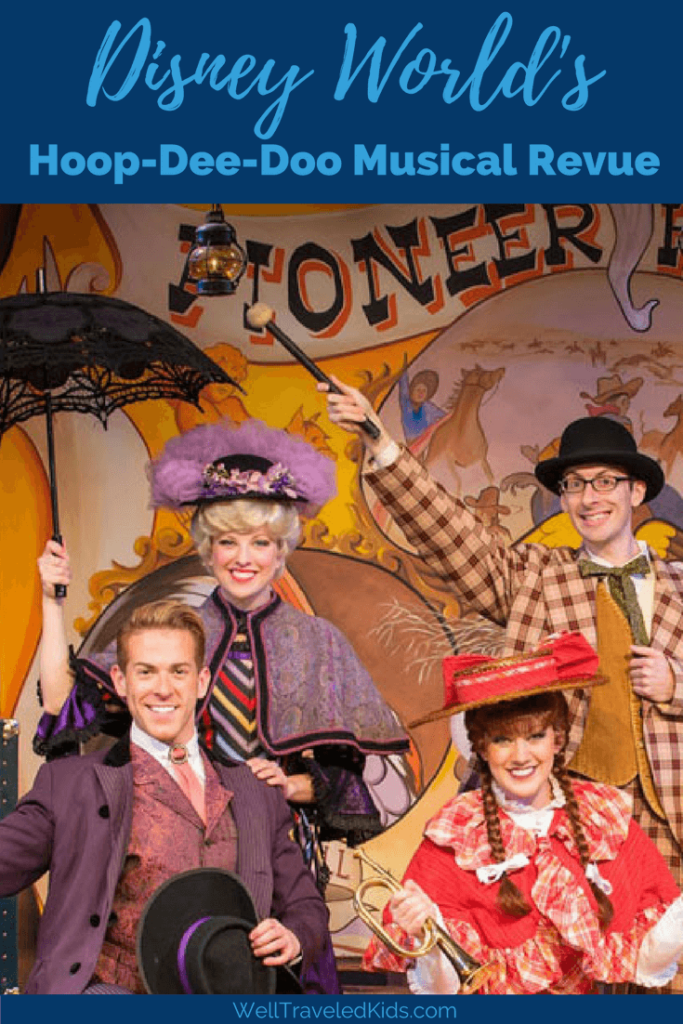 ---
Hero image credit: http://www.mikeandthemouse.com/2014/08/hoop-dee-doo-musical-revue-celebrates.html