Disclosure: I was invited to visit Camelback Resort Poconos for purpose of review. We all had a blast! All opinions are my own.
---
I love to travel for my birthday and always love to pick places where it's easy to have quality family playtime. I also always look for fun family vacation ideas that my kids will hopefully remember. This year, for my birthday weekend we decided to make a splash and visit Camelback Resort in the Poconos! We had so much fun playing together and making memories. It was the perfect way to spend a weekend with the kids celebrating.
Top 10 Reasons to Visit Camelback Resort Poconos with kids of all ages!
Here are my top 10 reasons why you should visit Camelback Resort Poconos with kids of all ages!
---

Aquatopia – #1 Indoor Waterpark
Aquatopia was just rated the #1 indoor water park in the nation by USA Today so we knew it would be awesome. It doesn't matter what the weather is outside – Hot, Cold, Snowy, Rainy – any time of the season you can come here with your family and enjoy this amazing indoor waterpark.
There were so many slides – big and small, a huge wave pool, a lazy river, two toddler splash pads and so much more.   Both Miss M and Mister J had a blast!
The resort is big on safety – which is important to me when going to a water facility with my kids. There were life vests available to use and there were many lifeguards on staff who were all actively paying attention. Miss M was very adventurous and tried her first major water slide. She loved it and went down many times!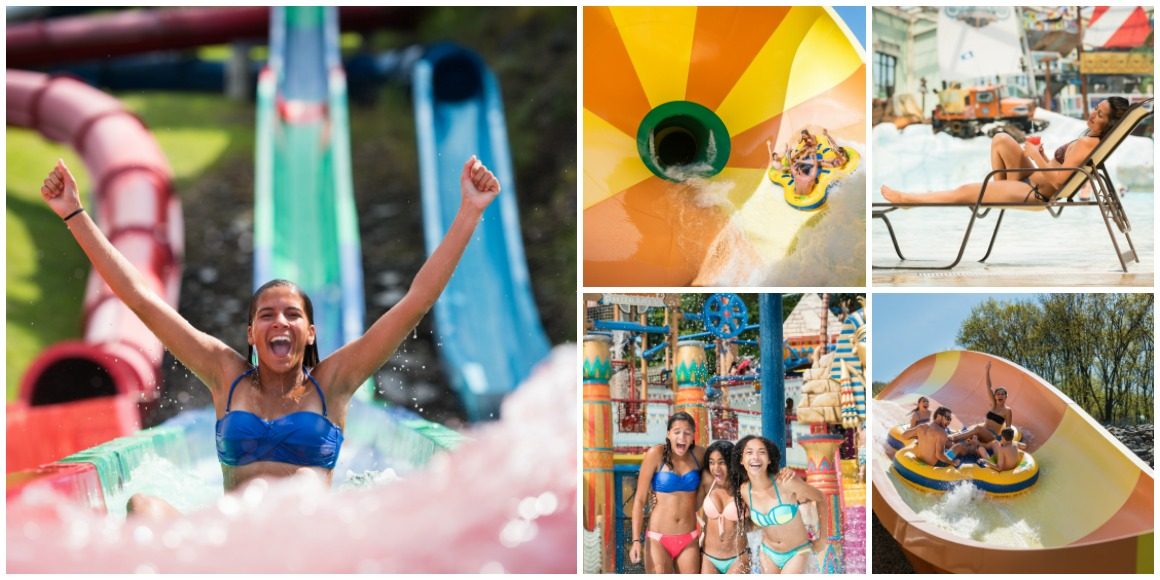 Camelbeach Mountain Waterpark
If you happen to make it to the Camelback Resort Poconos during the summer months like we did, visiting Camelbeach Mountain Waterpark is a must! This outdoor waterpark is packed with fun.
Pharaoh's Phortress was a blast. Smaller slides for our almost 3 year old, Mister J, and the climbing structure provided tons of entertainment for Miss M as well. Just watch out for the water when the big bucket gets full! Both kids loved the Blue Nile Adventure River (lazy river). I'm not sure how many times we went around! Once again, the wave pool was a hit!
Food for Everyone!
Let's face it, good food is an important part of any great vacation. It was perfect that were many different choices here for food. Hemispheres, a buffet, had many different choices for breakfast including an omelet station which the kids really enjoyed.  Something for everyone.
We had dinner one night at Trails End Pub. The dinner was delicious especially the roasted chicken. So were the drinks! They also made a cake for my birthday – which made it extra special.  
In our family, we have a dairy allergy. Every food staff member was knowledgeable and accommodating, which makes traveling so much easier.
Graffiti Pizza was a great choice for lunch. It is located just outside of Aquatopia. When the kids were hungry after the indoor water park we hopped on over to Graffiti Pizza. They even had a graffiti artist come and match the décor to the name.
Inside the restaurant, there was a chalkboard where kids come every day and graffiti the board to match the rest of the restaurant. Miss M and Mister J participated and added their artwork.
Berrelli's Italian Kitchen, an Italian Family Style Restaurant, will open later in the summer. We will have to check this one out next time were are at Camelback.

Kids Check In to Fun at Camelback Resort Poconos
There was a separate kids check in – which Miss M and Mister J had to stop at and re-check in almost every time we headed to the lobby. They were able to write "Greetings from Aquatopia" postcards to friends and family back at home.
Every morning at 9am there is donut decorating. Delish! And every evening from 6-8pm there is T-shirt and Pillowcase decorating.
For those late-night families there are movie nights and treasure hunts through an app throughout the resort – both begin at 7pm.
Everyday at noon there is a balloon guy who can make all different types of animals and other fun things. There were so many activities that we couldn't try them all in our 2 day stay. We will have to do more next time!
Amazing Staff
The entire staff from Front Desk to Housekeeping to Food Service to Lifeguards were amazing. They were all nice and courteous. Always saying hi, smiling and interacting with the kids.  
Mini-Golf
We played this twice in one day… yes twice – Miss M & Mister J loved it so much! It was a nice break to do something different in the afternoon.
There were other activities such as the climbing wall and the indoor ropes course. Next time we come back, the kids will be bigger and will be able to participate in these and other fun activities like zipline.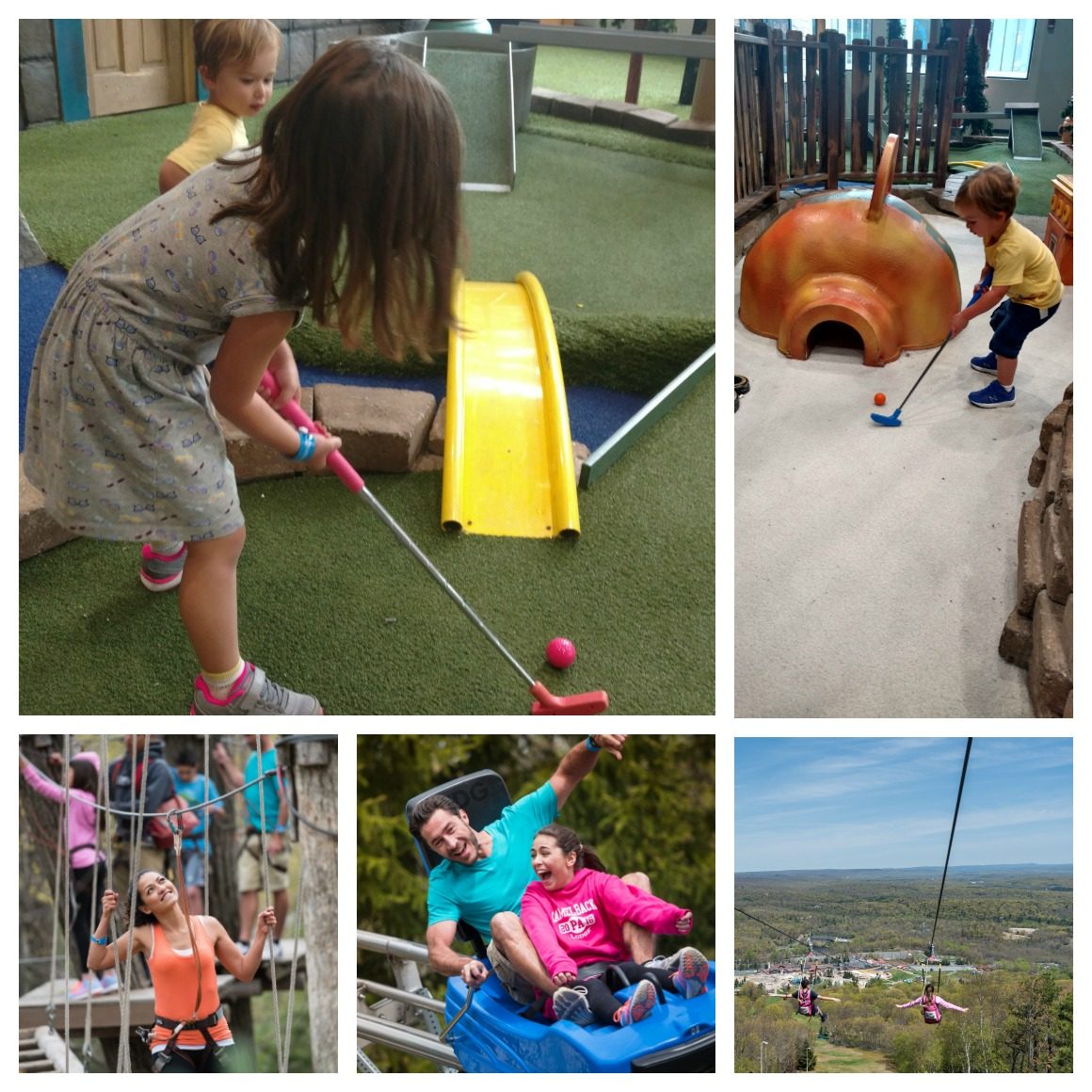 Mommy & Me Spa
Miss M and I had an amazing experience at Camelback Resort Poconos Serenity Spa. We did a Big Me – Little Me, Manicure & Pedicure Package. Miss M had a child sized robe and a huge smile on her face the entire time.
They did a chocolate foot masque for Miss M with a marshmallow lotion to finish it off.  The staff was very good with her and her non-stop talking about how much she loves getting her nails done, how much she loves massages and the beautiful view of the mountain.  She still has not stopped talking about having chocolate on her feet. She thinks it's the funniest thing ever!
Kids Hike
They started with a craft. Miss M and Mister J were able to decorate their own explorer vests to prepare for their kids' hike. Each child was handed cards that had pictures and names of different types of leaves.
During the hike the staff asked questions and had the children guessing which tree they were looking at. We even saw a snapping turtle along the way!  At the end they made "trail mix" with pretzels, cheerios, animal crackers and marshmallows. Yum! Mis M and Mister J love nature so this was a ton of fun!

Arcade
There was a large arcade which had many (over 100) games for both the young and not so young anymore! There were iconic and newer games such as skee-ball, car racing, connect 4, monopoly and batman. The best part is that the kids got to pick out prizes from the tickets they won from each game!
Other kid activities during holidays
During the holidays Camelback tries to make it extra special. For Easter, they have an Easter egg hunt -in your room. At Halloween they have special bags to make for the kids and have trick or treating throughout the resort as well as a Halloween haunted house. For Christmas there are special holiday themed crafts. The staff puts in a lot of effort to make it special for kids. It definitely shows!
---

We can't wait to try the luxurious new Kartrite Hotel & Indoor Waterpark Next!
Staying at Camelback Resort in the Poconos was a blast. The kids had so much fun. There was always something to do which made for great family playtime.
We are already planning our family adventure for next summer. There is a new resort by the same team that owns Camelback, The Kartrite Hotel & Indoor Waterpark, opening up in the Catskills in New York.
Kartrite will be a luxury indoor waterpark and lodge. Typically, kids drag their family to a waterpark. This new resort will be where parents will want to drag their kids to. From the renderings that I have seen the waterpark will be vegetation rich and the all-suites hotel will have a beautiful modern décor.
Camelback Resort was a wonderful customer experience and The Kartrite is expected to be even better!  The kids had so much fun at Camelback Resort. I even got "this is the best day of my life" from our 5-year-old, Miss M.  We cannot wait for The Kartrite to open and to book our stay in 2019 so that Miss M can have a new "best day of her life"!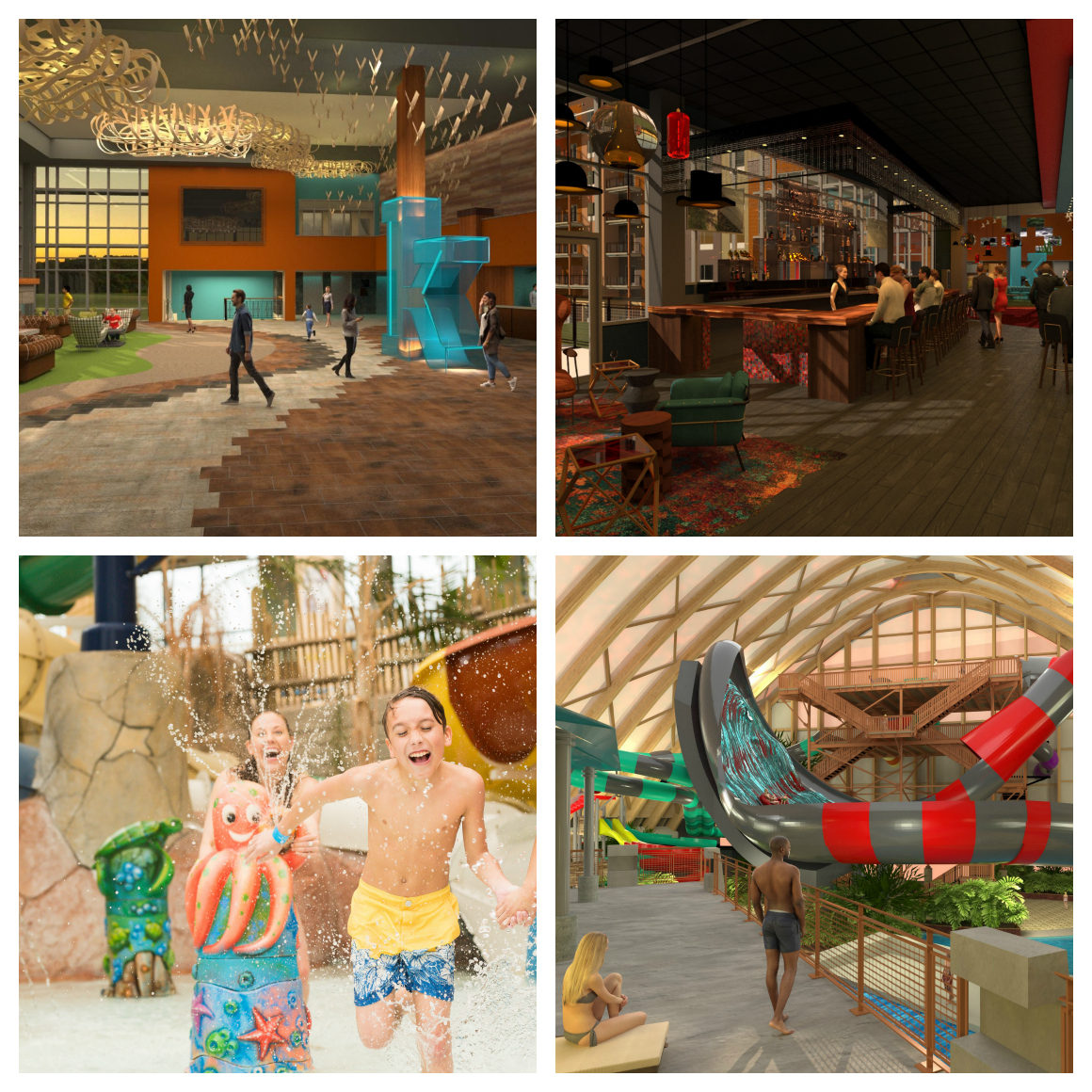 ---
Photos courtesy of The Camelback Resort and Kartrite Hotel
Like this post? Pin it for later!