---
I get so tired of hearing , "You really don't spend a lot of time in your cabin, so it really doesn't matter what kind of cabin I get."  This is such a misconception.  The fact is this is your home for however long you'll be cruising, and yes, you do spend a good amount of time in the cabin.
On a cruise, many different types of cabins exist.  A general way of defining cabin types are: the inside, the outside, the veranda, and the suite.  Cabin selection is a personal preference, but many times it is also an economic choice.  Many folks are very specific in cabin type and location, while others are trying to get the most for their money.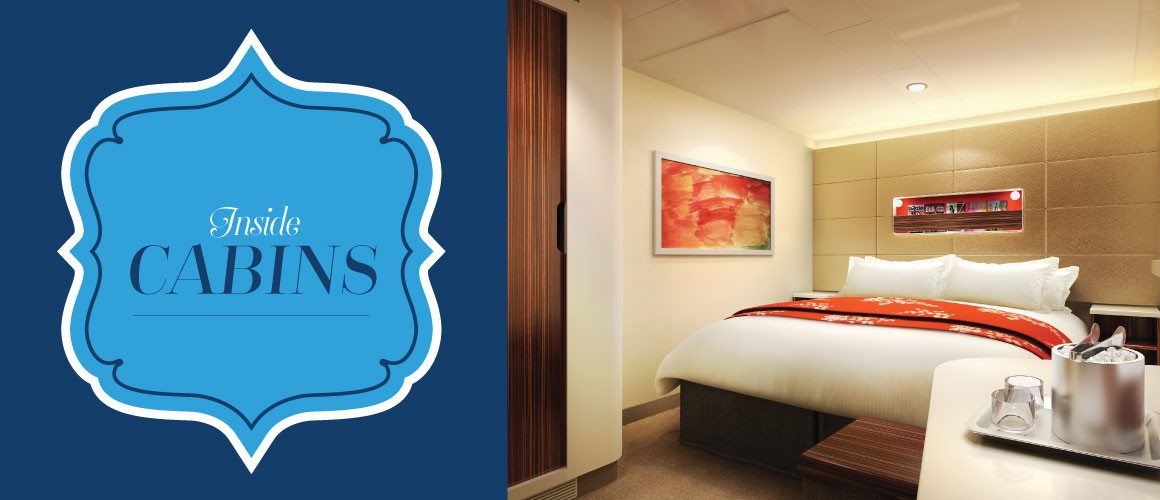 Inside cabin: Inside accommodations are generally the most inexpensive cabin category.  In the past, inside cabins were the smallest and most undesirable  Today, these cabins are sized similarly to the outside cabins and offer the same amenities as other cabins.  Surprising to many, is that on some lines such as Royal Caribbean, NCL, Disney and Cunard, inside cabins with a view do exist.  These cabins may not look out to the sea, but they have a window which look into some special parts of the ship.  For example on many Royal Caribbean ships, these windows look into the Royal Promanade.  When a cabin doesn't have a window, a decoration or a curtain will take the place of the window.  No daylight is seen in a cabin without a window.  A selection of different sized cabins are available, including large family inside cabins with a separate space for the kids.  All inside cabins can be had as quads for a family of four, or interconnecting cabins where a double and a quad can be connected with a door.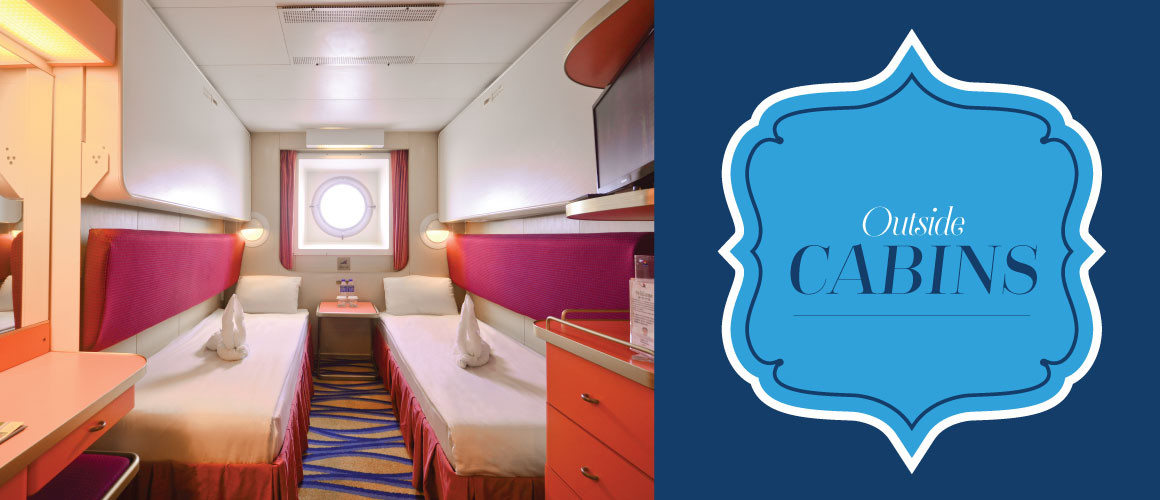 Outside cabin: The outside or ocean view cabin is another economical choice, but is more expensive than an inside.  The cabin faces out to the ocean with a porthole window or a large picture window.  The window gives a view of the sea with light during the day and starlit darkness in the evening.  Some lines, such as Disney, even offer cabins with large round windows containing a seat.  Many parents feel safer, not having a balcony with little kids, from a peace of mind perspective. Just like the inside cabin, the outside cabin has a selection of sizes and shapes including the family outside cabin, the interconnecting cabin, and the quad cabin.
Veranda cabin: The veranda is the most popular choice when selecting a cabin.  Most newer ships are actually composed of more than 80-90% of Veranda Cabins.  A veranda cabin is basically a cabin with a balcony, allowing the passengers to have their own private exterior space.  Depending on the ship, the balcony may have chairs and/or chaises and a table.  The balcony railing is usually very high, preventing it from being a hazard to children.  Many parents like the private balcony, for the fact, that the parents can go out on the balcony when the children go to sleep.  Some lines have different levels (perk levels) of balcony cabins.  A good example would be Celebrity, who has Concierge Class and Aqua Class.  These are the same size balcony cabins, but offer suite like amenities, without the suite cost or size. Similar to the inside and outside cabins, there is a wide selection of balcony cabin sizes and shapes  Some lines have some wonderful non- suite family veranda cabins with multiple rooms.  All veranda cabins are available in the quad and interconnecting variety.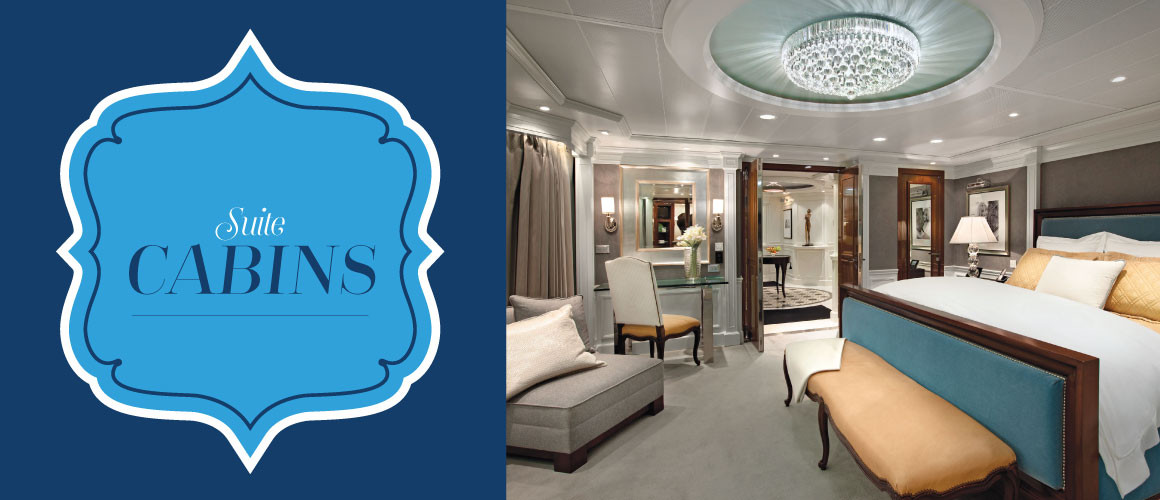 Suite: Living in style is the suite life.  There are junior suites, which are larger veranda cabins, and then there are multi room suites, which have, one or two bedrooms, and then there are the multi leveled suites.  Suites are much costlier than any other accommodation. Suites may include a butler, may include complementary alcohol, may have larger veranda, may have large bedrooms, and may make the family cruise experience much more comfortable.  Some lines now have the multileveled suites where the kids can stay on one level and the parents stay on another level.  Some lines also have special dining room for suite passenger.  The cruise suites are like a small condo at sea.  NCL even has an area called "The Haven" which consists of a private area of suites and the suite passengers have their own pool to share.  Suites can be interconnected to other cabins and some can accommodate 12-16 passengers.
Secret cabins: Secret cabin exist, which are referred to as hidden gems.  Some examples are: Disney has the category 8A "mini suites" on the Fantasy and Dream.  Theses are regular outside family staterooms, which are double in size to a regular stateroom and have sit in portholes.  Royal Caribbean and Celebrity have "hump" cabin which have balconies that are twice the size.  The best way to ever find out about these hidden gems is to have a qualified, well educated cruise Travel agent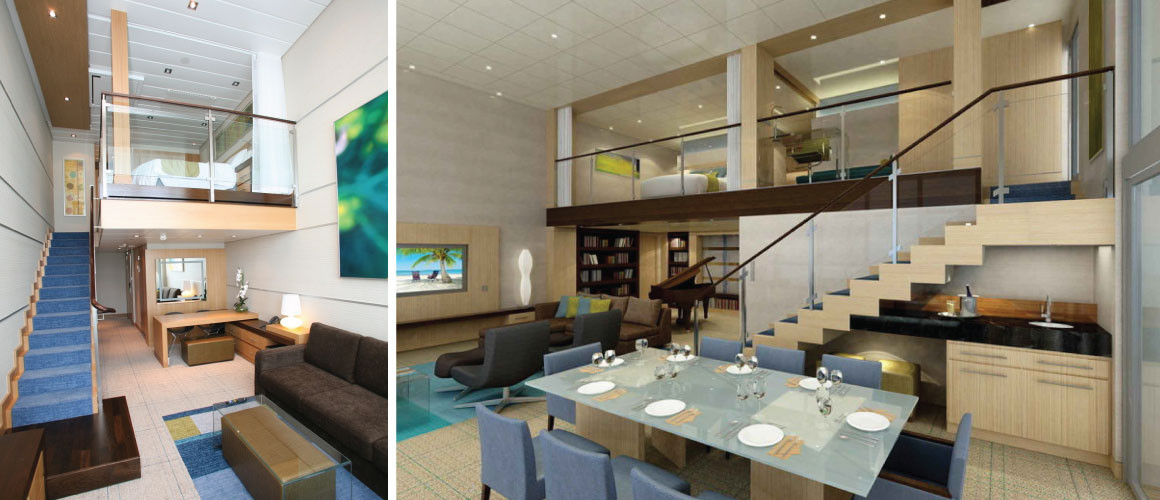 Location of cabins: Everyone seems to have their own opinion on cabin placement.  Remember, you are on a boat, so it is going to rock.  The least amount of movement will be smack dab in the middle of the ship at the ship's lowest point.  This would be in an interior cabin, and again there is no guarantee that motion is not going to be felt here.  Midship cabins are suggested for those who fear ship movement.  The higher up, sometimes constituents more motion.  The very front and back is probably a bad choice for some one who has sea sickness issues.  In the authors' opinion, there is really no bad choice for cabins.  I have stayed far forward and aft and if the ship is going to roll (ship slang for rocking), you will feel it.
I would be more concerned with what is above and below a cabin, more so than if a cabin is fore, mid ship or aft.  Always try to "sandwich" between two cabin decks, meaning choose a cabin that has a passenger deck above and below your cabin.  Try to stay away from the propellers, the side thrusters, and the anchor.  Also try to stay away from cabins which are below or above bars, restaurants, pools and exercise rooms.  Again, the best way to choose a cabin is to work with an experience cruise travel agent.
Choosing a cabin is an important part of your family cruise experience.  The cruise line representatives are always happy to help, but on many occasions, they have never even been on a cruise, so they do not have first hand knowledge.  Ask a well educated cruiser, or select the well travelled cruise travel agent.  Remember, your cabin is not only a place to sleep, it's your home away from home!
---
Photo Credits: funnytravelvietnam.com, www.starcruises.com, www.royalcaribbeanpresscenter.com, www.islands.com, malcolmoliver.wordpress.com, www.cruiseabout.com.au