Cold Chicago winters can be tough to endure.  So, we try to spend lots of vacation time in warm destinations throughout the winter. My 4-year-old Harry loves boats, and like all little boys, is obsessed with pirates.  When Well Traveled Kids author, Michelle Donaghue, recommended Ft. Lauderdale's BlueFoot Pirate Children's Cruise, I couldn't wait to surprise Harry with a pirate adventure at sea!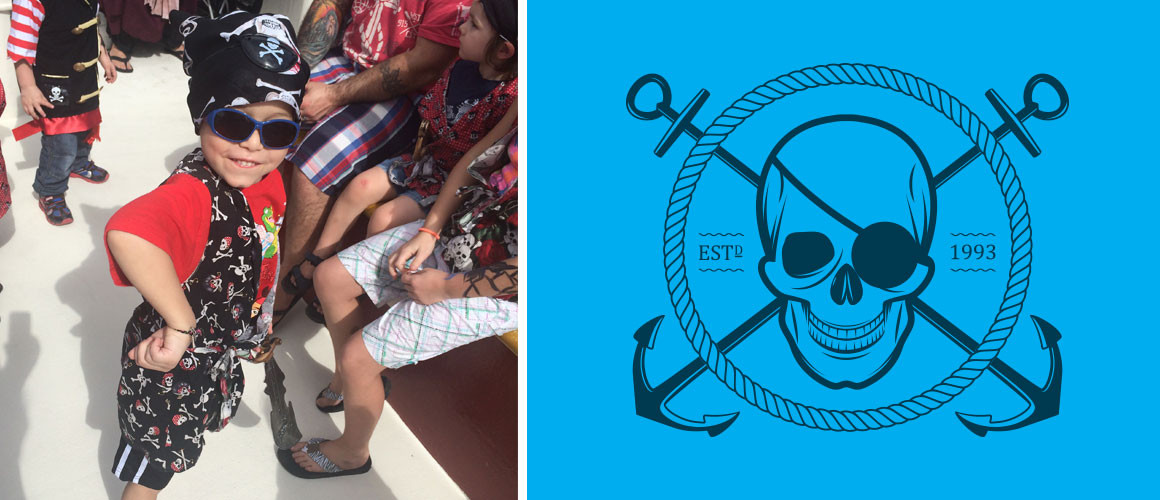 As directed, we arrived 20 minutes early to our hour and fifteen minute BlueFoot Pirate Cruise and were immediately welcomed by Captain Black Sparrow (Captain Jack Sparrow's brother from another mother) who dressed Harry up in a pirate vest and set him up with a pirate pack with an eye patch, pirate sword, and bandana for his head (the pirate pack cost an extra $7.50 but was worth every penny!!)  After Harry was dressed for the part, he met the Pirate Black Rose, who also was face painting and tattoo artist.  Harry requested a skull and crossbones tattoo, which Black Rose quickly adorned on his forearm.  Now he was a true pirate in training!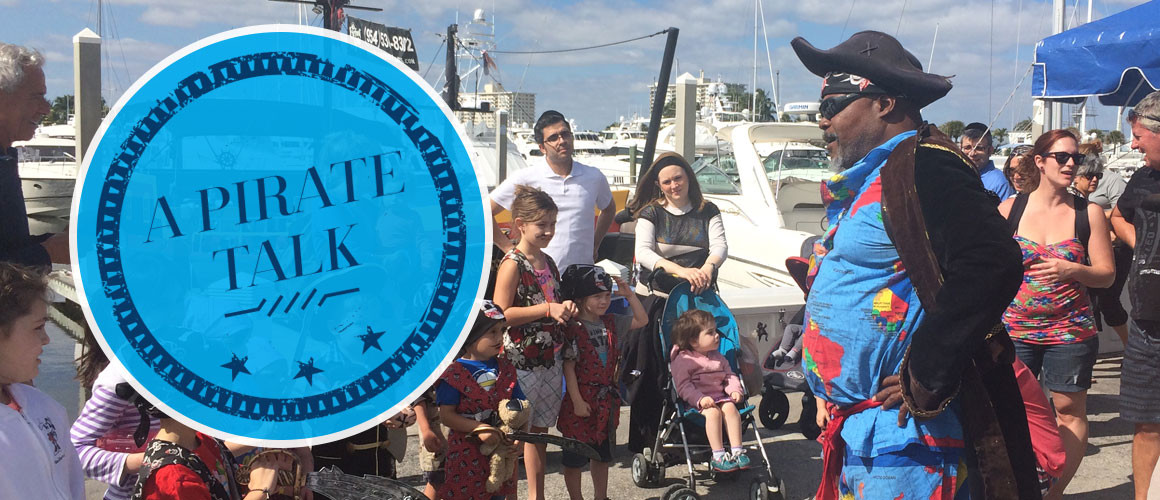 Next, Captain Black Sparrow lined the kids up and shared the pirate ship rules with all the little soon to be pirates, and taught them how to swagger onto the ship.  All of the pirates in training boarded the ship and  sat together at the font of the ship while Black Rose schooled them in the pirate ways and Captain Black Sparrow steered the ship and entertained everyone with his great pirate wit!
Once we set sail for our adventure at sea all of the pirates in training learned some important pirate vocabulary, enjoyed a fun limbo dance, and discovered a message in the bottle that would lead to a lost key that could unlock a pirate treasure chest.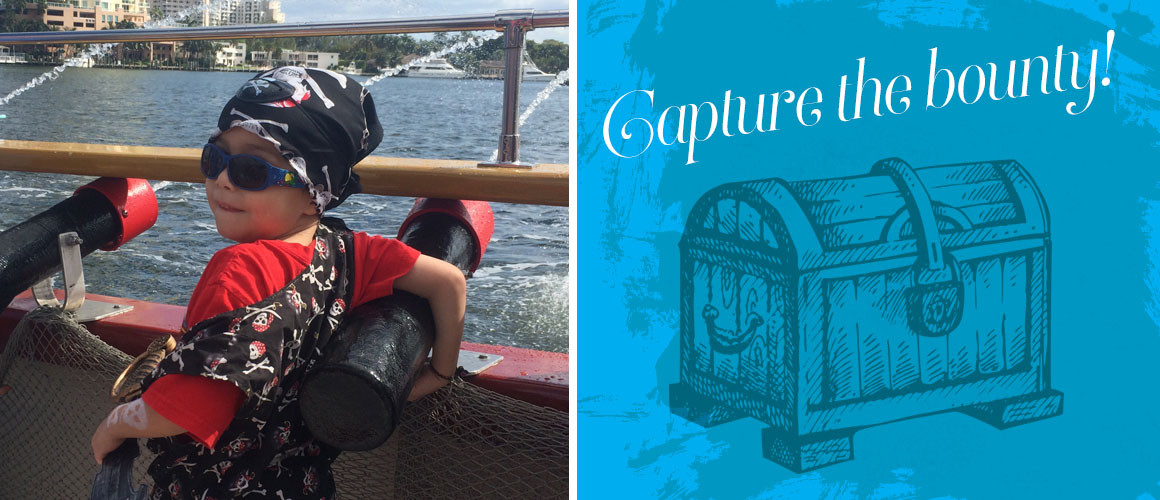 Eventually, when Captain Black Sparrow felt everyone was ready, he had all of the kids repeat the Pirate code and swore them in as official pirates.  The biggest excitement of the cruise was battling the notorious Barnacle Bill with real water cannons, set to the music of "Pirates of the Caribbean."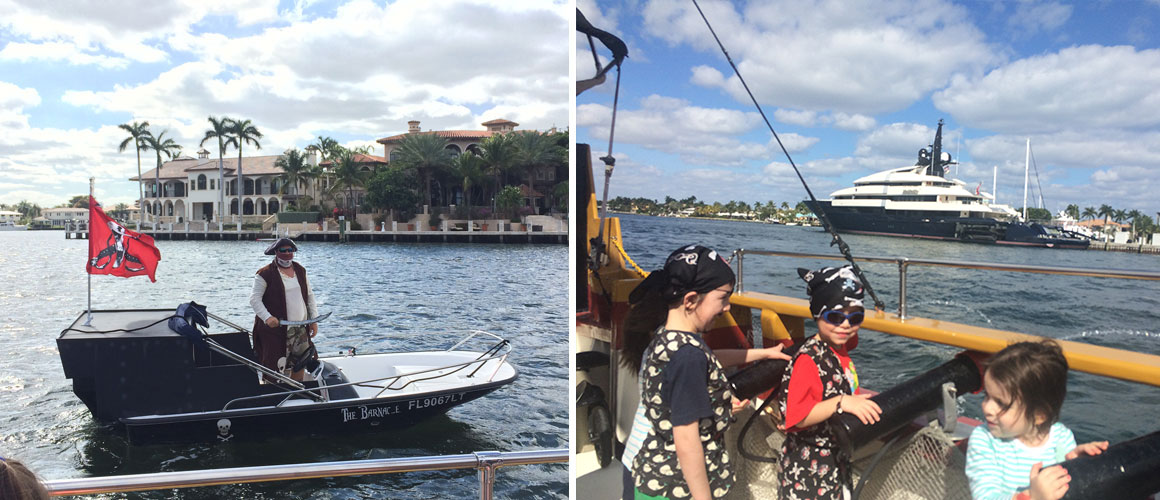 The kids were absolutely thrilled when Barnacle Bill surrendered to them and devastated when he threw his key into the water.  However, Captain Black Sparrow knew how to summon Davey Jones to throw us the key and Black Rose was lucky to catch it when it was tossed back!  The little pirates were each given some pirate booty and an official pirate certificate to remember their adventure.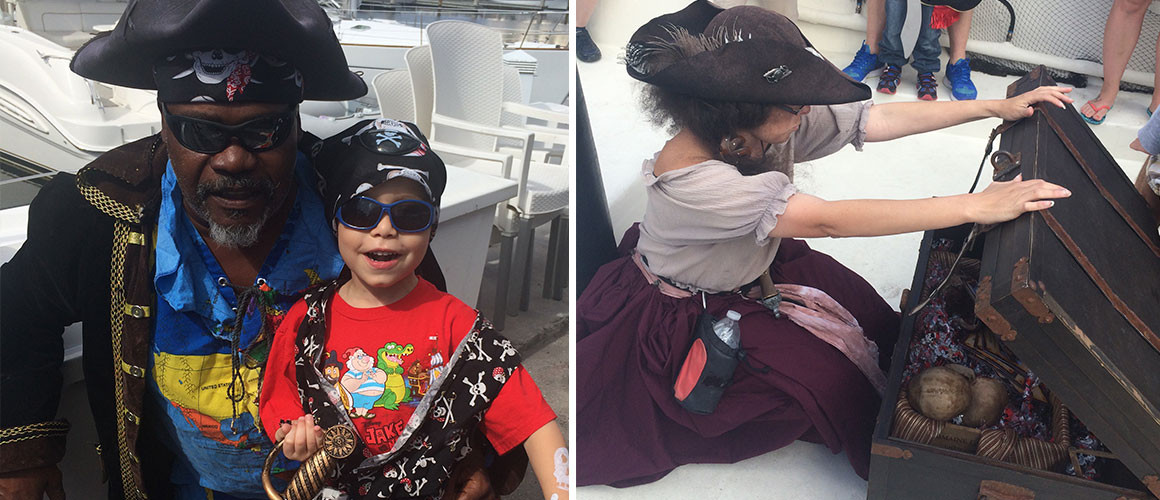 This cruise absolutely exceeded my expectations and I would recommend it to anyone with kids under 10.  At $25 per ticket this cruise is a well done gem!  The crew was fantastic with their story telling and keeping the kids engaged for the entire adventure at sea.  As a parent, I loved the cruise down the Intracoastal on a beautiful sunny day.  Captain Black Sparrow was a hilarious  tour guide and pointed out celebrity homes and yachts to the parents.  He pointed to Stephen Spielberg's Seven Seas Yacht as we were about to pass by.  When we cruised past the yacht the kids had their water cannons going and shooting toward the beautiful enormous yacht.  Spielberg's crew were all out waving to us on our boat, so funny and a memorable moment for me.
TIP: BlueFoot Pirate Family Adventures Cruises book up early.  So book ahead.  When you call to book ask about buy one get one free days when you can get two tickets for the price of one and save $25!
We were guests on the BlueFoot Pirate Cruise for the purpose of this review.  The experience was unforgettably fun and Harry can't wait to go back on our next visit to Ft. Lauderdale because he loved it so much! As always, I give my honest options no matter who is picking up the check. HUZZAH!