My son and I regularly travel with my husband for his business meetings, especially when they are in warm sunny places like Florida and California and it's cold and snowy at home in Chicago. On these trips, we are usually lucky enough to know somebody local who can babysit for my 4-year-old son, Harry, while I join my husband at business dinners in the evenings.  However, on our recent trip to fabulous South Beach, having no local friends or relatives to call on for a favor, I faced the task of finding a babysitting service to watch Harry.  After investigating my options, I hired Sitters In A Second, Inc. so I could join my husband for a few special dinners.
This was my first experience working with a professional babysitting agency while staying in a hotel on vacation.  I did plenty of research in order to feel comfortable, including conducting a phone interview with the agency owner, Christelle Martin. She explained that for more than 20 years Sitters In A Second, Inc. has had exclusive relationships with the top luxury hotels and resorts in South Florida to provide a wonderful babysitting experience to their hotel guests.  Christelle has a well established brand and understands the caliber of sitter that guests of 5 star hotels expect, so security and safety are her brand's top priorities. The Sitters In A Second, Inc. team screens all of the sitters thoroughly, including running a full background check. Christelle requires that all sitters be infant and child CPR certified and have 8 individual-non family member child care references for her to check.  Sitters In A Second, Inc. hires mostly college girls who have extensive experience babysitting and are looking to make some additional cash for school. She wants to give the families who hire sitters a camp counselor type of fun and energetic experience. She requires all sitters to attend an orientation to make sure that each sitter is prepared and is upholding the Sitters In A Second, Inc. brand standards.
The first step in working with Sitters In A Second, Inc. is to fill out an online sitter request.  This form is used to match a family with a sitter and goes beyond just asking you for the times and dates needed.  On my form I included that Harry is allergic to eggs, nuts and pets.  I was thrilled to see how seriously the agency takes allergies when they called me to ask if a sitter had a pet at home would it be ok for that girl to come and babysit? The agency also goes a step further to prevent allergic reactions by not allowing the sitters to bring in their own games or toys for fear of spreading germs and allergens or using cleaning products that might bother a child's allergies.  In addition, the agency works to pair sitters with requests based on special needs, language, and background and doesn't limit what tasks they will allow you to request. For instance, on the sitter request form you can request a sitter that will swim with your child, speak Spanish, or drive them somewhere if needed.  They work to match the experience level of the sitter with the age and needs of the child, for example, pairing sitters with experience with infants to families with infants.
We hired Sitters In A Second, Inc. for two consecutive nights so I could join my husband socializing at his business dinners. Having chatted with Christelle ahead of time, she told me that she was sending one of her most experienced Miami sitters and also a new sitter to shadow her.  Two sitters instead of one … I thought that sounded fantastic!
The sitters reported to the concierge desk a few minutes early each night and were shown up to our room.  They arrived in a professional white Sitters In A Second, Inc. logo polo shirt ready to play.  Harry was thrilled to open the door and invite his new South Beach sitters in for the evening.  Each night when the sitters arrived , they each required that I fill out paperwork with emergency contact information that would grant them emergency medical authorization. I felt very reassured when they requested written instructions for Harry's emergency inhaler should they need it.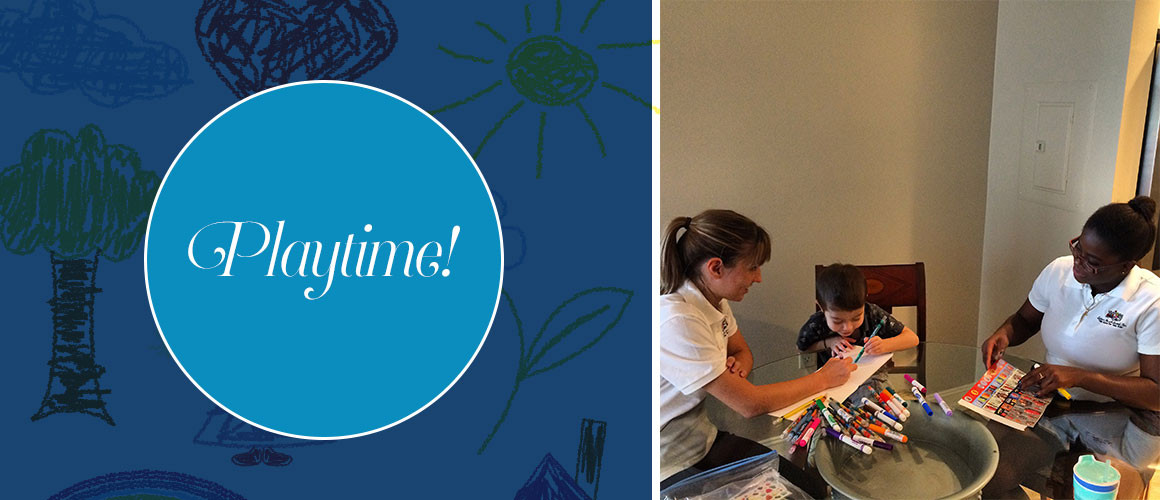 ---
While we were getting ready to go out each night, the sitters kept Harry busy in the living room doing art projects, playing with stuffed animals, and working puzzles. Each evening, while it was still light out, I instructed them take him for a walk down to the beach to collect sea shells. Afterward, as the sun set, I gave them money to take Harry out on a dinner date to kid friendly places near our hotel. I was so happy that the sitters were permitted by the agency to take him out of our room.  I would have hated to have him stuck in a room when he could be outside enjoying the warm Florida air. Harry deserved a fun date night of his own with his two college girls in South Beach!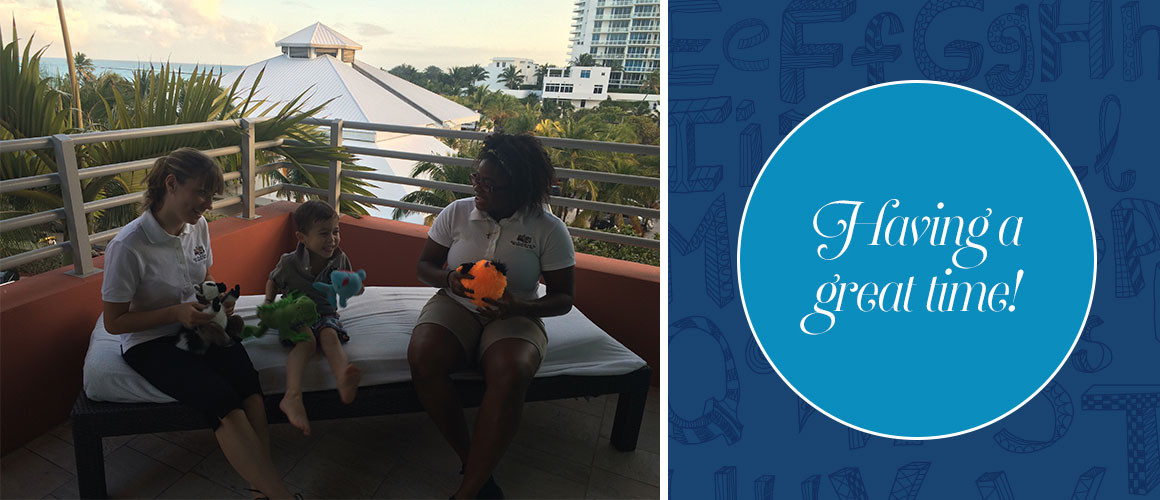 ---
At the end of each night, we returned to the room to find Harry sleeping peacefully in his bed and the suite all tidy with toys, art and games put away. Both of the sitters told us all of the details of the fun adventures they had each night and then asked us to sign off on their final hourly paperwork before heading out.
Each morning Harry woke up excited to share all of the fun stories about playing with the sitters the night before. He loved them both. He was sad to know they wouldn't be coming back for every night of the tip and still asks about when they will visit him in Chicago now that he's home.
Working with Sitters In A Second, Inc. in South Beach was every bit as wonderful as Christelle promised it would be! Knowing that they screen their sitters using the same scrutiny in all the states that they operate in, we will certainly hire them for future trips to Orlando, Ft. Lauderdale, Miami, Palm Beach,  Newport Beach, Palm Springs, and LA. I would absolutely recommend Sitters In A Second, Inc. to friends and readers … and Harry would too!
We received complimentary babysitting from Sitters In A Second, Inc. for purposes of this review. As always, I give my honest opinions no matter who is picking up the check.