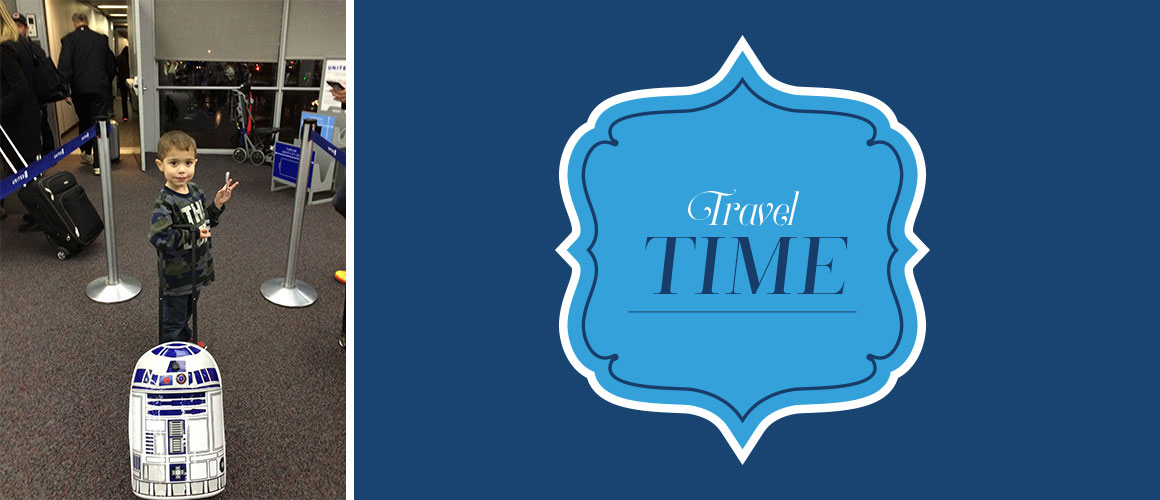 ---
Traveling with a toddler is easiest when you have a well packed bag of tricks to keep them busy. For Harry's 3rd birthday we gave him a Lightening McQueen suit case. He thought it was the best birthday present ever! He absolutley loved having his own bag to drag through the airport and became a pro at lugging it on and off the plane himself.  He wore out his first bag after a year of travels and so this year when he turned 4, he got an R2-D2 bag that he loves even more than his first one.  Harry loves all of the attention he receives from Star Wars lovers at the airport when we stroll through to the gate.  I'm often asked just what is in Harry's R2-D2 carry-on bag when we are rolling through the airport. The answer is that we simply load up as many of his favorite activities as we can so he will be content in the plane, airport, hotel, and throughout our trip. Like most kids, Harry loves time on the iPad. However, I limit his time plugged in by taking breaks and doing other activities. The list below includes our favorites for keeping a toddler content on a flight while being both unplugged  and occasionally plugged in to electronics.  What other recommendations do you have?  I would love to hear your favorite MUST PACK items.  Please comment and share!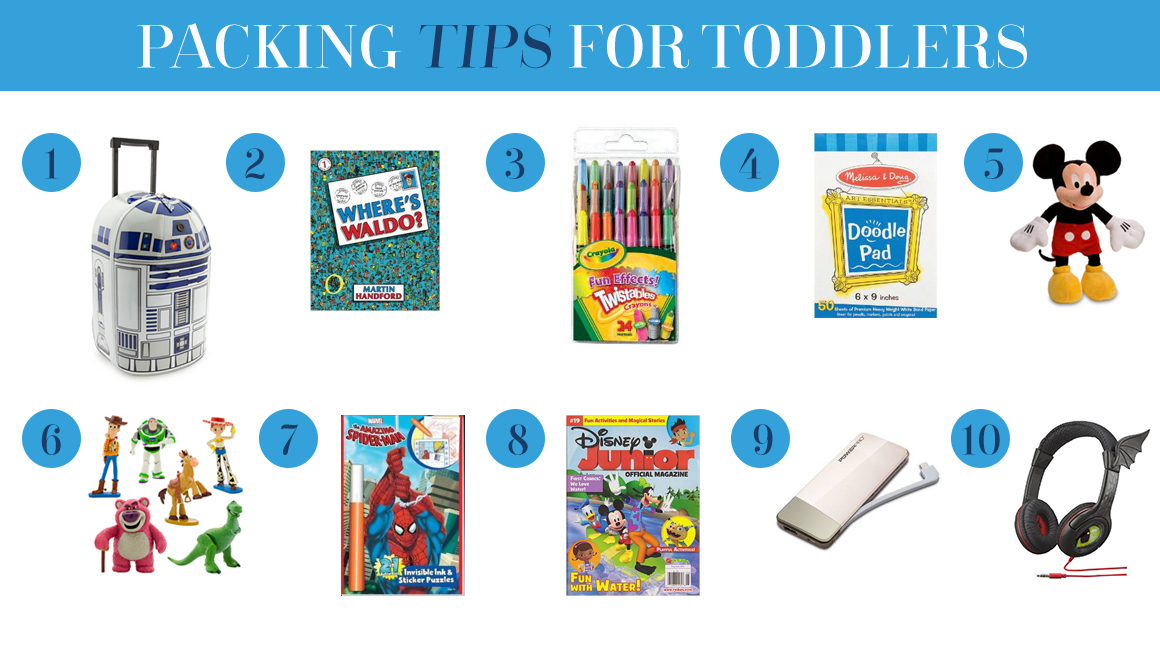 ---
Top 10 Best Items to Pack for Flying with Toddlers:
Small Carry-On Bag with wheels: Kid's love the independence of pulling their favorite character suitcase through the airport just the the grown ups do!
Where's Waldo and other point and seek Books: Looking for Waldo is a fun way for your toddler to participate and "read" with you on the plane.
Twistable Crayons: These are perfect for travel because they are so durable and don't make a mess.
Doodle pads: Coloring books are fun but sometimes plain white doodle paper is more fun to create art and play games with.
A Favorite Stuffed Animal: Everybody needs a special flight buddy
A Few Favorite Action Figures: These are perfect for playing on the tray table during the flight and also good to double as bath toys when traveling or to take to a restaurant.
Invisible Ink Activity Books: Always a favorite when traveling for the fun of a marker without the mess!
Fun Toddler Activities Books: Work together on colors, matching, mazes, puzzles and more.
Portable Battery Charger: If it is a long flight and your kid watches lots of movies on the phone or tablet you will need one of these to recharge your devices. These are a favorite for long travel days when outlets aren't accessible.
Small kid-sized headphones: These are a must for listening to music, watching videos, and playing games on the ipad. Most kid-sized headphones have a volume control that doesn't allow them to blast in young ears and are set to fit small heads and ears perfectly.