Annual family road trips are some of my first real memories of traveling as a kid. We lived far away from relatives in Illinois, so every summer my parents would pile my sisters and me into the backseat of our old Chevy, and we would visit my Dad's family in Chicago. Then, we'd drive down South to visit my Mom's family in the small town of Casey, Illinois.
My grandparents lived in Casey, and I remember the feeling of how special a visit to this small town was for a little kid from a larger city.
Midwestern Road Trip to Casey, Illinois: A Small Town with Big Stuff Means Lots of Travel Fun for Kids
I recently took a Midwestern Road Trip to Casey, Illinois with my 6-year-old son Harry, my mom and my sister. I had forgotten how much I cherished my childhood visits, and found it to be just as magical to my son Harry. He loved it for some of the same reasons I did—and for a few BIG new ones!
Casey is now famous—thanks in part to the Guinness Book of World Records, which ranked the town for having the most Big Things in a Small Town. Currently, eight of the world's largest items are on display around town, and Casey is drawing international tourists as well (not just kids like me and Harry, who are there to hang with our favorite relatives).
Roadside Americana Rocks!
Let's face it: a big part of what makes road tripping fun is all of the stops you make along your journey. Any road trip that includes a stop with some unforgettable roadside Americana is going to make lasting memories.
Jim Bolin seems to know that. He and his team at the Big Things in a Small Town Workshop have built all of the World's Largest Things displayed around Casey, putting the town on the map.
The addition of these new roadside attractions have made Casey the perfect road trip attraction destination. Especially if you are passing by on highway 70 or route 49, Casey makes a fun worthwhile stop.
Here are my tips for a visit to see the World's Largest things in Casey, Illinois:
Plan to Spend the Day
We drove down from Chicago and it took around 4 hours but budget for longer if your crew makes frequent stops. We arrived in time for lunch and grabbed a bite at Reflections Family Restaurant in town. My Uncle Bill, Aunt Carol, and cousins still live in Casey, so they met us for a quick bite to eat.
Reflections also has really great patty melts, and is located in an historic old building, previously home to a bank. Inside, they have a stuffed lion that escaped from the circus many years ago and wandered around town. Harry loved looking at the lion and hearing my Uncle Bill tell the story from the old news clipping.
Grab a Big Things in a Small Town Map
After lunch, we walked across the street to Deborah's Attic Antiques Shop. We had hoped to see the huge spinning top that's usually on display, but it was out in the Big Things Workshop for a polish that day. We'd have to find it there.
Harry loved exploring the small town shop, looking at the antique toys and comic books, and decided he needed a giant antique yardstick souvenir to take home to Chicago. We also picked up a Big Things map of Casey so we'd be sure not to miss anything.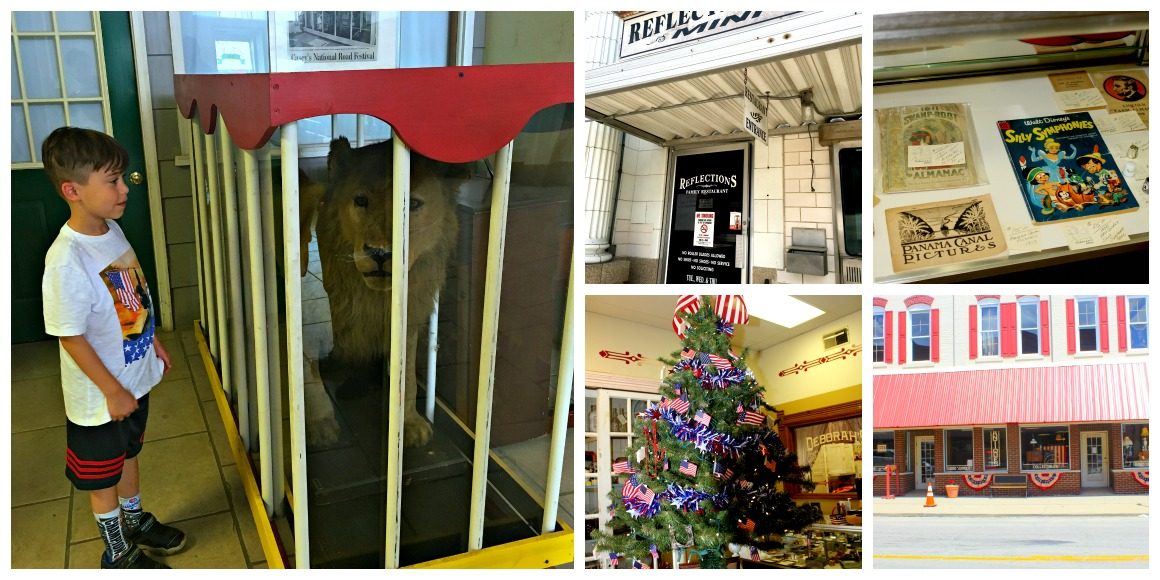 Don't Miss Casey's Candy Depot
Our next stop was Casey's Candy Depot, home to an old restored Doty Railroad Caboose and the World's Largest Wooden Shoes. We loved taking photos and tossing coins in the wooden shoes to make a wish—and loved even more that all of the money collected goes to a local food pantry. Harry found lots of tasty treats, postcards, funny souvenirs, and a book about the history of the Casey Railroad written by our cousin Larry Easton.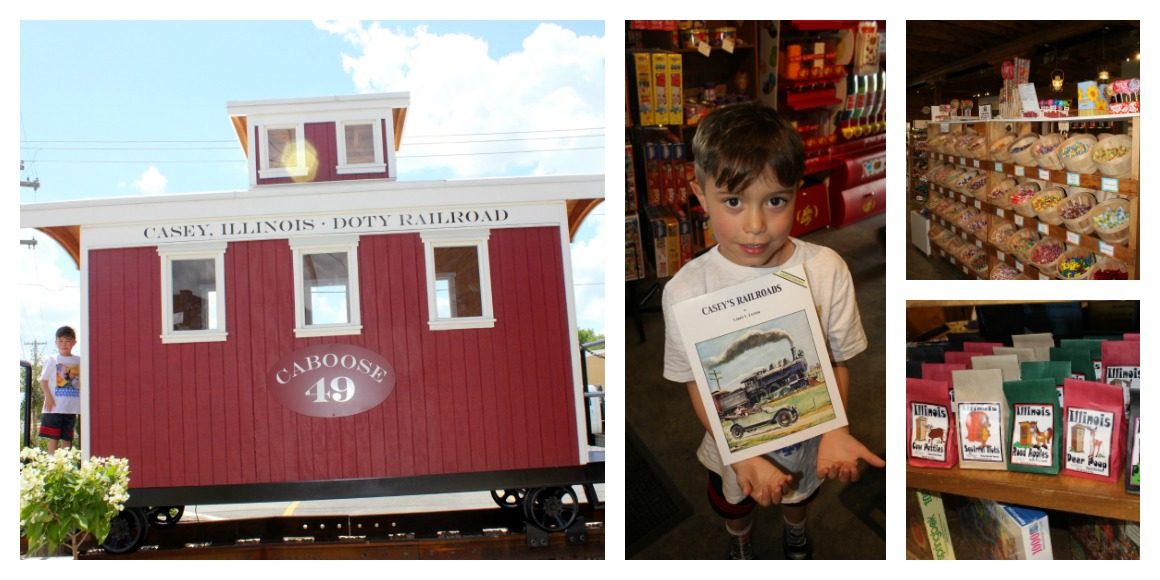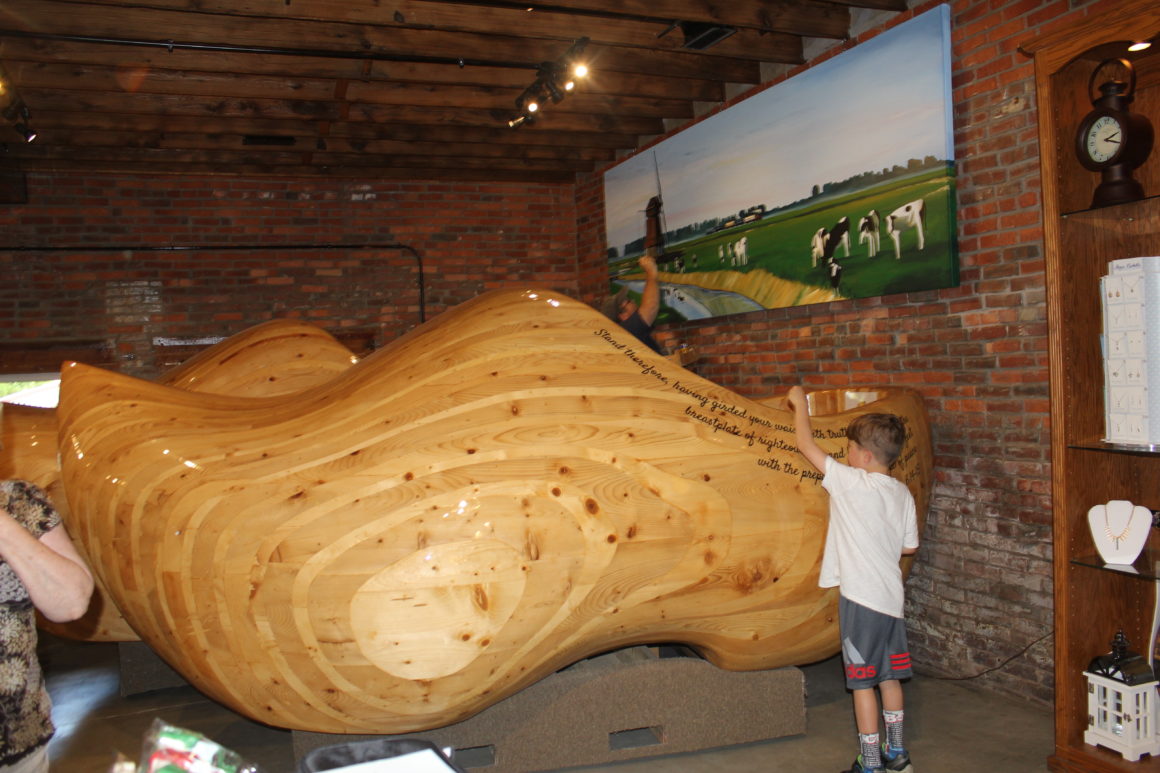 Mail a Postcard from the World's Largest Mailbox
We purchased some postcards and stamps and then wandered out the door to the world's largest mail box. There are beautiful wooden tables below where you can sit and write postcards before climbing up into the Mailbox to mail them.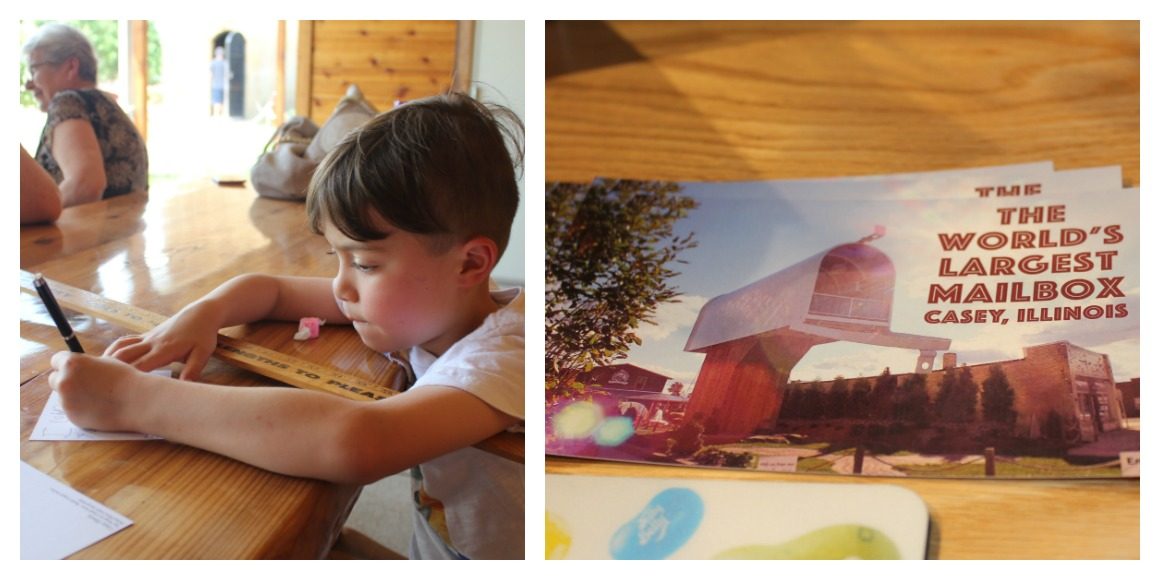 We took turns snapping photos and waving to the people below. When up in the mailbox, I met two people who had stopped in Casey on their road trip. One was from Arizona and the other from New Jersey. They had never been to Casey before and were having a blast touring and photographing the town too.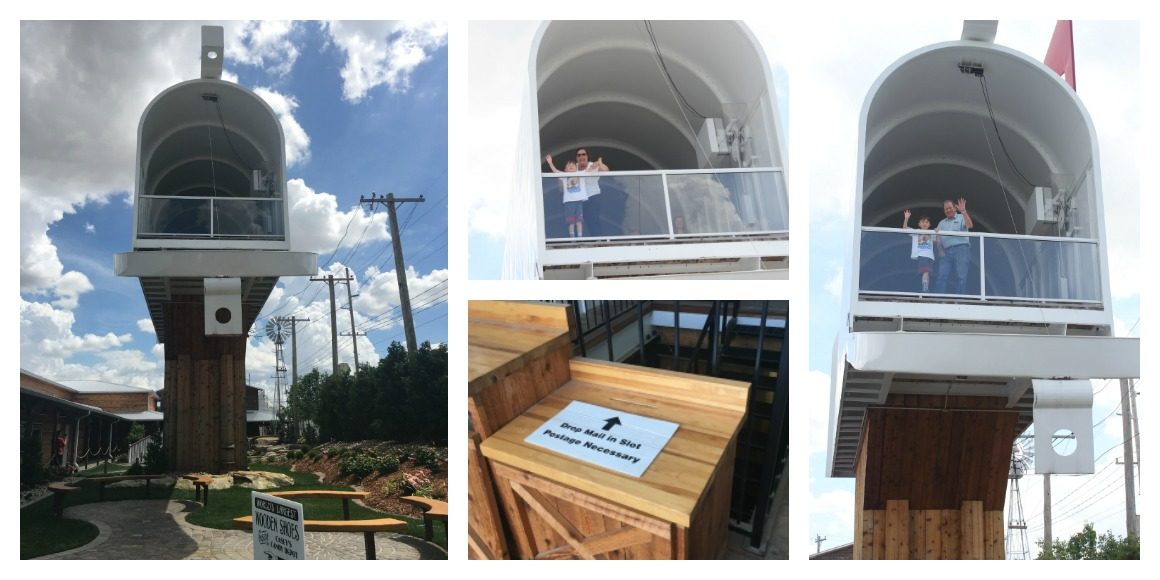 Swing in the Big Bird Cage
Across from the mailbox, a big bird cage with a swing can fit at least three people. Harry loved pretending to be a Tweety Bird.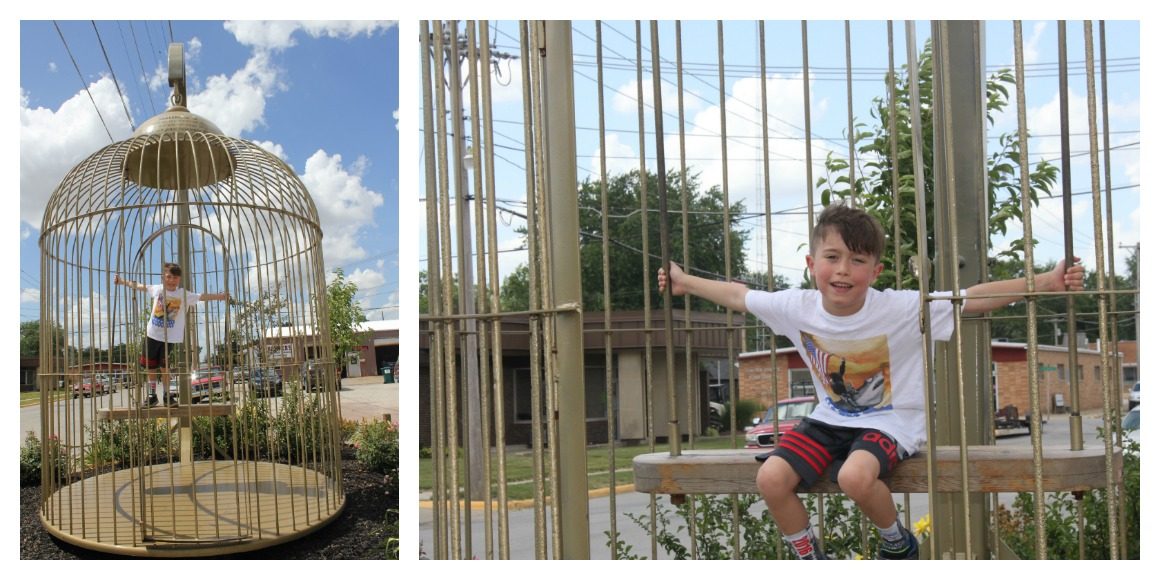 We then wandered down the street in and out of more little shops and and across the World's Largest Pencil. Next, we popped into a yarn shop to find the World's Largest Crochet Hook and Knitting Needles.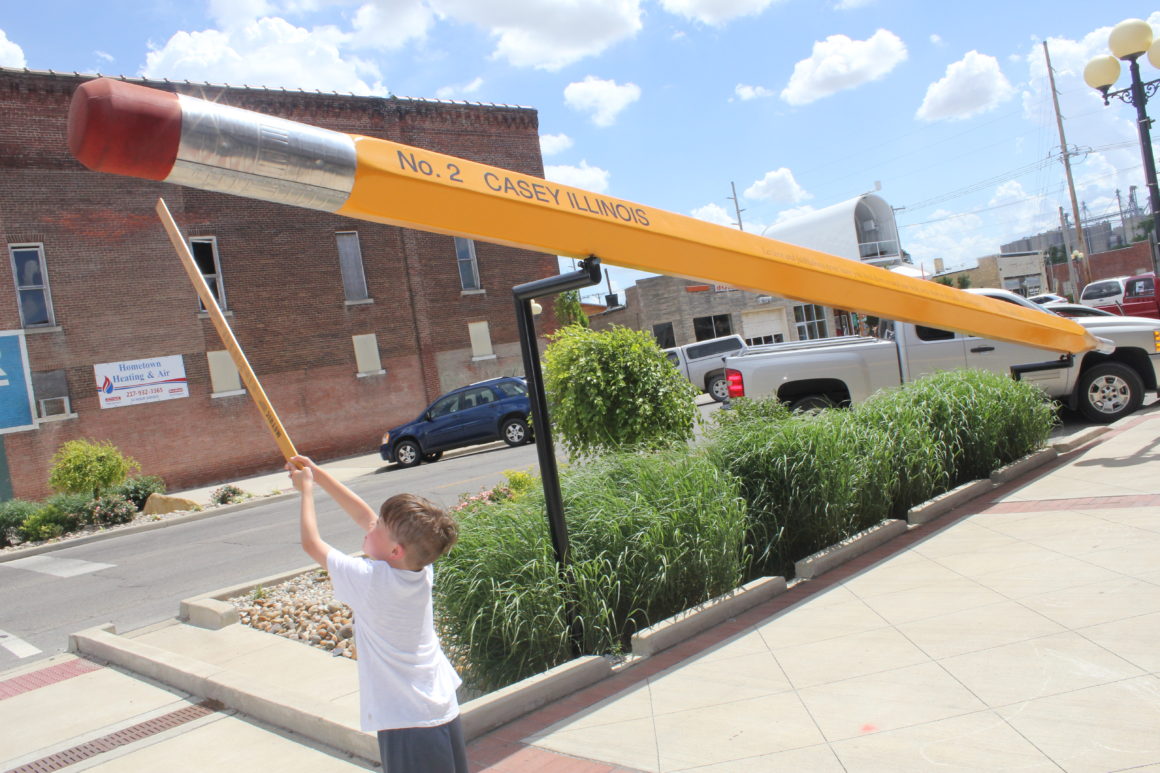 Shop Your Way Through Casey Illinois
Harry loved popping in and out of the little shops in town as we hunted for all of the Big Stuff. His favorite store was Back on the Rack Upscale Resale. This consignment shop is home to all sorts of treasures, new and old, including my cousin Peg's crafty holiday wreaths and creative creations.
Immediately, Harry fell in love with the shop and found a shark blanket and an old Shriners hat that were must-haves. He loved the red fez so much that I agreed to let him buy it for his costume collection, and Peg surprised him with the shark blanket. Almost two months later, he still loves these Casey trip souvenirs.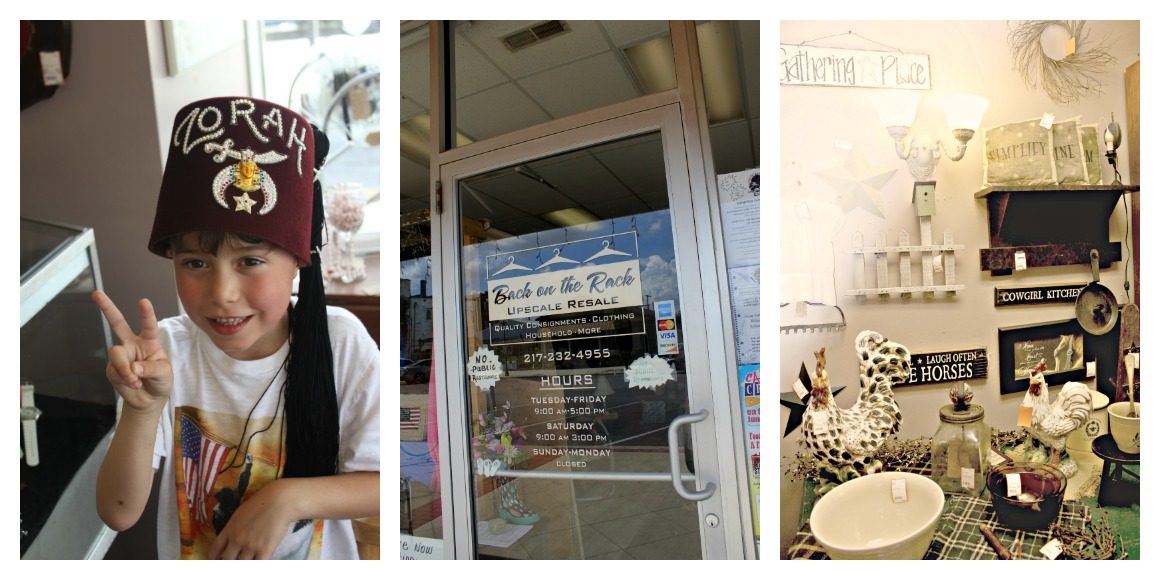 Next door is the World's Largest Rocking Chair. This chair is enormous and really a sight to be seen. We walked across the street to the Whitling Whimsy Cafe to grab a cold drink on the patio and take in the size of the rocking chair.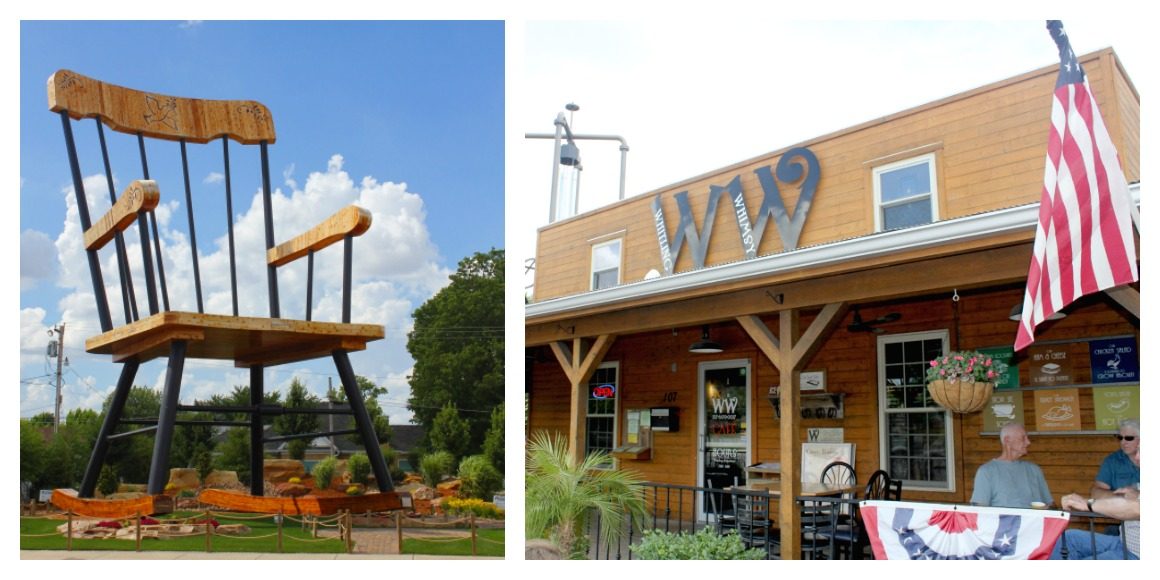 Ring the World's Largest Wind Chimes
Next we headed over to ring the World's Largest Wind Chimes. Harry barely weighed enough to have the strength and force to ring the chimes, but he loved trying.

Visit the Big Things in a Small Town Workshop
We walked behind the Whitling Whimsy to see the Big Things in a Small Town Workshop. We saw where workers built all of the Big Things in town and also caught a glimpse of the new things they're working on. In addition to the World's Largest Things, the workshop has built a bunch of other Big Things, too. We saw giant gavel, a huge baseball bat and softball bat on our visit.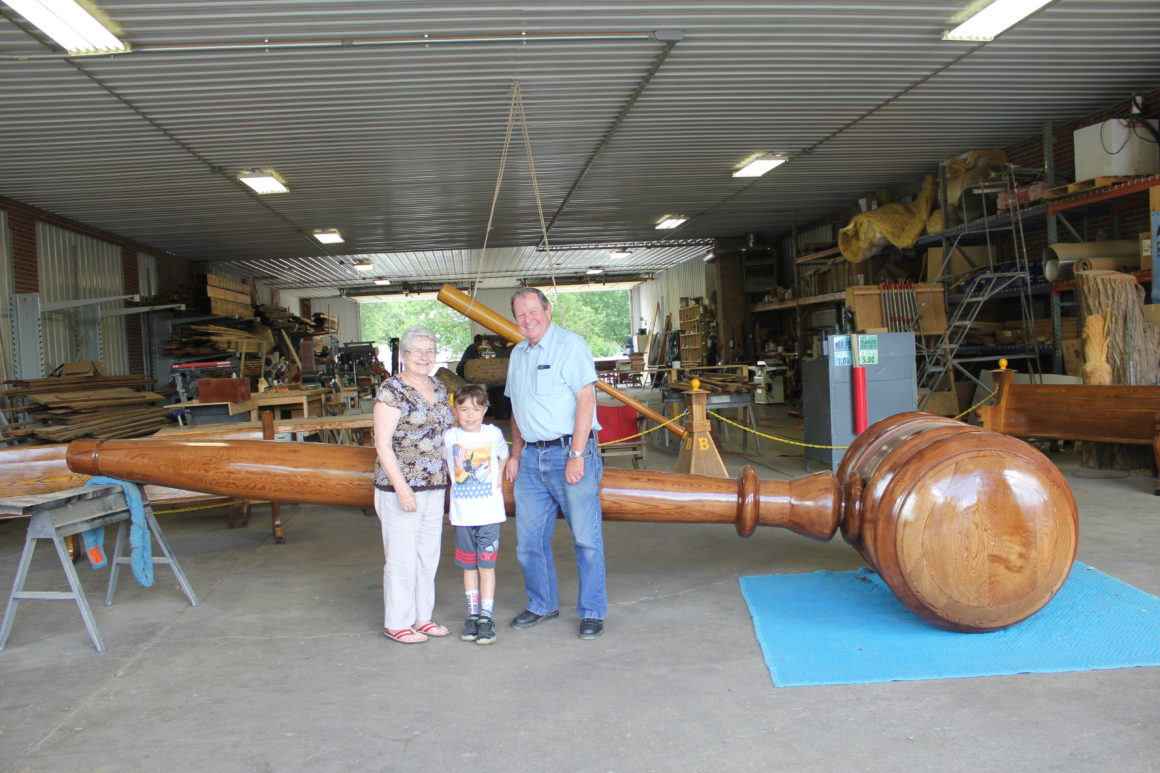 Before leaving the downtown area, we popped over to the Dollars N' Sense store for more fun souvenirs and to see the Big Minion. Mom bumped into an old friend from high school, and Harry managed to pile lots of loot into our cart. I was happy to be spending my money in small town shops.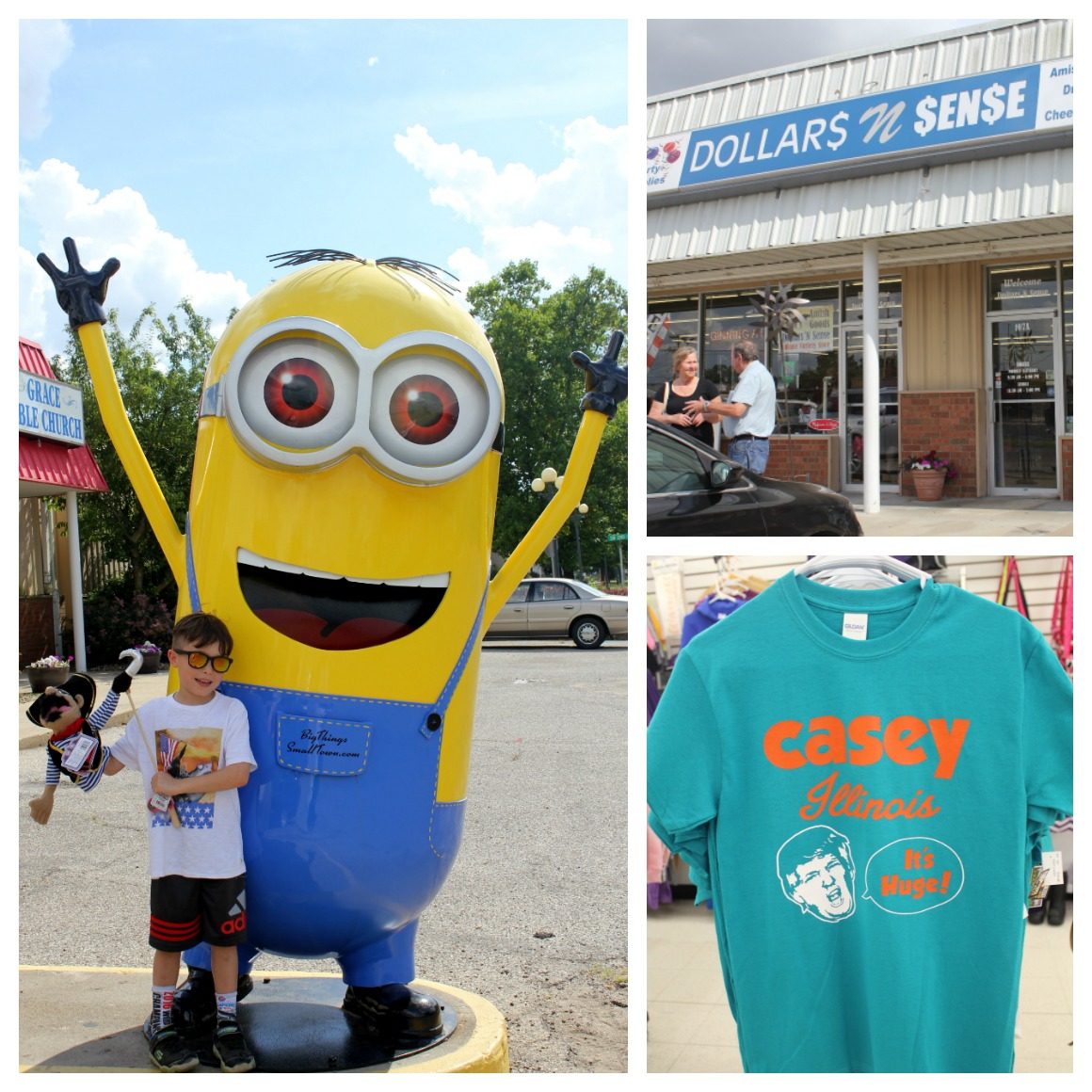 Don't Miss the World's Largest Golf Tee
Next, we hopped back in the car and drove over to the Casey Country Club to see the World's Largest Golf Tee. The Country Club is very friendly to visitors and even has a little shop where you can grab a beer or soda on the way out to get a good look at the towering Golf Tee. The shop also sells copies of the Guinness Book of World Records 2017, with Casey featured on pages 100 and 101.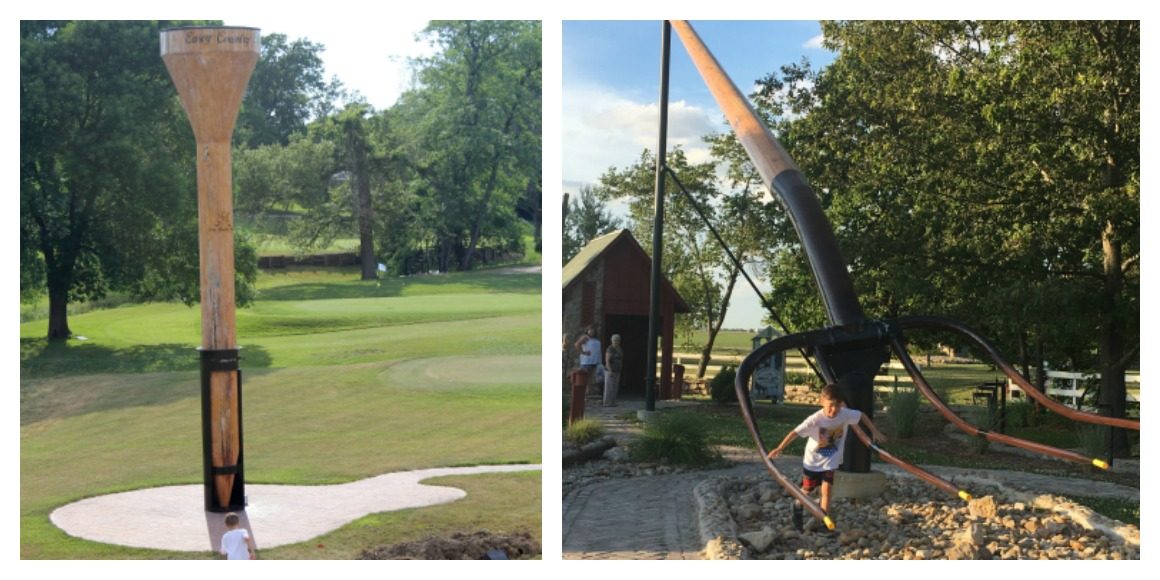 Farm-to-Table Dinner and the World's Largest Pitchfork
After an awesome day of small town shopping in Casey Illinois, and also taking pictures of amazing roadside Americana, we were ready for dinner. We drove out to Richard's Farm Restaurant—home of the World's Largest Pitchfork.
My Aunt Carol, Uncle Bill, and cousins Willy and Peg joined us for a tasty farm-to-table dinner at the Richards Farm restaurant before we headed outside to pose for pictures of the mammoth pitchfork.
On our way out of town, we stopped by the old cemetery to tell Grandad and Maga all about our day in Casey and leave them some flowers. Then we popped over to my Aunt and Uncle's house for a visit. Harry embraced everything about small town life in Casey and just to make sure it was all unforgettable, my Uncle Bill took him for a ride on his tractor. My little city kid loved every minute, and just like me, he can't wait to return to Casey for another visit!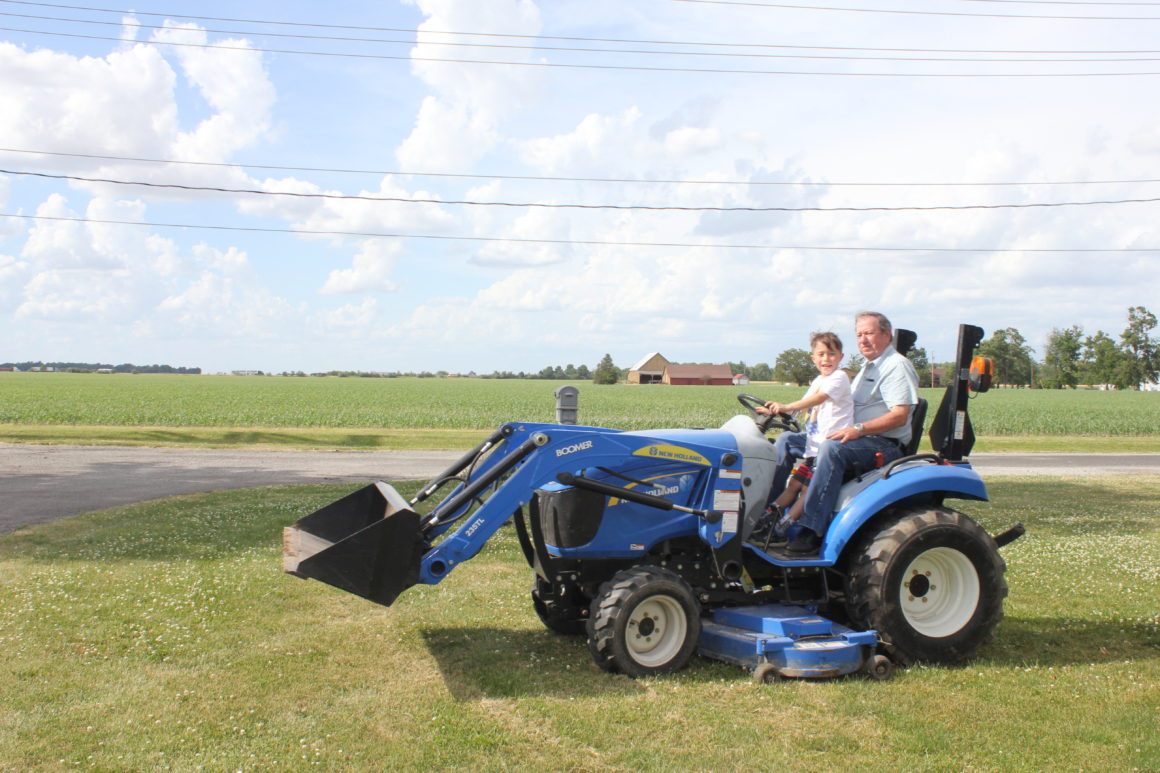 Planning a Midwestern Road Trip to Casey, Illinois with the kids or a weekend getaway from Chicago?
Click the images below to save to Pinterest!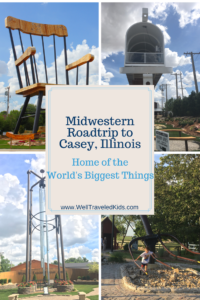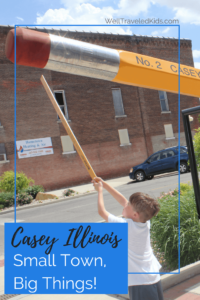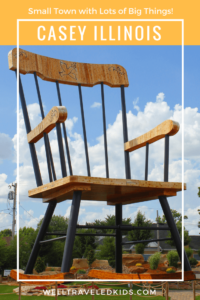 You Might Also Enjoy:
Where to Stay in Chicago With Kids: The Palmer House, A Hilton Hotel