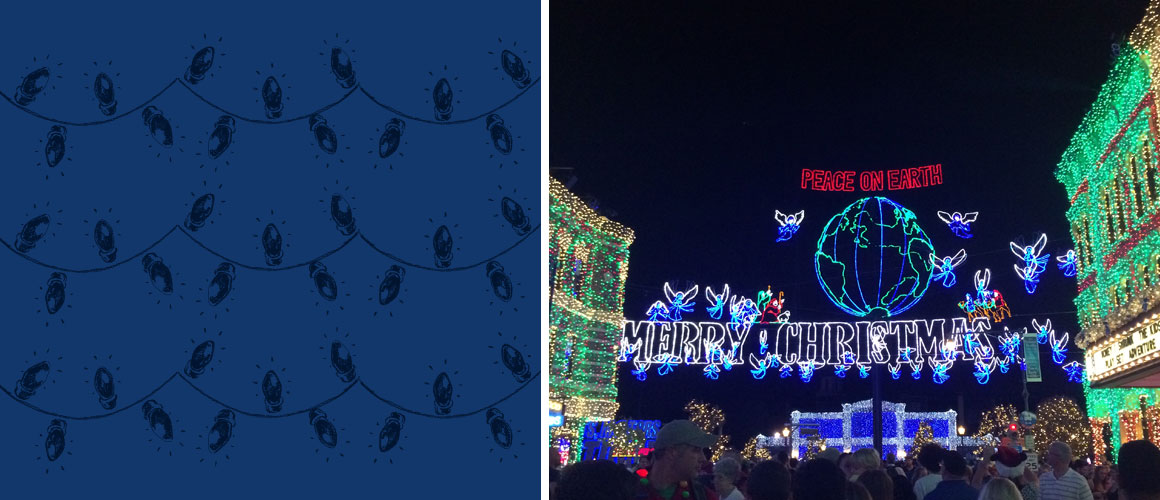 ---
It's officially Christmas time at Disney World and Disney's Hollywood Studios is all decked out for the occasion! If you are headed to Walt Disney World this season be sure to plan a visit to Disney's Hollywood Studios to celebrate the holidays.  It was our favorite stop on our holiday visit to Walt Disney World last weekend. The park is crowded at holiday time but definitely a worthwhile family holiday experience.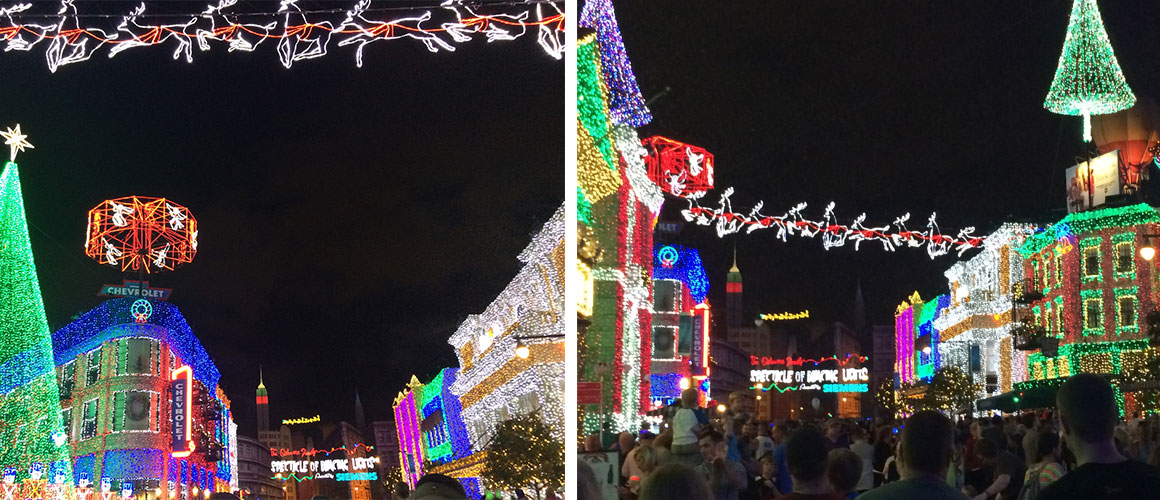 ---
Here is our #nottobemissed list for Disney Hollywood Studios this Holiday Season
Osborne Family Spectacle of Dancing Lights: Plan to spend at least an hour on the Streets of America enjoying the synchronized lights to holiday music.  This show is AMAZING and larger than any holiday light show we had ever seen before. Watch as the lights blink to the music and it snows while you walk the streets and take it all in.  There are bars serving festive light up drinks and treats and the whole family can take pictures with Santa Goofy in the square.
---
ALL THINGS Frozen!
Frozen's Wandering Oaken's Frozen Snowground– This snow filled playground is a new MUST SEE attraction with kids. Even kids who see snow all the time like my Harry who left snow in Chicago to head to sunny Florida for the trip will love building snowmen and playing in the snow together.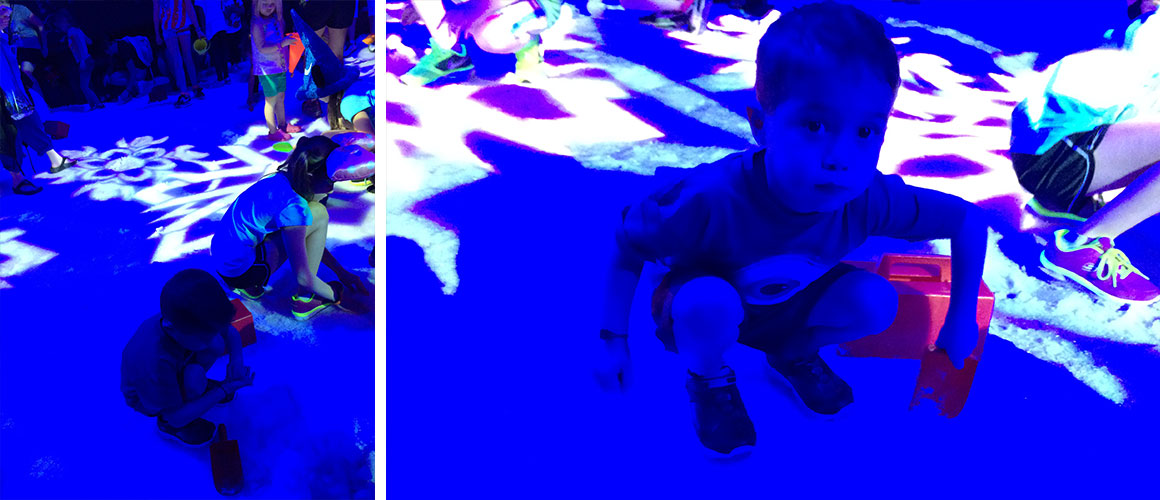 ---
Make Frozen Pressed Pennies
– Pressed pennies are always a fun souvenir when traveling with kids and now your kids can take home a pressed penny with their favorite Frozen Character on it in the Wandering Oaken store.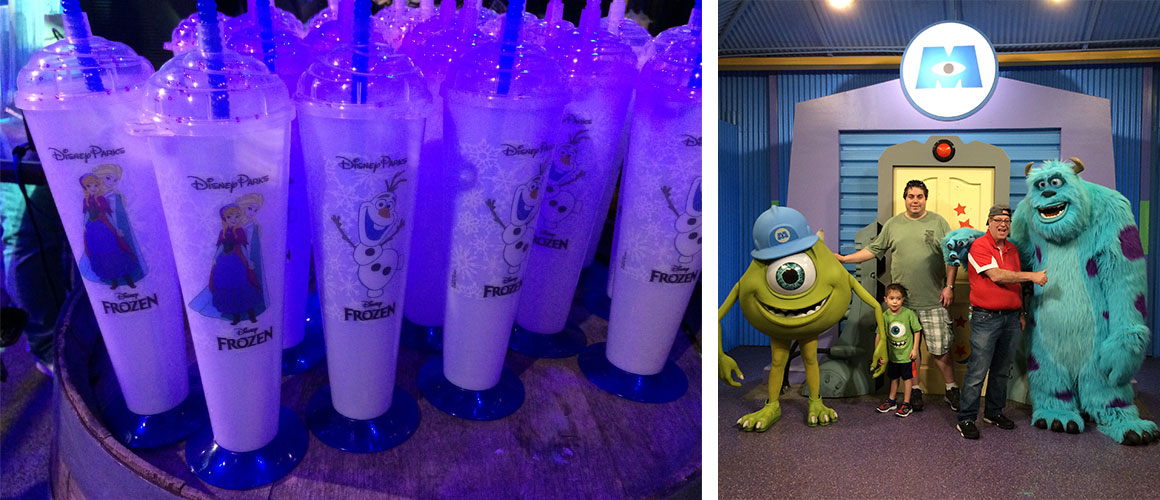 Frozen Merchandise and treats– The Wandering Oaken Store has special Frozen treats featuring Olaf, Elsa, Anna, Christof & Sven and an enormous supply of Frozen themed gifts.
Frozen sing along – For the first time in Forever- Frozen fans who love singing the soundtrack will love singing their favorites with Anna, Elsa, & Olaf!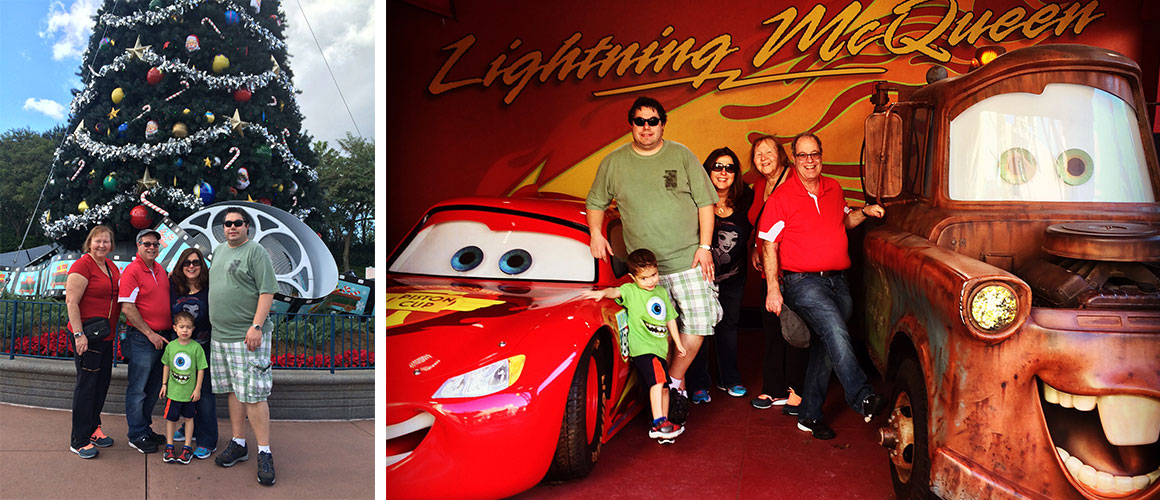 Make time to take photos with the Christmas Decorations and with your favorite characters: Make time between shows and rides to visit some of your favorite characters in the parks especially if your kids are of an age where they still believe the characters are real.  Those are going to be their favorite memories.
Get Fast Passes for the Rides– Hollywood Studios doesn't have many rides and so wait times are always long on crowded days.  Make  your Fast Pass+ reservations for the rides you want to ride. If you book your 3 Fast Passes early then once you use them you can book more.  Book all rides and then add shows later in the day. We had no problems getting into shows without a Fast Pass, but it was a long wait to ride rides without one.  We love the Toy Story ride but just aren't willing to wait in line for 90 minutes with our 4-year-old to ride it.
Make a Late Dinner Reservation to Avoid End of Night Crowds:  The night we visited Hollywood Studios the park closed at 9pm.  We had dinner at the 50s Prime Time Cafe at 8:45 and by the time we were finished the park was mostly empty and there were no lines for the transportation out of the park.  It was perfect!