Disclosure: Thank you to The Edgewater Hotel for hosting my family in exchange for this article. All thoughts and opinions expressed here are my own.
---
If you are looking for family-friendly luxury right in the heart of Madison, Wisconsin look no further than the Edgewater Hotel. Recently restored and expanded to honor the original Art Moderne sketches created by its designers, it is a premiere destination that should not be missed.
The Best place to stay in Madison,Wisconsin with Kids
My husband and I are University of Wisconsin alumni, so Madison holds a special place in our hearts. Taking our daughter to experience the college town we love was a big priority during our recent trip to Wisconsin. Staying at the Edgewater was a spectacular way to indulge while seeing the sites and connecting with college friends. It's certainly the best pace to stay in Madison, Wisconsin with kids.
The Edgewater Hotel is perched above Lake Mendota. The hotel has a view directly to the Wisconsin State Capitol on one side and the spectacular lake on the other. If you want a vista worthy of a postcard, you can't beat the Edgewater.
Luxurious rooms take advantage of the views, and are generous in size and comfort. Heated floors in the bathrooms are a true indulgence for the Wisconsin climate!
The Edgewater's location is in the middle of all the Madison action. It is perfect for shopping, dining, and a stroll around the Capitol Square. Maybe hit the world-famous Dane County Farmers' Market like we did, or a pub serving local microbrews? If you want to visit campus, a quick walk down Langdon puts you right in the heart of the University of Wisconsin.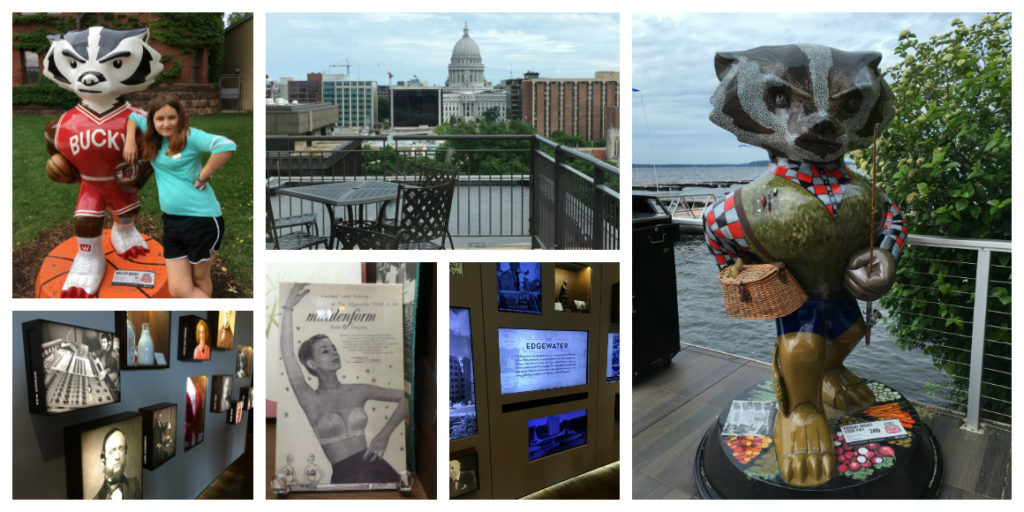 Looking for fine dining in Madison?
They've got it! The Statehouse restaurant, with sweeping views of the lake, can delight you for breakfast, lunch, and dinner. Is pub fare more your style? Try Augie's Tavern, you won't regret it. Want a casual, lakeside meal with the best cheese curds we have ever eaten? (That's right, they were that good.) The Boathouse is your place. We loved it so much, we ate there twice! During our stay also picked up coffee at the cafe, had a Friday Night Wisconsin fish fry outdoors while enjoying a free outdoor concert, and were spoiled with in-room dining. All of our meals were delicious.
Concerts, ice skating and other public events are held in the lakeside courtyard at the hotel throughout the seasons. As a guest, you have easy access to all the fun. Our fish fry evening was a highlight of our Madison vacation.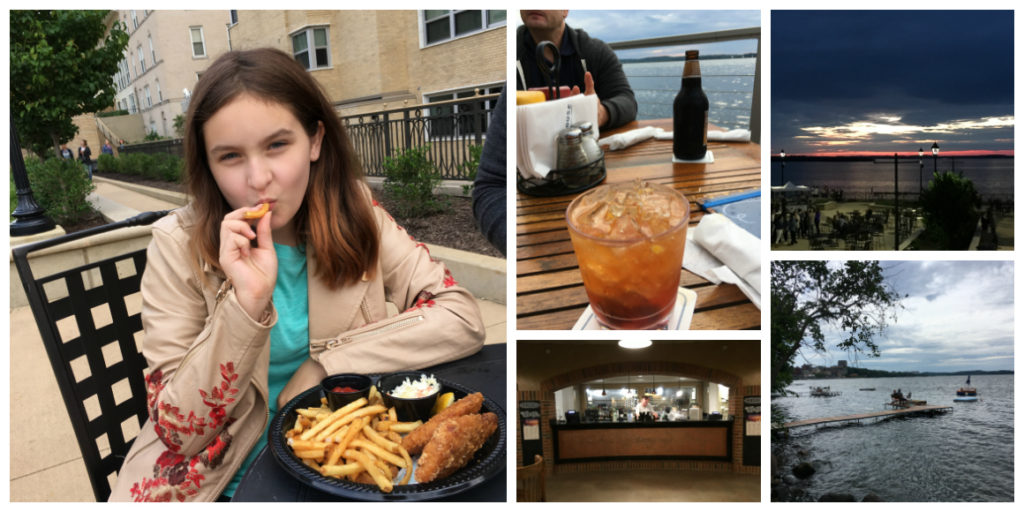 A Historic Wisconsin Luxury Hotel Experience
Even if you never leave this Art Moderne gem, you would be spoiled with dining and activity choices. Inside and outside, the glorious curved architecture frames every space perfectly. We were lucky enough to receive a tour of the entire hotel, and found ourselves picking our jaws up off the floor over and over with all the beauty.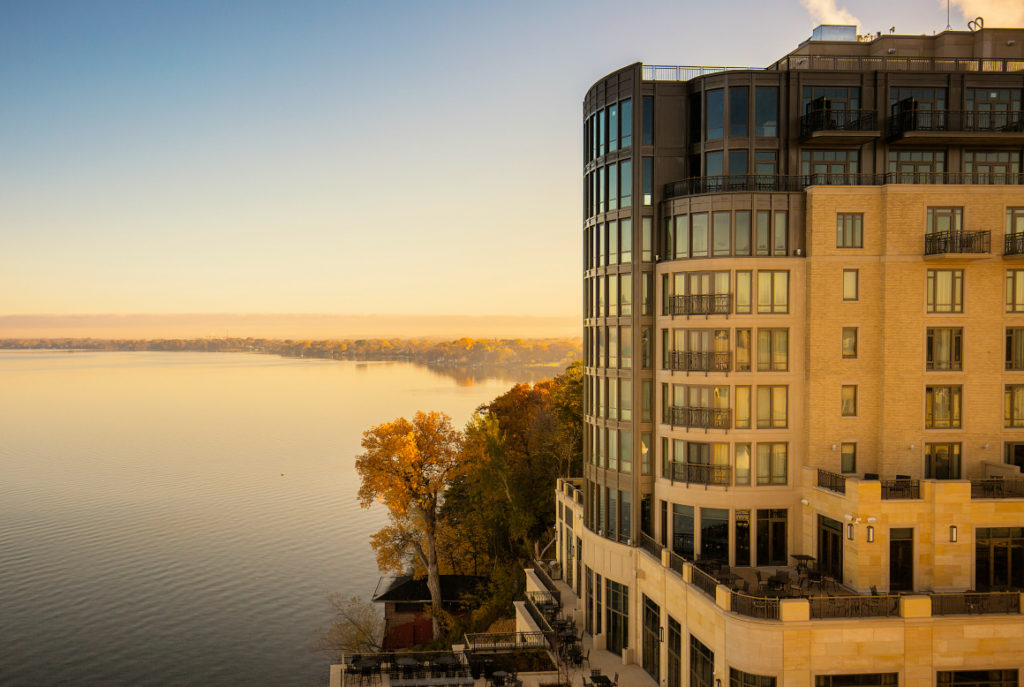 What I regret most about my visit to the Edgewater is that I was unable to take advantage of their deluxe spa. Their list of luxury treatments was so enticing. I can't wait until my next visit for a relaxing massage and facial. I did take advantage of a lovely boutique just outside the spa. My coral Edgewater hotel sweater reminds me of our fantastic stay every time I wear it.
The Edgewater Hotel has been a fixture in Madison for decades, but its meticulous updates and thoughtful offerings have made it a modern stand-out. Being guests at the historic hotel was a real treat. We eagerly look forward to our next Wisconsin vacation so we can stay there again.
Pin this post for later!