Did you know that you can book vacation club properties without being a time share owner?
In early November, we packed up the kids and headed to Palm Desert, California for a family event. We all stayed at  Marriott Shadow Ridge II – The Enclaves, a Marriott Vacation Club property that allows the booking of vacation villas. We had multiple families  members that booked villas and stayed at the resort.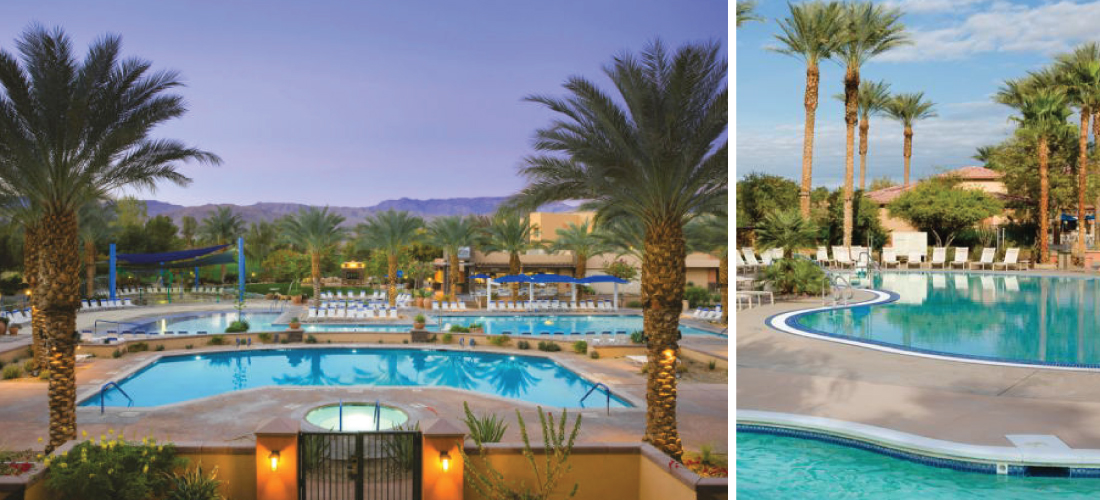 The resort was expansive and extremely family friendly. A shuttle was available to transport you throughout although most of the time we chose to walk. There were multiple pools spread throughout the resort each with their own splash parks. The splash parks were safe enough for new walkers, and the pools had walk in areas or kid pools for cautious toddlers. My kids loved them! It was hard to tear both away. Next to one of the pools was a fenced in outdoor playground as well as an indoor kids and teen club which seemed to be stocked with fun activities. The playground was a nice option when there wasn't enough time to go swimming but the kids needed to get out energy.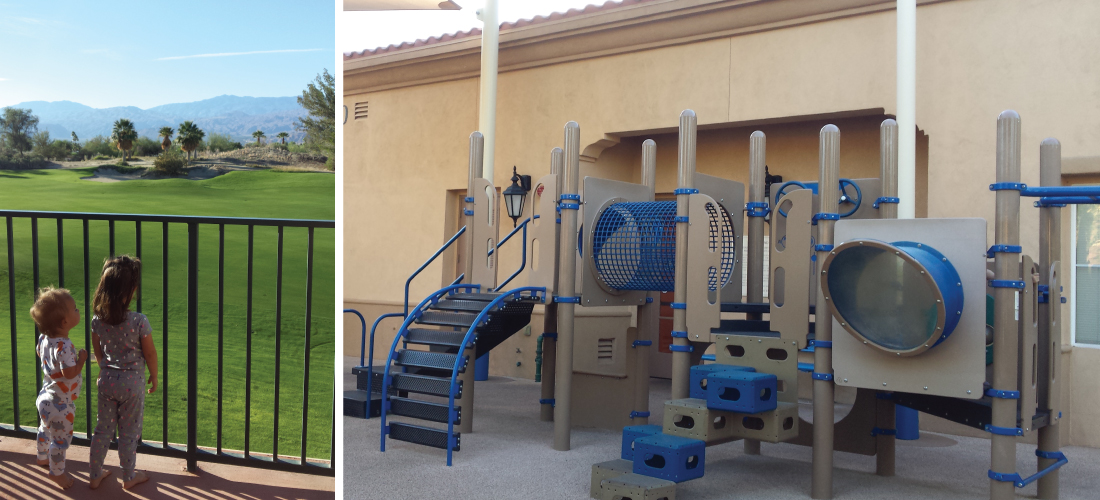 Our room overlooked the golf course (easy to get a quick round in) and with the mountains in the background you couldn't ask for a better view! We had two bedrooms, each with an en suite, a full size kitchen, dining table, living room and don't forget about the large balcony with the amazing view. One additional perk was the washer and dryer in our suite. We were able to dry clothes from the splash park and pool and also do a load of laundry as we prepared for another leg of our trip in another city. Parking was easy and right outside of the room. Most of the dining facilities in the resort had limited hours. We were thankful that we had a full size kitchen. At the beginning of our trip we made a quick run to the grocery store and stocked the room with a few essentials. This made for easy and quick meals which is a must when you have hungry kids that cannot always wait in a restaurant to fill their tiny tummies. The resort even supplied us with a much needed high chair! This made mealtime so much easier.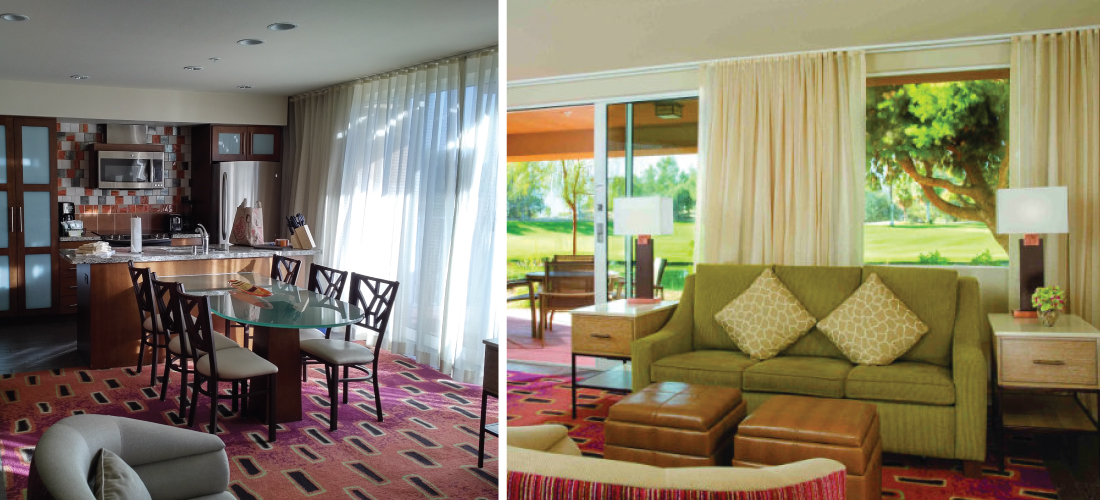 The room was large enough that other family members were able to use our room as a hang out spot which was great as our little guy was napping. We brought our own pack-n-play: Guava Family Lotus Crib for baby J and Miss M slept on a bed that we lined with extra pillows so she wouldn't roll off in the middle of the night. Having your 15 month old and almost 4 year old share a room while you travel can be a challenge, but because we had the living room area, we were able to create a set up with her activities such as Wonder Markers (mess free!), sticker books and Highlights magazines. She was able to entertain herself. Miss M would wake up before anyone else, because she hadn't adjusted to the three hour time difference, sneak out of her bedroom without disturbing her brother and play by herself for about an hour each morning. This was amazing because we were able to sleep until 7am, which as a parent with two young kids can be a victory.
Next time we are visiting Palm Desert to visit family we will definitely stay here again!
We paid for our room at Marriott Shadow Ridge II – The Enclaves and were not compensated in anyway for this review.
Considering a trip to Palm Desert? Pin this for later!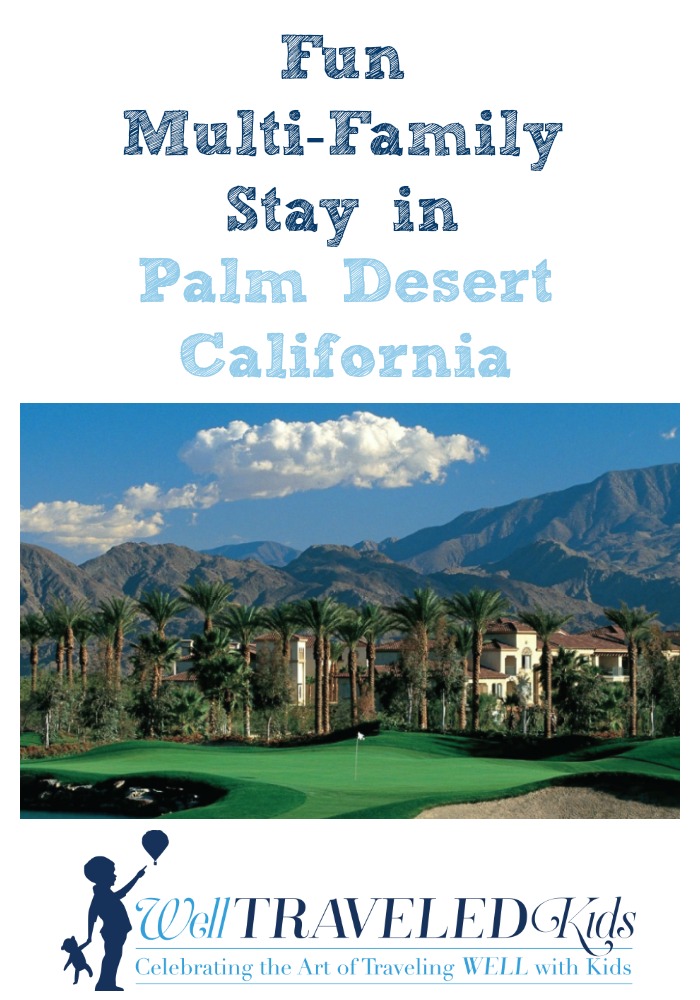 ---
Photo Credits: Marriott Enclaves