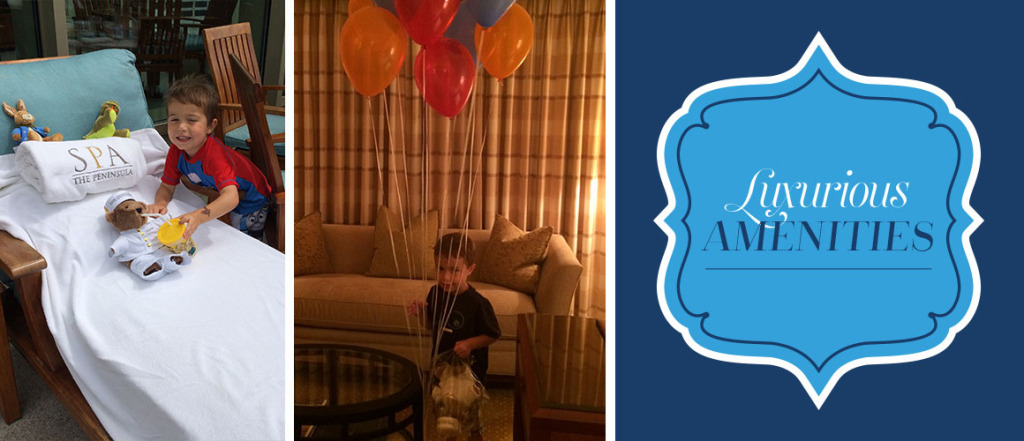 ---
The Peninsula Hotel Chicago is a very special place for my family and me. I have been a huge fan of the Hotel ever since I was a single gal living a block away from the Peninsula just off of the Magnificent Mile in Chicago. Because I lived so close, I could justify a membership to their lavish Spa. My membership allowed me the opportunity to work out in the state of the art fitness club and swim in the gorgeous pool on a daily basis, often next to A-list celebrities who were visiting the windy city. My husband and I regularly spent time there when we were dating and he even picked the lovely outdoor Terrace as the perfect spot to propose marriage to me! Since the moment he popped the question there my husband and I have regularly selected The Peninsula Hotel Chicago as our destination when we want some serious pampering or to celebrate a special occasion not so far away from home. However, it wasn't until this year that we have started including our son Harry with us on our urban luxury escapes from our suburban life on the North Shore. Harry is so much like me; he fell in love with the Peninsula instantly!   He has stayed there with us at least 4 or 5 times in the last year. Each stay has been made special for our family, and especially for Harry, and each stay has been uniquely memorable.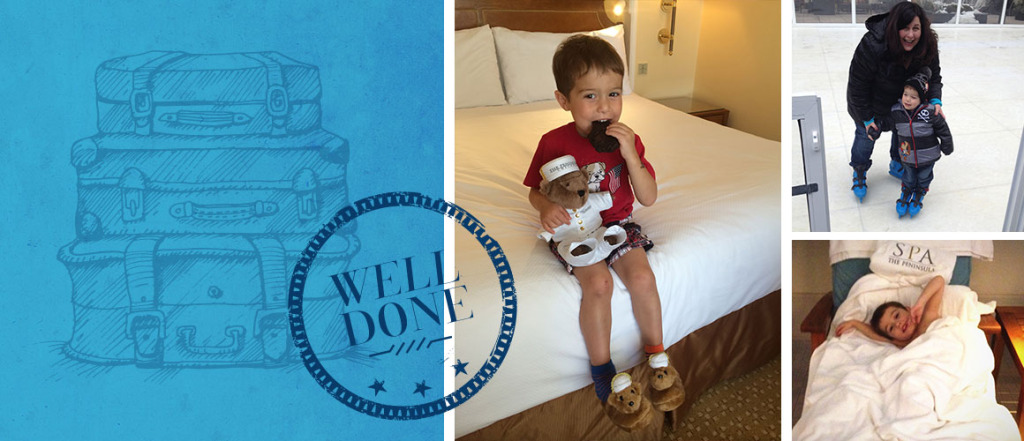 ---
Below are my 4-year-old son Harry's top 5 favorite reasons to stay at the Peninsula Chicago:
Welcome Gifts – Every time we book our room and let the reservations team know that we will have Harry along, we walk into our room to be welcomed by a new stuffed animal friend and often some delicious treats to share! Harry has also been thrilled to receive special bath toys and kids soaps in the bathroom waiting for him when we open the door to our room.
Visits from Peter Bear– The Peninsula Hotel mascot for kids is a sweet stuffed Teddy Bear named Peter. Harry loves it when the life-sized Peter Bear comes to our door with a wagon of treats and goodies for him to enjoy! The hotel even knows Harry is allergic to nuts so they make sure they don't put any treats with nuts into the wagon. TIP: you have to request this service! I didn't know about Peter the Bear the first few visits and now that we do I request a specific time for him to knock on our door for a visit each stay.
Swimming and then ordering Room Service to the Pool – The pool at the Peninsula is spectacular and has won many awards for being one of the most beautiful indoor hotel pools in the nation. Harry absolutely loves it! He gets especially thrilled when we order from the room service menu and enjoy a delicious breakfast, lunch, or dinner served poolside. When the weather was warm this summer we sat outside on the pool terrace and had a delightful breakfast and tea party with Harry and all of his stuffed animal friends.
Special Kids Buffett for Sunday Brunch– On Sundays the Lobby restaurant hosts an elegant brunch. Harry loves the small sized buffet that is just for kids!
Special Occasions Made EXTRA-Special– The Peninsula has a knack for turning special occasions into magical memories. This year we celebrated my January birthday and Valentine's Day with stays at the Peninsula and enjoyed ice-skating on the Terrace and many special treats along the way. A few weeks ago we stayed at the Peninsula the night before Harry had his tonsils and adenoids removed at Children's Hospital. I wanted to make the night before Harry's surgery special and to stay close to the hospital (a block away) since we had to be there before 6am. I mentioned to the reservations team that Harry would be joining us and he would be having surgery the following day.   I wanted to make it a fun night before the surgery by booking us a room at our favorite hotel. Harry was so excited and surprised when we walked into our room that night to find they had left him a bouquet of balloons! Not many things can excite my kid like a surprise bouquet of balloon just for him! Nice touch!!
Learn more about the Peninsula Hotel Chicago please visit their website.
Hero photo credit: www.chicago.peninsula.com
---