Have you ever seen a live volcano?
While exploring the Big Island of Hawaii we visited Volcanoes National Park with our 4-year-old son, Harry.  From the moment we landed on the Island we began explaining to Harry all about the active eruption of the Kīlauea volcano. We wanted him to understand how exciting an opportunity we had to visit an active volcano.  He couldn't wait to check it all out! If you are planning a trip to the Island of Hawaii with kids, I highly recommend a family visit to Hawai'i Volcanoes National Park.
---

What to expect when visiting Hawai'i Volcanoes National Park with Kids
Duration of visit:
None of us had ever visited a live volcano before. Since Harry and I are both asthmatic, I was concerned about spending too much time visiting the park. I was worried that the volcanic gasses would aggravate our breathing. We planned to not exceed a 3 hour journey exploring the park in hopes that our lungs could handle that for our first adventure. As we drove into the park entrance the air and sky both became grey.  We were greeted by blinking warning signs on the side of the road alerting us to dangerous volcanic gasses in the air.  This reinforced our decision to make our adventure a short one.
---

Kīlauea Visitor Center:
When we arrived to the visitors center at around 4pm we found the air heavy for breathing but manageable.  The center was filled with helpful park rangers who meet with visitors and give direction on how to spend time in the park. Their advice is based on the amount of time planned to spend exploring, how much hiking you plan to do, and the age of kids in your party.  The knowledgeable female ranger we spoke to showed us photos of what was happening at the volcano that day. She then recommended we make the most of our time by driving the Crater Rim Drive Tour and making a few stops that Harry would enjoy.  Her recommendation was to arrive before dusk at the Jaggar Museum at dusk to admire the colors of the volcano at night as the sun sets over the crater.
Thurston Lava Tube:
The park ranger's first recommendation was to cruise Crater Rim Drive and then park and hike down to the Thurston Lava Tube. She said that kids love it and she was right!  We parked and hiked through a tropical rain forest trekking down to the Lava Tube that was discovered in 1913 by Lorrin Thurston, a local newspaper publisher.  The cave's torches made it possible to see as we hiked through the dark tube where lava once flowed through the island. Harry absolutely loved this hike and was full of questions about volcanoes and lava and caves.
 

---

Steam Vents  Ha'akulamanu – Sulphur Banks: 
Our next stop, just a few miles away was to cruise down and check out the Steam Vents. Steam vents occur when the ground water seeps down to the hot volcanic rocks in this area and returns to the surface as steam. This area was a large field completely opposite of the rainforest a few miles away.  We parked our car and approached two big vents that we peered down into the large clouds of steam rising from the rocks below.
On are walk back to our car we found a steaming bluff area next to the parking lot.  Harry could run and play with small cracks in the earth where steam was rising up into the meadow.  He thought this was awesome!  Across the street we could see and smell the stinky sulphur banks.  Sulpher Banks occur from volcanic gases that seep out of the ground along with groundwater steam. These gases are rich in carbon dioxide, sulfur dioxide and hydrogen sulfide — the gas that smells like rotten eggs. We didn't need to hike over to take a look. Only because we could smell the stinky gasses from across the street.  Also we were warned that visitors with heart or respiratory problems (such as asthma), pregnant women, infants, or young children should avoid this walk. I was happy to experience it from a far. I didn't feel bad about not being unclose and personal with the rotten egg smell!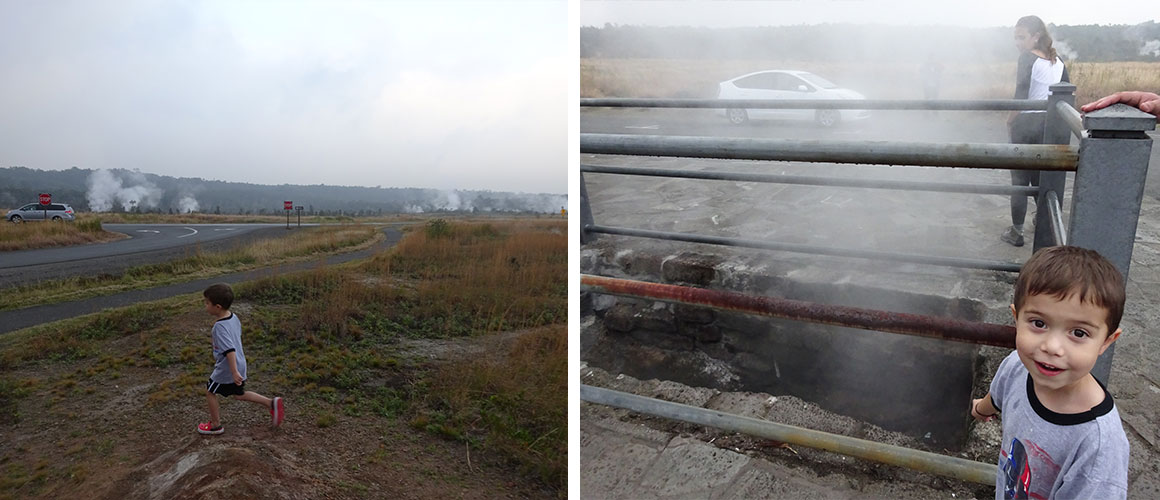 ---

Jaggar Museum:
Our last stop during our visit was to the Jaggar Museum just before dusk.  The ranger recommended that we arrive just before dusk. This time is best because of the awesome sunset and dark nigh time views of the caldera and main crater, Halema'uma'u from the overlook outside the building.  When we arrived people were already lining up along the overlook to watch the changes in the color of the gasses as the nighttime approached.
We toured the little museum and Harry loved learning about the layers of the earth and its core. It's interesting seeing all sorts of equipment used by scientists in the past to study the volcano.  He was also very interested in the working seismographs.
Harry spent most of his time in the gift shop picking out volcano picture books to take home and show his friends at school. We all purchased sweatshirts in the gift shop. We were freezing since the elevation was so high.  At that elevation at night temperature dropped into the 50s. Oh and we grabbed a National Parks Passport book as a souvenir that we can use when we visit future parks.  We could stamp  it with the date we visited and bought a special sticker for that park.
As the evening approached and the night became darker people lined up to enjoy an incredible view of the volcano Kīlauea. Its one of the world's most active volcanoes.  It was exciting to see the gasses go from a dark grey coming from the crater to becoming orange and red as the night became dark.  It was truly one of the most incredible family experiences we have witnessed.
---

TIPS For A Family Visit to Hawai'i Volcanoes National Park:
Our visit to Volcanoes National Park was an enormous highlight of our Hawaiian vacation.  I would absolutely recommend a family visit to Hawai'i Volcanoes National Park to families traveling to the Big Island of Hawaii as a MUST SEE experience.  Here are some tips based on our experience to keep in mind for future visits.
If you are visiting the park with kids decide the length of time you want to spend at the park and work backwards from dusk to plan your arrival time. That way you can be sure to enjoy the night views of the volcano. Many people choose spend a full day or multiple days to experience all the park has to offer.

Stop at the visitors center and talk to a park ranger.  See if there is any active flow on the island that you can visit.  During our visit there wasn't any however there was a very active flow the week before.  Its important to know what's happening specifically on the day of your visit.

Consider hiring a guide or joining a tour group. We saw many group tours along our adventure. Next time we visit the volcano I will absolutely plan to go with a kid friendly guide so we don't miss a thing.

Bring a flashlight for taking photos at night!  We didn't know this trick ahead of time,  but luckily we made friends with some folks who had flashlights. They  pointed the flashlights toward our faces so we could have a non-flash photo with the volcano behind us. This is an absolute must!

If you are asthmatic pack your inhalers.  Harry and I were both OK after our short visit but I would never visit without all of our emergency meds just in case.

Dress in layers, some areas of the park are at higher elevations and will get cool especially at night.

Stop at the gift shop and pick up some awesome souvenirs, you will be happy you have them when you return home!
To learn more about planning a family visit to Hawai'i Volcanoes National Park click here. And to see a great video visit here.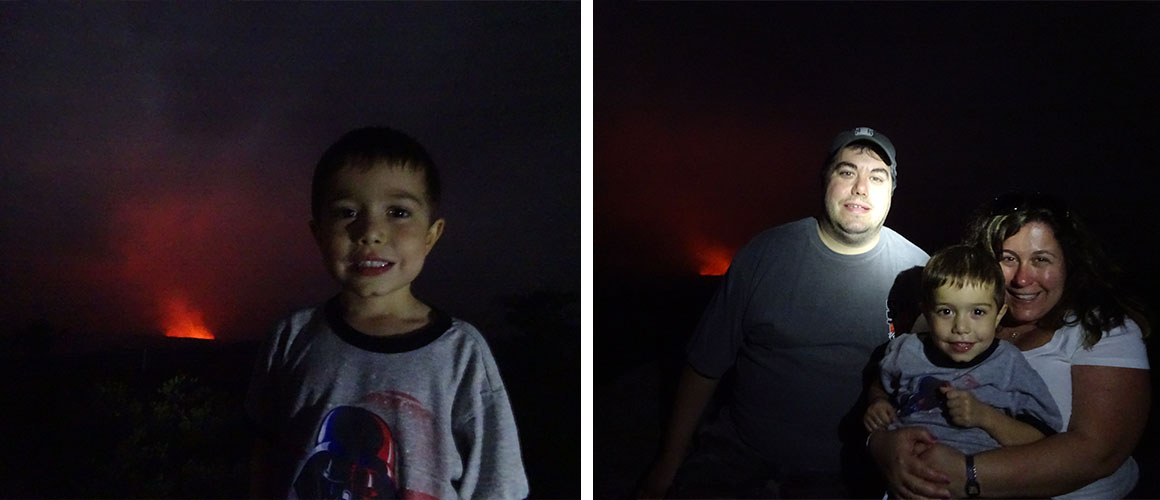 Like this post? Pin it for later!