All of my friends know that I love professional photographs of my son, Harry. I've been regularly teased about the quite possibly record-breaking number of times I've invited a shutterbug pro to document Harry's first four years of life in portrait. They adorn the walls of our home in clusters, the photographic evidence of dozens of important milestones met and other moments captured just for fun – like a goofy new smile or a less-than-perfect haircut.
So, it is wildly uncharacteristic that I had never arranged for a professional photography session on any of our family vacations given all of the traveling that we do. Its something that I've always wanted to do, but knew my husband wouldn't be thrilled at the concept of spending precious vacation minutes posing for yet another artist behind an oversized camera.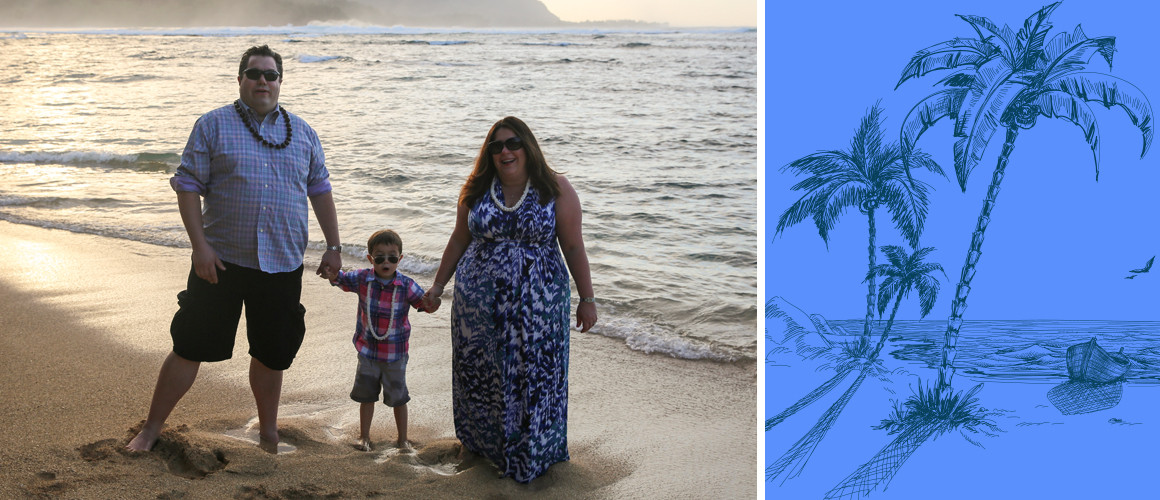 ---
During our recent vacation to Kauai, we stayed at the luxurious and breathtakingly beautiful St. Regis Princeville Resort, which is the supreme backdrop for perfectly stunning vacation photos. Fortunately for me, all guests of the St. Regis are treated to a no-obligation and complimentary professional photography session with 
Pacific Dream Photography
 during their stay. Normally my husband would have refused this opportunity. However, on this trip we were celebrating my Big 40, and that meant he would agree to just about anything I suggested.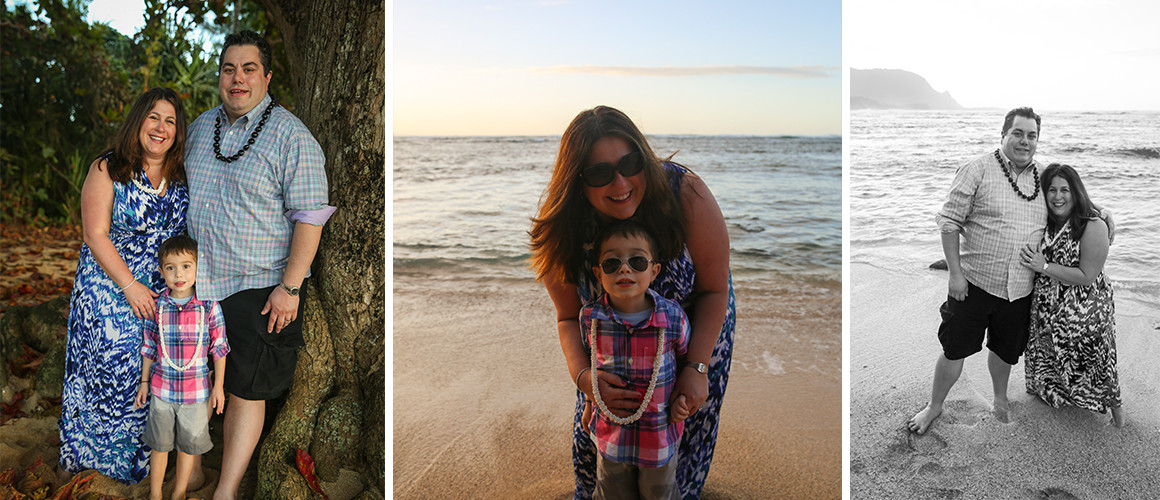 ---
We selected a sunset photo session with the beautiful Hanalei Bay as our backdrop. Kristin Hegedusch, Creative Director for Pacific Dream Photography, was our photographer and she knew all of the best scenes on the beach and grounds of the St. Regis Princeville to showcase our family playing and enjoying the gorgeous Kauai sunset.
We spent an hour in our photo session and throughout the duration Harry was so playful for the cameras. Kristin was able to capture so much of his current four year-old personality, just as it was in this moment and on this vacation. I will forever treasure these images, as I'm brought back to how fun he was in Hawaii at age four.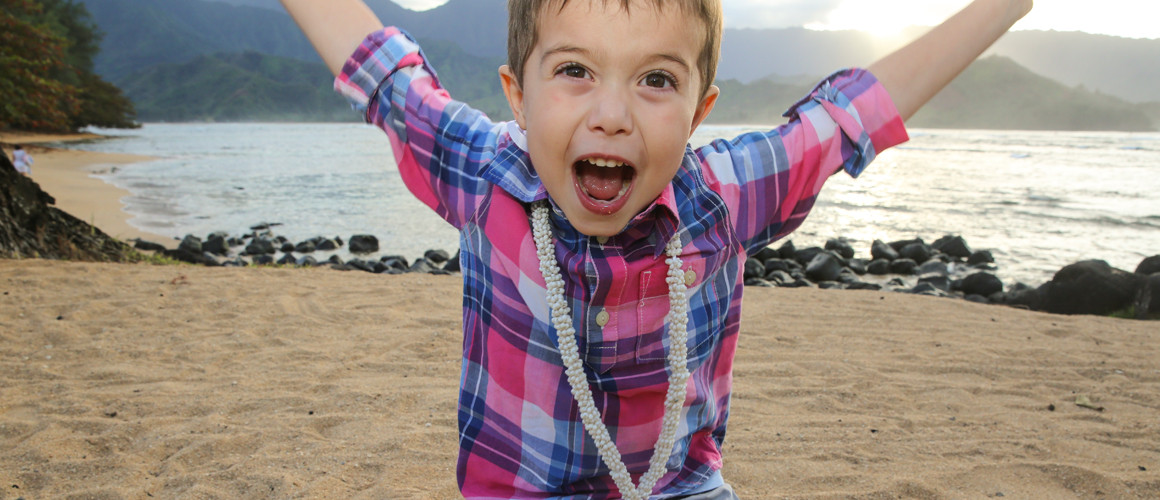 ---
The next morning, we met with Kristin to see our photos from the evening before.  It was funny to me that my husband and Harry were every bit as excited as I was to see what she had captured.  Harry loved viewing them and wanted to buy every single snapshot.  Kristin put together a fun family video of the experience for us, too, that was absolutely lovely and captured the vibe of the whole experience the night before.  Ultimately we settled on purchasing a package that included several of the photos and the video so that we can cherish the memories from home forever.
I love the way these photographs tell the story of who we are as a family, and especially who we are as a family on vacation. We are relaxed, and rested, and focused on each other – just having a blast together a million miles away from our cold Chicago winter.
Our time with the photographer was during the first week of our 16-day Hawaiian vacation.  When we returned home and talked about our memories of the entire trip we all agreed that having professional photos taken was one of the best things we did. We love the images of our family traveling well together on the beach in Kauai, and will always cherish the memories of being four and 40 together on our fist visit to the island of Kauai.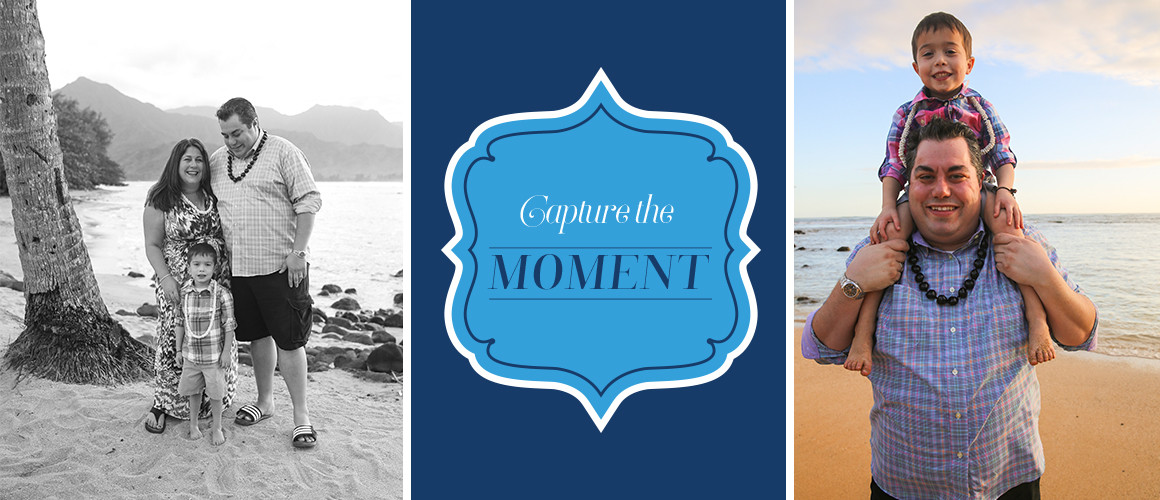 ---
So, while this was my first time hiring a professional photographer on vacation it absolutely will not be my last! I think it is a magnificent way to make memories together when traveling to a special destination that you always want to remember.  I will undoubtedly seek out opportunities for professional photographs on future vacations and I don't think I will get any resistance from my husband, even if it isn't my birthday next time.
My advice: seek out photographers when you are vacationing as a family to capture your tribe enjoying the destination.  Take it from me, you will be so happy to have some of this rare, unadulterated time together documented and at your fingertips to relive again. Many fine hotels in beach destinations do offer a complimentary no-obligation sitting which takes all of the risk out of the equation.  If a hotel doesn't offer the service, the concierge will likely have some contacts to recommend for a great session.  Don't be afraid to margin on price with the photographers.  You never know what they might throw in if you make an offer.