One of the wonderful treats of traveling in Europe is exploring some of the small, beautiful towns that have hundreds (or in some cases thousands!) of years of history. On a recent weekend, we traveled to just such a place–the city of Cuenca, Spain. Having YiaYia (grandma) in town was the perfect excuse for an adventure.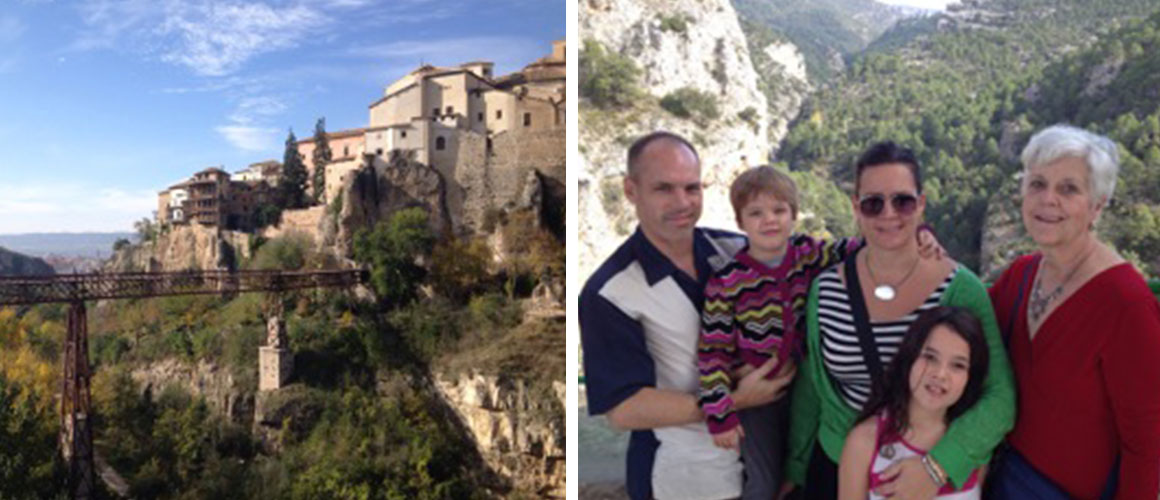 ---
Cuenca is home to the amazing Hanging Houses, including one that doubles as a very interesting and kid-friendly modern
Abstract Art Museum
.
Las Casas Colgadas
are a series of houses balanced on the edge of a cliff, which are hard to miss from anywhere in town, but are best viewed from the famous
Puente de San Pablo
, a hundred-year-old bridge perched on half-millenium-old foundations. This combination of new and old is what makes small European towns so interesting. Here are a few tips for going off the beaten path.
Take the Slow Road: Small towns are, well, small. There may not be a lot to do, but strolling the narrow streets, enjoying the blend of scenery and centuries of city-scaping, and relaxing over good meals on no particular schedule is well worth the time. Wandering without a destination and eating deliciously random food under the shadow of the inevitable castle or cathedral is what it's all about.
Take a Drive: If you are fortunate enough to have a car, take advantage of some free time with a lazy drive to nowhere—you never know what you will find. With not much to do on Sunday, we set out on a drive. The nearby Parque Natural Serrania de Cuenca was breathtaking, and by taking a different route in and out we stumbled upon a great surprise of an artist's yard full of out-of-this-world natural wood sculptures.
When Something Sounds Intriguing: Go For It!! While driving, we saw a sign for El Ciudad Encantada (Enchanted City) and we couldn't resist the curiosity. Sometimes these spontaneous excursions are a bust, but this one ended in a great private meal in a deserted hotel, and a fantastic opportunity to learn about the geological process of karst formation while admiring whimsical stone shapes straight out of a Road Runner cartoon.
Traveling doesn't always have to be about the next big destination. Sometimes, the most enjoyable travel can be to a small town nearby, where you can take some time to slow down, learn a little local history, and discover your own special surprises along the way.