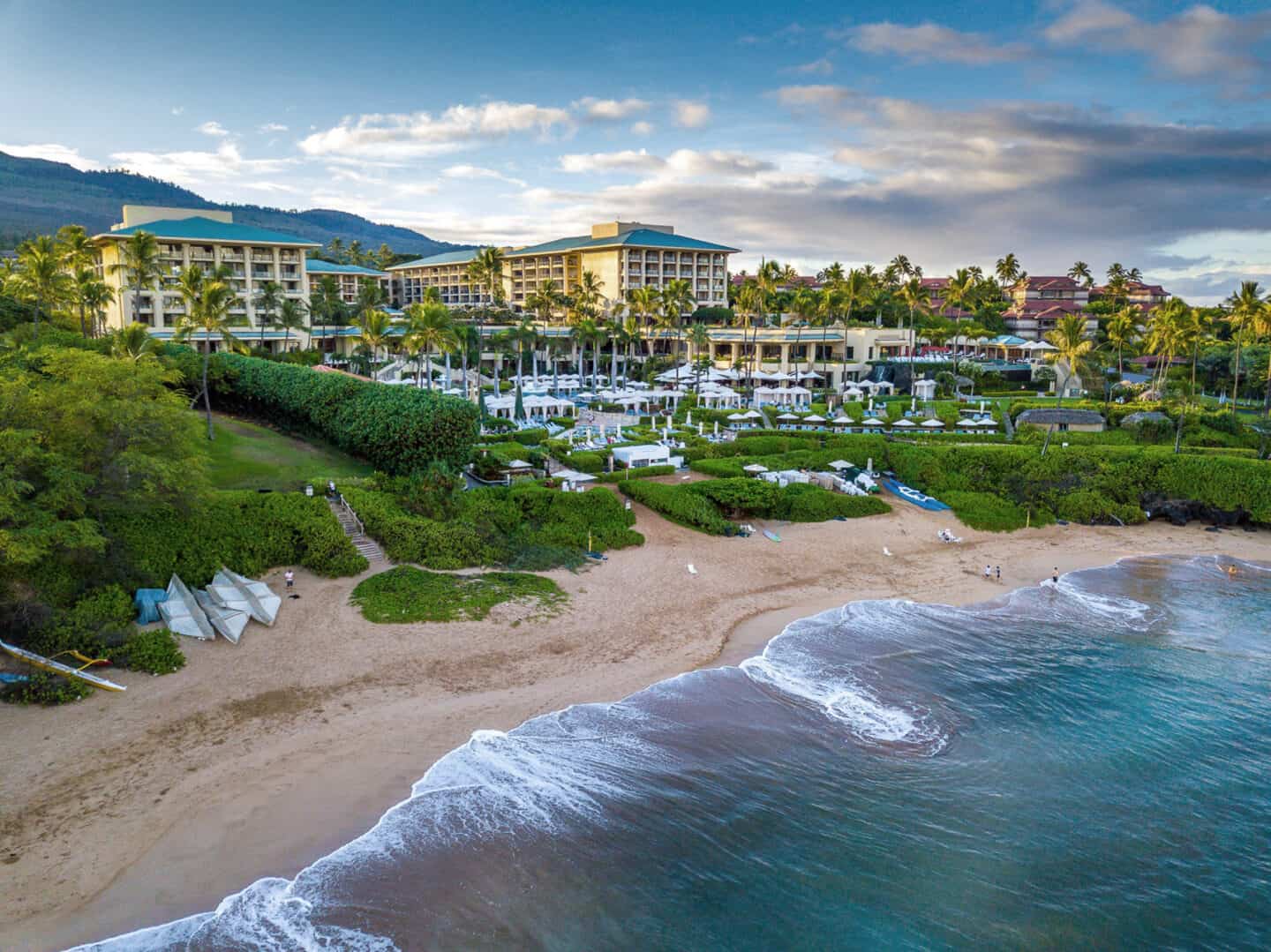 "I would rather live one day in Maui than one month in New York." – Charles Lindbergh~
In need of some serious pampering and sunshine, I planned a last-minute trip to Maui in record time for my January birthday a few weeks ago. Admittedly, I easily fall in love with many places I travel to, but I can say wholeheartedly that Maui is my absolute favorite destination. It's the perfect place to really unwind. 
 Over the years, I've visited Maui often with my husband and my 10- year old son Harry. Many of our most treasured vacation memories happened in this tropical paradise. While in lockdown, I'd been yearning to revisit our favorite island and I've come to learn that when Maui calls me it's time to book a trip. Even when that means buying 3 last-minute first-class seats on a direct flight from Chicago, researching the latest ins and outs of travel to Hawaii during the pandemic, and getting my family Covid tested 2 days before our trip. Trust me when I tell you it was absolutely 100% worth it! 
Pandemic life is hard, I longed for days that required nothing of me but to bask in the sun while sipping mai-tais adorned with fresh Maui pineapple. I dreamed of playing in the waves and swimming with giant sea turtles. I couldn't wait any longer to feel the tropical island breeze on my skin while stopping to smell the exotic orchids all throughout the Four Seasons Resort Maui at Wailea. 
I LOVE this resort, I first stayed here on my honeymoon and trusted my intuition that it would be the perfect destination for my special birthday getaway this year. And WOW did Four Seasons Maui deliver an unforgettable luxury escape.  
One of the biggest silver linings of traveling to Four Seasons Maui with kids is that their kids club is open and it is AWESOME! It felt like we had both the resort and the whole island of Maui to ourselves once we dropped my son off to make friends all day! Read on so I can describe to you how this incredible tropical stay was even better than I dreamed it would be! 
Click to request  Sarah book your stay with our Four Seasons Preffered Partner access! 
What's the Safest Resort on Maui during COVID 19?
These days, safety is the new luxury in travel. So, I will begin this luxury hotel review of Four Seasons Resort Maui with kids by focusing on the amazing safety protocols I experienced while on property.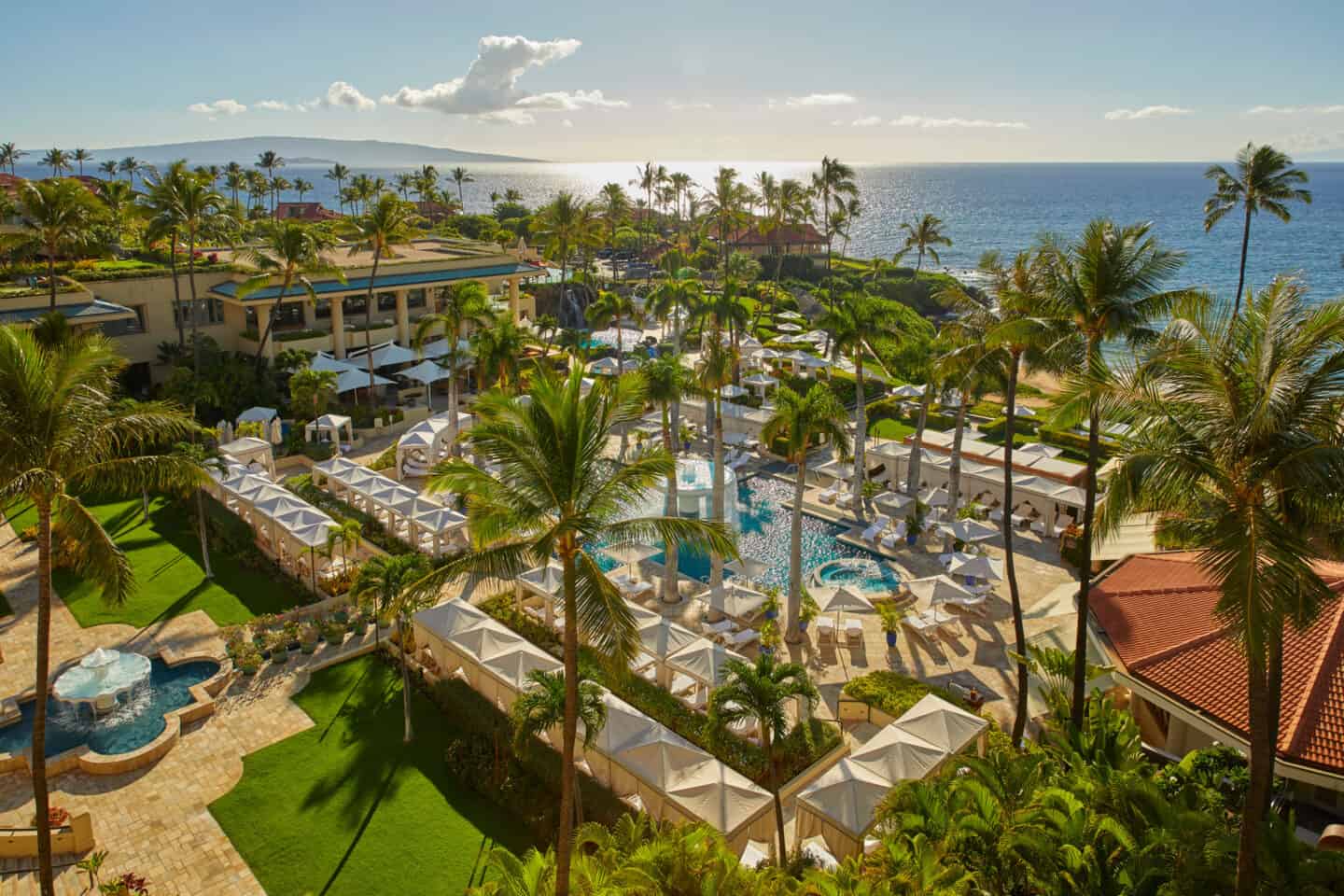 Trust me when I tell you Four Seasons Resort Maui has thought of everything to make sure Maui's most luxurious resort is the safest resort on the island! Four Seasons Hotels created a partnership with Johns Hopkins Medicine to heighten sanitation levels and give guests confidence and trust in the hotel brand when traveling. Seeing the Four Seasons health and safety protocols in action, and comparing it to other properties we visited on Maui,  made it crystal clear to me that Four Seasons Resort Maui is the safest hotel on Maui during the Covid 19 pandemic.
The team at Four Seasons Maui has implemented the highest safety standards for their guests. Their focus is on providing a safe and comfortable environment for guests without sacrificing the resort's world-class service and amenities. 
Here's just a taste of what to expect when you arrive. You still receive traditional welcome leis only you safely lei your own party, each grabbing only your own leis from a gorgeous orchid wall. Masks are strictly enforced throughout the resort and everywhere in Maui.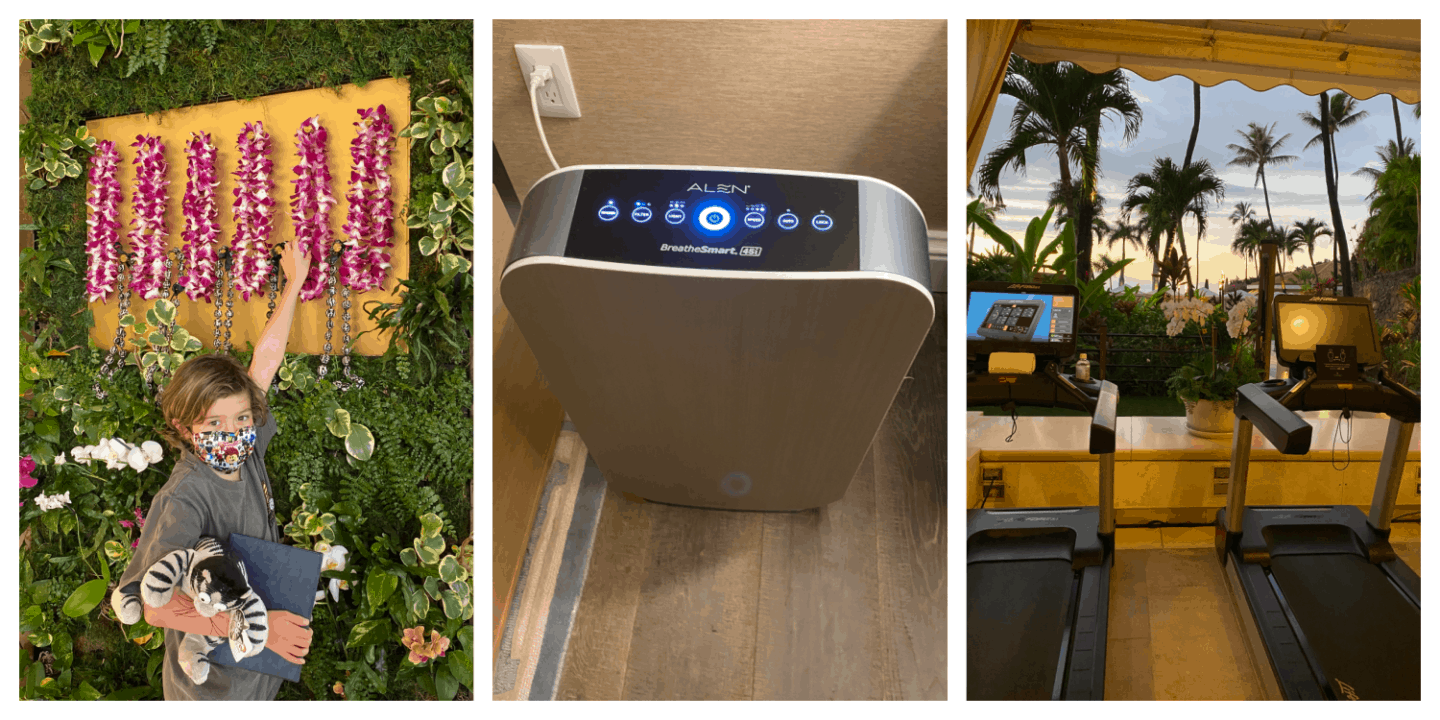 We were all excited to see that the resort is still doing welcome amenities for guests and kids. Our fresh fruit welcome amenity was perfect with all of the fruits individually wrapped with care to keep everything sanitary for our consumption. Harry's kids' sunglasses and beach ball were individually wrapped too. We also received kits with masks, hand sanitizer, and wipes to use during our stay.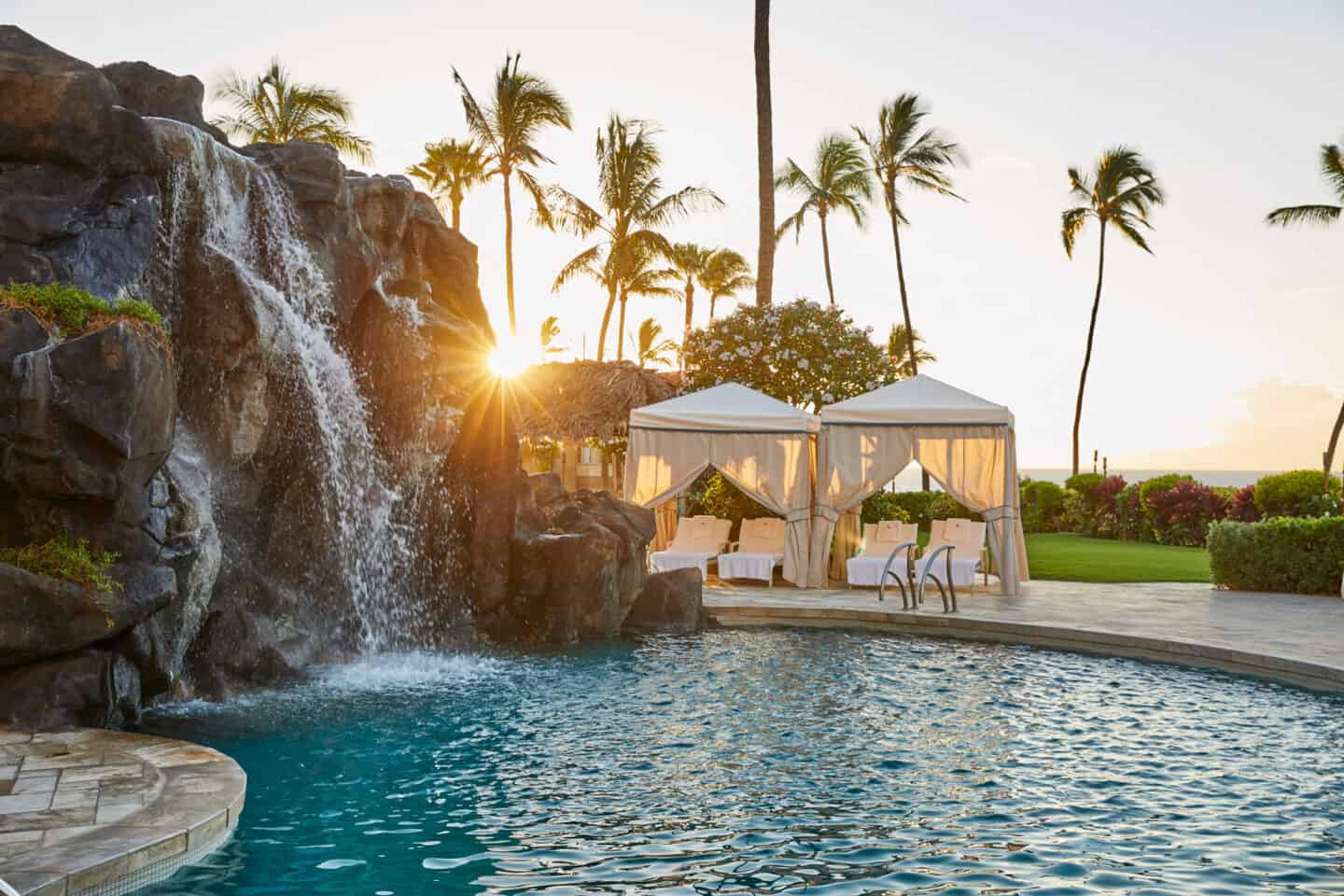 Next, we set out to have some fun exploring the resort. The property is an all open-air tropical environment where it's easy to spread out and find a shady or sunny spot to relax and practice social distancing. Everything is taken care of for you so it's easy to relax be safe and enjoy an amazing Hawaiian vacation.
Click to connect with  Sarah at Well Traveled Kids Travel to book your Four Seasons Reservations now with special Preferred Partner VIP perks & upgrades!
Will I still experience a luxury 5-star vacation feel staying at Four Seasons Resort Maui this year?
"Live your life while the sun is still shining. / Oi kau ka lau, e hana I ola honua" – Hawaiian Proverb
Now that we've covered safety it's time for the good stuff! I'm here to tell you, I absolutely experienced the same unparalleled luxury that I've come to expect from Four Seasons Resort Maui in the past, even better. Honestly, the super friendly staff spoiled us rotten for 5 nights. I wish I could have stayed FOREVER! If you are looking for the most luxurious Maui resort it is without a doubt Four Seasons Resort Maui.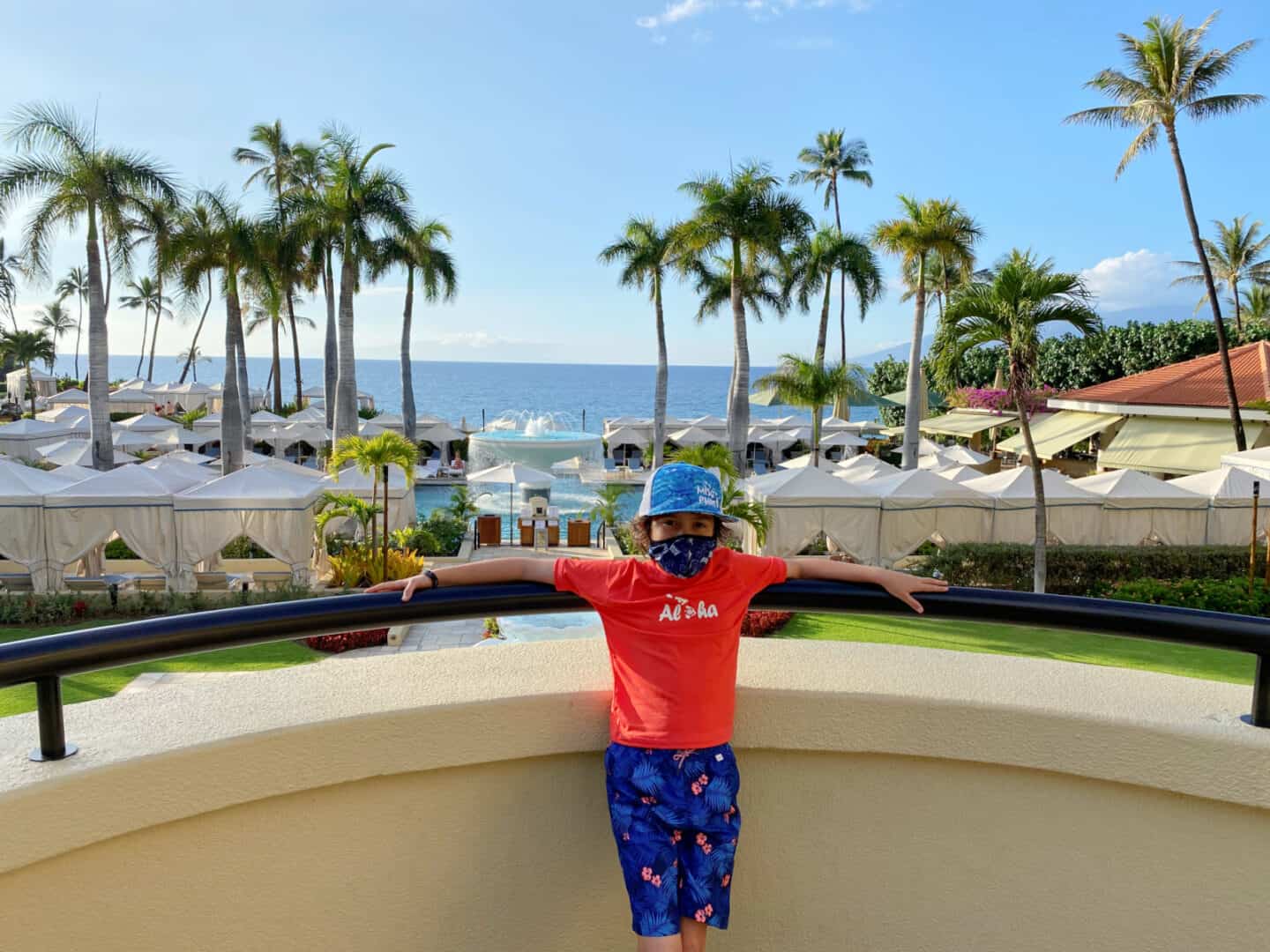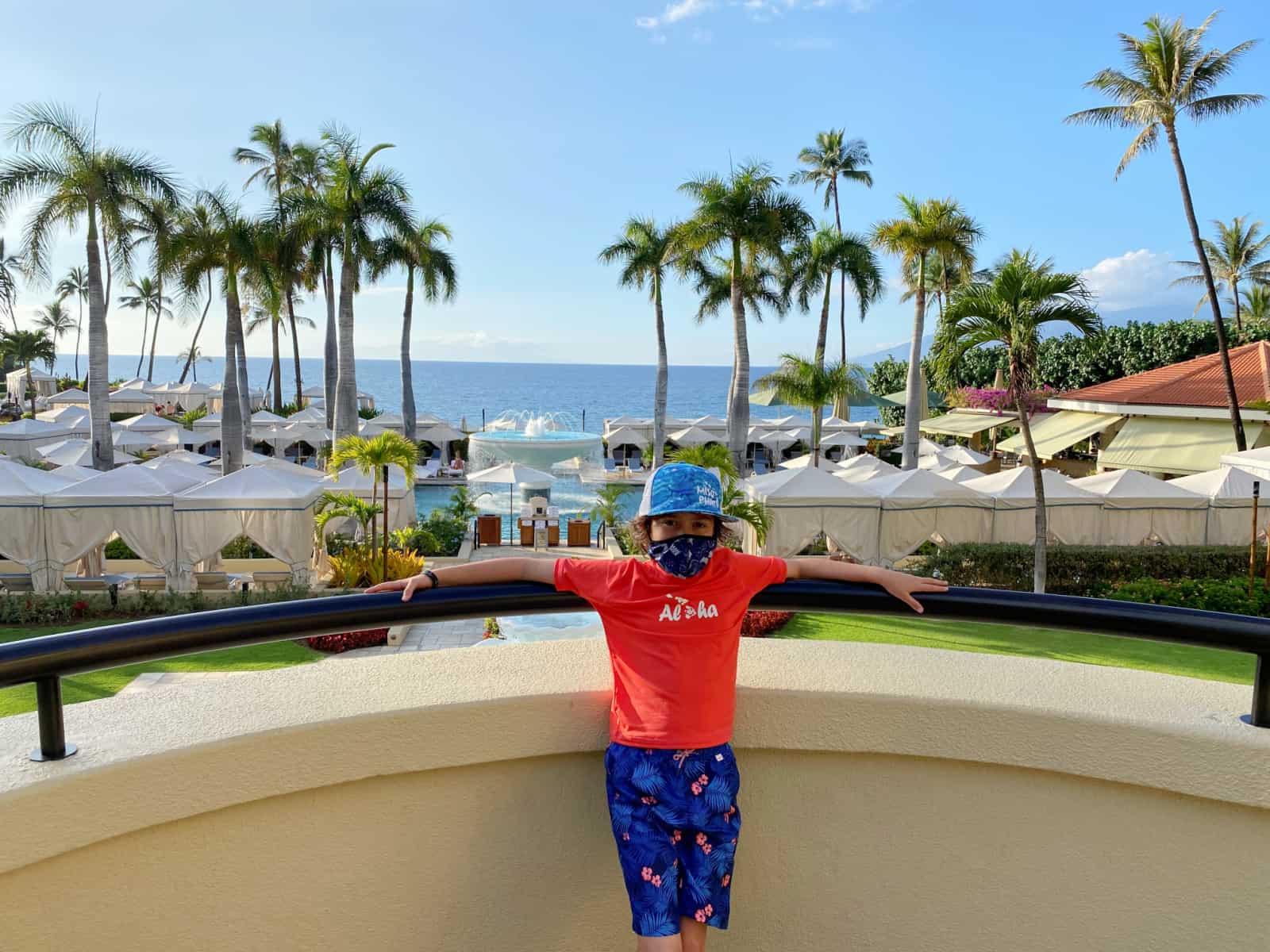 First off, I was thrilled to discover that at Four Seasons Maui everything is open! All of the restaurants, shops, the spa, gym, game room, room service, twice a day maid service, nightly live music, EVERYTHING FUN IS OPEN! Most everything is open-air, they even created an open-air gym area with Peloton bikes, treadmills, stair masters, and an incredible resort view. Expect to enjoy all your favorite signature Four Seasons services including hula dancing, lei making, sunset ceremonies, and thoughtful touches like complimentary poolside treats and more. All this and Four Seasons Resort Maui is the only resort on Maui that doesn't charge a resort fee.
Excited to fully pamper myself on this vacation, I started my first morning off with some much-needed self-care. Let me tell you, nothing beats relaxing to the sweet scent of coco butter during a traditional full-body Lomi Lomi massage while listening to the waves crash outside of your open-air oceanfront spa hale. My massage therapist was absolutely intuitive. She found every last knot in my back, neck, and shoulders. I floated out walking on air smiling ear to ear.
Our days at Four Seasons Maui were pure Maui magic! As a family, we'd go back and forth between getting set up with chairs and umbrellas on Wailea Beach and relaxing under the cabanas surrounding the fountain pool or the waterfall pool. The beach and pools are all fully staffed and ready to answer your every need. There is no better way to unplug, I promise you!
Harry had a blast playing in Kids for All Seasons Kids club with a new friend he made. They conquered the climbing wall, played gaga for hours, and made souvenir crafts with sand. Always a fan of Kids for All Seasons, we were absolutely giddy dropping him off because that meant we could escape to take a dip in the Adults-only infinity pool with a swim-up bar.  
The scene at the Serenity pool is gorgeous, quiet, and sophisticated. It's easy to see why Robb Report named it one of the Best Resort Swimming Pools.  The views from the infinity pool are spectacular, every day we saw whales showing off in the distance. The only thing better than whale watching from the infinity pool might be the people watching. We casually spotted a few celebrities enjoying our vacation from the luxurious cabanas surrounding the intimate adult pool.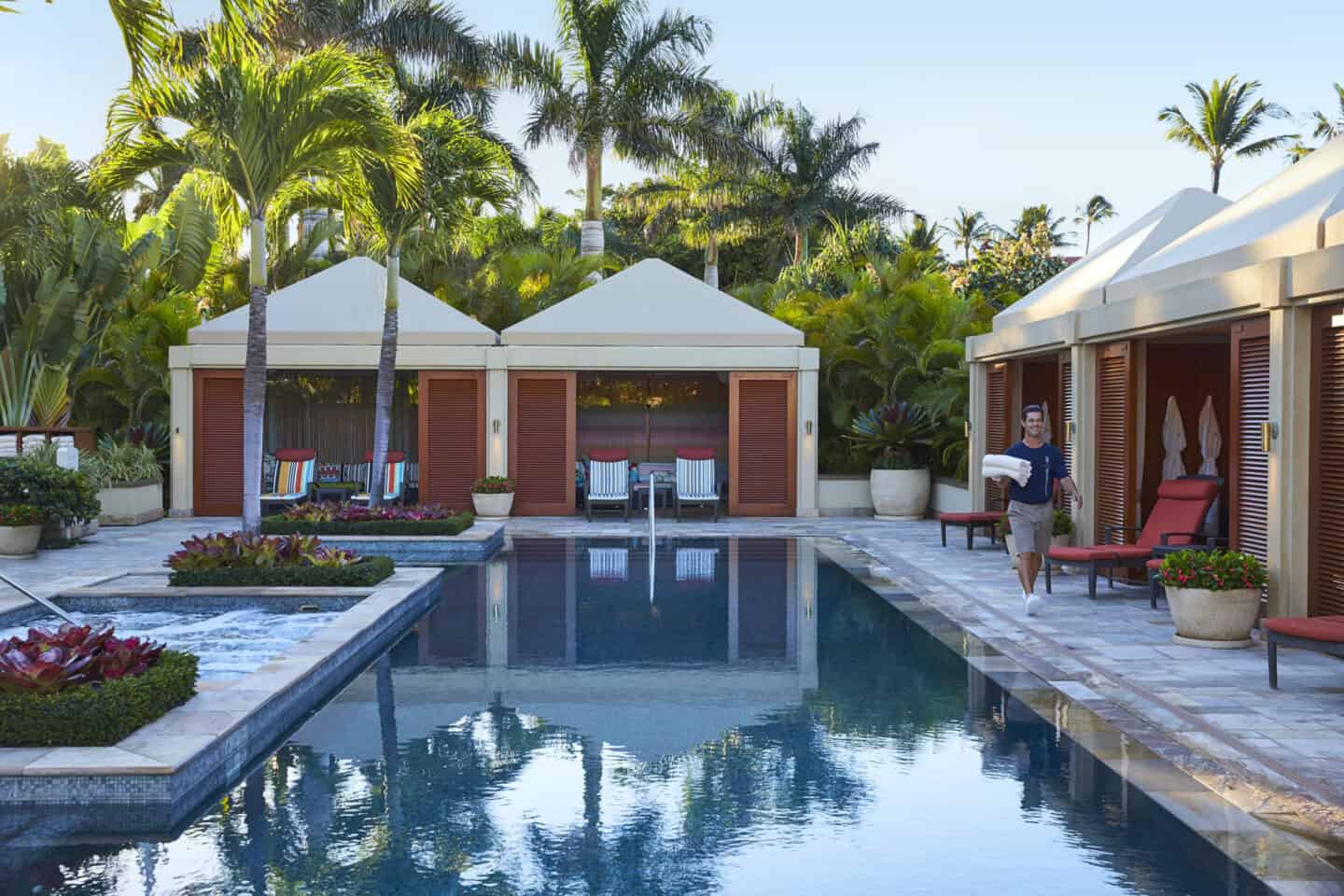 Twice while relaxing in our lounge chairs by the Serenity Pool we treated ourselves to the most amazing foot massages by an incredible massage therapist named Nani from the spa. Her poolside reflexology foot massage will melt your entire body. If you go, ask for her, Nani has found her calling with her little bony magic fingers! After an afternoon of sunbathing at the Serenity Pool and half an hour with Nani, my husband and I would strut back to pick up Harry at Kids for All Seasons feeling like we'd just left the fountain of youth. We were definitely better, more energetic parents after enjoying a little much-needed time apart!
We'd grab Harry and head straight to the beach. For a sweet treat, we'd pop into the Beachwalk Cafe for some rainbow Hawaiian shaved ice and take it down to enjoy on the beach. The sand at Wailea beach is so soft, and with a little water makes an excellent sandcastle. The beach boys would set me up each day so I could relax under my umbrella just a few feet from where Harry was riding his boogie board on the waves. Playing on Wailea beach is always fun and it really felt extra special this trip because we almost always had the beach mostly to ourselves by late afternoon!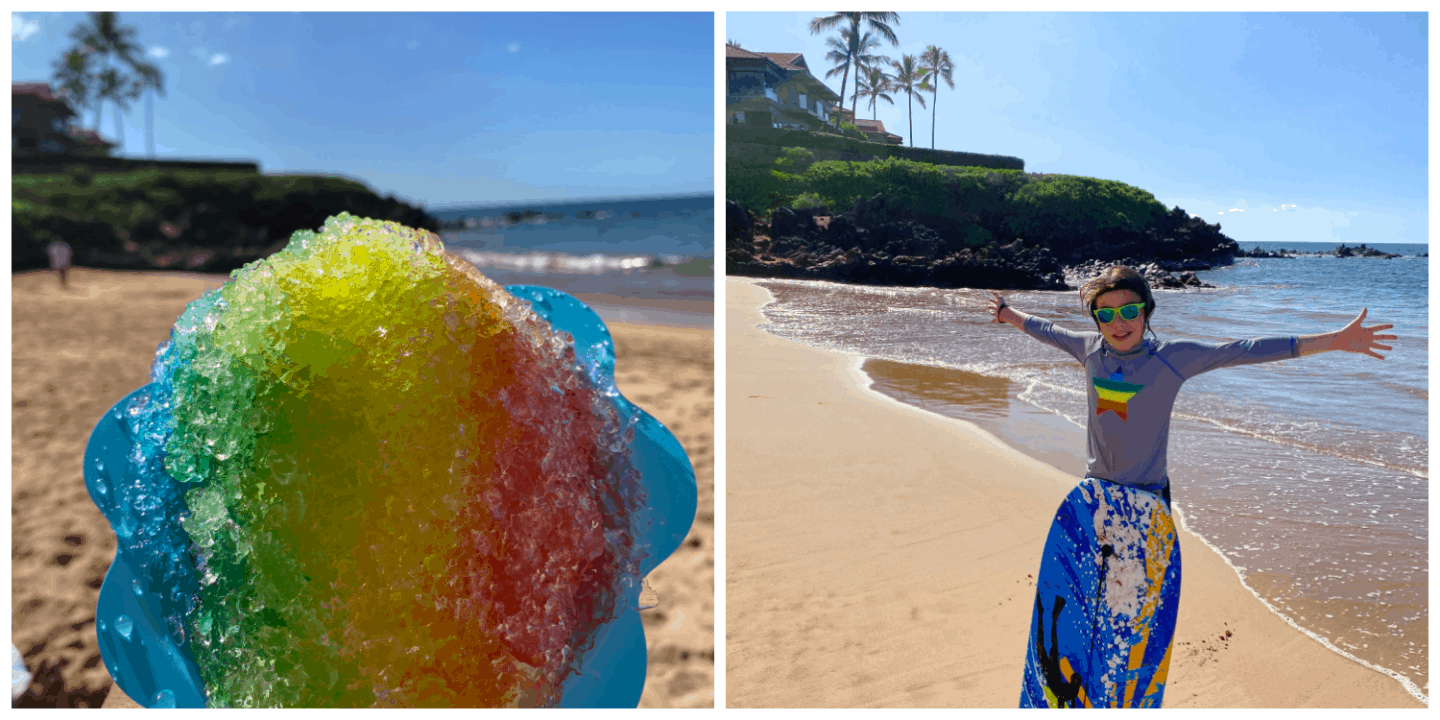 Our favorite resort activity was the outrigger canoe adventure. Our skilled guides Travis and Amity taught us to paddle out into the ocean on an authentic Hawaiian outrigger canoe using traditional paddling cues the islanders have used for hundreds of years. They took us out from the resort on an exciting adventure to paddle out in areas where stingrays and giant sea turtles are usually found while we kept an eye out for whales playing in the distance. We all loved it! I'll always remember how majestic the gentle morning ocean waters looked from our little canoe.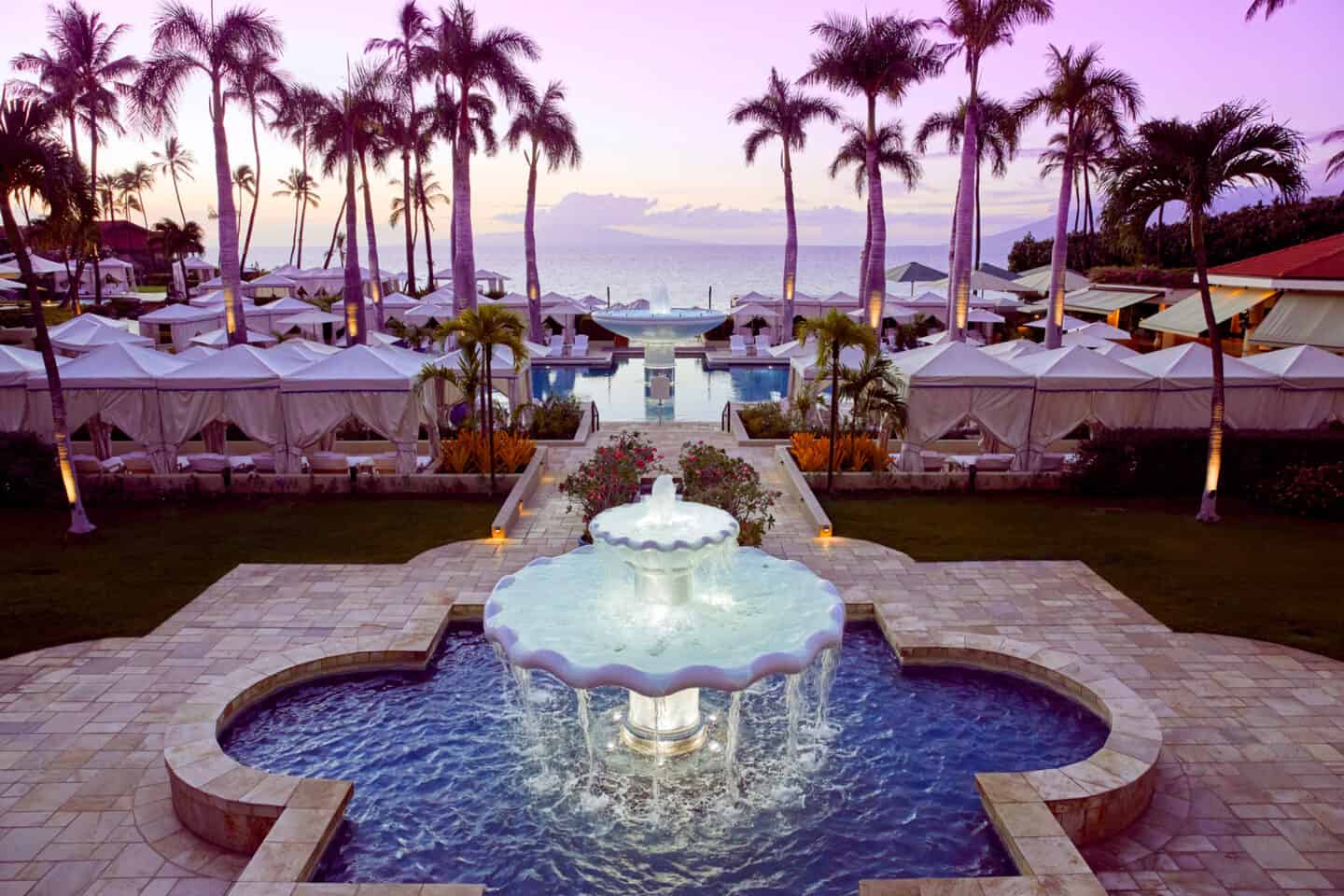 Sunsets are a special time at Four Seasons Maui. Every evening we'd relax in the hot tubs at the Fountain Pool and listen for the sounds of the conch shell being blown as the tiki torches are lit up all around us. Then we'd walk up to the lounge to check out the hula dancing and listen to live island music before heading back to our room for one last glorious look at the colorful Maui sky over the ocean before dark. 
What are the dining options at Four Seasons Resort Maui?
As a family who loves luxury travel, eating well is a big part of the equation for a successful vacation. When we travel to Maui, the fresh local foods are always a big part of the joy in each meal. Dining at Four Seasons Resort Maui is a delight for everyone. They focus on sourcing all ingredients, fruit, and vegetables from the islands. We tried every restaurant and in-room dining during our stay and they were all terrific. My son has severe food allergies, I was impressed with the way every restaurant knew his needs and approached our table ready to recommend dishes that were safe for Harry. Every restaurant including Spago offers kids menus, wellness menus, fresh-caught seafood, and an island twist. 
We knew from previous experiences that breakfast at Duo is an event never to be missed. Every morning we looked forward to sampling something new and delicious from the made-to-order menu. Breakfast is served till 11 every day so we didn't have to rush down to enjoy all our new favorites like blueberry pancakes, banana macadamia nut pancakes, and the Hawaii 50 acai bowl. We'd wash them down with Kona coffee made in the french press or a fresh-made juice or a smoothie and have lots of energy to get started with our day of fun in the sun.
For lunch, we mostly dined poolside in our cabana. Harry loved the kid's pizza and we'd try something new and tasty every day. We decided the ahi poke lettuce wraps and the kalua pork nachos were our faves.
Every bite of our lunch at Ferraro's was amazing. We spotted 3 whales splashing and playing right below us during our afternoon meal. When you go, be sure and get the made-to-order focaccia bread! I also highly recommend ordering the burger, it was tasty on my honeymoon and 14 years later they are still serving up yummy burgers. Oh and the Trader Vics frozen Mai Tais are heavenly!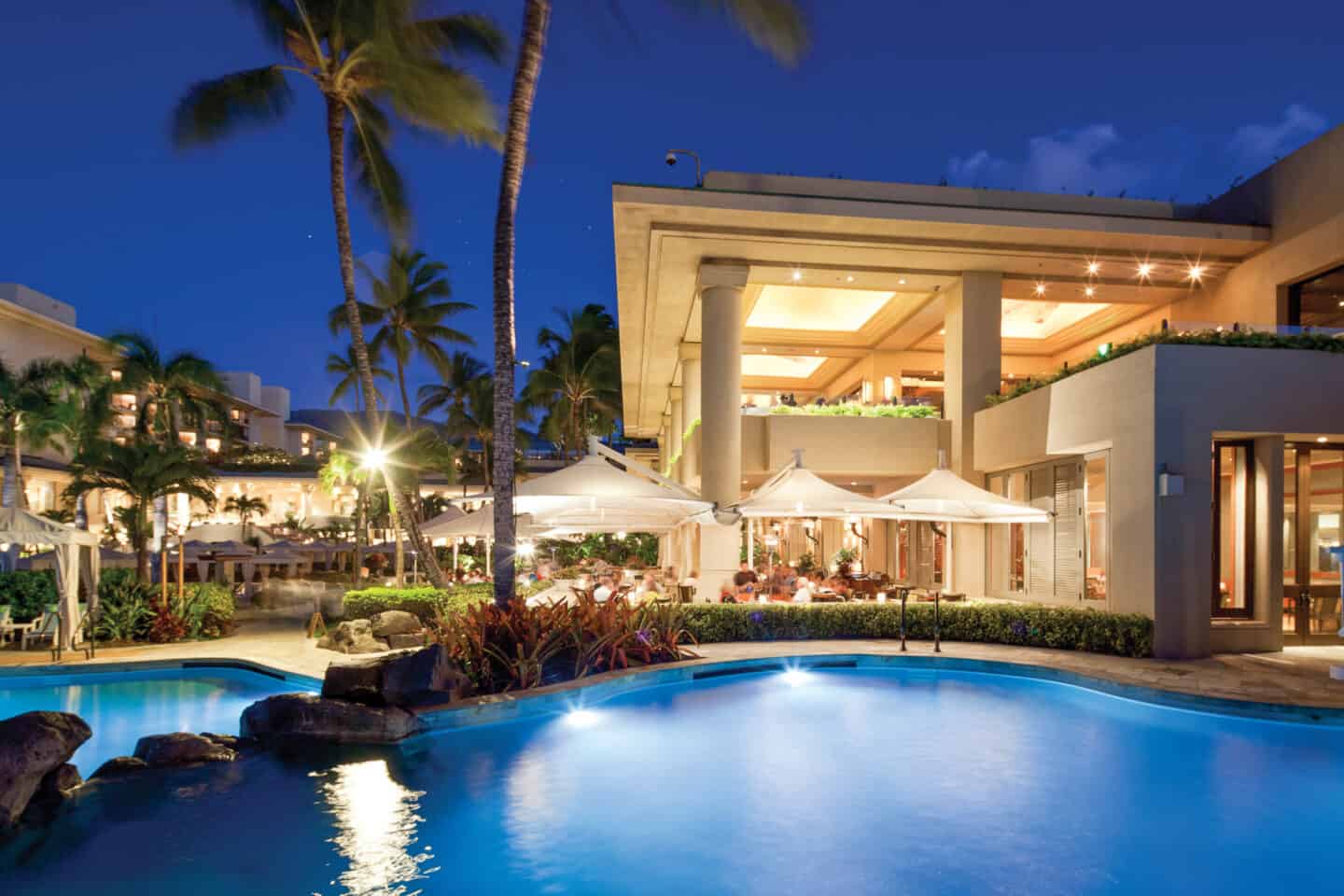 Dinner at Duo was epic from start to finish. The french onion soup made with local Maui onions was the best I've ever had. I can still taste our decadent meal of dry-aged Maui beef steaks and lobster tails. Our server was extraordinary, we mentioned we'd like to have the Malasadas dessert from upstairs in the lobby lounge and he volunteered to order it and bring it down to us at Duo. To enjoy an experience like this with views of the pools all lit up around the resort, it was an unforgettable night.
What can families enjoy at Four Seasons Resort Maui with kids?
On vacation, everything should be easy! Booking a family stay at Four Seasons Maui with kids is not just a trip with the kids it is a true luxury vacation for the whole family. Life is good here and that's why I recommend Four Seasons Resort Maui for families of all sizes.  
Click here to connect with  Sarah at Well Traveled Kids Travel to book your Four Seasons Reservation now with special Preferred Partner VIP perks and upgrades!
Families with babies and toddlers need only pack a stroller and a car seat because the resort has everything else you need. Families with babies can request cribs, microwaves, an extra fridge and they will all be set up complimentary in your room. 
The resort is an oceanfront sanctuary. Wailea Beach is my favorite of the best Maui beaches and it's perfect for kids of all ages with soft sand and the waves are usually mild. It's complimentary to be set up at the beach with plenty of lounge chairs with umbrellas. Families can spread out together and relax in one of 81 complimentary cabanas that face either the ocean or pool. There are also six luxury cabanas at the adults-only serenity pool and four elevated ocean-view cabanas with personal lawn space near the fountain pool that can be reserved in advance as early as you book your room reservation.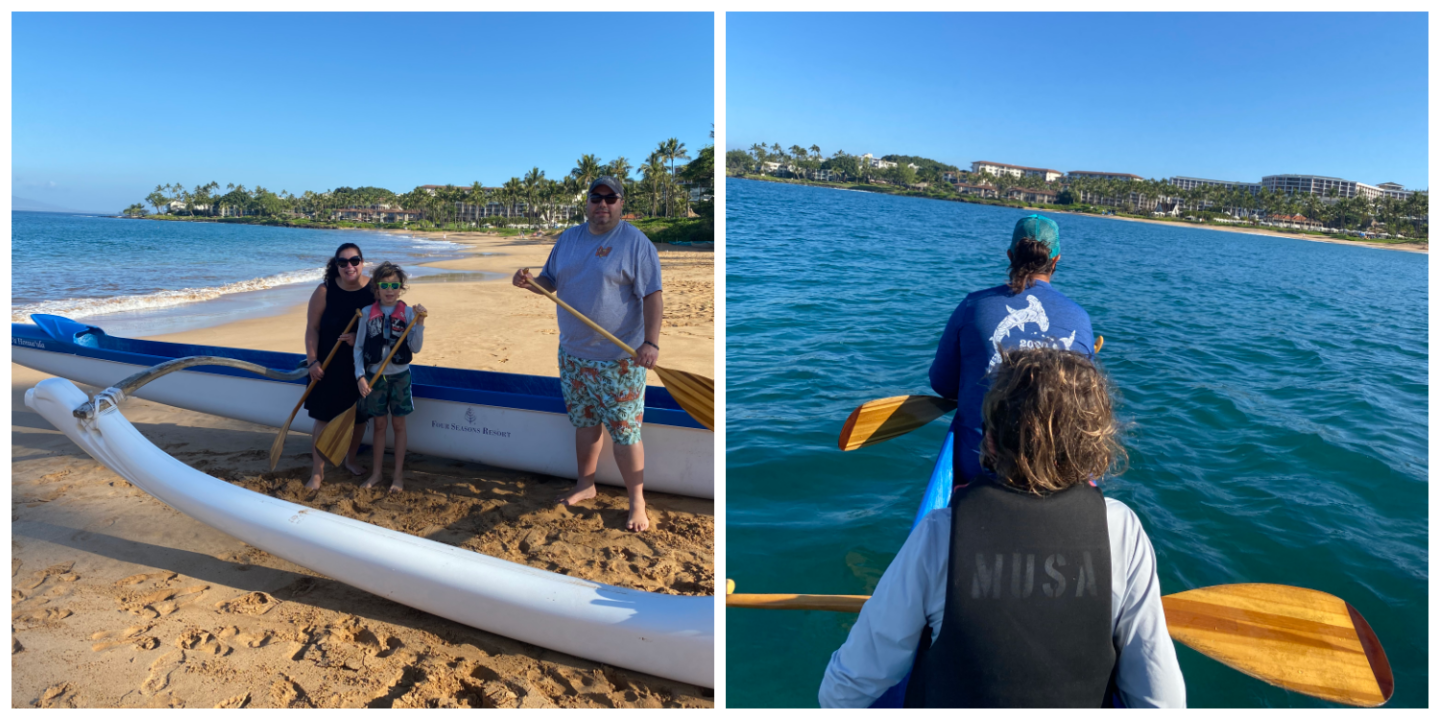 Hawaiian culture is everywhere at Four Seasons Maui. I recommend for families with kids 9 and older book an amazing Outrigger Canoe experience.  The whole family will love cultural activities like learning to make leis and dance the hula. 
Kids who want to have some fun without their parents will LOVE spending time at Kids For All Seasons, the resort's complimentary kids club. My son Harry loved every minute of playing games and swimming with Miss Liz. She is so high vibe and the kids loved that she said they could call her Lizard!
Go out and explore Maui! Four Seasons Resort Maui has the perfect home base to set out on a day of sightseeing around Maui. The whole family will enjoy scenic rides along the coast looking out at the blue Hawaii waters and all the best Maui sandy beaches. 
Install the Four Seasons Hotels App on your phone the day you book your trip. When you click on your Maui reservation you are connected directly to the 24-hour concierge team. They are happy to help you plan your ultimate Maui family vacation, booking your reservations, whale watching excursions, sightseeing activities, and answering all questions. I used the app while on the property to ask all sorts of questions, book dining, and place a reservation at the Kids For All Seasons. Every time I was answered within a few minutes.
What room categories are best for families booking at Four Seasons Resort Maui with Kids?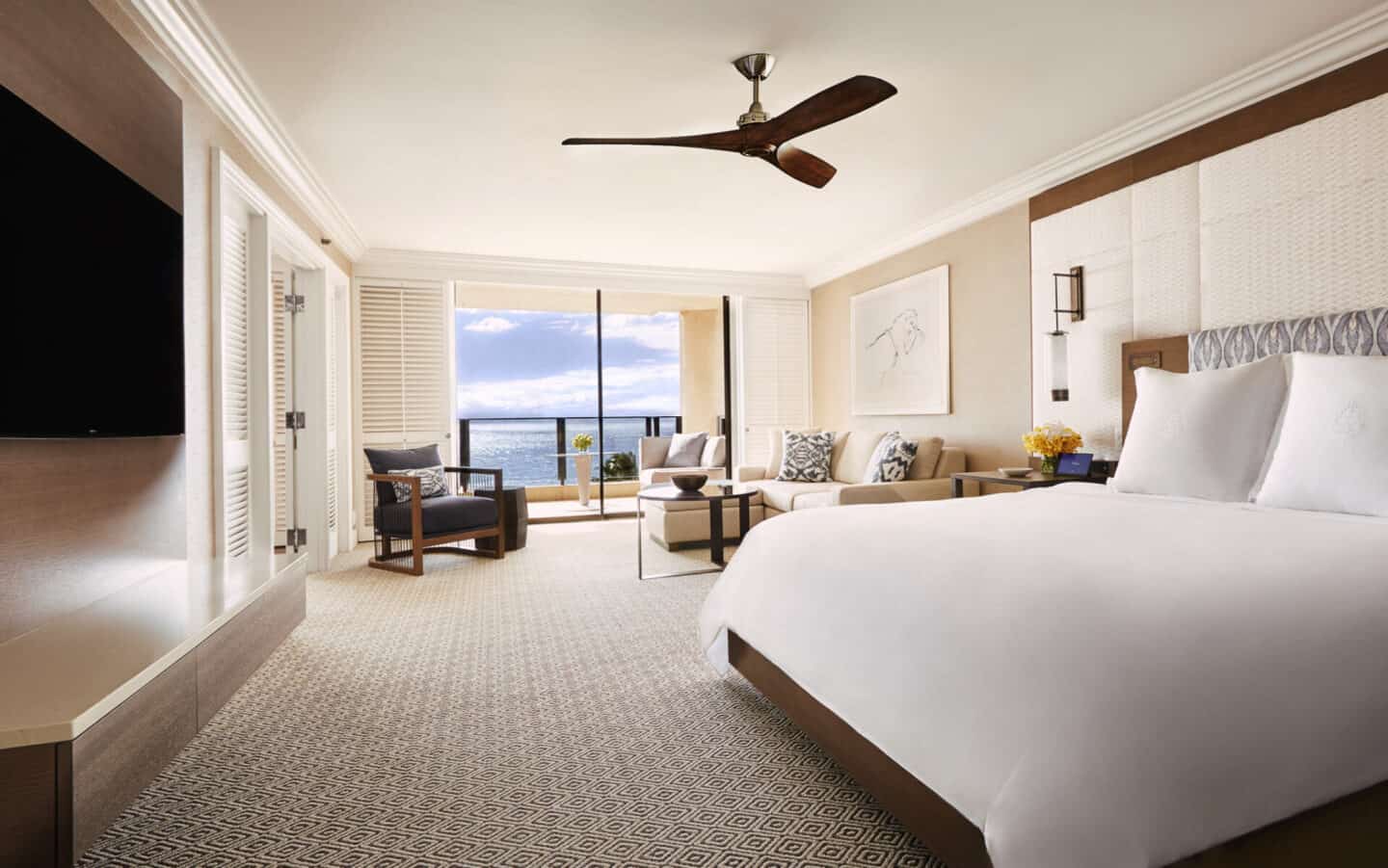 Planning a family stay at Four Seasons Resort Maui? Let me book you into the perfect room or combination of rooms to accommodate your family. Well Traveled Kids clients receive my Four Seasons Preferred Partner VIP perks during their stay. Currently, I have a deal where I can guarantee a complimentary 1 category room upgrade for clients booking through the end of March. Perfect for spring break trips! 
Plan ahead or last minute! With so many flights to Maui available it's easy to get a Covid test and fly to Maui within 72 hours on a spontaneous getaway. If you're planning in advance for the festive season keep in mind that those who booked the previous year have first rights to this year's bookings. Once they open up new reservations I'd be happy to secure yours. Whatever your timing,  I will help you navigate the waters and plan the perfect Maui getaway.
Click here to connect with  Sarah at Well Traveled Kids Travel to book your Four Seasons Resort Maui Reservations now with special Preferred Partner VIP perks and upgrades!
During my stay, I toured everything from standard rooms to the most luxurious oceanfront suites so that I could see first hand what my clients would experience at each level. Trust me, you can't go wrong in any of the rooms. There are connecting rooms in all categories making it easy for families to travel together and spread out. Rooms have pull-out couches not a rollaway for the kids. 
All of the suites have large lanais with plenty of seating and ocean views. The Exclusive Club Floor offers elevated amenities for guests booking rooms and suites on the top floor. You can't buy access so must book a Club Level room or suite for access to the club lounge. 
Large families can book up to 4 bedroom oceanfront suites with exquisite views. Families craving the most luxury Maui vacations book one of the 2 spectacular prime oceanfront presidential suites.
We stayed in a deluxe ocean view executive suite. Our suite was spacious with a pullout couch, dining room table, and bar in the living room. It was the perfect size for a family of 3 or a family with 2 small children. We were very comfortable and loved every minute.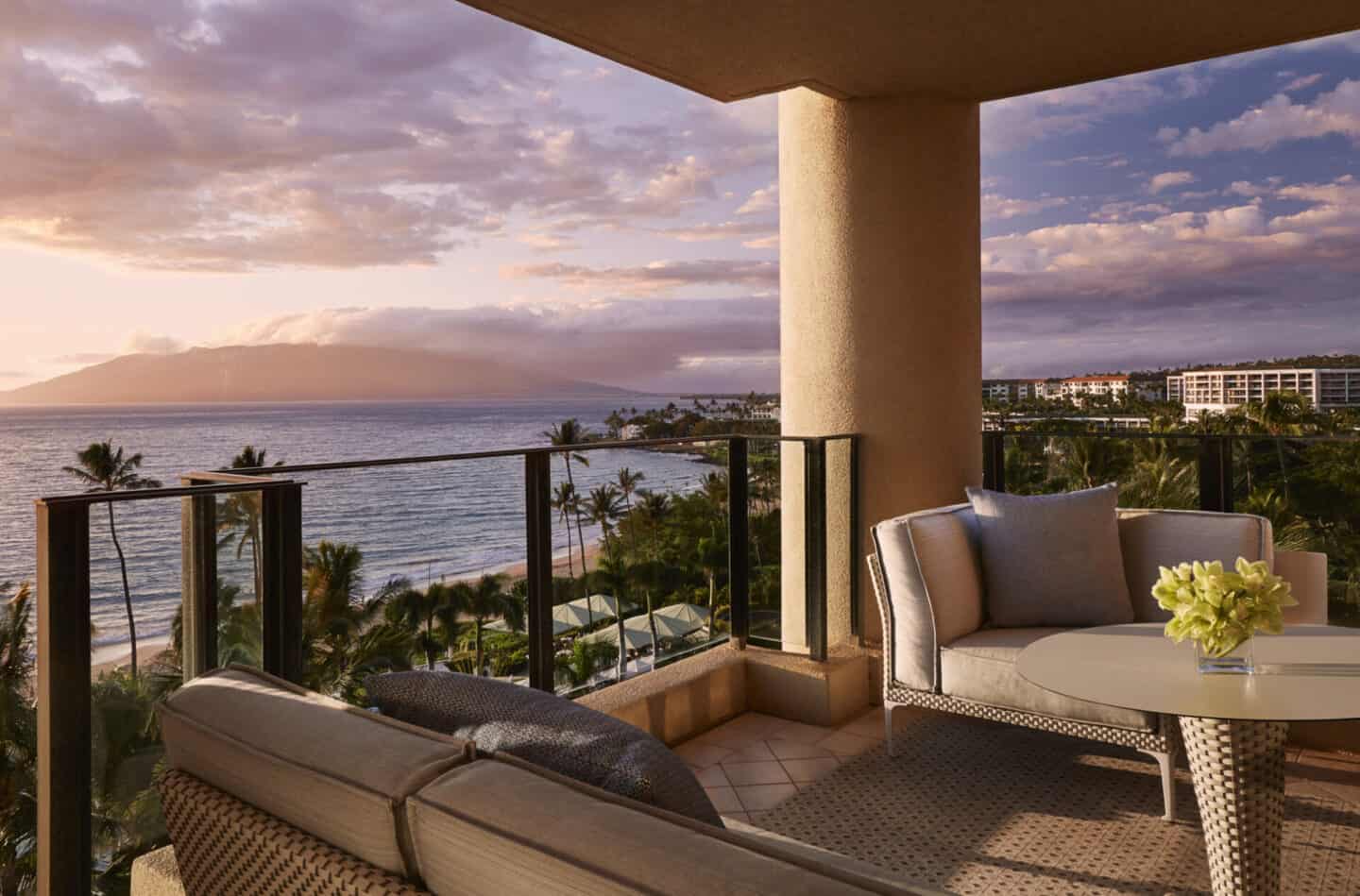 Booking a family vacation to Maui was an excellent decision! We had an amazing getaway and I wish that I could have moved right into the Four Seasons Maui and stayed there all winter. I've been home 2 weeks and I already want to go back.
I didn't say goodbye when we checked out of Four Seasons Maui. Instead, I said A hui hou – Until we meet again!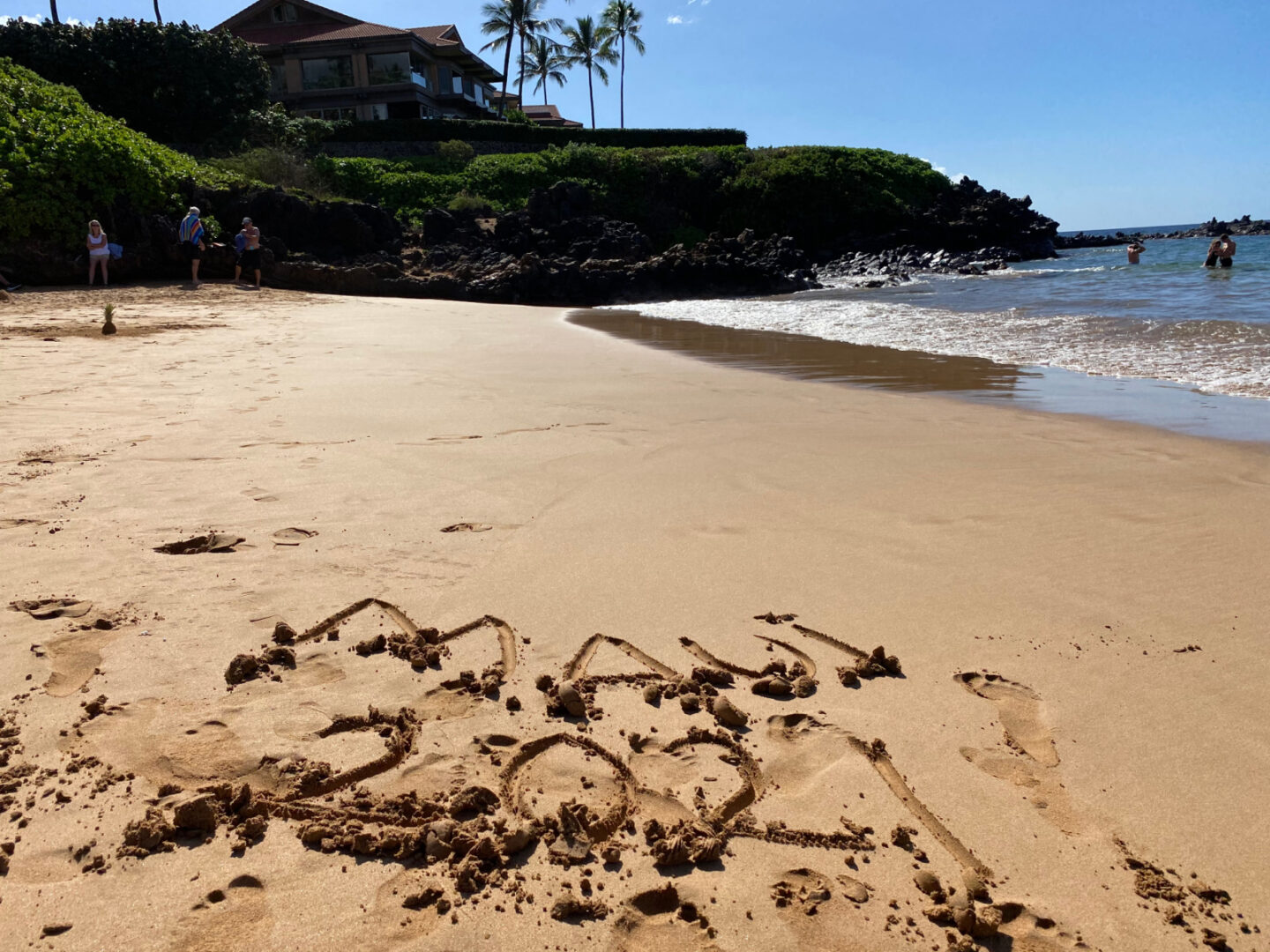 Book your luxury Maui Family Vacation NOW! Click here to connect with Sarah at Well Traveled Kids Travel to book your Four Seasons Resort Maui Reservation now with special Preferred Partner VIP perks and upgrades!
Photos courtesy of Four Seasons Resort Maui at Wailea
Disclosure: Well Traveled Kids is an independent affiliate of Magma Global Travel, a Four Seasons Hotels and Resorts Preferred Partner.