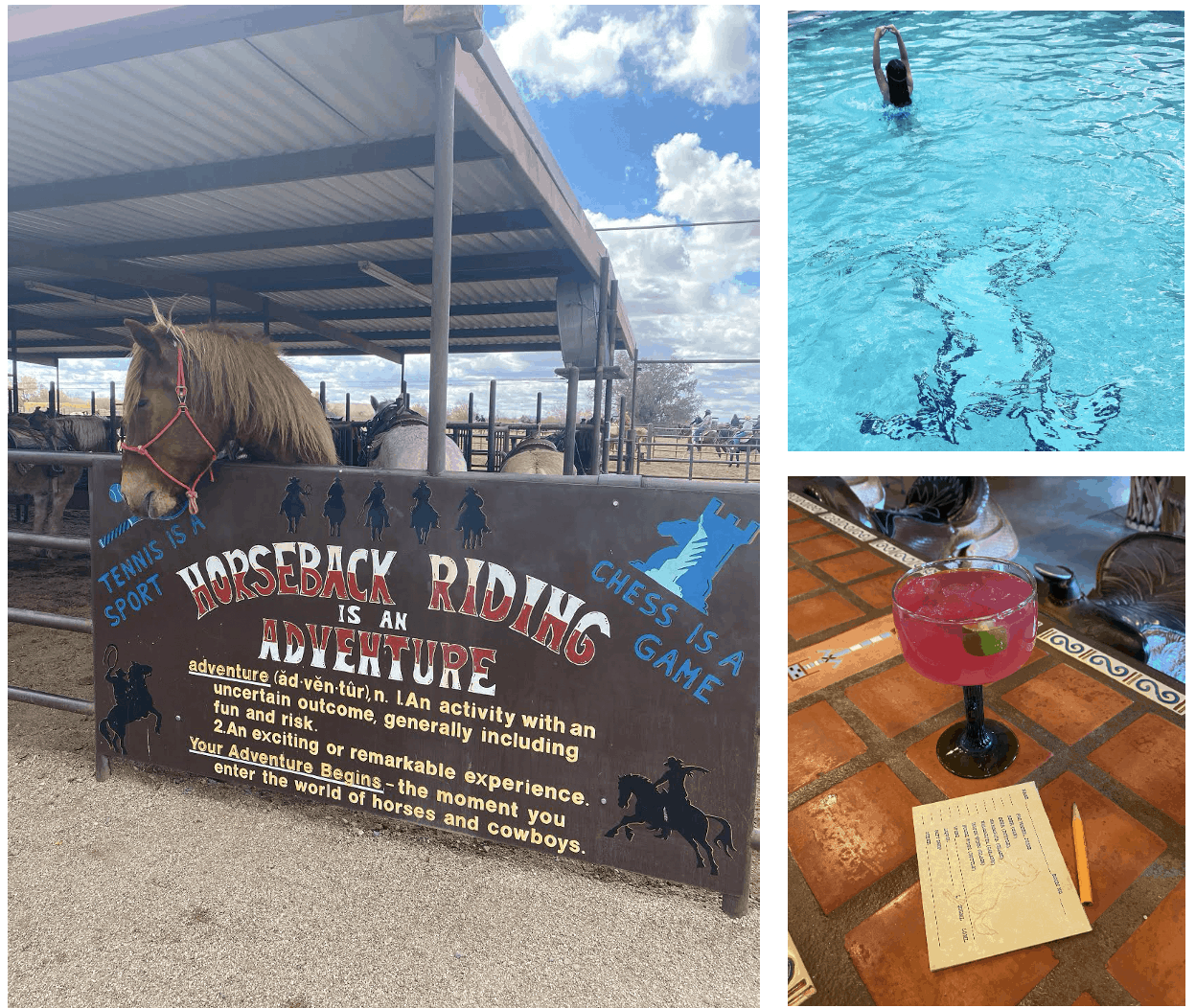 Calling all horse lovers!
Hey city-slickers! If you are looking for a wild west adventure that is well off the beaten path, I encourage you to boot scoot over to the White Stallion Ranch in Tucson, Arizona. Keep reading to discover my top five favorite things about this one-of-a-kind working Arizona dude ranch that is good old-fashioned fun for the whole family.
My husband Mark and I live in Arizona with our nine-year-old daughter, Reagan. We were looking for a quick, fun, last-minute weekend adventure and decided on White Stallion Ranch after some brief research on Arizona Dude Ranch options. We love horses, fresh air, and family-friendly adventures. This experience fits all those criteria. Plus, we made a side trip to visit the infamous Olive Mill in Queen Creek on the way and snagged some awesome Fig Balsamic, but I digress!
I was a bit hesitant about venturing out to the dude ranch only because the website includes a disclaimer that explicitly indicates it is not a "luxury" property or a "luxury experience." I was, however, reassured by the host of awards they have accumulated over the years including:
The 12 Best All-Inclusive Resorts in the United States for 2019
Voted #1 Best Family Resort by USA Today 10BEST Readers' Choice Awards 2018
Ranked #1 on TripAdvisor of 133 Hotels in Tucson for 8 consecutive years
TripAdvisor Travelers' Choice Award 2018, 2019, 2020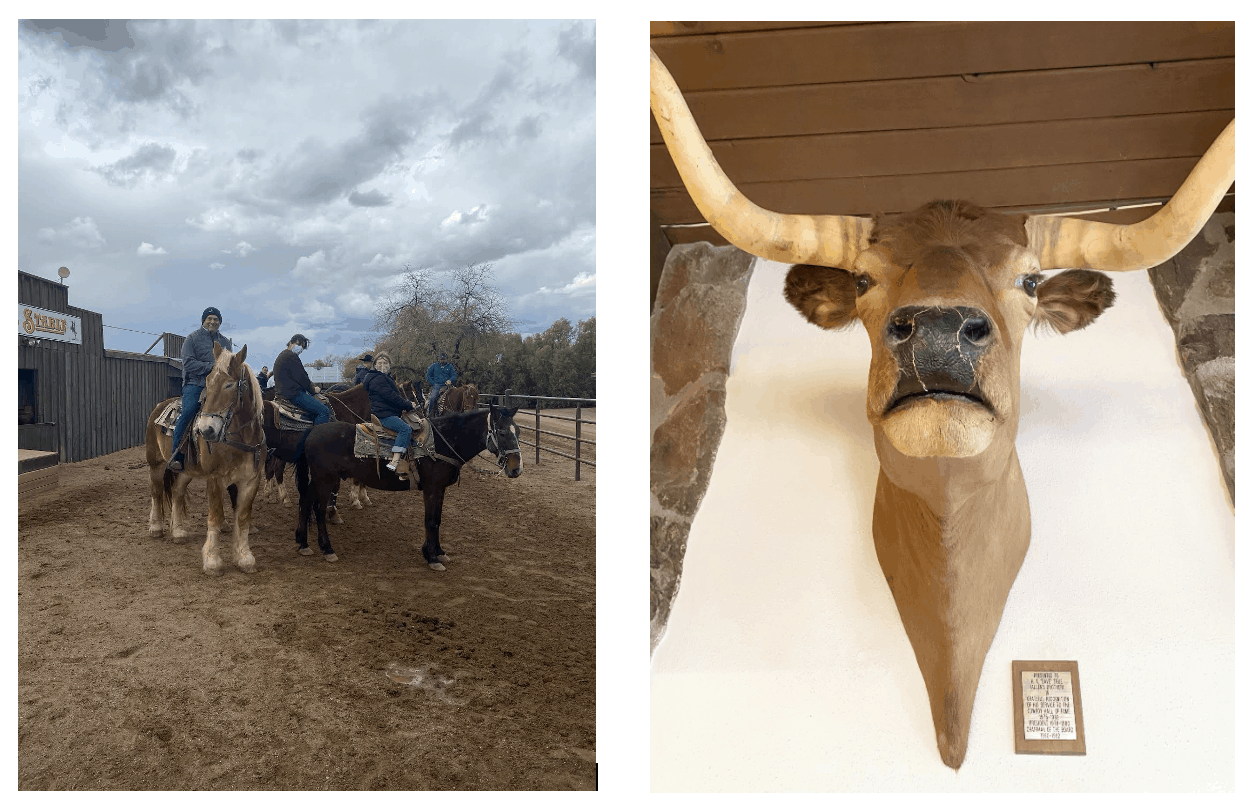 We decided to go for it and I'm certainly glad we did! It was a nice escape and very different from our usual travel. What did I love? Take a look and see everything we loved at this Arizona Dude Ranch!
Top 5 Reasons to visit White Stallion Ranch
The Summer Camp Feel
Upon pulling into the dirt road, I felt like I was getting ready to enjoy a few days at summer camp. I loved the nostalgic nature of the activity sign-up sheets in the lobby for the following day. You could choose from a variety of activities such as shooting, riding, rock climbing, hiking, archery, cattle sorting, penning, hayrides, and e-biking (motorized bikes). In addition to those activities, there was also a petting zoo, a pool, a hot tub, and a small library room with a pool table, books, and games. The lobby featured a giant chessboard and a bar with horse saddles for seats. I loved that the bar was "honor" style…you merely took what you wanted to drink and wrote it down on a slip of paper for your bill. The prickly pear margaritas were my favorite. Very convenient. Meals were served buffet-style and we enjoyed live music at dinner.
The Accommodations
There are 43 rooms on the property as well as a large hacienda available for booking. The lodging is essentially a series of duplex casitas. Each room has its own outdoor front patio with a gas fireplace. The rooms were well-appointed with Western touches. The Remington replicas were darling. I loved the boot remover in the room and have since ordered one on Amazon! This trip was definitely an excuse to break out the Luccheses.
The Horseback Riding
There were many different horseback riding experiences to choose from. We picked a nice slow ride through the desert for an hour. Other rides included a fast ride (galloping) or a half-day ride. The horses were very good-natured. Each riding group was about 6-8 guests and a guide. It did take a while to get every situated on their horses and in the proper groups (we waited about 40 minutes for our names to be called). Outside of this delay, the ride itself was absolutely delightful. Next time, we'd like to be more adventurous and try the fast ride!
The Archery
The archery lesson was my daughter's favorite part of the trip. Our teacher, Martin, was patient, clear, and pleasant. There were seven of us learning for an hour. The weather was gorgeous, and we all felt very accomplished after hitting the target a few times. The other families were all from out-of-state which I found very interesting. I was also told many families from Europe enjoy visiting throughout the year. While Reagan and I were learning archery, my husband enjoyed a rifle shooting class.
The Solitude
White Stallion is a quiet, remote location at which you can enjoy one-on-one time with your family while taking in the peaceful sights of the desert landscape.
I have two regrets. The first is that I could not take home a horse (joking—but they were very cute). The second is that I could not sufficiently tip the staff. The ranch did not have any change at the front desk and I am not sure why.
Thank you for a wonderful weekend, White Stallion! We look forward to returning again, soon. As a side note, the horses get to rest on Sundays so make sure to plan your stay accordingly!