We just returned from our first trip to the Big Island of Hawaii.  We absolutely loved each day exploring the island and of of its natural beauty.  One of our favorite experiences that we shared as a family was swimming with the dolphins at Dolphin Quest located in our hotel at the Hilton Waikoloa Village.  We actually selected to stay at the Hilton Waikoloa Village because we knew that Dolphin Quest was located there and we felt certain that Harry would love seeing the dolphins play out by the pool everyday during our stay.  We were right! Watching the dolphins from afar provided hours of entertainment and excitement for our 4-year-old dolphin lover.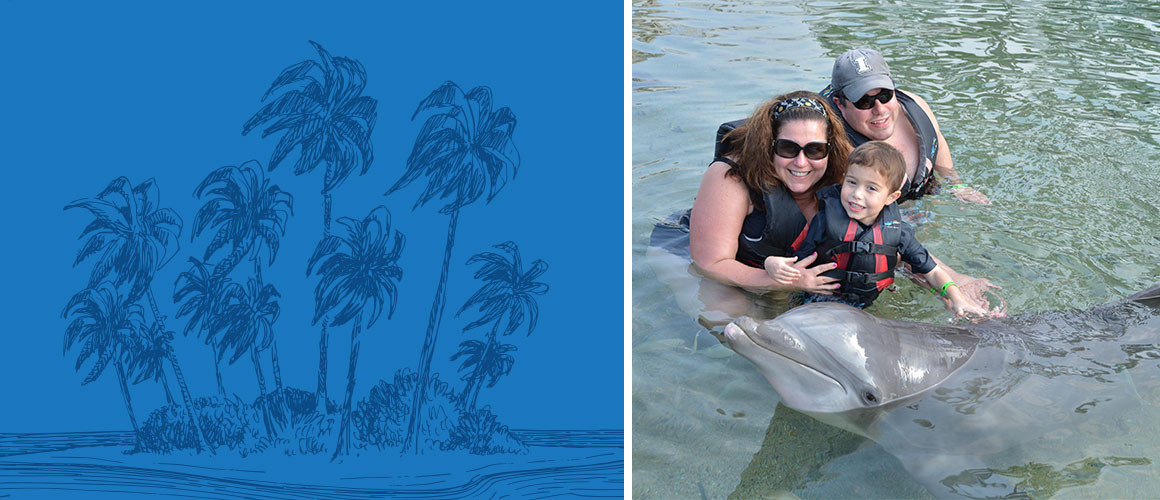 ---
Dolphin Quest's mission is to touch hearts and minds through fun, innovative experiences that create a connection to nature and a passion to learn more. We experienced an amazing connection with the two dolphins we met during our Wee Tot's dolphin experience (for kids 2-4 years old).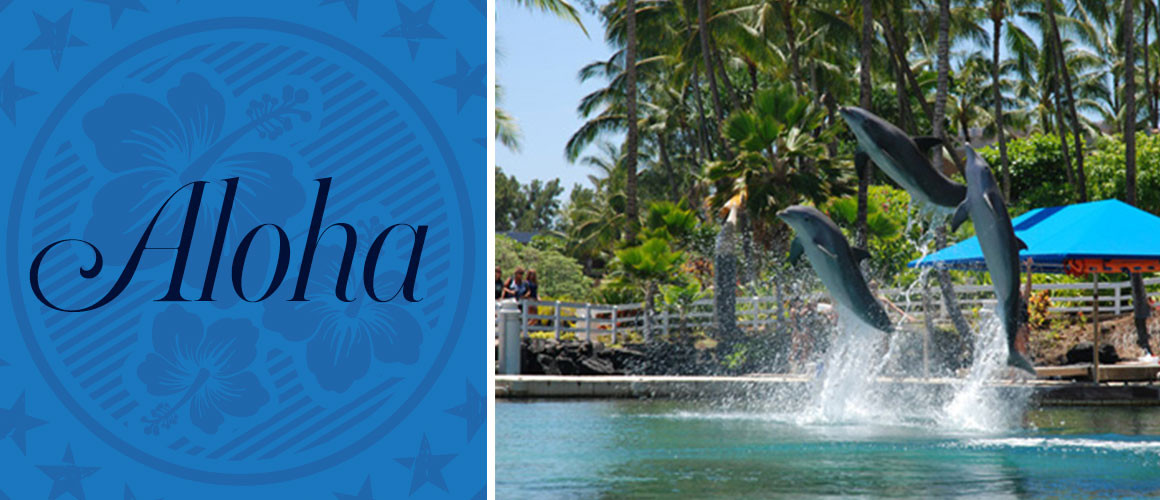 ---
The team at Dolphin Quest is serious about safety and education with each dolphin encounter.  Our experience started out meeting with very knowledgable staff who used puppets to show the kids how to touch the dolphins and what to never touch. Each kid picked their own puppet and watched how the dolphin puppet liked to be touched by others.  The staff all had an amazing fun way to teach the kids and make sure that each one understood the rules of getting into the water with the dolphins before we got in with them.
Our experience was led by a super energetic trainer who introduced us to  a 2 year old baby dolphin and her 14 year old mother.  Harry loved petting the dolphins and was careful not to touch the dolphins' eyes, mouth, or blowhole as instructed earlier with the puppets.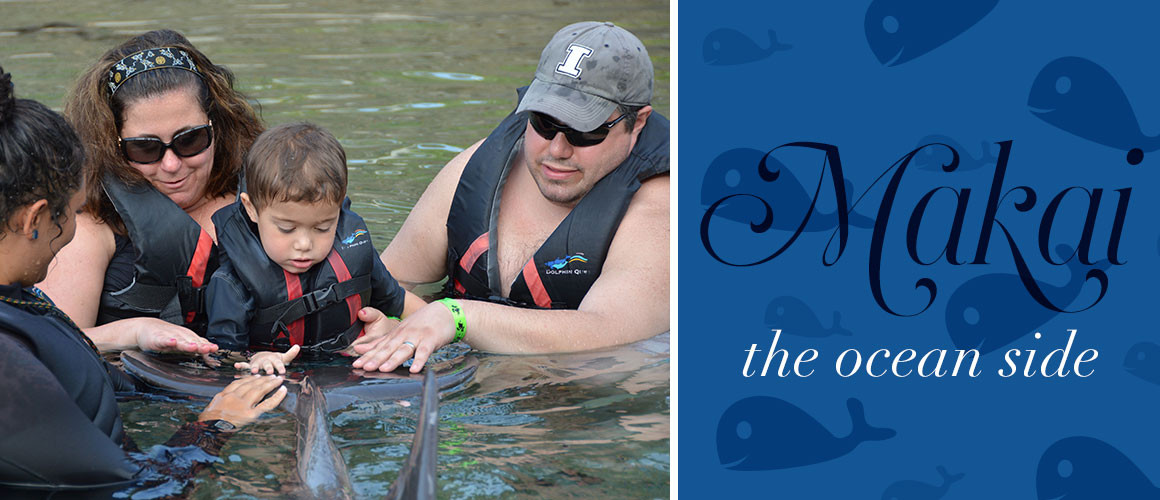 ---
The trainer let us touch each dolphin's back, tummy, fins, and tail to feel the textures of different areas.  Next she prompted the dolphins to open their mouths so that we could look inside and see their teeth and show us how they eat. She then gave us raw fish and taught us to feed the dolphins ourselves. I was amazed at how Harry wasn't squeamish at all about tossing dead fish into the dolphins' mouths.  Finally, she taught us tricks that we could do with the dolphins!  We even got to kiss the dolphins at the end.  We had so much fun! We loved the fact that they had a photographer taking pictures for us so that we were sure to get great photos since we couldn't bring our camera in with with the dolphins.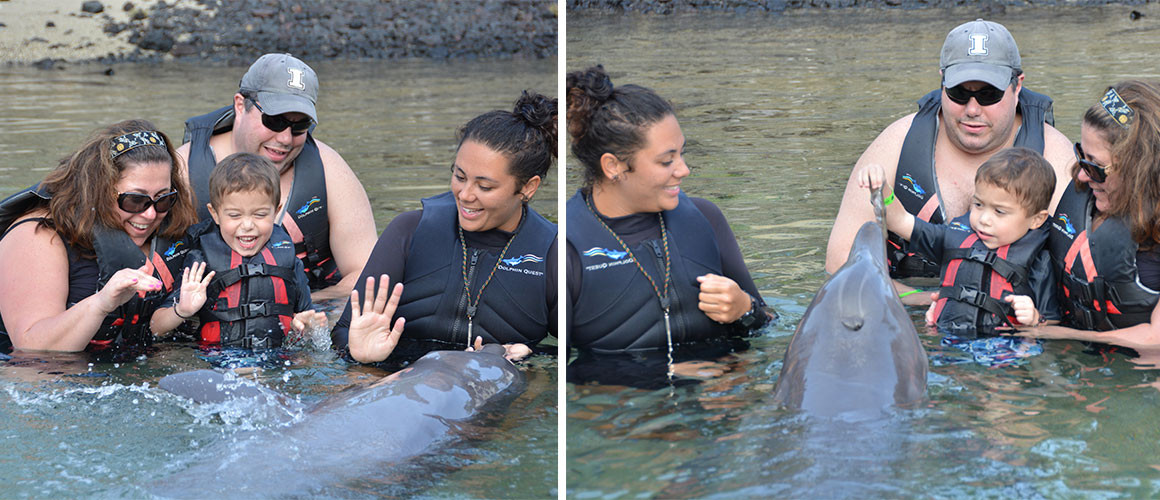 ---
The Dolphin Quest that we visited had 13 dolphins living in the habitat there at the resort. Each of the dolphins were so beautiful and loving with kids and the experience of being in the water and connecting with the dolphins is one that we will all cherish always.
Harry spent the rest of his pool time during our week's visit watching the dolphins train with their trainers and play with other kids from afar while begging us to go back and play with his dolphin pals again!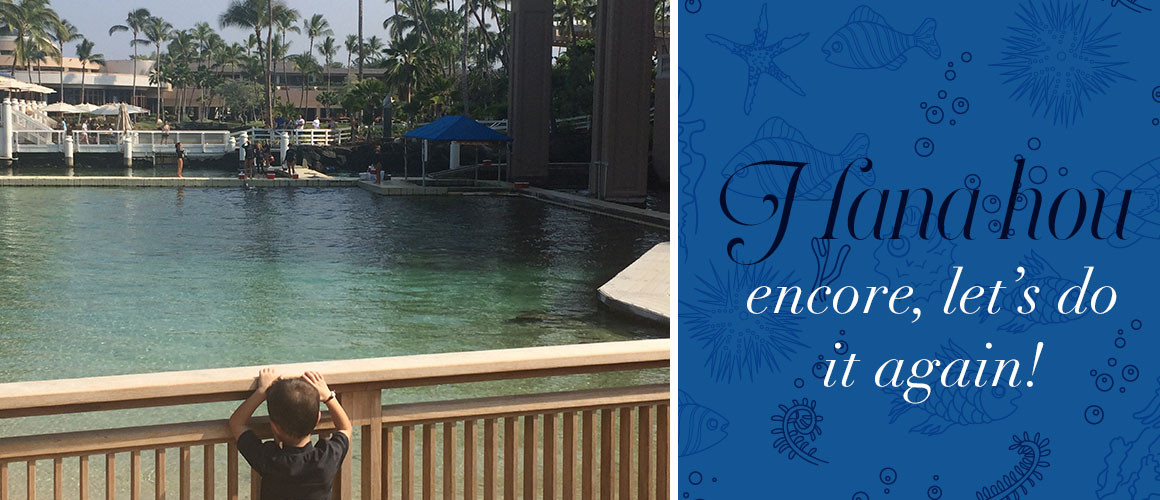 ---
I would absolutely recommend this experience to anyone with kids 2 and older.  It's been over 2 weeks since we returned from Harry's dolphin encounter and he hasn't stopped talking about it since!
We were guests of Dolphin Quest for purposes of the review but we loved the experience so much that we will absolutely pay to return.  We did purchase lots of photos and souvenirs during our experience because we had to be sure and take home memories or our magical dolphin encounter.