Wine Country with kids?  I'll admit friends at home gave me raised eyebrows when I said we were planning a visit to Sonoma with kids in tow.  Privately, I wondered if this would be a fun excursion as I really didn't know if people bring kids to Wine Country.
As it turns out loads of people bring kids to Wine Country.   The Fairmont Sonoma Mission Inn proved to be a perfect base of operations for our family.  Talk about a great spot for adults and kids!  On arrival the valet poured my husband and I each a glass of Gloria Ferrer Sparkling Rose.  We served this very wine at our wedding 14 years ago so we took this coincidence as a portent of good things to come.  And lest our kids stare longingly at us enjoying a glass of bubbly….the same valet gave them s'mores making kits for use at the nightly fire-ring in front of the hotel entry.  Nice!
Our accommodations were just right.  Our room was spacious, very clean, quiet and very comfortable.  On walking into our room the first time we were surprised and delighted to find a delicious bottle of wine, a plate of really nice cheeses and breads, fresh baked chocolate cookies and cold milk.  With these tasty bites we knew we had arrived in a culinary dream that would be fun for all of us.
The Fairmont Sonoma Mission Inn sits on property that was long-ago developed as a spa thanks to natural mineral springs that flow under the site.  The pool is fed by the mineral spring and the pool area is a wonderful retreat offering dappled sunlight through the tall trees surrounding it.  We were delighted to find many kids in the pool along with groups of women on girls' getaway weekends, couples in town to attend weddings and even people on a corporate retreat.  Fairmont provides pool noodles and offers good foods via a poolside snack bar.  It was at the pool we decided to add a third night to our visit – it was that relaxing and fun.
In addition to the pool area the Fairmont Sonoma Mission Inn offers complimentary bicycles for guests.  Our only disappointment was there were no kids' bikes.  We enjoyed the kids' bikes at Fairmont Miramar in Santa Monica and we figured the same selection would be offered here.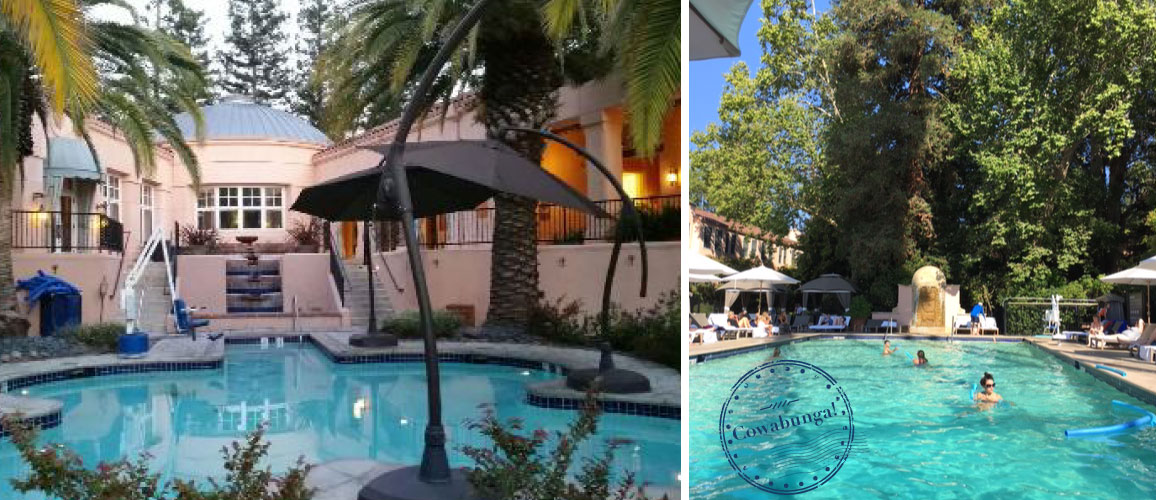 And what really helped us have a superb visit were suggestions from one very helpful concierge.  She told me she has a three year old and enjoys uncovering family gems in the Sonoma County and coastal areas.  In short order she encouraged us to attend the Tuesday Night Famers Market in Sonoma's Central Square.  This is a totally fun, foodie jamboree that the entire town seems to attend.  We feasted and enjoyed all sorts of foods from area restaurants and farmers – the experience was perfect for a family.  And may I mention there were kids everywhere and two nice playgrounds in the square which was good to find, too.
The concierge also helped us plot a good winery itinerary.  On our first morning we stopped at BR Cohn where our kids enjoyed an olive oil and vinegar tasting as this vineyard presses olive oils and sells varieties of infused olive oils and vinegars.  They completely enjoyed this experience (as did we).
From there we visited Benziger Family Winery where it is possible to take a wagon tour of their production facilities – once again there were many kids on site.  They also have beautiful picnic grounds and a well-documented garden which focuses on their biodynamic production processes.
Lunch was at BVJ vineyard which is more Italian Deli than vineyard and offers a fabulous selection of Italian sandwiches with handmade mozzarellas, coal fired pizzas and a large, shaded courtyard that, once again, boasted a lot of kids enjoying really good lunches.
When we decided to head back to the hotel, we stopped at two more tasting rooms – Kunde and Imagery.  Kunde gave us a tour of their impressive wine caves cut into the mountain on their property.  Imagery offers great wines, art for sale in its galleries and a bocce pitch in their beautiful outdoor gardens.  The kids enjoyed and we enjoyed!
After a big day touring wineries we just had to hit the Fairmont Sonoma Mission Inn pool. It has a slight green hue which I learned is because it is mineral water that is fed by an underground spring.  This property was originally built as a health spa in the 1800's and the Fairmont does a beautiful job evoking that early history.  It is a perfect spot for a refreshing dip after a day of touring the region.  Best of all Fairmont does a great job of helping all types of visitors feel welcome.  In the evenings at 4:00 there is a wine tasting in the lobby where, yet again, we had a chance to taste some wonderful wines in a sublime setting.
After a day of touring and swimming we began to feel peckish.  Our concierge friend once again suggested a fabulous restaurant for us.  Burger & Vine which sits on Sonoma Square and directly across from the old Sonoma Mission (a historical site that is well worth visiting with kids) offers a varied, locally sourced menu in a noisy, fun atmosphere.  My husband said it was the best burger he has ever had and our kids loved the chicken which was truly delicious.  This is a great place for families.  And if you feel a craving for ice cream pay a visit to Sweet Scoops just a couple steps down from Burger & Vine.  They make their own ice cream and it is truly fabulous.
We spent three, sunny, fun days in the Sonoma area and completely enjoyed our stay at The Fairmont Sonoma Mission Inn.  Our time at the hotel taught us that families are more than welcome and we had such fun everywhere we visited with knowledgeable guidance by the concierge staff on site.
---
Thinking of taking your kids to wine country? Pin this for later!