Headed to Disneyland for Mickey's Halloween Party?
Halloween at Disneyland is a very special time filled with not so spooky decorations and Halloween themed rides and teats. We are regulars at Mickey's Not-So-Scary Halloween Party at Walt Disney World and decided that this year we wanted to take our family to Mickey's Halloween Party at Disneyland too!  We had a blast and want to share our tips so you can make the most of your time with your kids at Mickey's Halloween Party.
Here's our Best Tips & Tricks for a Family trip to Mickey's Halloween Party at Disneyland with Kids: 
---

Book your tickets in advance, Mickey's Halloween Party at Disneyland tickets always sell out fast.
There are only a limited number of event dates for Mickey's Halloween Party and they sell out fast! Be sure to only buy tickets directly from the  Disneyland Website and not from Stubhub.  Tickets were sold out for the date we chose so we bought our tickets from StubHub. Unfortunately we were sold fraudulent tickets on Stubhub and not notified till we had already flown to California from Chicago for the event.  Lucky for us, Disneyland customer service was super friendly and sold us tickets for the event when we arrived and warned us not to purchase Disney tickets from anyone other than Disney in the future.
Don't worry too much about the crowds.
We attended a sold out party and I was concerned that the crowds would be unbearable. While it was certainly crowded,  I was pleasantly surprised that even though it was a sold out event the crowds were not too bad. We never waited in a line longer than 30 minutes for anything all night.
Parking is easy. The great thing about Disneyland is that you don't need to shell out a lot to stay on property to have a great experience at the parks. Parking is easy and painless . Be sure to plan to arrive early for the party.  We drove  and parked in the large parking garage  and took the tram into the parks. Our party started at 7pm which meant we could enter at 4pm so  we arrived around 2 PM which was perfect time to get in early and grab a late lunch and shop downtown Disney before lining up for security to enter Disneyland.
If you forget your costumes don't worry downtown Disney sells costumes for adults and kids! 
My husband hadn't planned a costume so we stopped in the World of Disney Store and found so many options for both adult and kids awesome Disney character costumes.  Ultimately, my husband isn't big into dressing up and so he went simple with a Stitch hat and glow necklace.

Plan to line up by 3:30 to go into Disneyland for entrance to a 7pm Mickey's Halloween Party
Our party started at 7pm which meant that we would be allowed to enter at 4pm.  However, the park actually started letting people in before 3;30pm on the day we visited.  So, line up early and make the most of your ticket to explore Disneyland before the official start to Mickey's Halloween Party.
You can wait to put on your costumes till the official start to Mickey's Halloween Party. If it's hot or if your kids don't love having on costumes wait to put on the costumes until the party starts at 6pm or 7 PM. It was 90 degrees at 3:30pm when we arrived so we waited till just before 7pm to put on our costumes. By then we were much more comfortable because the sun had gone down and it wasn't so hot.
Grab an official Mickey's Halloween party map and plan which activities and characters do you want to be sure and catch during the evenings events.
Notice any rides or shows that you want to see that will not be open during Mickey's Halloween party and be sure to see those before the official park closing.
Fast passes will still work before the park officially closes for Mickey's Halloween Party. Grab a fast pass right when you walk into the park!  We arrived into the park around 4pm and went straight back to New Orleans Square to the Haunted Mansion Holiday fast pass area and we were able to score fast passes for 6 PM ride. This allowed us explore Disneyland for two hours and to ride three other rides before walking right onto the Hunted Mansion Holiday ride with our fast pass at 6 PM. Fast passes will only be available for times before the official closing of Disneyland.  Once Mickey's Halloween Party begins there are no longer any fast pass lines.
Prioritize your night and delay Trick-Or-Treating till lines die down but be sure to go to Mickey's Toon Town first before the official party begins!
Depending on the night of your party ticket Mickey's Halloween Party will either officially begin at 6 PM or 7 PM. If you want to start partying early, trick-or-treating begins an hour early in Mickey's Toon town and you can find many of the characters there all dressed up for Halloween. This is a great place to start especially if you have little ones. Trick-or-treating lines at the beginning of the night will be long so if your kids can wait put off trick-or-treating till later and prioritize character greetings and rides for the early evening and plan to do trick-or-treating after the parade and fireworks.
Be sure to ride the Haunted Mansion Holiday and Space Mountain: Ghost Galaxy
 The Haunted Mansion Holiday is a must see at the Halloween party especially if your family loves the movie The Nightmare Before Christmas. We love how the ride is all decked out with details from  The Nightmare Before Christmas with Jack Skellington hosting the ride. Lines for this and the extra spooky Space Mountain Ghost Galaxy can get long during Mickey's Halloween Party so plan to either grab a fast pass before the party starts or ride these rides after the fireworks to avoid waisting time waiting in lines.

Take lots of photos in your costumes!
Mickey's Halloween Party is the only event when adults are allowed to wear costumes inside of Disneyland Park so be sure and grab some photos! When taking photos with characters be sure and get a photo pass card and have an official photo taken by the Disney photographers (they will also be happy to take a photo for you using your camera). I found that the Disney photos were far superior to mine in quality especially with the evening photos taken outside after dark. When I went to purchase the photos online with my photo pass after the event it was $39 to buy the digital copies all of my photos for the one evening of the party. I felt this was well worth it since the quality was far superior than the night photos I took on my iPhone camera.
Don't miss the Frightfully Fun Parade.
People start lining up for a good spot to watch the parade early, especially for the first parade. If your kids are able to wait up a little later and watch the second parade instead of the first it will be much easier to get a great spot to watch the parade without having to arrive way in advance. We walked up to Main Street about 15 minutes before the second parade and were able to easily grab seats curbside. If you decide to watch the first or the second parade it's important to be in your spot for the beginning  so that you are sure to catch the Headless Horseman who kicks off the parade.
Take advantage of the time during the first parade!
If you skip the first parade, that is the perfect time to go trick-or-treating or ride the rides as the lines will be much shorter since many families will choose to go to the first parade. Trick-or-treating is a big deal at Disneyland so the lines being shorter will allow you to go to more trick-or-treating stations without spending lots of your time waiting.

Fireworks are a must see from Main Street U.S.A!
Be sure to head to main street to watch Halloween Screams -A Villanious Surprise in the Skies Fireworks. The Halloween fireworks show was hosted by Jack Skellington and you will want to be sure and grab a spot close to the castle but behind The Walt Disney and Mickey Mouse statue on Main Street to see the best of the fireworks show with Jack Skellington's face talking to the crowd and Zero flying around the castle.
Stay Late!
Lots of people exit Disneyland with their kids after the fireworks show. So if your children are able to stay up late this leaves a very empty park to play in! It's a great time to ride the most popular rides like Space Mountain Ghost Galaxy or Hunted Mansion Holiday without a long line before the park closes.
Save the shopping for last!
Wait till the end of the night purchase all of your souvenirs and specialty treats and take them home with you that way you don't have to carry everything around the park during the party. After the park closes downtown Disney stays open for an extra hour so you can always hit the world of Disney store to purchase all your special souvenirs before grabbing the tram back to your car to head home.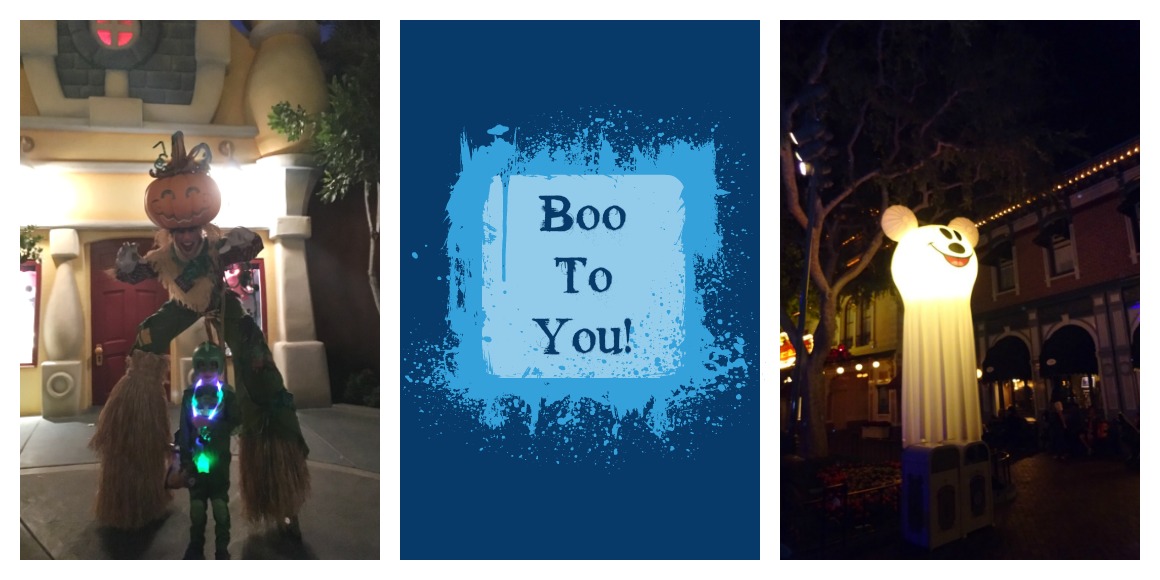 Can't get a ticket to Mickey's Halloween Party – Go to Disneyland on another day to see the best of Halloween anyways!
Halloween at Disneyland is a lot of fun but there are not a lot of dates for the Halloween parties so they sell out very fast! If  you can't get tickets to Mickey's Halloween party you can still enjoy the fun of Halloween at Disneyland by visiting the park before October 31st. The decorations, costumed character greetings, Haunted Mansion Holiday and Space Mountain Ghost galaxy are all available as well as special Halloween souvenirs and treats during regular park hours. The only thing you're really missing are the special party trick or treating fireworks and parade.
---
Planning to visit Disneyland for Mickey's Halloween Party? Pin this for later!