Our family spent four days in Paris over a recent holiday weekend. While "family vacation" may not be the first thing you think of in a city known for its museums, high fashion, and haute cuisine, Paris is an extremely kid-friendly city. Parisian locals may not dote upon little visitors as people do in countries like Italy and Spain, but it is incredibly easy to entertain kids in Paris. You can never run out of things to do!  
Here are our tips for touring Paris with kids:
Where to Stay in Paris with Kids
We usually choose a hotel for our family when traveling around Europe.  However, we've had two great experiences with AirBnB in Paris. European hotel rooms are usually quite small compared to hotel rooms in the United States. Sometimes a family of four will need two rooms if a suite or family room is unavailable.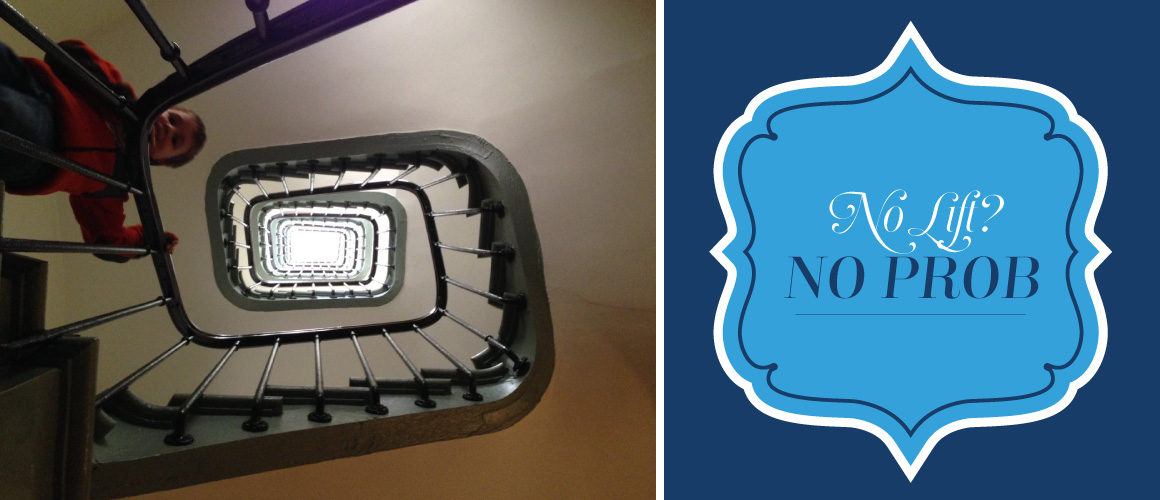 Renting an apartment from AirBnB provides an alternative that allows a lot more space for a family to spread out.  Also it gives families the chance to live in residential areas that might feel more "local" than a hotel.
Our recent AirBnB rental was in the Marais district on Rue Saint-Paul. Our kids loved the dizzying spiral staircase, but visitors should be warned that many Paris apartments do not have lifts! That first night bringing all of the suitcases up to the fifth floor gave us quite a workout. Families with very small children in particular may want to find either an apartment on a lower floor or a building with a lift.
In addition to all the extra space, it's really nice to have an apartment with a full kitchen when traveling with a family. We stocked up on snacks and breakfast items at the local Monoprix, which is my new favorite grocery store. Like Target in that it offers one-stop-shopping with grocery, pharmacy, and clothing departments. Also, Monoprix has gourmet foods such as cheeses, meats, and French specialty items as well. And French wine for Mom and Dad!
What to See in Paris with Kids
Eiffel Tower:
Of course every visitor to Paris needs to see the Eiffel Tower. Our kids were really excited to see the Tour Eiffel because it is the one icon that everyone associates with Paris. Our favorite way to approach the Eiffel Tower is from the Trocadero, because it provides an elevated view of the tower and is therefore a perfect place to take family pictures. As you walk from the Trocadero to the Eiffel Tower, you will pass not one but two carousels! What a great diversion for the kids and an ideal Kodak moment for parents.
During peak tourist season, the lines to visit the Eiffel Tower tend to be extremely long. A little planning can keep your family on track so you don't waste hours of your day standing in line. If you know well in advance that you will be visiting Paris, book your lift tickets for the Eiffel Tower online. Tickets go on sale approximately three months in advance.  Online tickets will save you a ton of time.
Our trip to Paris was a little more last minute, though, and advance tickets were sold out. In that case, save yourself a lot of waiting (and a little cash) by taking the stairs!  Climbing the stairs of the Eiffel Tower was a huge thrill for my kids (and helped me work off that morning's chocolate croissant).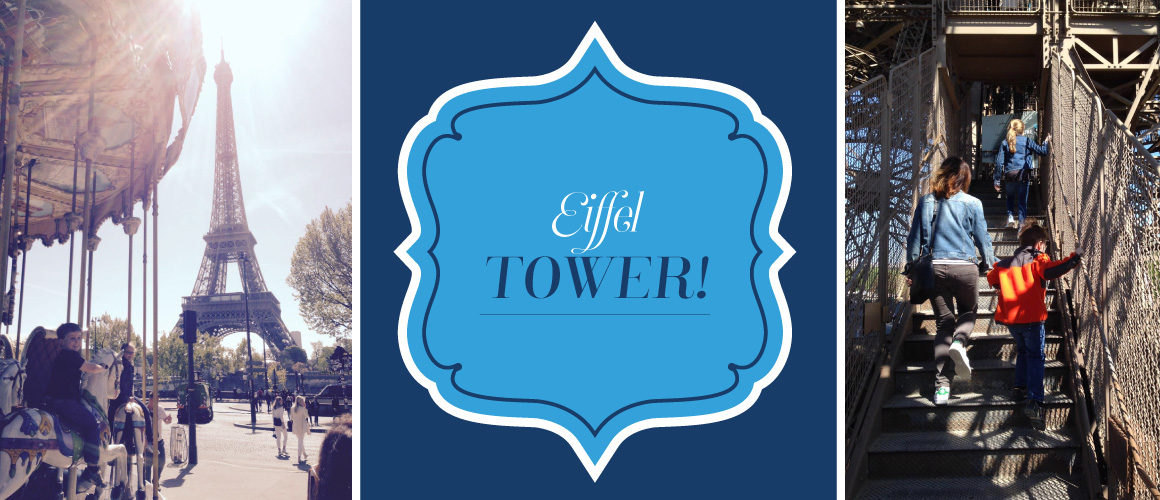 It's 670 steps to the second floor of the Eiffel Tower, where you can find the best views in all of Paris. If you'd like to go all the way to the top, there is a lift from the second floor to the summit for an additional fee. Note that no strollers are allowed on the stairs.  The Eiffel Tower staff does not take responsibility for strollers left at the foot of the stairs, so this may not be a great option for families with very young children. But if your kids are a little older and have lots of energy, taking the stairs is the perfect way to see this Paris attraction.
Seine River cruise:
Our kids loved the idea of taking a cruise down the Seine River on a double-decker boat. Double-decker vehicles are captivating for kids of all ages!  There are many different companies up and down the Seine to choose from, and they all hit the most famous sights in Paris, such as the Eiffel Tower, the Louvre, the Musee d'Orsay, and Notre Dame.  
We happened to be near Notre Dame, so we caught the Vedettes du Pont Neuf cruise at—you guessed it—Pont Neuf. This company's boats are a little smaller than some of the others that cruise the Seine, and it seems their prices are a little cheaper, too.  Save a few more Euros by purchasing online. We bought our tickets on our smartphone while waiting in line!
A Seine river cruise is a perfect activity for little transportation enthusiasts and a great way to enjoy the sights of Paris while giving tired feet a rest.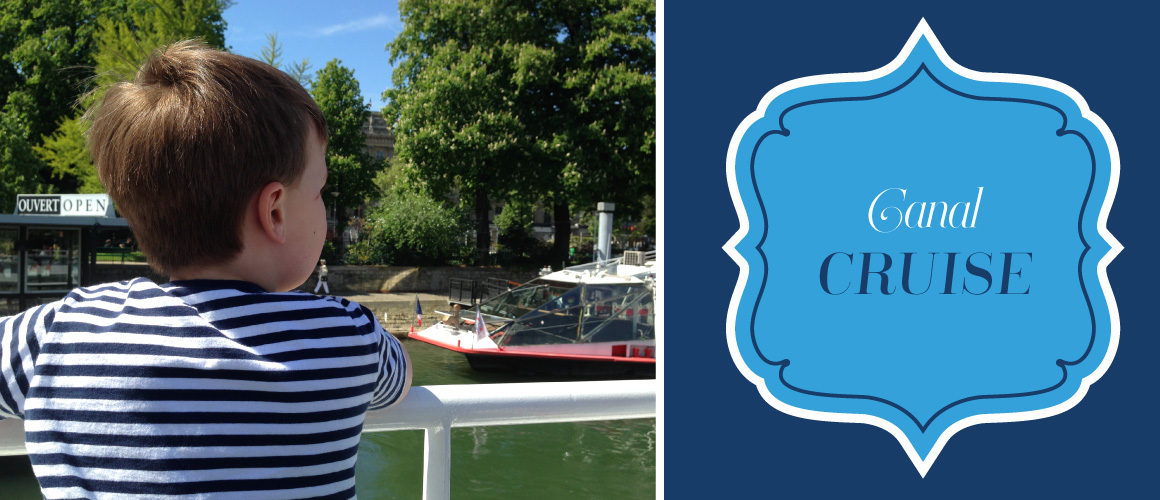 Left Bank booksellers:
After our Seine River cruise, we strolled along the left bank of the Seine toward the Louvre, which was our next destination. The used booksellers, or Boquinistes, lining the street were a big hit with our kids.  
In addition to used books and reproduction posters and prints, they sell all manner of Paris-themed trinkets perfect for souvenirs. Everything is incredibly cheap, so the kids picked out a few things for themselves as well as some gifts for my Paris-obsessed niece. The unexpected diversion of the Boquinistes made our walk to the Louvre pain-free.
The Louvre:
The museum to top all museums. I mean, you have to visit the Louvre when you're in Paris, right? Problem is, you could spend days there and still not see everything. And spending days in the Louvre is an unlikely prospect for most families. We decided to only hit the highlights with the kids this time and move on before they had a chance to get bored. Our kids are usually quite good in museums, but I think that's partly due to our tendency to breeze through quickly if it's clear that the kids are running low on patience.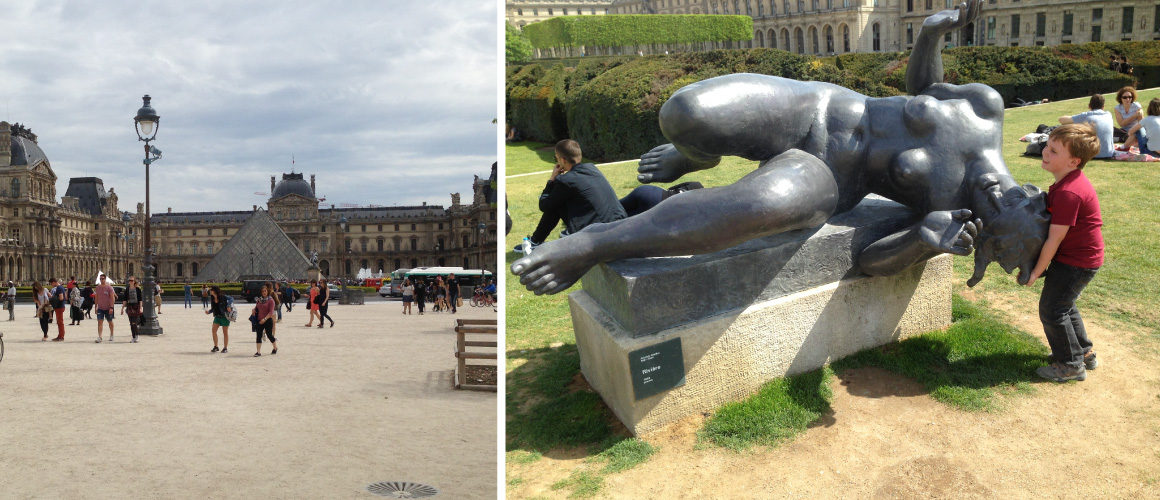 We went later in the day when we knew the lines would be shorter (it's also possible to pre-book tickets online if you know the day and time you plan to visit).  Note that the only entrance to the Louvre is now through the Pyramids for security reasons, and even if you have pre-booked tickets, you will still need to wait in a security line to get into the museum.  

If, like us, you plan to only hit some of the highlights—such as the Mona Lisa, the Venus de Milo, Winged Victory, and Michaelangelo's Slaves—there are maps available and signs everywhere directing you to those works of art. After we saw the things we wanted to see inside, our kids blew off some steam in the gardens outside.  Our son had a particularly fun time checking out all of the outdoor sculptures, and the people-watching outside the Louvre is fantastic.
Sainte-Chapelle:
While Notre Dame gets all the attention as the church to visit in Paris, Sainte-Chapelle was an unexpected hit for our family. It doesn't look like much from the outside, and it doesn't have nearly the crowds that Notre Dame did when we were there. You walk in the door into the lower level and think, "That's it?"…confusing. The chapel appears dark, dingy, and completely uninteresting. But wait, there's a set of narrow stairs in the corner that winds its way up to an upper level. Once we got to the top of the stairs and walked through the sanctuary entryway…
Whoa.
Pictures cannot do this place justice. The stained glass windows are incredible. Our entire family was in awe. This was a must-visit for us, and kids get in free!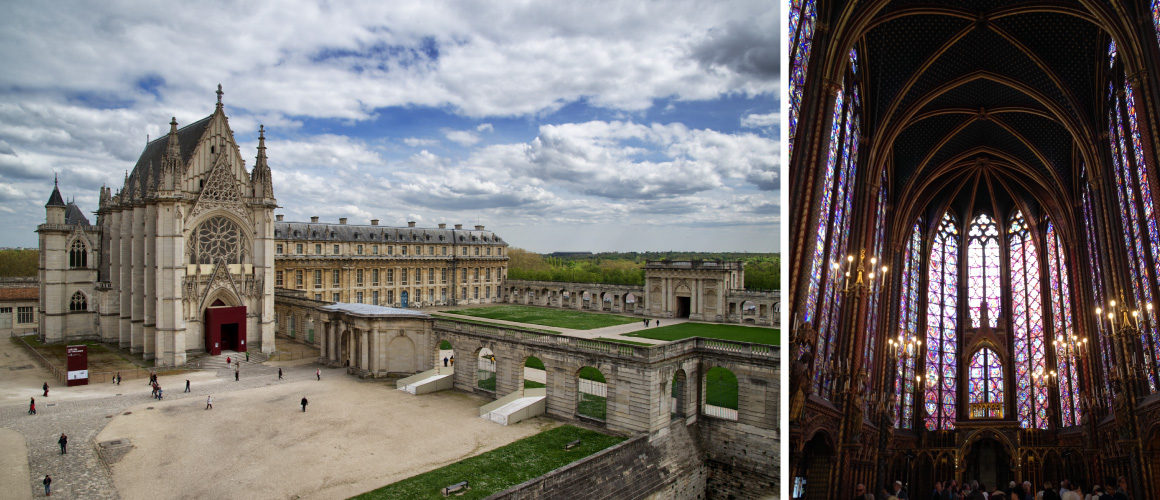 What to Eat in Paris with Kids
Macarons!
We made it our mission to try macarons all over Paris. The kids loved these bite-sized treats, and they made a great reward after hours of sightseeing. Plus, the vivid colors on display make macarons as much a feast for the eyes as the mouth! After trying the confections in countless shops, we decided our favorite macarons were at Macarons Gourmands Yannick Lefort (62 rue de Seine, 75006). I loved the pistachio, my husband favored the caramel, and my kids gobbled up the raspberry and vanilla.

Petits choux:
You can't miss this sweet treat while in Paris. These classic cream puffs are freshly piped with a fromage blanc-based whipped cream while you wait, and they are irresistible. It was hard to eat only one! We had fantastic choux at La Maison du Chou (7 rue de Furstenberg, 75006). Finding this tiny shop tucked in a little corner of Saint-Germain is part of the fun.
Where to Play in Paris with Kids
Champ de Mars:
A great place to hang out after visiting the Eiffel Tower. There are loads of people in the gardens, basking in the sun, having a picnic lunch, skateboarding, and just generally enjoying life. Children are everywhere; ball-playing, Frisbee-throwing, and games of tag are allowed in this public park, unlike some parks and gardens in Paris, where such behavior is forbidden.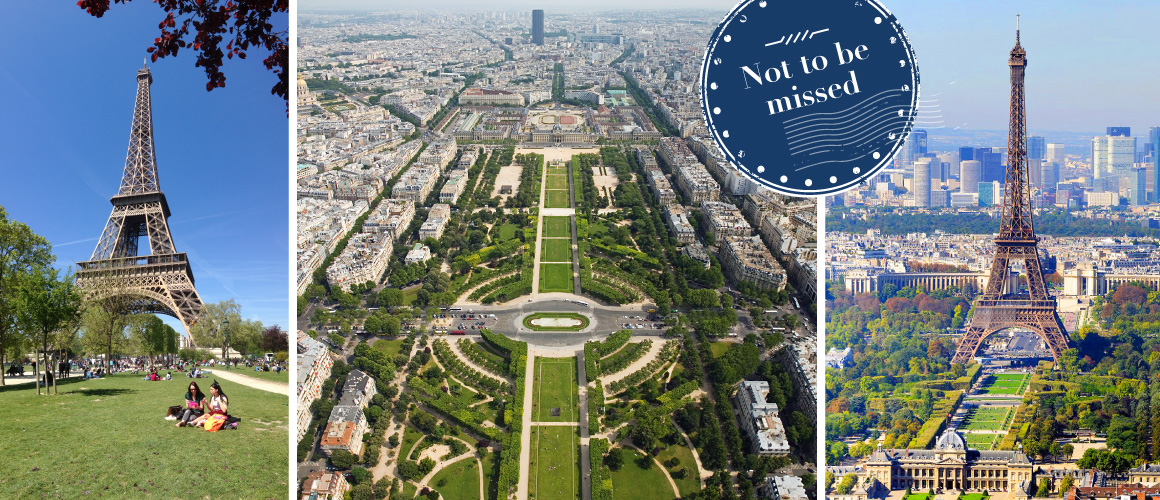 Place des Vosges:
Because we were staying in the Marais, we took our kids to this local square, which is the oldest planned square in Paris and full of stunning architecture. Our children loved the playground on the square, and the whole area has a great community feel. We really felt like locals as our kids played side-by-side with French speakers, and we watched families lounging in the sun on blankets in the green space. This was a great place to hang out and relax before we had to catch our train home.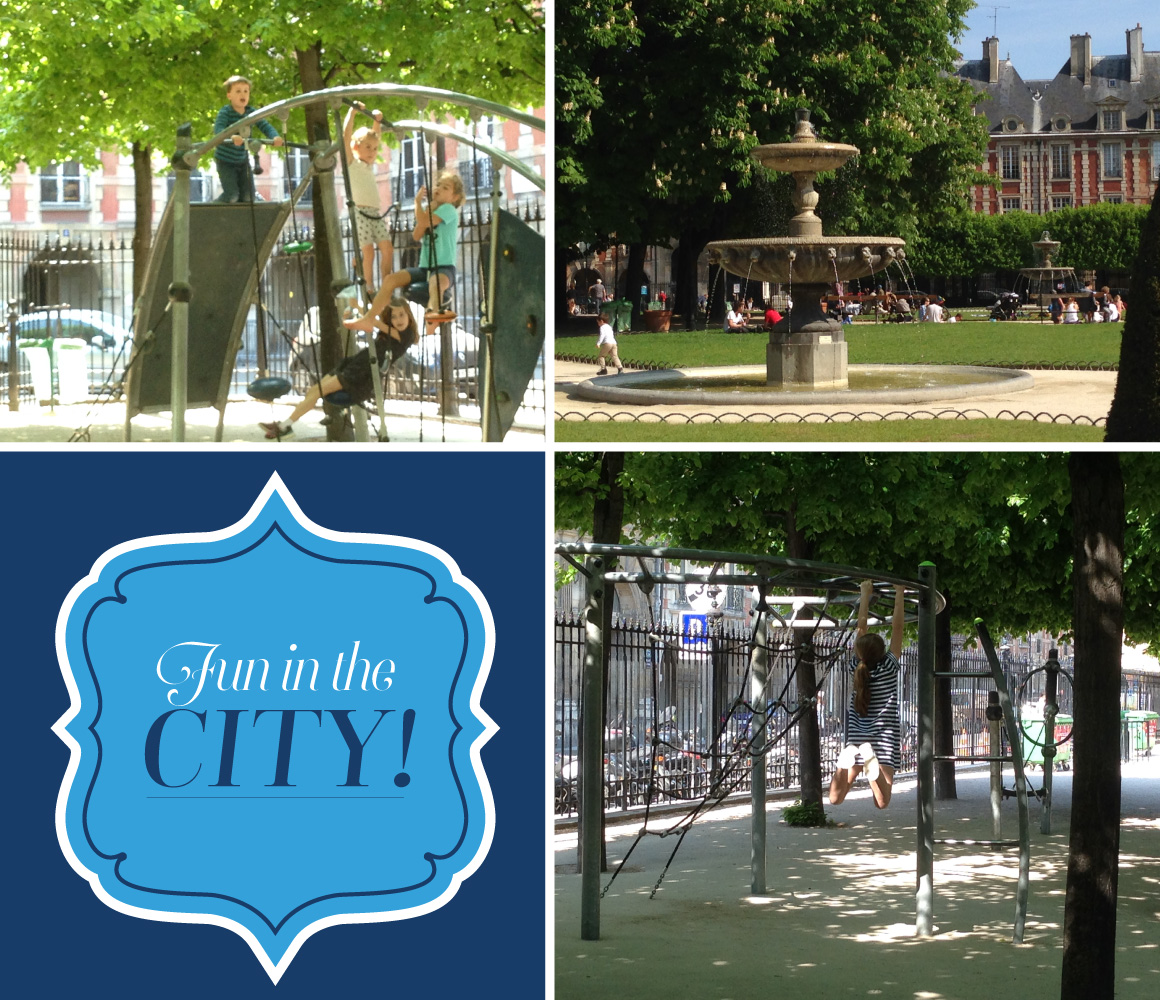 ---
Planning a trip to Paris? Click the images below to save to Pinterest!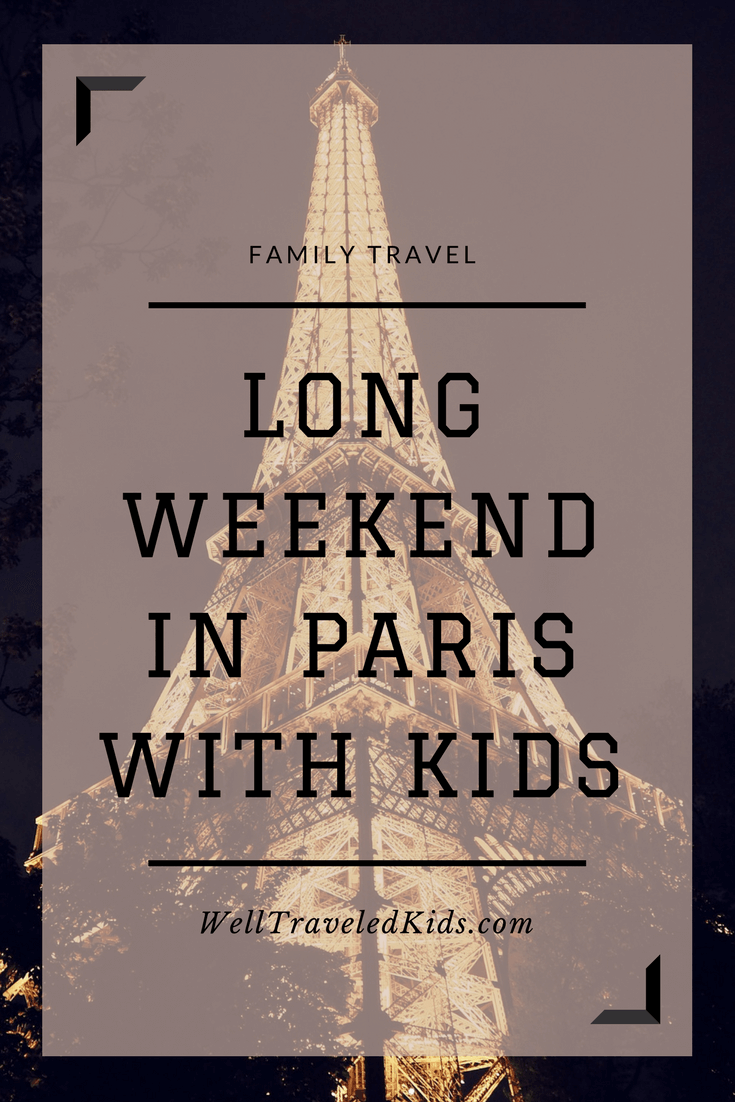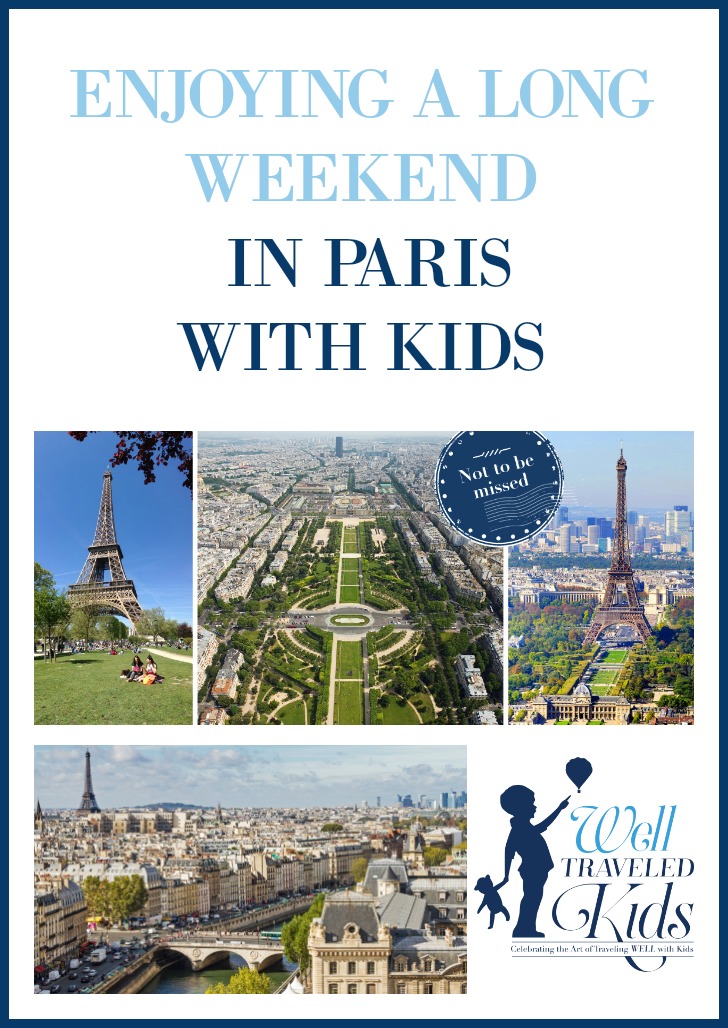 ---
Photo Credit:
Sainte Chapelle
,
Champ de Mars
,
Eiffel Tower
,
City of Paris