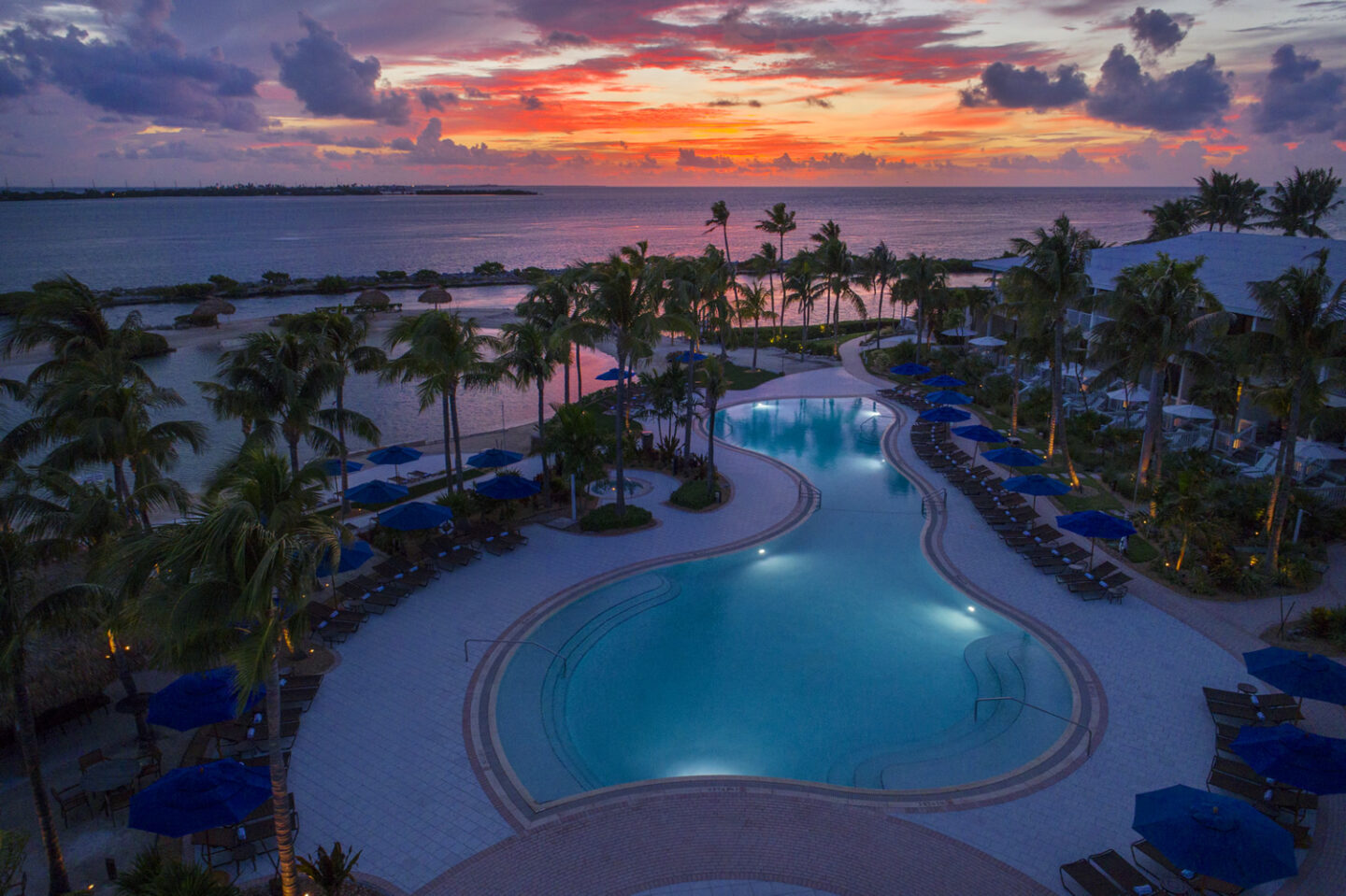 As Floridians, we love a laid back trip to the Florida Keys. We have vacationed in the Florida Keys multiple times with our family, but we had never visited the luxe Hawks Cay Resort.  Why?  No reason, I guess we had just always returned to other luxury Florida Keys resorts out of habit.  
Once Hawks Cay Resort completed a $50 million renovation last fall after Hurricane Irma, we thought it was a great time to check it out.  And we are sure glad we did! Hawks Cay Resort went above and beyond in providing a luxury family vacation experience and checked all our requirements for a great family vacation in the Keys.  
What made it so wonderful you ask?? Read on and I will tell you all my favorite reasons we loved our stay at Hawks Cay with kids!
Interested in booking a luxury vacation at Hawks Cay with kids? Click here to email Sarah for the best rates and special preferred perks with booking!
Hawks Cay Resort is the Best Luxury Family Resort in the Florida Keys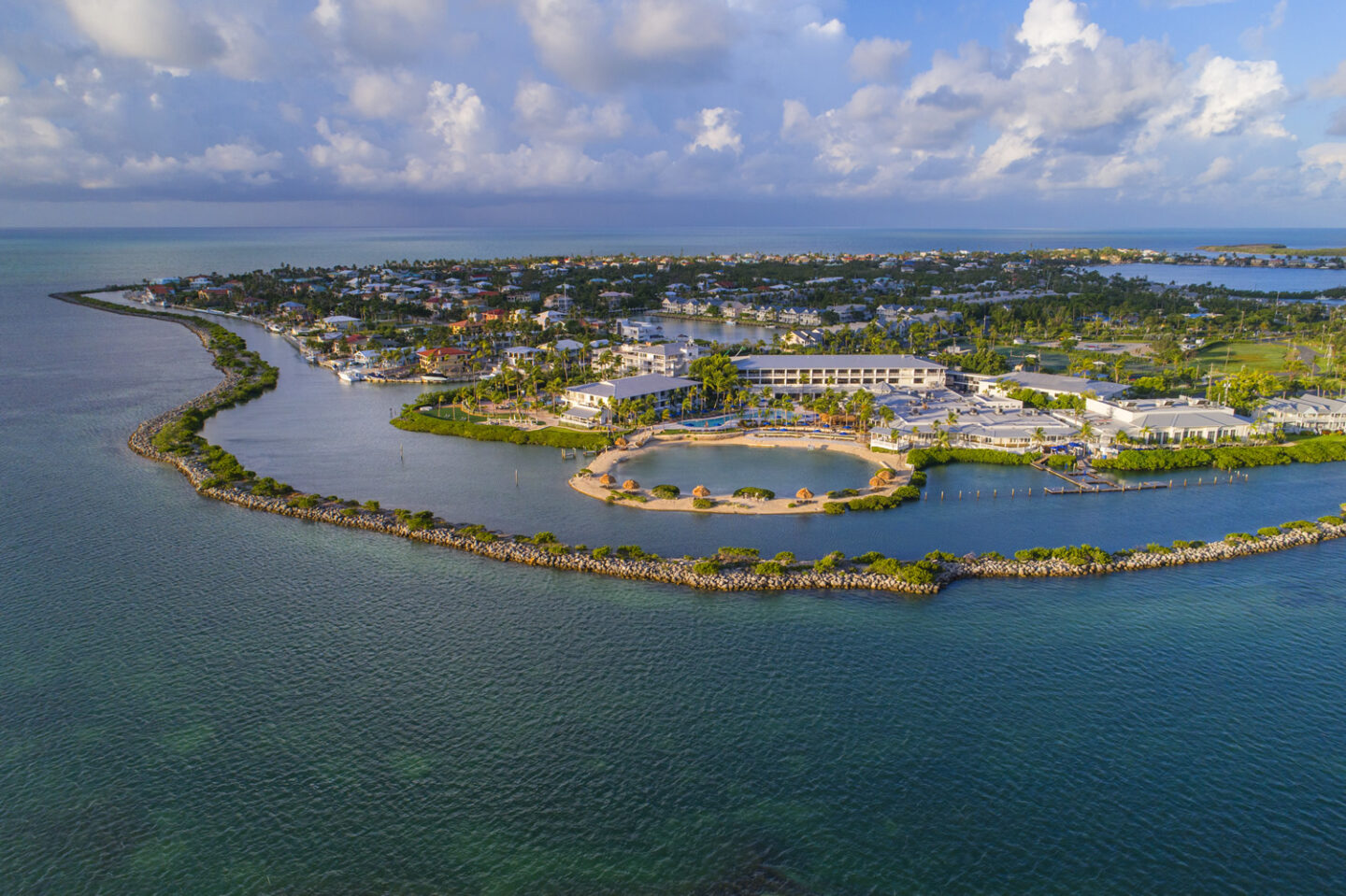 A Florida Keys luxury resort with family rooms perfect for traveling with kids!
One of the many reasons to visit Hawks Cay Resort with kids is because they have fully renovated their family guest rooms and now they include bunk beds. I don't know about your kids, but for my kids, any hotel room becomes infinitely more exciting with bunk beds.  The bottom bunk is full size and can even sleep two smaller children (twin bunk on top). Mine were happy to have their own space and their own charging ports in each bunk. Genius! The bunk area even had its own TV.  
The room is also a little bigger than a standard room at almost 500 square feet, and you can get the family guest rooms connecting if you travel as a larger group.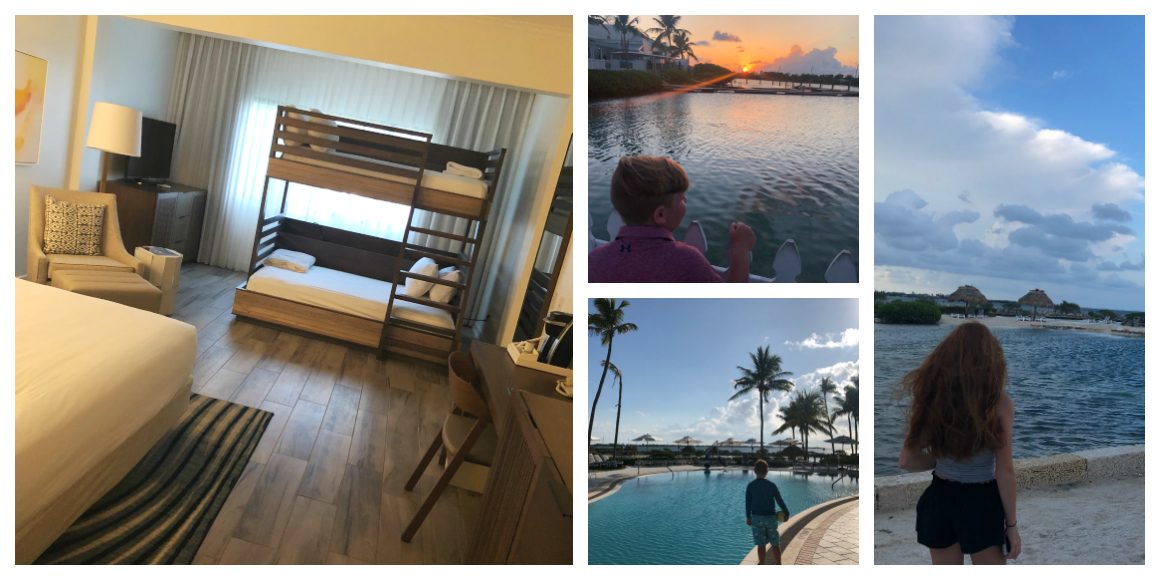 But these are not the only options for families.  In the main building, there are guest rooms with lanais that walk directly out to the pool area.  This is a great option if you don't mind two queen beds.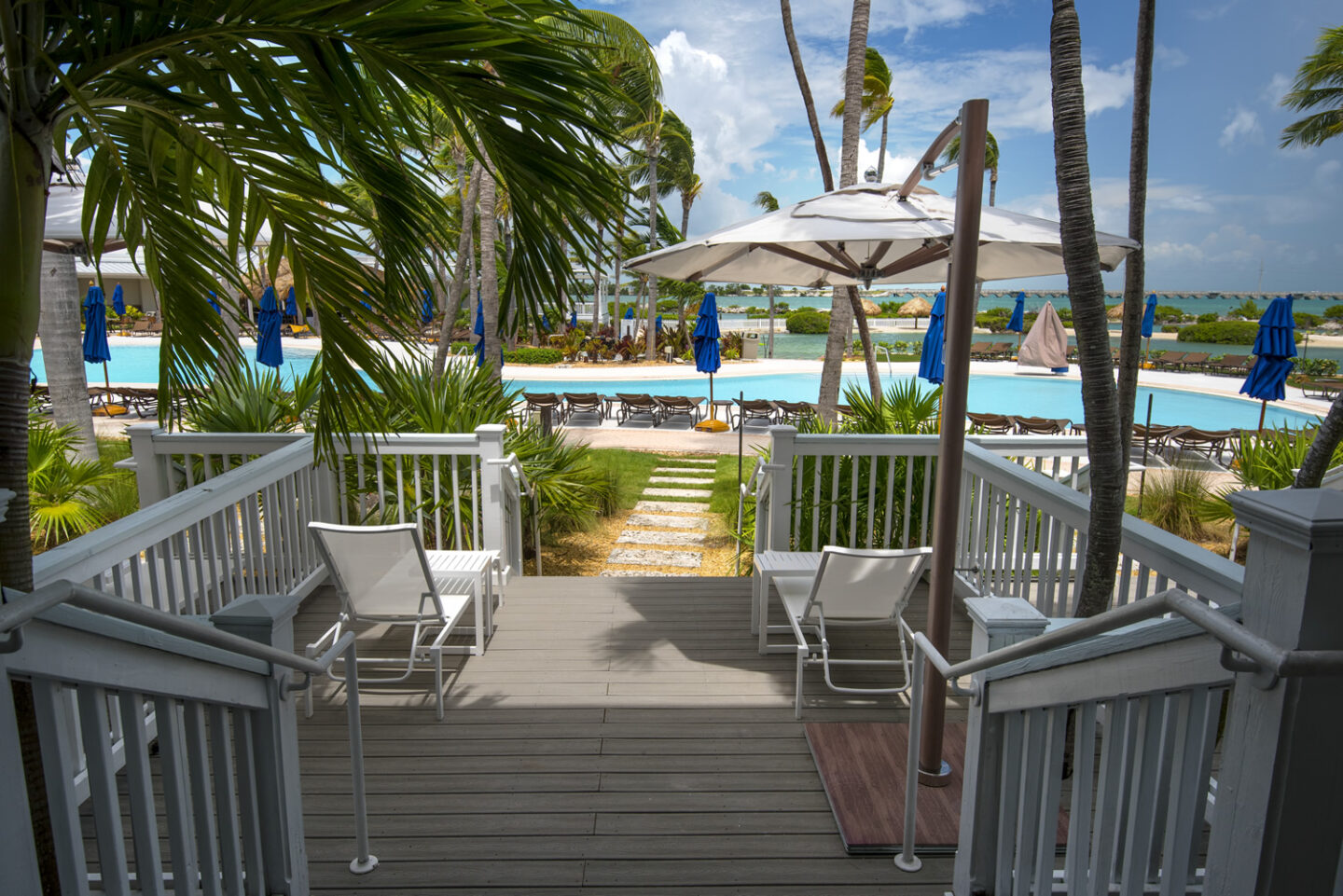 Or if you prefer more room, and don't mind a walk to the main building, look at their townhomes. But I caution you to do your homework because the townhomes are individually owned, and some are not updated.  
We would choose the family guest room again for sure because we loved being in the main building with easy access to the main resort pool and saltwater lagoon!
Hawks Cay Resort offers all of the best family activities in the Florida Keys
Your family will love all the options for family activities at Hawks Cay for kids. There is a long list of activities by the pool all day long including evening activities. For our active family, this definitely set Hawks Cay apart from other Florida Keys resorts that only offer snorkeling.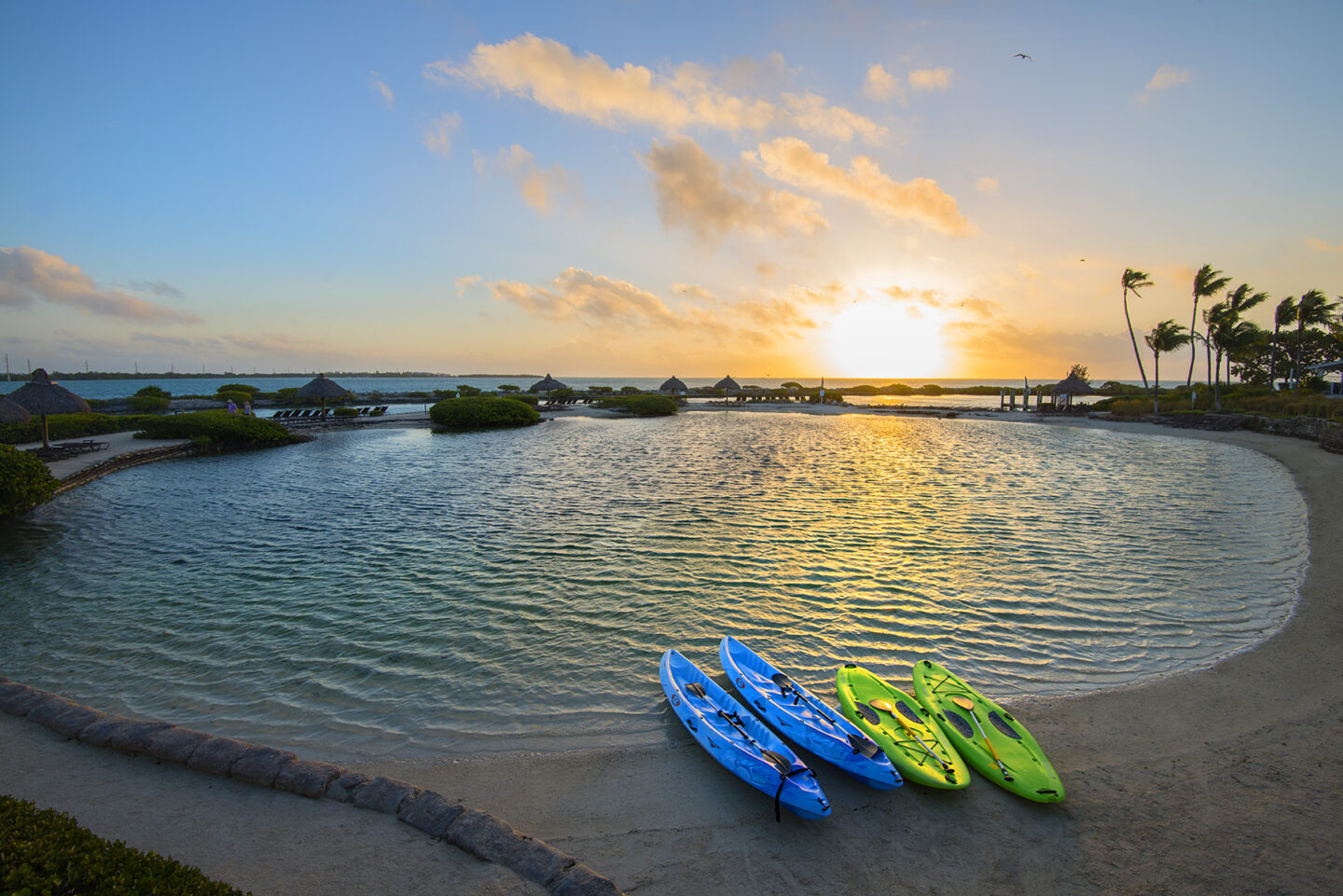 The saltwater lagoon had complimentary kayaks and paddleboards included in your resort fee. Coral Cay has a kids' pirate ship pool, a soccer field, a putt-putt course and a playground.
My kids were a bit old for the pirate ship pool, but we loved playing a round of putt-putt as a break from swimming.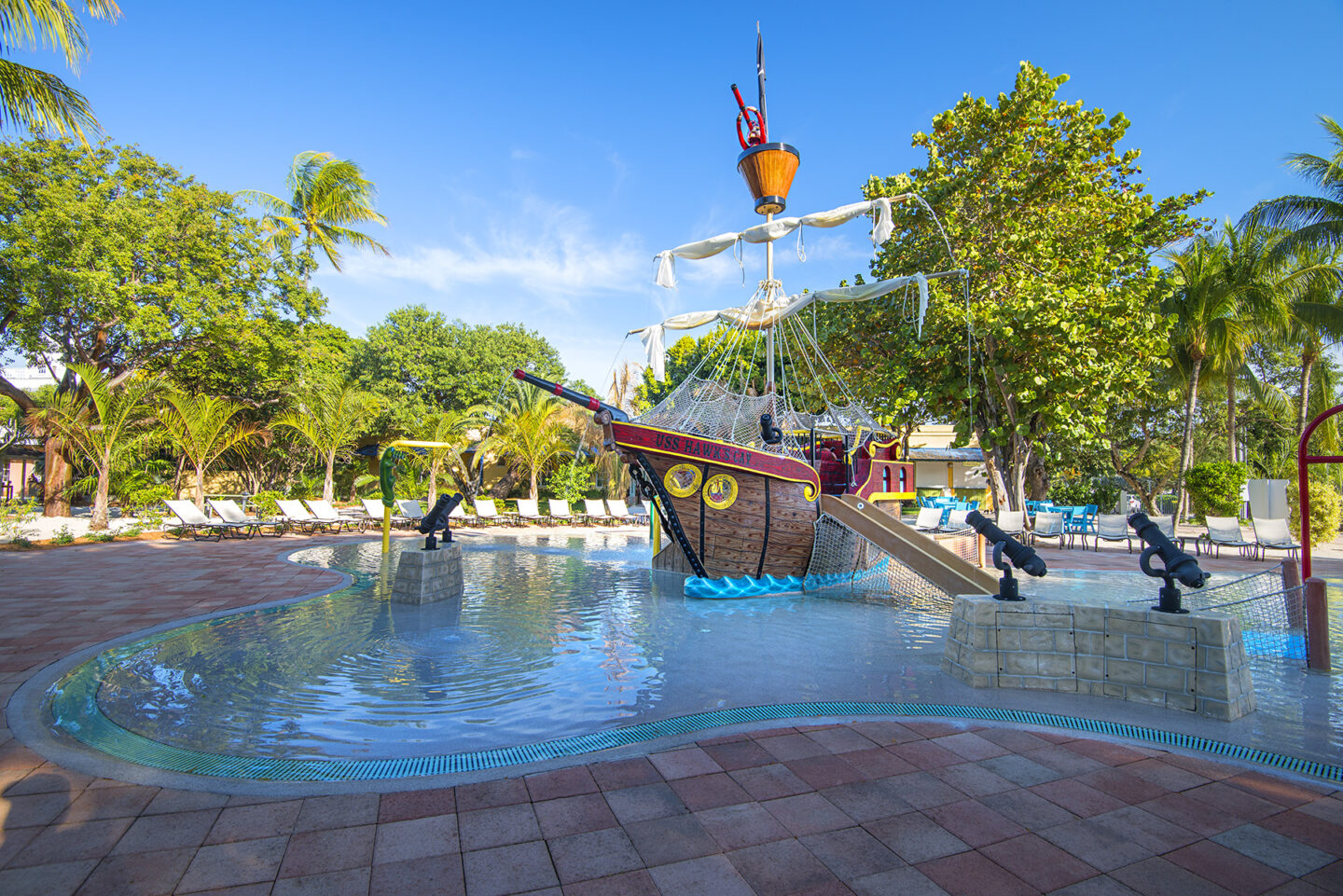 Make dolphin friends inside Hawks Cay Resort at Dolphin Connection
Hawks Cay is the only resort in the Keys with the dolphins on site. What was great is that you could just walk up and observe the dolphin lagoon if you didn't have time or weren't able to do a swim with the dolphins.  I loved how close it was to the main pool and lagoon area. We really enjoyed our dolphin experience. We learned about the dolphins, where they were rescued from, and how they are trained. Both adults and kids loved this experience! #nottobemissed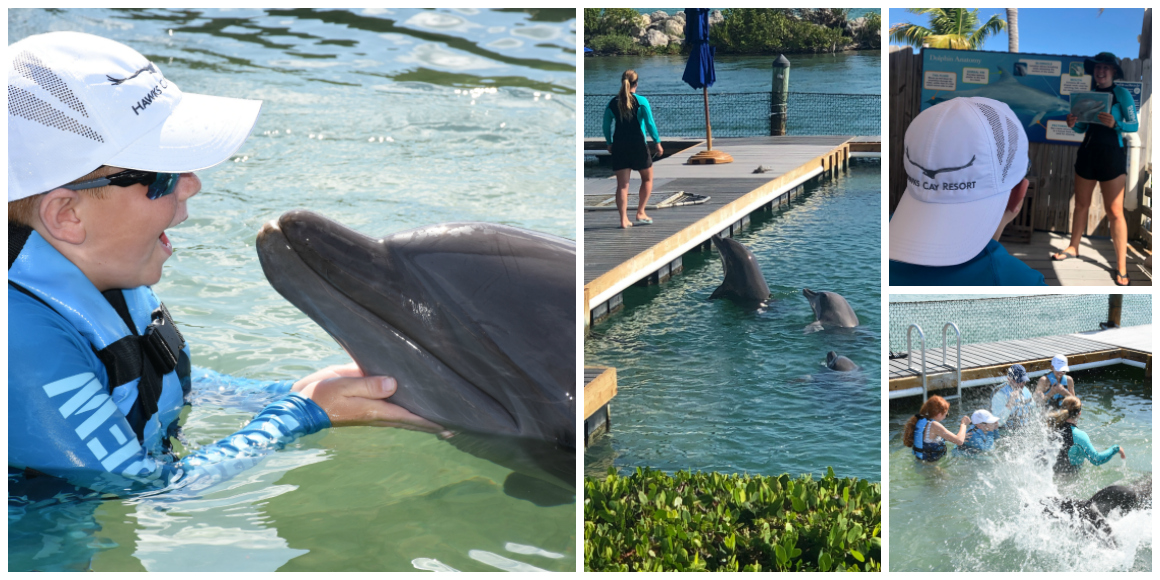 The Hawks Cay Resort restaurants are perfect for foodies young and old!
We loved the great breakfast buffet at Marketplace with fresh juices, fruit and breakfast favorites including Belgian waffles and an omelet station. Another great breakfast option is the "grab and go" and head straight to the pool!  The marketplace also offers a quick option for lunch and dinner and has a great poolside location.
We had lunch and drinks delivered to our pool chairs from the Tiki Bar.  The Tiki Bar is open late so you can keep enjoying the pool and live music into the evening or check out the other choices on property for dinner as we did.
Family dining at Angler & Ale
Take a ride on the shuttle down Duck Key a few short minutes to Angler & Ale.  They have a great patio and a beautiful view of the water.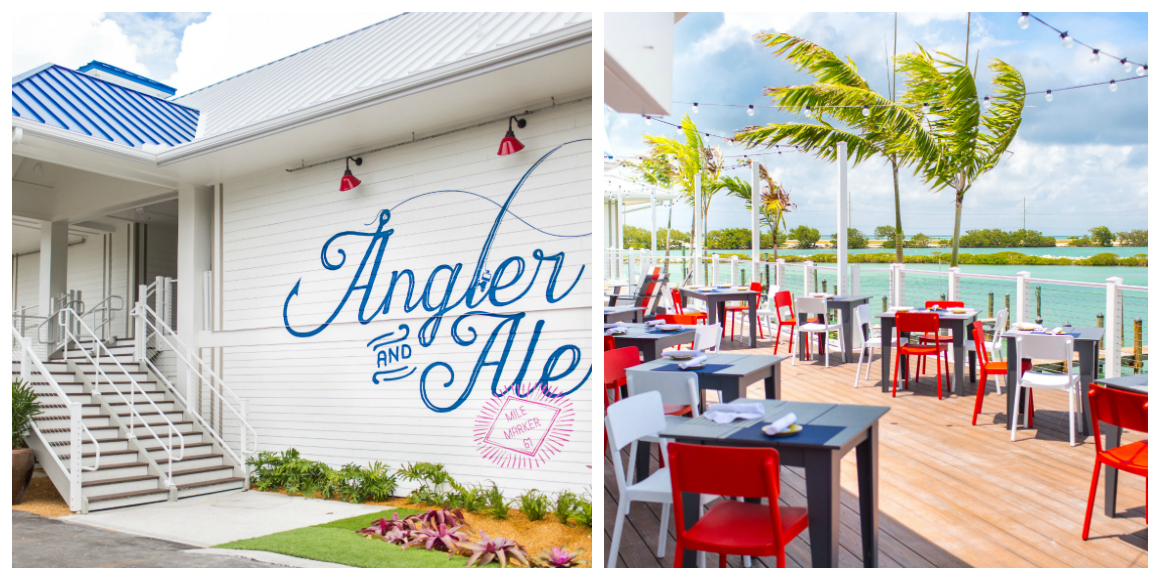 We started with the tuna nachos and the conch fritters, both of which were great.  The fresh fish offered at Angler & Ale was exactly what you expect in the Keys! The hogfish dinner special was outstanding, maybe one of the best we have ever had in the Keys (or even South Florida for that matter).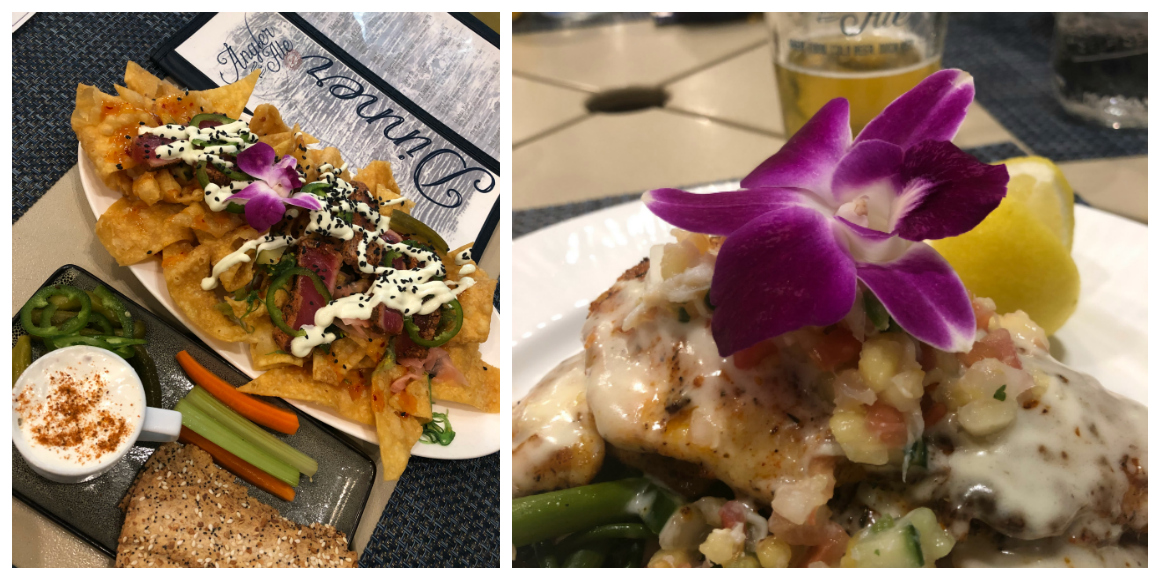 We also loved the lively atmosphere.  There was trivia at the bar, an outdoor patio, and an awesome mud pie dessert delivered by our lively waiter on top of his head while dancing to the music.  What more would you want?
Family dining at Sixty-One Prime
The casual elegance of Sixty-One Prime at Hawks Cay made for an unforgettable evening.  We sat outside, which was perfect, especially with children, and our table was overlooking the resort pool.  
The grilled octopus and tuna appetizers stole the show, or so we thought! Mozzarella ice cream?  This was too intriguing to pass up, and it was both scrumptious and refreshing. Of course, prime steaks are the signature of Sixty-One Prime and the filet was outstanding.  I loved the fresh fish entrée, which was a triple tail, and the incredible presentation matched the taste.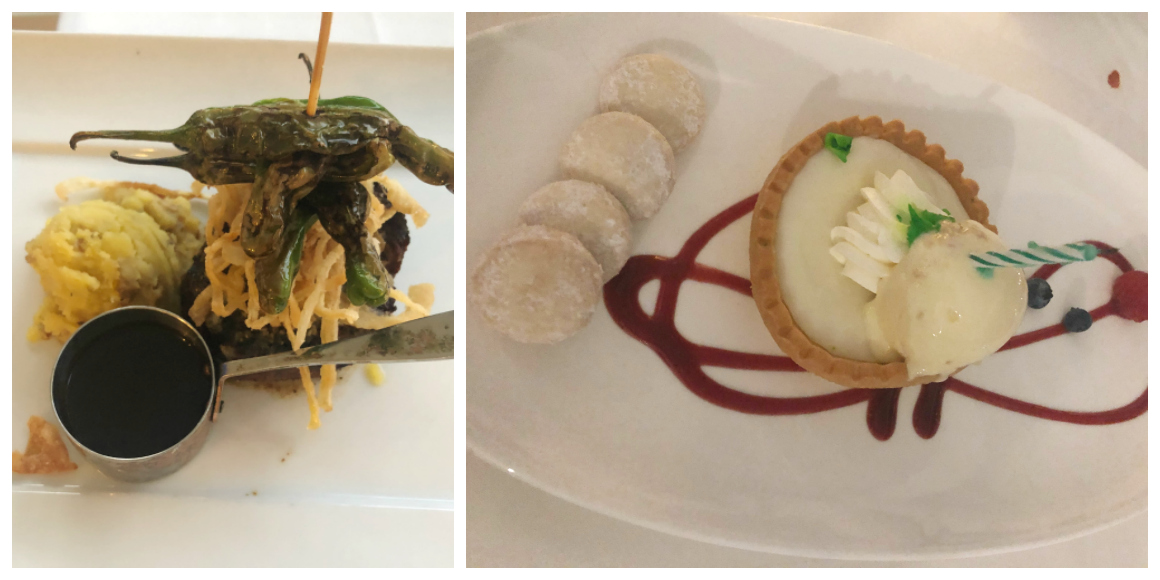 Sixty-One Prime was perfect for that special vacation meal while also being accommodating to children.  The outdoor setting and the children's menu made our meal casual enough for the Keys. No trip to the Keys is complete without a key lime dessert.  It was an excellent complement to our meal.
Snuggle by the fire at Hawks Cay Resort with kids
After dinner each night we enjoyed live music and the lively atmosphere around the fire pit. But if you ask our kids, their favorite part was the night swimming!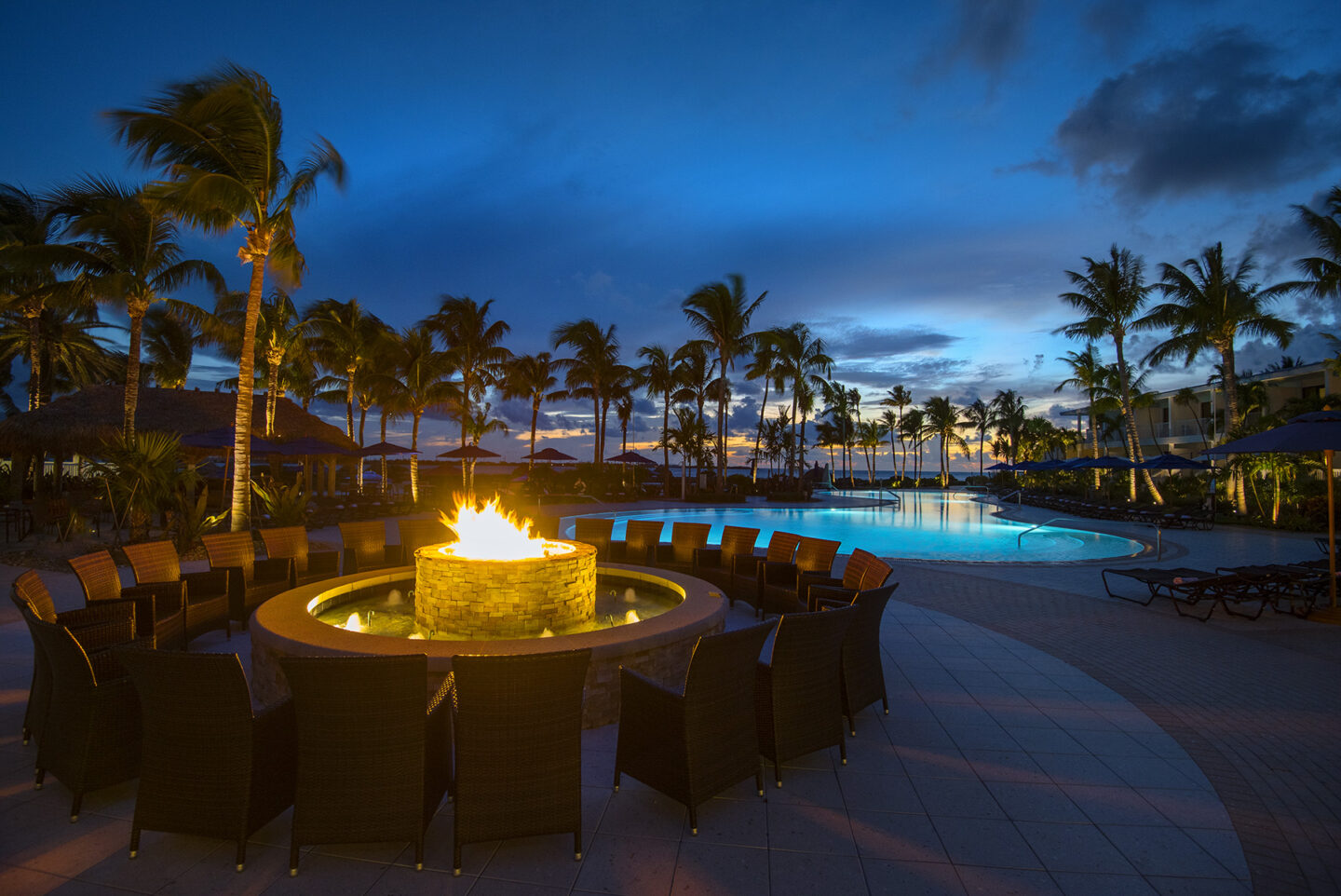 Hawks Cay Resort is perfect for kids and families
!
So, would we return to Hawks Cay Resort?  YES! The vote was clear in our family. Have you visited yet? If so leave a comment. I can't wait to see what your family thinks of Hawks Cay!
Click Here to have us book your Hawks Cay Resort vacation with perks!
Hawks Cay Resort is a brand partner of Well Traveled Kids. All opinions are my own.
---
Photos courtesy of Hawks Cay Resort